When it comes to backstage beauty, the London catwalks are always pushing boundaries. Quirky models are popular canvases for the risk-taking makeup artists who work under the most groundbreaking designers. This season the complexion stole the shows, with great looking skin turning into a trend all of its own.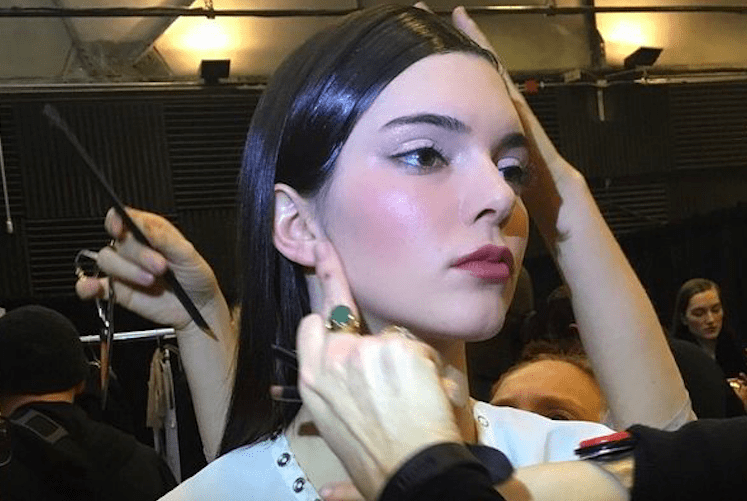 IMAGE: INSTAGRAM @CTILBURYMAKEUP
Get ahead of the season by stocking up on tinted moisturiser, a smudge proof eyeliner and a velvet red lippy. Makeup artist, Sarah Jagger, is our girl on the ground in London and reported here on the trends you need to know about.
As a rebellious statement against the usual matt complexions we'd expect to find in winter, the runway was awash with glowing, dewy skin. At David Koma makeup artist Andrew Gallimore treated models to a mini facial, applying at least four different skincare products before using Nars Pure Radiant Tinted Moisturiser and a touch of concealer. At Christopher Kane, lead artist Lucia Pieroni also used Nars Pure Radiant Tinted Moisturiser to achieve a radiant nude glow, adding very little else to allow the beautiful fresh complexion speak for itself. At Burberry, the glow almost went under the radar as makeup maestro Wendy Rowe applied Burberry Fresh Glow Luminous Fluid Base and Fresh Glow Fluid Foundation yet played down the shine with strategically placed powder to create a sort of candlelit glow effect.
Lesson learnt? Keep foundations whisper light and let concealer do all the heavy lifting. Skip highlighter and mix Illuminator into your moisturiser instead.
Every season sees a bold eyeliner making its statement on the runway and this fashion week was no exception. At Mathew Williamson the Benefit team created a sort of 'sixties screen siren' effect, lining the eye socket with Benefit Badgal waterproof liner. The best thing about this trend is that it's super quick, instantly sexy and requires very little extra makeup to pull off. At Holly Futon flicks were bright, bold and teamed with neon lashes…but Henry Holland showed us how to do it best: the sketchy, straight liner along the crease may have been a homage to Blade Runner but the result was less sci-fi and more sophisticated grunge.
The verdict? Forget liquid liner worn close to the lash line. It's all about the socket crease now.
Painterly beauty isn't for the faint hearted and perhaps best left for festivals. Nonetheless the bold brushwork of the braver makeup artists who head up the teams of LFW's most creative designers is admiring. In her typically avant garde way, Vivienne Westwood asked Val Garland to literally 'paint' the models faces. Black and red body paint was splashed on in tribal fashion while the rest of the face was left minimally made up. At Gareth Pugh, makeup artist Alex Box kept it simple yet shocking, painting a patriotic red cross down the centre of each models face.
Off the catwalk? Keep it creative with dots or splashes of colour. Sticking to one feature such as the eyes leaves it more like makeup and less like face painting.
Any beauty savvy girl knows that if we want to make our eyes look big, bright and wide awake – using a hard, black liner inside the eye is against the rules because it instantly makes them look small and tired. That said, rules are there to be broken and London fashion week always breaks them so well. Kohl liner worn against minimally made up eyes works on so many levels: it says both 'seduction' and 'standoffishness' all at the same time. It gives a nod to grunge without the messiness. It makes a rebellious statement without all the smokey smudging. We loved the way Val Garland did it at Erderm using Nars Minorque Kohliner (available Autumn 2015), a little base and a brushed up brow.
To line or not to line? Line. Make it black, make it waterproof and make it as hard as you like.
Let's face it, red lipstick comes around every season and we can't imagine that ever changing…thank goodness. The reality of red is that it always works and is entirely immune to the revolving trends in fashion. Want to look modern and edgy? It's the perfect choice. Prefer classic and traditional? Red's the one for you too. PPQ, Paul Costello and our favourite, Roksanda Illincic all sent pouts down the runway wearing a bold blast of rich red and almost all of them were a richly pigmented shades of wine.
Is it for you? In a word,Yes. Wear it as a bitten stain, a slick of gloss or a velvet swathe of colour. Anything goes. As long as it's red.