Take a peek outside for a second... Is your street suddenly breathtaking, lined with various shades of violet? It's nature's little spring/summer gift - wisteria. Fast growing and sun loving, this purple petal is a common floral in inner-city suburban streets to pretty them up, differentiate them from the concrete jungle close by. They're also incredibly beautiful, sight and smell. For beauty editor, olfactory obsessee and co-founder of perfumery blog The Accords, Rosalind Thomas, it's a not-so-secret scent love affair. Luckily, spring is wisteria season for perfumes too. Here, she shares her verdict on the new wisteria fragrances ready for us to adore...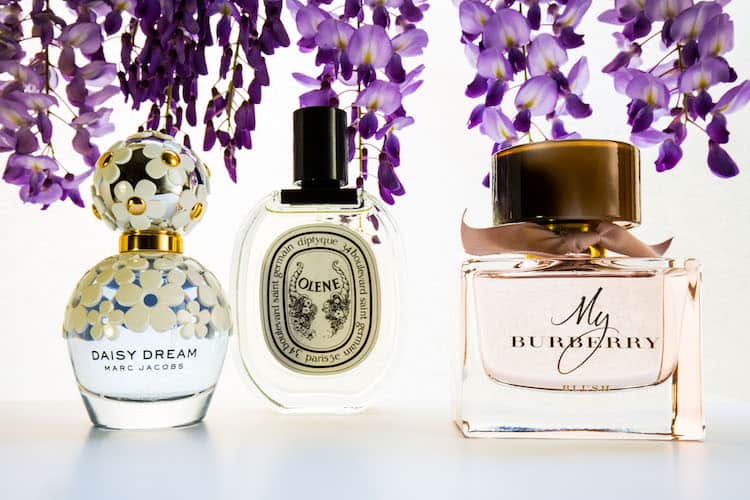 As a freelance writer and a mum to two little girls, the only thing I read more voraciously than beauty blogs are parenting ones. I picked up one gem that I use all the time on my girls to deal with the inevitable sibling question, "Who do you love most?" I respond, smug to have a pre-prepared answer to a curly question for once, "I love you both uniquely!" Although I know, rationally, that the jasmine coiled along the wrought iron fence out the front me can't hear me, I sometimes whisper through the kitchen window to my wisteria, "you're my favourite but shhhh, don't tell the others…"
Now you know the depths of my flower issues, we can proceed.
Wisteria is not the most famous of flowers in perfumery, yet has the headiness of tuberose, the sultriness of jasmine and the spice of freesia. It's cool and slightly watery like sweet pea but much more elegant. And there's something about that contrast between the delicacy of the soft purple racemes and the fact that the plants themselves are tough as old boots that makes me especially fond of them (shhh!). The experience of sitting in the cool shade of a heavily laden wisteria vine as bees buzz and the sun shines outside your living air-con is pretty exquisite, and thankfully you can re-create wisteria in the flick of a wrist with the right scent. Here's my three favourite wisteria-inspired perfumes for spring.
This is superstar perfumer Francis Kurkdjian's third fragrance in the My Burberry line inspired by London gardens, and it's another stunner. The scent was inspired by the first light of day – think lemon and glazed pomegranate, zesty and sweet that then rests on more classic rose base note before, hello wisteria. Burberry scents have a bit of a reputation for balancing freshness with spiciness and wisteria does the job, adding some depth and exoticism to the sweetness (avoiding any risk of that 'sickly sweet' smell some scents have – Blush doesn't stray into candy crush territory). This is my go-to for day weddings, garden parties, the races… and watering the garden, truth be told.
That cool shade, under the boughs, lazy wisteria feeling? Here it is in a bottle. Don't be fooled into thinking that Daisy Dream is a "youth" scent. It's breezily light, yes, with an almost watery quality that could be mistaken as lightweight, but that's the magic. It's coconut water that adds that effect, paired with juicy blackcurrant and sweet lychee. But they are sheered out to make them pale and ethereal. They're the perfect accompaniment to wysteria's delicate, yet elegant floracy. Daisy Dream's pale blue colour is a spot on representation of its calming, cooling effect, which ripples to a woody musk at the base. Worn judiciously this is definitely office worthy, but I also plan on over-spraying with abandon once spring kicks into summer. And when the humidity rises to recreate my own personal wisteria arbour.
Some fragrances seem of a time, and some manage to exist outside it. Olène is definitely the latter. If My Burberry Blush considers florals in the dawn, Olène is more of an evening thing, with generous doses of jasmine and honeysuckle mingling with the rich wisteria note. The fragrance opens large, so brace yourself, but it mellows beautifully on the skin. Think: green stems and tender leaves as well as a leathery narcissus note that gives a beautiful texture to the fragrance (yes perfumes have a texture, you'll see!). Olène is not for the faint-hearted, it's for true white floral fanatics. If this is you (I mean me), then Olène could be your secret wisteria weapon for instant flower gratification.