The transition into the Australian winter can be cold-hearted and ruthless. In all its moisture-sapping mayhem even the most thorough beauty routine falls victim to the elements. Dry hands are the number one sign of defeat – dry, torn cuticles and brittle nails are de rigeur - not to mention elbows that have shrivelled up like desiccated prunes (send help!). When it comes to dry skin there are no quick-fixes except for some intensive palm TLC.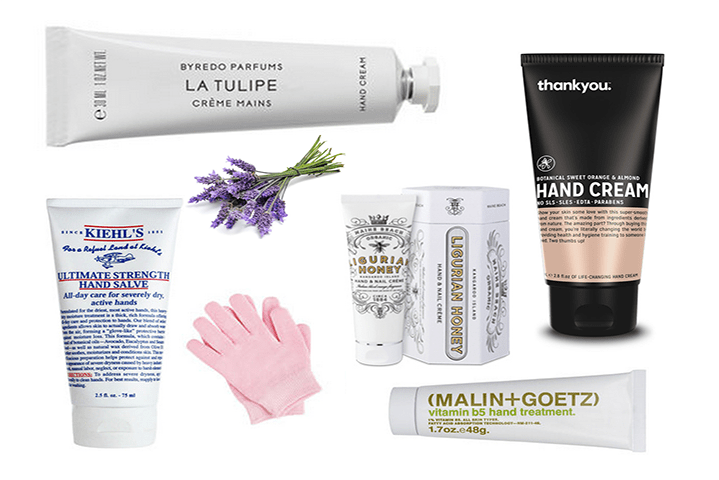 We've curated our top five hand salvagers to have you well on your way to velvety hands. If you won't do it for yourself, then do it for us.
The ethically thrifty patron – Thank You hand cream
This light-weight formula may feel more light than effective to begin with, but after a few applications it will become your daily indulgence. The best part? ThankYou have concocted a premium product for the price of peas. Ditching ingredients typically found in mainstream products like parabens and sodium laurel sulfate, they have instead opted for hydrating Rosehip Oil, Orange Almond Oil, Lavender and Cocoa Seed Butter. Not only will your wallet thank you for it, your karma will too – with profits of every product purchase going towards health and hygiene training to those in need. You'll be changing the world one pampered palm at a time.
The organic enthusiast – Ligurian Honey Hand & Nail creme
When you start to endure self-inflicted parched handshakes, perhaps it's time to take a more organic approach. To get your hands back to silken standards, call on the help of Ligurian Honey Hand & Nail Crème. Originating in South Australia, this heavenly balm is made with nourishing ingredients like Honey Nectar and Jojoba Oil. Sourced from the Sonoran Desert of North America, Jojoba oil has traditionally been used to treat sores and wounds for centuries, so this organic saviour is a must in your beauty bag for those unsightly cracking palms.
The pragmatic martyr – Kiehl's Ultimate Strength Hand Salve
If you are Cinderella come to life, spending your days scrubbing here, there and everywhere – then give Kiehl's Ultimate Strength Hand Salve a SERIOUS attempt. This lush hand cream does more than you could imagine, creating a "glove-like" barrier that will eliminate that seriously embarrassing dryness from the hand equation. It's a non-greasy formula (so no dropping things on the job like a clumsy fool) derived from a blend of botanical oils including the miraculous Mediterranean Olive Oil, which is famously rich in antioxidants and Vitamin E (also helps your hands to fight against air pollution and bacteria). This is perfect for the more laboriously-inclined who need extreme pampering 24/7.
The nocturnal soul – Malin & Goetz
If you struggle to hit the hay then the Malin & Goetz vitamin b5 hand treatment may be your next therapeutic port of call. Disconnect from digital from 9pm, tuck yourself into bed and massage those shrivelled hands like the sleeping beauty you were born to be. Your hands will feel instantly gratified – but if you want to intensify the self-love then accompany the hand cream with some hand repair gloves (try these). The oil-free formula's scent is transporting – derived from almond extract, it conjures up scrumptious Italian amaretto biscuits every time you open the olive green tube. Packed with vitamin b5 (an almost supernatural ingredient that strengthens fingernails all while penetrating the upper layer of the skin's surface) the cream promises healthy skin tissue too, so extend use to your neglected elbows. You can thank us later.
The classical – Byredo Parfums La Tulipe Creme Mains
When Victoria Beckham declared that she never leaves the house without Byredo Hand Cream, we had to find out why. If the fragrances are anything to go by, then it's no surprise that Byredo Parfums have devised one of the most exquisite hand creams on the market. The packaging is tres chic (of course) and elegantly understated; the perfect handbag essential and ideal for casual flatlay Instagram opportunities. With subtle notes of rhubarb, tulip and blonde woods, the scent 'La Tulipe' captured in their freshly foiled tube smells like the an amble through the florists of Parisienne markets. We can always trust this Scandinavian beauty house to deliver polished products using the highest quality ingredients.
Story by Claudia De Berardinis.