When it comes to complicated feminine beauty rituals nothing is as hotly debated between the sexes as tanning. Many guys detest the practice, citing ruined sheets, streaks and stinkiness as number one gripes. But we found one man who not only loves fake tan but has built a very successful business around it. After owning a beauty salon, Blair James was unhappy with the spray tan solutions on the market.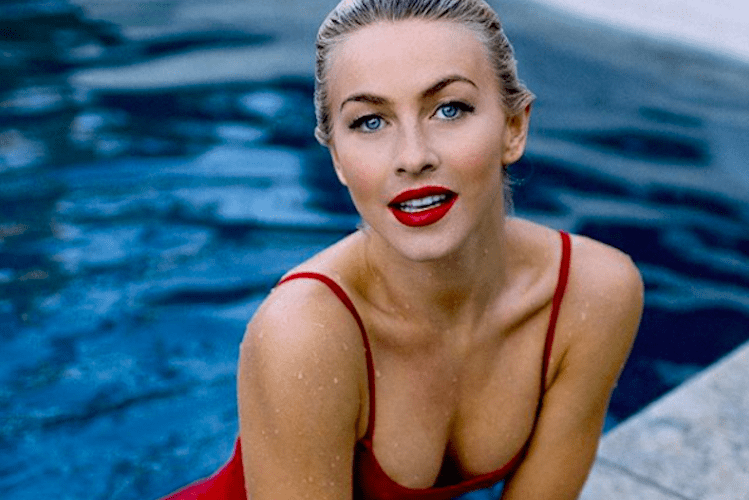 IMAGE: INSTAGRAM @JULESHOUGH
He spent the next six years honing his product, Bondi Sands, with business partner Shaun Wilson. The olive-tinged competitively-priced tanning range is now number one bestseller in Priceline) and is expanding rapidly internationally (check locations?). We sat down with the handsome Tan-treprenuer and were gobsmacked when he successfully managed to school us in the Art of the Bronze.
Blair, who, at times would step in to do spray tans in his salon, revealed that he and his business partner regularly test the product on themselves – and have got it down to a fine art. And we have to say, he sports a very impressive tan. Here he shares his jewels of wisdom.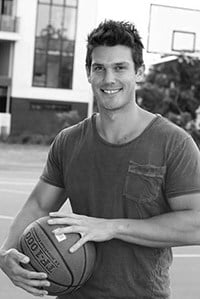 1. BUFF, BABY, BUFF
"The number one thing is to prepare the skin properly, if you don't have your skin completely exfoliated it's going to grab the dark skin and come out patchy," says Blair.
2. PICK YOUR POISON
"You need to pick a product that suits your skin," says Blair. "A lot of people want to go as dark as possible but if you have pale skin it can look unnatural. Try one coat of the lighter shade first, then darken the tan as you need." Fair skins should opt for Self Tanning Foam Light/Medium and more olive girls can give Dark Foam a go.
3. GET REALLY DRY
"When we used to do spray tans in the salon a lot of girls used to shower and come straight in, but if your skin is still holding moisture the product doesn't actually take to the skin so make sure your skin is completely dry," says Blair. We would add to that that it's a good idea to open the bathroom door and wait for a bit while the steam escapes and your skin dries before starting your application.
4. SKIP THE CREAM BEFOREHAND
"Your skin needs to be clean and thoroughly washed but I don't recommend putting moisturizer on before you apply the tan because it's a barrier so it's going to stop the tan from taking."
5. BUT GO NUTS ON THE CREAM AFTER
"As soon as you wash the tan off [after it's developed], start moisturizing. That's half the reason we brought out the gradual tanning milk. While you're actually moisturizing the tan, you actually extend the life of the tan by adding the active ingredients to it. You can extend that tan by about two or three weeks." We love that they also have an Everyday Gradual Tanning Milk with SPF 15 in it.
6. FACE FACTS
"When you're tanning your face use some moisturizer in your eyebrows and around your hairline to stop the tan from grabbing those areas or it can end up being very prominent when you wash the rest of it off – and no makeup is going to cover that!" adds Blair.
7. BACK ON TRACK
"You can buy these back applicators but if you haven't had a chance to buy one, you can get a piece of Glad wrap about 30×30 cm, put the product in a little bit of Glad wrap, [Apply some tanning lotion or foam down one side of the sheet then?] slide the cling wrap to each side, it will stick to your skin and you can actually drag it to spread evenly over your back."
8. HANDY HINTS
"Mitts make applying foam much easier, " says Blair, who swears by Bondi Sands Application Mitt and adds that there's a bit of technique to the finishing touches. "Do your limbs first and leave knees, elbows, wrists, ankles and the backs of your hands until last – applying just the residue that's left on the mitt to those areas," says Blair. "Because dry skin grabs quickly so the less product on your mitt, the better. We've definitely done a lot of testing on this product and Sean always forgets to wear the mitt so he's always got these like orange palms and I'm just like 'keeps your hands under the table' (laughs)."
BONDI SANDS SELF TANNING FOAM LIGHT/MEDIUM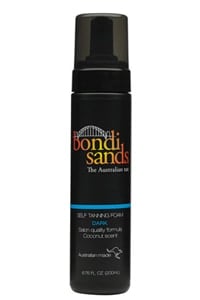 BONDI SANDS SELF TANNING FOAM IN DARK FOAM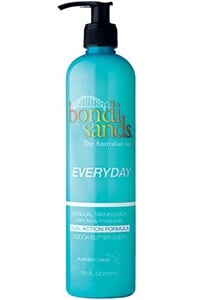 BONDI SANDS EVERYDAY GRADUAL TANNING MILK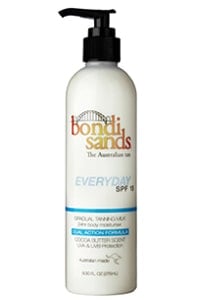 BONDI SANDS EVERYDAY GRADUAL TANNING MILK WITH SPF 15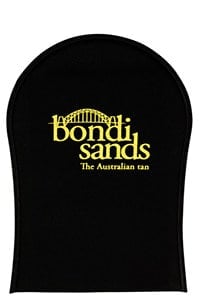 BONDI SANDS APPLICATION MITT
Story by Sigourney. Sponsored by Bondi Sands.