Audrey Hepburn was the epitome of a classic and timeless beauty icon. With remarkable bone structure, luminous skin, doe eyes and the perfect full brow, her look is still coveted fifty years after the height of her career. Between Roman Holiday, My Fair Lady, Sabrina and Breakfast at Tiffany's, her on screen presence was captivating, securing her place as one of Hollywood's most iconic and celebrated figures.
Not only was she a dream to watch on the silver screen, she had a beautiful spirit and lived to help and inspire others. Her nonchalant view of fame was refreshing, and made her all the more likeable. Audrey was a unique mix of class, talent and astonishing beauty that made her not only a excellent actress but a wonderful person, too. Beauticate combed the archives to uncover her secrets to looking and feeling truly beautiful.
AUDREY HAD PERFECT SKIN, EVEN FIRST THING
"If I had [beauty secrets], I'd make a fortune. But I know what helps— health, lots of sleep, lots of fresh air, and a lot of help from Estee Lauder."
Audrey Hepburn was rather coy about her beauty routine; she wasn't known to give much away. It is rumored though that she was a fan of the cult beauty brand Estee lauder. Audrey even once wrote on a postcard to Estee, "I start and end my day with you". The Renutriv range has been around since 1956, making it a classic (and possibly Audrey's favourite). The products are super luxe, using only the finest ingredients. The Ultimate Diamond Transformative Energy Creme is infused with collagen for smooth contours, and Black Diamond Truffle to infuse energy and radiance in the appearance of skin. Use it day and night for a flawless complexion.
"I believe in manicures. I believe in overdressing. I believe in primping at leisure and wearing lipstick. I believe in pink."
Audrey Hepburn was always primed and preened to perfection. She was a skin care devotee who believed that beautiful skin is never achieved through makeup alone. Vintage Hollywood cult favorite Erno Lazlo also had a place in Audrey's vanity. The organic Sea Mud Soap, which was 97 per cent natural, was a favorite to keep her skin clean and radiant. Another secret that she credited to her luminous complexion was a simple steam facial twice a week to really flush out pores. For an at-home steam treatment Audrey would most certainly approve of, we love the Conair Facial Steamer.
VINTAGE ERNO LAZLO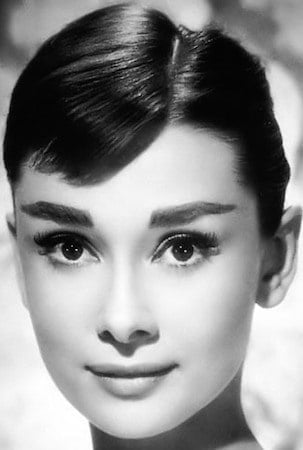 THE PERFECT FULL BROW
"For beautiful eyes, look for the good in others; for beautiful lips, speak only words of kindness; and for poise, walk with the knowledge that you are never alone."
Another Audrey pearl of wisdom, her beauty truly radiated from the inside out. Although, a little cosmetic pampering never went astray. Audrey was the ultimate poster girl for understated glamour. Her trademark look was the clearest of skin paired with a peachy highlight to add a subtle flush. Her eyes though, were the focus. Audrey was rarely without her perfect winged eyeliner framed with doll-like lashes. Her makeup artist Alberto Rossi famously used to separate each lash with a pin to give her that fluttery look we all envy. To create those perfectly fanned lashes, try a metal eyelash comb like Tweezerman Lash Comb. This can create the pin-separated lash-look without the risk of stabbing yourself in the eye.
Audrey was the original poster girl for the full, youthful brow
Truly ahead of her time, Audrey also pioneered the full brow.  If you haven't already, grow yours out and add a brow stimulating gel into the mix.  ModelCo Lash & Brow Growth Stimulator contains follicle-boosting ingredients like vitamin E, Lecithin and Castor Oil. Follow that with ModelCo More Brows to get the cosmetic appearance of thicker brows – it is a gel with tiny nylon hairs suspended in the formula, so it's much more realistic than drawing them on. Remember, fuller brows are youthful, and minimize the need for heavy makeup. If you have gappy brows then try a powder to fill in any sparse areas.
AUDREY AT WORK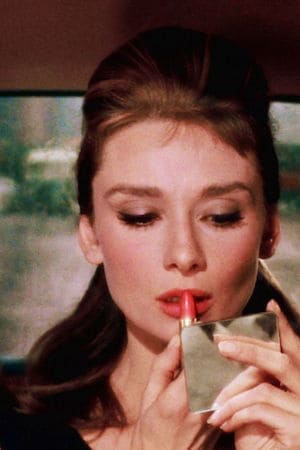 NO OUTFIT IS COMPLETE WITHOUT LIPSTICK
"Elegance is the only beauty that never fades"
To complete the look, Miss Hepburn was rarely without her lips dressed in a colour that was somewhere between pink and peach. Wally Westmore, the artist behind the make up for Breakfast at Tiffany's, used this shade throughout the film to give character Holly Golightly a subtle but feminine wash of colour. It soon became a signature that Audrey was rarely seen without. It is rumored that the colour used in Breakfast at Tiffany's was Revlon "Pink in the Afternoon". No one has confirmed this, but Audrey did star in a movie called "Love in the Afternoon". This shade is quite tough to find in Australia, so to mimic the look yourself, try Guerlain Shine Automatique Hydrating Lip Shine in Jardin de Bagatelle. Now all that's left is the Givenchy LBD and a diamond choker from Tiffany's, 5th Ave.
"Audrey is incomparable! Her influence is still here and it will stay with us forever."
Hubert de Givenchy, founder of the Givenchy fashion house, said this about his dear friend and muse Audrey after her 1993 passing. In 1957, Givenchy even designed and created L'Interdit Eau de Parfum exclusively for Miss Hepburn in a bid to capture her grace and beauty in fragrance. With notes of rose, jasmine, pink pepper and tonka bean, it quickly became her signature scent. Once private Creed Spring Flower was also made in the early fifties for Audrey; it was only available to the public some 25 years later.
RETRO GIVENCHY
A WOMAN WHO LOVES CARBS
"Lets face it, a nice creamy chocolate cake does a lot for a lot of people; it does for me."
Audrey grew up in Nazi occupied Holland where she suffered extreme starvation. This harsh upbringing shaped her attitude towards food, and she vowed from this time to never deny herself of the things she loved. She was health conscious, but always balanced it out with a little indulgence. Her diet was mostly vegetarian, and she always bought what produce was in season. Her guilty pleasure though, was her "serious obsession" with pasta. Audrey even cooked Pasta al Pesto for Valentino when he visited for lunch. Chocolate was her other vice, she has even confessed to having secret drawer in the house that hid her supply. She balanced her love affair of chocolate and carbohydrates with a monthly "detox day" where she consumed nothing but yoghurt and grated apple- a little strange but it seemed to work. Her most valuable tip to take home however is to never ever skip breakfast- especially if you're having it at Tiffany's.