Natalie Imbruglia has always had a striking brand of beauty. Whether she's singing about being "Torn" in her tracksuit top or treading the boards at the Theatre Royal in Bath as she did earlier this year, she has a Snow White-esque, almost fairytale look. Those wasp-stung lips, clear bottomless eyes, thick, inky hair and scrubbed-clean complexion, that seems to have barely aged in the last twenty years.
With that kind of cosmetics pedigree, it's no wonder Natalie is the latest Aussie celeb to launch her own beauty line - Iluka (which means "by the sea" in an indigenous language). Based in London, she recently returned to Sydney to promote the competitively-priced 10-piece range that she developed with George Moskos (the man who helped Miranda Kerr launch Kora). We caught up with the musician on a luxury boat on Sydney's harbour (as you do,) and plied open her bag of beauty essentials.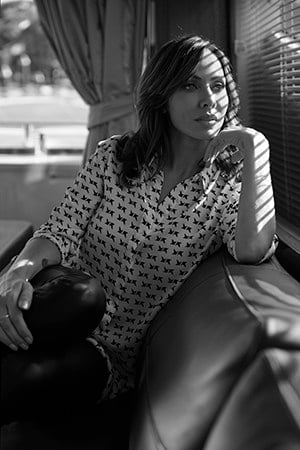 NATALIE LOVE HOW ILUKA PRODUCTS COMBAT HER PROBLEM SKIN
I have really problem skin…
I'm a good guinea pig for trying the product. If they don't trigger my acne, I know it's a really good product. Ilkua moisturizers don't block my pores. They're really absorbent. They go straight in. The toner is really good because it closes the pores a little bit as well. A lot of these products have actually stabilized my skin, so that's a bonus. You can use Illuminating Pearl Primer under your makeup. This is a really popular product and the pearl is really good for acne, too.
NATALIE PREFERS A TINTED MOISTURISER OVER FOUNDATION FORMULAS.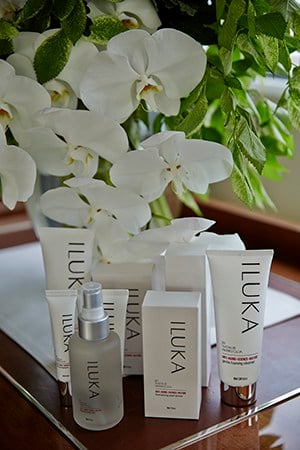 HER SKINCARE REGIME FOLLOWS THE SIMPLE STEPS OF CLEANSE, TONE AND MOISTURISE
My basic routine is cleanse, tone, moisturize…
I use the foam cleanser and the tonerand the luxe night cream in the evening and cleanse, toner and the day cream with the SPF in the day because it's a bit lighter. The luxe cream is great if I don't feel like wearing an SPF. I'll throw that on, it's not so thick that I can't wear it in the day. I like to use the eye serum at night. It's got a cucumber smell, too. It's really refreshing. The lip conditioning cream is great. I use the bamboo polish two or three times a week because if you use any kind of exfoliant too much, you can stimulate your oil glands and get more pimples. It's a really gentle exfoliator.
Every ingredient is doing something…
Kakadu plum is amazing for anti-aging and really high in vitamin C, that was a new one for me so I was excited about that. There's also green tea, which is very calming and soothing. I love that we've got manuka honey from Tasmania, which I thought was just a New Zealand product. The majority of the ingredients are from Australia and are inspired by my upbringing by the sea. There are no sulfates, no parabens, it's all natural.
NATALIE WEARS DRESS BY YEOJIN BAE
A FEW OF NATALIE'S FAVOURITE THINGS: PIERRE HARDY PUMPS, OLIVER PEOPLES 'SHELDRAKE' SUNGLASSES AND HER LEICA C COMPACT CAMERA
Oliver Peoples sunglasses are my favourite…
Pierre Toussaint is also amazing and I do lots of shoots with him. He designed with AM Eyewear for a charity and he got those St. Barts sunnies for me. I've now realized that I need glasses to see so I've got a prescription in my shades. I have a pea head so I have to wear smaller frames, I have a bunch of those. I love my Leica camera, I take it everywhere.
With food I'm balanced but I'm extreme…
I'm really, really good and really, really bad. I like to eat dessert. I think if you develop a way of living that you train your body to like healthy food, then you can break it and you don't have to worry about being on a diet. I work with the Bulgari Bodyism trainers, which is James Duigan in England. It's really gentle, using your own body resistance and I mix that up with running in Kensington gardens and I do a bit of yoga as well. I try to do something three to four times a week on an average.
NATALIE LEADS A BALANCED DIET AND BUILDS BODY RESISTANCE WITH YOGA AND RUNNING