Dannii Minogue has had an epic career. From her early days on Young Talent Time to rebellious punk teen on Home and Away, she always had that magnetic quality - that 'X Factor'- she would later spend hours debating with fellow judges Simon Cowell and Sharon Osbourne on the British X Factor. While sister, Kylie, was always laser-focused on music, Dannii peppered her pop career with a series of high profile jobs in London: from playing Esmerelda in the West End production of Notre Dame de Paris to hosting various TV shows and even designing her own fashion line (and fragrance) Project D. It's no huge stretch then, that after returning home (and becoming a mum to Ethan, 6), she became the Australian ambassador for L'Oreal Professionnel, face of UAE airline Etihad and partnered up with one of the country's largest mass retailers, Target, to design a clothing line for petite women. Who says women can't do it all?
We caught up with the diminutive, warm and lovely star at the launch of her Dannii Minogue's Petites range for Target, in the Penthouse Suite at The Olsen, and nosed through her travel bag. The former ModelCo face revealed her favourite brow gel, the shampoo she – and Kylie - swear by and the finely-milled powder that keeps her shine-free in front of the camera.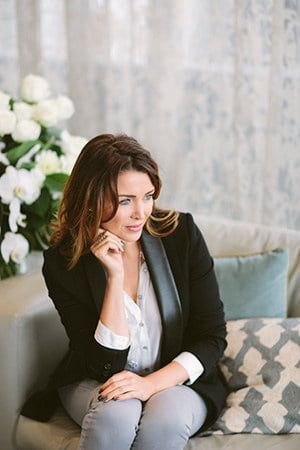 DANNII'S MUM AND SISTER KYLIE ARE ALSO PETITE BUT ALL DIFFERENT SIZES
"Petite is not about being a size zero
It's about your frame – it's narrower shoulder to shoulder, shorter from the waist to the neckline and sometimes shorter in the legs, in the arms – but not always. We are producing sizes 4-16. You can imagine my family photograph – we're all different sizes but we're all petite. My sister is a size four, I'm a size six, my mum's a size ten, my grandma would be a size sixteen but we're all 'littlies.' If you ever put on a jacket or a shirt and the sleeves are too long, the shoulders fall off, the waist is in the wrong spot, it doesn't end at the knee, it's dragging on the floor – you are a petite.
I love shoes…
And I've been able to get together with a French designer who is based out of Melbourne to create some shoes especially for Target. So they're the demi petites range, and there's stuff that will be done for Target that's not petites specifically, but what we do with the shoes is take them down to a size 5 because I find it incredibly hard to find shoes that go down to a size 5. So they go from a size five to a size ten, they're gorgeous. We also have boots and handbags – a gorgeous little clutch and a handbag that converts into a backpack.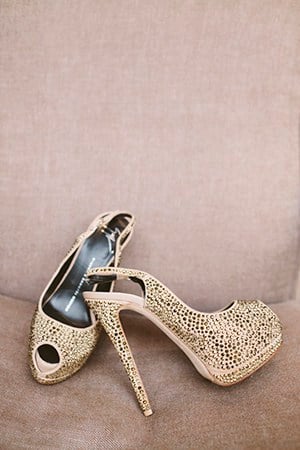 DANNII HAS A VAST COLLECTION OF SHOES LIKE THESE GIUSEPPE ZANOTTIS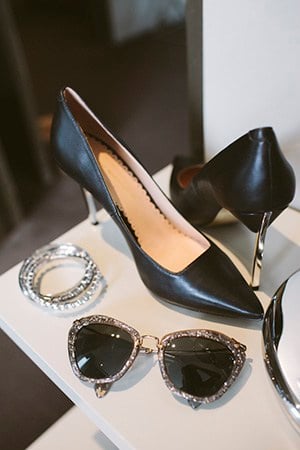 STYLISH TASTES; TARGET BLACK POINTS, SILVER BANGLES AND MIU MIU SHADES
It's so depressing to buy pyjamas and have to have them altered…
…so I'm excited that pyjamas are now in store! It's been a year since I first started working with Target, we've had four collections in store and we're working on the fifteenth collection so I am light-years ahead of what you see here. It is a huge team effort to get this right, and we are all still growing and learning. But we're monitoring the feedback so when we get to that fifteenth collection we're putting out the right things people want. It's a hell of a lot more work than I thought it was going to be!"
My skin is very thin and delicate and it can't handle much
I've been going to having this medical jet peel that is just with water and salt, so it's just amazing. I've also been getting IPL to help try and keep the collagen and that's really it.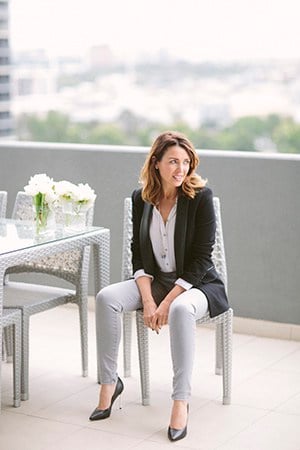 THE DIVINE DANNII IN HER HOMETOWN MELBOURNE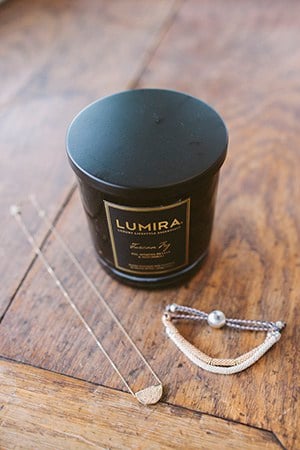 DANNII'S BY CHARLOTTE NECKLACE, LINKS OF LONDON BRACELET AND LUMIRA CANDLE
I never remember the names of the products I use
I usually have to bring the bottles in with me when I go to replace them. I know I've been a fan of the Dermalogica Special Cleansing Gel for ages – it just takes off all the makeup and is very gentle. And I use the Chanel Eye Makeup Remover, the bi-phase… I haven't found anything else that really works. I need to look after my skin more.
When I was doing Australia's Got Talent…
…and I was working with Kyle and Brian, because the boys didn't wear much makeup they had a different makeup artist that was just doing them, and I had some one else. Every break their makeup artist would use the Latonas powder – it's like an anti-shine powder – and at the end of the 12 hours I looked at the boys and said 'You don't look like you have any makeup on!' Normally with TV by the end of the day it looks like it's been caked on, so I asked the makeup artist what she had been using and she told me she would give me the number but that it was an Australian brand from Queensland. It works in real life and on TV as well – it's so fine on the skin.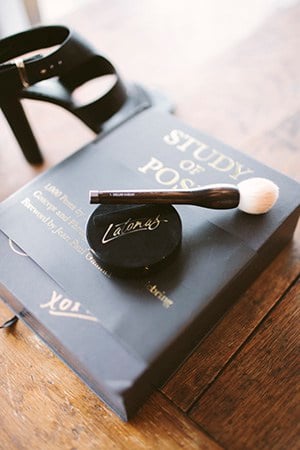 LATONAS LADY; DANNII USES THE POWDER BOTH ON-SCREEN AND IN DAY-TO-DAY LIFE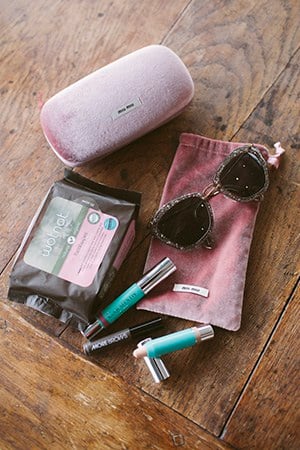 MODELCO, MIU MIU AND RAE MORRIS FILL HER BAG
I love ModelCo Fibre Lashes
Then they released the More Brows Fibre Gel as well, and I'm obsessed with having huge brows at the moment. There are little fibres in it and this product keeps them in shape, while adding a bit of volume and colour. The magnetic Ray Morris brushes are great too. I also use some products from Carmindy & Co, a makeup artist that I was working with at X Factor, Michael Brennan, brought me a few things to try and they're just so handy to pop in the bag. She's got really good concealers too.
I love the really strong Middle Eastern smells
I got Majestic Rose by Yves Saint Laurentwhile walking through the Abu Dhabi airport. It's really strong, but I work a lot in the Middle East and love the strong smells. This one has May Rose in it, I didn't even know what that was but it's beautiful. When I bought it they told me that there were only six places in the world that stock it.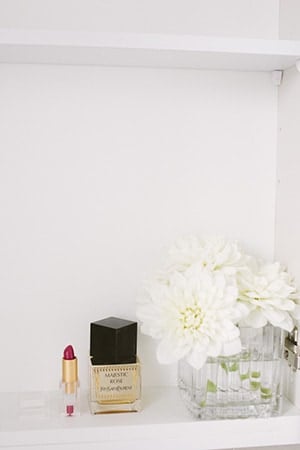 THE STRONG SCENT OF YSL'S MAJESTIC ROSE IS DANNII'S STAPLE WITH ESTEE LAUDER LIPSTICK IN SPICED CORAL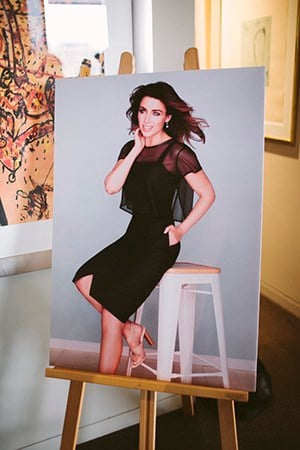 DANNII DAZZLES FOR TARGET, CAMPAIGN SHOT BY TROYT COBURN
Kylie's been a fan of Christophe Robinhair care line for ages
He colours her hair in Paris. I didn't really know much about it until Michael Brennan took me to a hairdressing salon in Sydney called Que Colour. Monique there is a distributor and she got me on to it. Cleansing Purifying Scrub with Sea-Salt is all I use for shampoo. It's amazing. I wanted to cut my hair shorter, but then again I want the versatility of being able to put it up too.
Coco Rocha contacted me randomly through Instagram…
And asked if she could send me her book The Study of Poses. I had started following her on Instagram because she does the best pictures and seems like she has the most amazing personality. I had actually seen that she was releasing this book so I bought a copy for each of my crew at the end of X Factor – before she had even contacted me! I told her that I had just bought one myself, but would love her to send me one because I wanted one with a message from her!"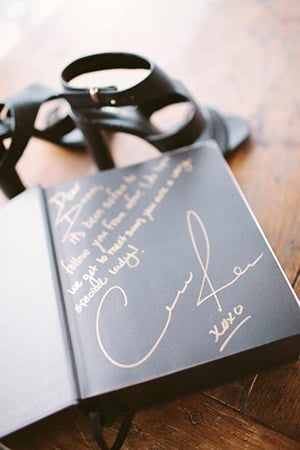 HER PERSONALISED COPY FROM MODEL COCO ROCHA
Story by Sigourney Cantelo; Arranged by Nicola Donovan; Photography by Neiyo Sun. Shot on location at The Olsen.