It's a beautiful thing when your passion aligns with your career. Hermione Underwood - who you may remember as Lara Bingle's manager in reality show Being Lara Bingle - has managed to combine an intense love of travel with a flair for marketing, with her travel and style blog Hermione Olivia. The Sydneysider recently relocated to London to more centrally located to jet set, and to expand her other business – and day job – a brand development and boutique PR business, The H Collective.
Hermione's health regimens and style have evolved since moving to the UK, but her beauty philosophies were shaped long before that. From Tom Ford lipstick and Byredo for fragrance, to La Mer and Aesop for skincare, a foundation of simplicity and inner beauty was where it all began for her. We caught up with Hermione in her Earls Court abode and took a peek inside her glamorous cosmetics collection.
"I feel very fortunate to be able to 'work' doing what I truly love.
Hermione Olivia was conceived as an outlet to share my travel experiences. It has evolved to include stylish contributors I admire, as well insights into my personal life and style in my new home of London. I never thought it would be possible to call this a profession and fortunately, my two passions are now intertwined in two different outlets. They have allowed me to better understand a part of the digital media industry, from the other side of the table.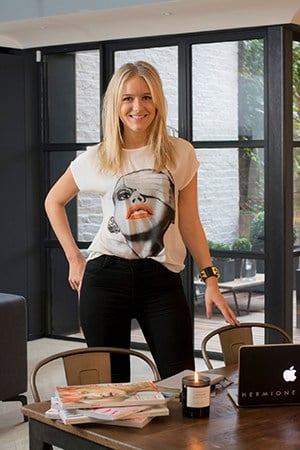 HERMIONE RECENTLY RELOCATED TO LONDON AND IS TRAVELING REGULARLY FOR HER WEBSITE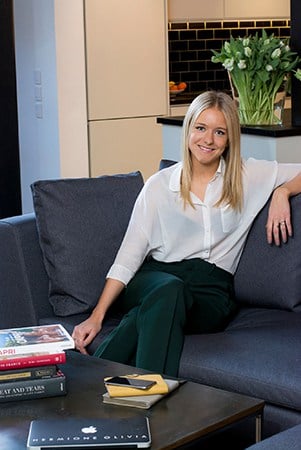 HERMIONE USES HER TRAVELS TO STOCK UP ON CULT BEAUTY BRANDS LIKE BY REDO, CIRE TRUDON CANDLES AND LA MER
My personal style has evolved living in London.
I've always had a fairly androgynous look and I must admit, I wear a lot of black. Comfort is crucial for me. I adore Parisian style – French Vogue Editor, Emmanuelle Alt is my go to reference. There is much more structure to my look as I mature, but when I am travelling I like to have more fun with it.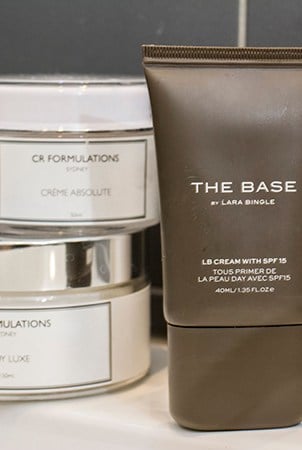 HERMIONE DID PUBLICITY FOR THE LAUNCH OF AUSTRALIAN BRAND CR FORMULATIONS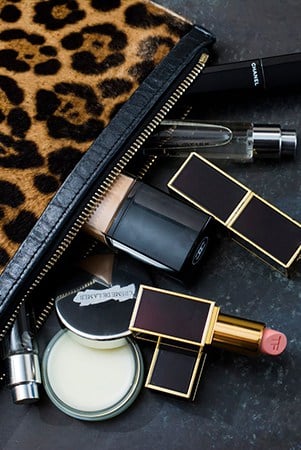 HERMIONE SWEARS BY BY REDO TRAVEL SPRAY TO FIT IN HER CHANEL BOY BAG
Simplicity is key for me with beauty.
I am very low maintenance, as I like to be out the door in two minutes flat. My day-to-day my look is very clean and simple: tinted moisturiser, mascara and lip balm. I buy a La Mer lip balm at every duty free counter I pass. It is my daily velvety, heavenly indulgence and my absolute favourite product.
My day starts with…
the smell of Aesop Rose Petal, Cardamom and Black petal body wash in the shower. I religiously use CR Formulationsproducts, they have turned my skin around. I worked with Cheryl, the founder, last year and she taught me so much about skincare and health. I use the Rice Milk Cleansertwice a day. I also recently had an experience with GENEU, a must do when in London. They create personalised skincare built on your DNA. I now use the serums morning and night.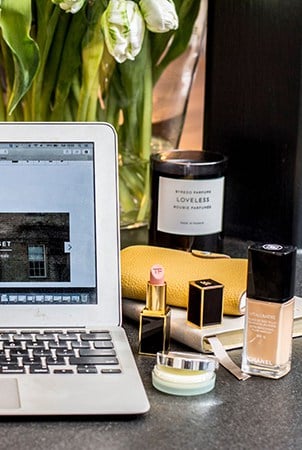 BYREDO LOVELESS CANDLES ARE AMONG HERMIONE'S FAVOURITE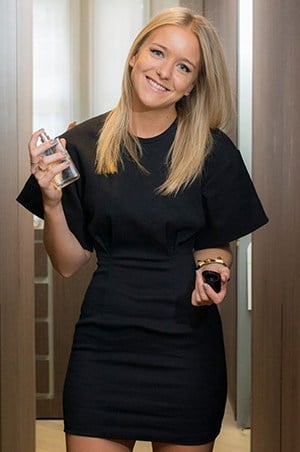 THE PUBLICIST BELIEVES YOU SHOULD FIND YOUR SIGNATURE SCENT AND WEAR IT FOR THE REST OF YOUR LIFE
I love the ritual of wearing perfume…
And it holds great value and important memories for me. "Find 'your' perfume before you turn thirty. Wear it for the next thirty years" is a quote from the book, How to be Parisian, that resonates with me. Mine is Frederic Malle's Portrait of a Lady and I will wear it for the rest of my life. It's very unique and often a conversation starter. I buy it from the beautiful flagship store in Paris.
At night I make more of an effort with my make up…
Wearing foundation and either a smokey eye or a bold lip. I swear by Tom Ford lipstickand I probably have 20 MAC eyeliner pencils. I use white eyeliner or the insides of my eyes to make them pop. The Kevin Aucoin Ash Blonde eyebrow pencil is genius and easy to use. I use bronzer as eye shadow, it's the perfect colour for green eyes. I always have perfume close by and the Byredo travel size Gypsy Water fits into even the smallest clutch. For a special occasion I'll do a lip or an eye but never both.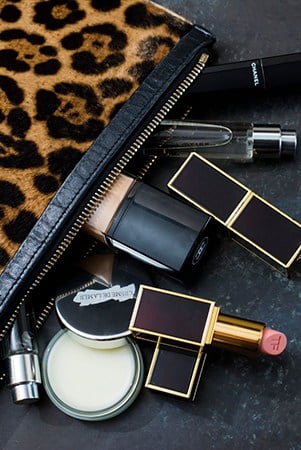 THE BARE ESSENTIALS: TOM FORD, CHANEL, LA MER...
COFFEE TABLE BOOKS, PERFUMES AND CANDLES ADORN THE SHELVES
I religiously have a bath at night…
With epsom salts if I've been training. I burn a candle every evening in the bathroom, usually Byredo Loveless, Diptique Baies or anything by Cire Trudon. I also collect candles when travelling. If in Paris, I will always buy a candle at Hotel Costes.
Massages are a true luxury for me. If I have a special occasion I will get a spray tan. In Sydney, the best spray tans are at The Parlour Room. In London, I use the beauty concierge app RUUBY for last minute appointments.
London gyms are very luxurious and private….
I do spin and Reformer pilates at my gym (Body Works West) in Notting Hill. It's the first time I have enjoyed going to the gym. When I 'm home in Sydney I train outdoors and try to swim as often as possible at Balmoral Beach. When travelling, I make sure to walk a lot.
HERMIONE LOVES TOM FORD NUDE LIPSTICK WITH A WINGED EYE
A DIET OF CLEANSING LEMON WATER AND GREEN JUICES KEEN HERMIONE FEELING FRESH WHEN TRAVELING
I have hot water and lemon with ginger…
…first thing in the morning and last thing at night, as well as a fresh green vegetable juice early in the morning when I rise early to catch the end of the Australian business day. Generally, I try to get a lot of rest, drink a lot of water and find a good balance of healthy food with occasional indulgences. I really listen to my body. Cutting out sugar recently was one of the best decisions I've made for my health."
Interview by Sigourney Cantelo; Story by Ally McManus; Photography by Sabana Amode; Shot at Hermione's home, recently developed by Lautner Group, in Central London.