For too long youth has been synonymous with beauty, particularly in women. So, when a silver maned 68-year-old becomes a beacon in the fashion and beauty world, we eagerly take note her gumption, promoting a fresh and mature approach to growing older with grace. Linda Rodin – veteran stylist and founder of cult beauty brand Rodin – started the range modestly in her home, and is now sitting on an empire. The brand - which started with the to-die-for Olio Lusso facial oil has recently landed in Mecca Cosmetica. To celebrate, we chatted with the ever-chic Rodin in her apartment in New York, uncovering a beauty minimalist motto, her love of lipstick and why she says no to hair dye.
"I modelled in Italy when I was very young.
Styling was something I fell into when I came to New York because I like clothes and I wasn't a very good photographer. I would never have modelled again [except that] people started asking me to, about eight years ago. I thought, sure why not?
FROM THE STYLIST TO THE STYLED...
RODIN'S APARTMENT IS FILLED WITH CLEVERLY CURATED CURIOSITIES AND OBJET'S D'ART
I hate foundation…
… so I only wear lipstick and occasionally mascara and I fill in my eyebrows because they have gotten whiter and thinner. If I have a blemish or something I'll spot it with Kevyn Aucoin to take away the spot immediately. I don't put it all over.
I don't know why everyone wants to look like a doll…
…I don't understand [overdone makeup], especially on young girls. They have the most beautiful skin, they should enjoy it while they have it. They aren't going to have it forever. It's like a mask and it also can't be good for your skin. I also think makeup on older women looks just as bad. I think when you get older it gets cakey. It's tough!
PORTRAIT DRAWING BY NEW YORK ILLUSTRATOR, GEORGE GOZUM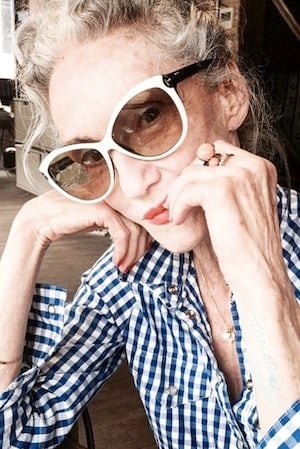 HER LOVE OF BEAUTY IS A HEREDITARY TRAIT
My mother was very beautiful and always wore lipstick.
She was forever wearing it. I think that's where I got my love of lipstick. She wouldn't leave the house without it. In high school we wore frosted lipstick, and then in my 20s I didn't wear it at all. I didn't start wearing it again until I was about 50.
I am very simple. I don't like to fuss.
I don't like to take too much time on it, I just want to get out the door. I think it's because hair and makeup [on shoots] can take so long. I have always been simple.
A KEEP IT SIMPLE MANTRA WORKS WITH HER EXPRESSIVE STYLE
PROUDLY DONS HER FAMOUS (NATURALLY) SILVER LOCKS
I started going grey at 35, and it has never occurred to me to dye it.
As I got greyer and older I felt I needed something to lighten myself up. I use a blue shampoo that's great for grey hair and blonde. It takes the yellow out of it. I use many different kinds; I'm using Aveda Blue Malva shampoo now. It's very nice. I just think [being grey] is easier. I don't know if it looks better or worse. For me, I could never dye my hair every two weeks. And now 20 year olds are dying their hair grey!
I haven't had a professional haircut in 10 years…
I just cut it off myself when it's in a ponytail. I had very curly hair. But I don't even straighten it anymore. I let it do its thing. When I wash it I pull it tight so it gets straighter – the easier the better. That's why I always wear it up.
SHE IS THE EPITOME OF EFFORTLESS CHIC
A LOVER OF TRINKETS, HER VANITY IS AN ECLECTIC CURATION OF HER FAVOURITE ACCESSORIES - FOR HOME AND HER HANDS.
The old fragrances smelt the best…
…I wore a Givenchy fragrance that doesn't exist anymore. They don't smell like that anymore. You can't even buy it because a lot of the ingredients are illegal.
Lipstick doesn't have to match your outfit…
I don't like it to clash, but I would rather it be a bit off. If I'm wearing purple maybe I'll wear a red lipstick, or if I'm wearing orange maybe it's a berry coloured lipstick or hot pink.
Blending lipstick shades together looks really chic.
The nude is a great one because it tones down every colour. And I'll mix the orange and the red if I want a more orange red. Or I might even mix the berry with the red which makes for a deeper purple. You can just play around and make the five [of Rodin's lipstick shades] into ten.
LIPSTICK ARTWORK BY DONALD ROBERTSON
LINDA'S FAMED FRAMES...
I don't eat lunch, it makes me want to take a nap.
I am not a big lunch person. It makes me sleepy. If I do eat lunch, I might just have a smoothie or something. I'm a very healthy eater. I really like good food, so it's not a problem. I have never been a junk food eater and I have never been a between meals eater. So I have been lucky. I like good, healthy food, I always have. It's never been a struggle for me. I'll have a cappuccino and a banana and a yogurt or something. I usually skip lunch, but I eat dinner about 5pm.
I walk my dog Winks many times a day.
It could be half an hour, it could be 15 minutes or it could be an hour if I am doing other things at the same time. And if I am not home he has a dog walker because he needs to go out several times a day. He gets plenty of exercise.
LINDA'S BELOVED POOCH, WINKS
OFF DUTY CHIC...
I wear jeans everyday…
…so the bottom half is done, and then I just change my shirt, my shoes and if it's winter I'll pick the right coat. I usually use the same handbag all the time. I don't like to change, otherwise I leave something behind. So I use the same bag for a long time. Living in New York can be a nightmare. I don't have a lot of closest space. No lavish big walk-in cupboard. I can barely see anything I own.
I started making my own makeup because nothing appealed to me…
I used to try every product makeup artists and models recommended in photo shoots, but they weren't for me. I was exposed to everything and realized how simple I really was.
LINDA'S HOME IS FULL OF OIL CONCOCTIONS SHE PLAYS WITH TO CREATE NEW BEAUTY PRODUCTS
IMMORTALISED ON THE WINDOW OF MECCA
I started [Rodin's] Olio Lusso range by accident.
I was trying to make something myself, something that was simple. I always loved oils and I just experimented with the ones I really liked and mixed them together in a cup. That was it. A bit of trial and error, and I got the perfect formula. I knew what I liked and I knew what the goal was and I just kinda managed to do it, luckily."