For the first story in our beauty icon series, there is no one more appropriate than the original bombshell, Marilyn Monroe. The epitome of old school glamour, Miss Monroe was always poised, glamorous, and beautified within an inch of her life.
For the most part, she remained coy, unwilling to share the details of her lavish beauty routine. Although over time, a few secrets have been exposed, revealing the artistry behind her timeless and ever lusted-after look.
"You don't just wake up in the morning and wash your face and comb your hair and go out looking like Marilyn Monroe- she knew every trick in the book"
Spoken by photographer Milton H. Green, it was widely known that Marilyn Monroe was often running late, largely due to her meticulous grooming routine. Allan 'Whitey' Snyder was Miss Monroe's makeup artist for almost the entirety of her career. The two were so close, they were more or less family.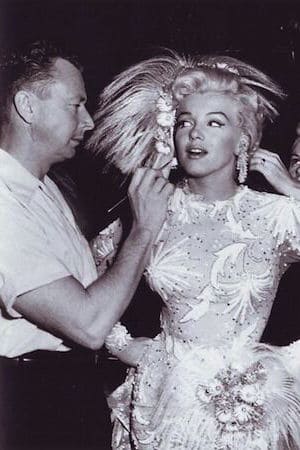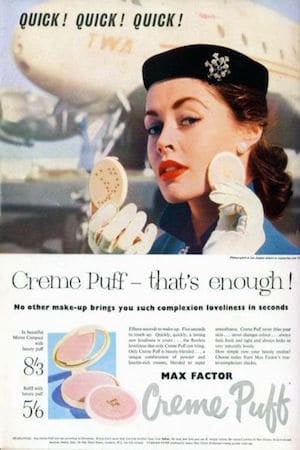 "If I die before you, you have to do my makeup for my funeral!"
Miss Monroe famously said to Whitey, who was pivotal in creating Marilyn's classic look. A creamy, glowing base was first. A fan of Max Factor, it's believed she used the Crème Puff Foundation. For a similarly 'velveteen' finish try finishing your makeup with the brand's iconic Crème Puff Pressed Powder. This classic has recently been relaunched, but still gives that gorgeous luminosity Marilyn was so fond of.  Next, a brown eyeliner pencil was used to create her sultry gaze and Miss Monroe was a fan of Elizabeth Arden pencils. To nail the look now, try Elizabeth Arden Beautiful Colour Precision Eyeliner in Java to line the top and bottom lash lines. False lashes were also a must, although the secret is to use half sets only to elongate the eyes. Ardell have a range of strip lashes that you can apply to the outer corners. We love Ardell Fashion Lashes Accents in #305 for the perfect level of flutter.
To make her lips appear fuller, Monroe would have her makeup artist apply five different shades of lipstick and gloss to create dimension.
Less was definitely not more when it came to Miss Monroe's seductive red lip. Her signature pout was a labour intensive process that involved layering liner, various shades of red lipstick and finally gloss. Marilyn confessed that makeup artist Whitey would use varying shades of red to create fullness.  To create a similar Hollywood red lip, Guerlain Kiss Kiss Lipstick in Red Insolence was whispered to be Miss Monroe's favorite. Of course once you have perfected the lip, don't forget to add your beauty spot. Marilyn's is believed to be real, although she reportedly filled it in softly with a dark eyeliner pencil.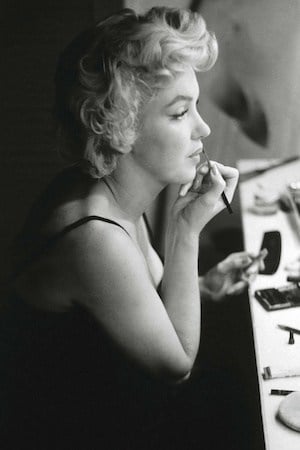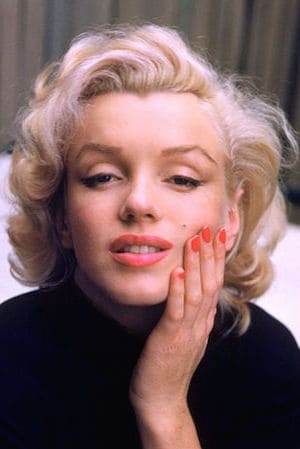 "I want to grow old without facelifts. I want to have the courage to be loyal to the face I have made."
Marilyn Monroe was arguably as famed for her radiant, youthful skin as she was her career. Although, her secret here is a little unorthodox: she used hormone cream that resulted in a fine layer of peachy blonde hair all over her face. She was urged to shave it off, but she refused because of the glow it gave her in photographs and on screen. Vaseline was another secret, applied all over her face for a dewy, youthful sheen. While we wouldn't recommend hormone cream or Vaseline today, she was a fan of another beauty gem we still adore. Marilyn used Elizabeth Arden Eight Hour Cream Skin Protectant to keep her face soft and hydrated. Still a cult beauty buy, try Eight Hour Cream Skin Protectant Nighttime Miracle Moisturiser for the same softening effect.
Dr Laszlo was a dear friend of Marilyn's, and even formulated part of his range specifically for her. The line was originally only available through an exclusive members only system at Saks on 5th Ave, New York City, although now is now sold online and shipped internationally. The cream is a rich and moisturizing complex of fatty acids to hydrate and maintain PH levels. It boasts a list of famous clientele, including Jacqueline Kennedy and Audrey Hepburn, however Marilyn seemed to leave the largest impact. When the newspapers around the world printed photos of Marilyn's deathbed, bottles of Erno Laszlo's Phelityl Cream can even be seen left on the nightstand.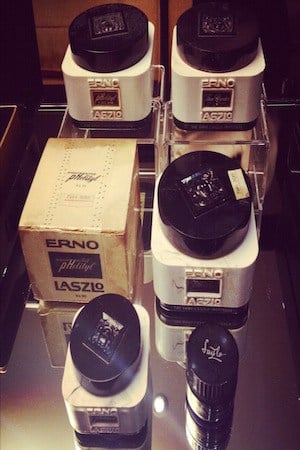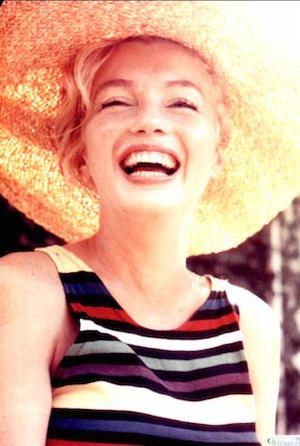 "I'm personally opposed to a deep tan because I like to feel blonde all over."
Marilyn famously told Pageant Magazine in 1952 she is a fan of pale skin, despite a suntan being in Vogue in California at the time. Her flawless complexion was maintained by keeping out of the sun. Offset by her creamy blonde hair, Marilyn Monroe was the ultimate blonde bombshell from top to toe – and was certainly ahead of her time. Today we know the ageing effects of prolonged sun exposure to our skin, so make like Marilyn: avoid direct exposure during the middle of the day, and use a sunscreen religiously. We love Ella Bache Great SPF 30+ Facesaver.
"What do I wear in bed? Why, Chanel No. 5, of course"
The actress candidly revealed during an interview her love affair with the soft, feminine fragrance. Marilyn Monroe has since featured in the brand's advertisements as the original perfume postergirl. An intense floral with powdered, musky notes, Chanel No. 5 has long been known as a symbol of femininity and classic luxury. Miss Monroe's mischievous remarks remind us that no occasion, outfit, or lack thereof, is complete without a mist of signature fragrance.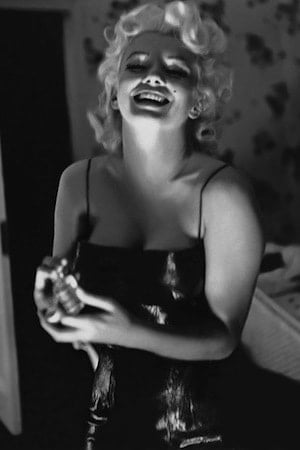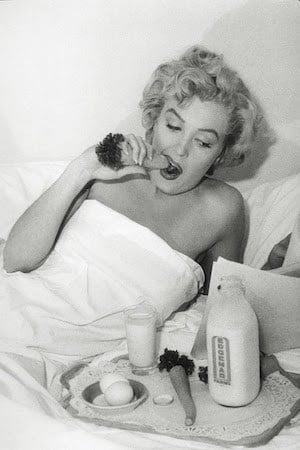 "Frankly, I've never considered my own figure so exceptional; until quite recently, I seldom gave it any thought at all".
Her figure is still lusted after by men and envied by women 52 years after her passing. To consider it 'unexceptional' is quite the understatement. Marilyn Monroe was renowned for her curvaceous, womanly figure that exuded sex appeal. In a truly glamorous confession, Marilyn Monroe revealed that she always slept in. No alarm, just waking when her body decides it is ready to rouse. If this sounds a little unattainable, her fitness regime is perhaps more achievable: 10 minutes every morning working out with small weights for tone and strengthening. Her diet, on the other hand, is a bizarre: warm milk with raw egg whisked through for breakfast, and "some protein and three raw carrots for dinner." What we can take from this is that whole, natural foods are best. Our favourite confession though, is her penchant to indulge. She famously divulged to Pageant Magazine that dessert is always on the menu. "I have developed the habit of stopping off at Wil Wright's ice-cream parlour for a hot fudge sundae on my way back from my evening drama classes." Cheers to that Miss Monroe.