From a blank canvas to a cleansed face, Fashion Illustrator Megan Hess knows how to create something beautiful with a brush. The Melbourne-based beauty has had her utterly feminine and sophisticated pieces of art commissioned by some of the world's most exclusive brands including Chanel, Dior and Tiffany & Co. She even helped render the stylistic voice of a generation when she illustrated the cover of Candace Bushnells' Sex and the City.
We caught up with the glamorous, warm and witty mother of two (Gwyn, 8 and Will, 4) in her fashion-drawing of a home in Port Melbourne and discovered a raft of beautiful tips along with a daily practice that she says transformed her life.
MEGAN SURROUNDS HERSELF WITH BEAUTIFUL THINGS FOR DAILY INSPIRATION
"I always wanted to be an illustrator…
I just never knew when I was young that it was a possible career choice. When I first moved to London I worked in a million different creative jobs and I realised that I had a burning desire to be an artist. I started to do small illustrations for Liberty and after that little commissions began to follow. After about a year I found myself with non-stop work – I wasn't earning a fortune but I'd never been happier and I knew I was going to do this forever. In 2006 I got a call in the middle of the night from Candace Bushnell's publisher asking if I would illustrate her next novel 'One Fifth Avenue' and her book became a New York Times bestseller. She then asked me to illustrate all her previous books including the cover of 'Sex and The City'. TIME and Vanity Fair then contacted me from New York to create portraits for them, which was a dream come true. Following this, I began illustrating for Tiffany & Co, Chanel, Dior, Cartier, Italian Vogue and Bergdorf Goodman. Ironically, at the same time as my work finally took off I had my first baby. Its funny, I always tell people that I haven't really slept since 2006!
I always choose clothes purely by the fabric and cut…
Regardless of the designer. I love vintage lace dresses and antique jewelry. I'm always on the hunt for vintage Chanel costume jewelry – its one of my favorite things to collect. With clothes I love mixing more structured designer pieces with vintage finds. Most mornings I have to Skype clients overseas in Paris, Milan, London or New York so I often only get dressed from the waist up and I keep my pyjama pants on the bottom because they can only see the top half of me!
MEGAN IS DRAWN TO FEMININE, CLASSIC PIECES IN HOMEWARES AND FASHION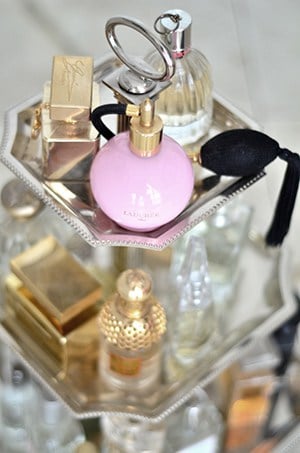 A VINTAGE CAKE STAND DISPLAYS MEGAN'S FAVOURITE FRAGRANCES.
I try to keep my beauty look dewy, soft and natural looking.
My game-changing product is my Clarins Instant Smooth primer – my makeup honestly lasts all day. I use Dior Beauty Flash foundation and concealer and Dior Cheek stain. I love MAC strobe cream and BECCA highlighter cream on top of my foundation and I reapply a little more to refresh the make up at night if I don't have time to start again. I use Dior Blackout Mascara in Waterproof because my eyes run at the slightest glare from the sun. For a night out I'll go to more effort with my eyes so I'll use some of my more metallic or deeper shades and I'll use my favourite fragrances and layer with their body creams to keep the scent all night. I love perfumes by Dior, Tocca, Guerlain and Jo Malone. I always use Eve Lom cleanser at the end of the day. When I think of all my beauty products, this is my holy grail! I love that it can remove even my waterproof mascara, you can even rub it on your eyes and eye makeup just melts away. It leaves my face feeling like its just been to a day spa. It's the one beauty product that I will never change.
When I get off a long haul flight…
I always apply a Shiseido facemask as soon as I can after I land. It completely brings my skin back to life. When I'm in New York I visit Frédéric Fekkai in Bergdorf Goodman salon for a cut and colour – they don't call it 'Bergdorf Blondes' for nothing! I really love a microdermabrasion; I like the feeling of your skin after a treatment. My favorite spa is the Isika Spa in Crown Metropol. They do amazing massages and facials and you can go for a swim in their rooftop-enclosed pool with 360-degree views of the city. It's heaven.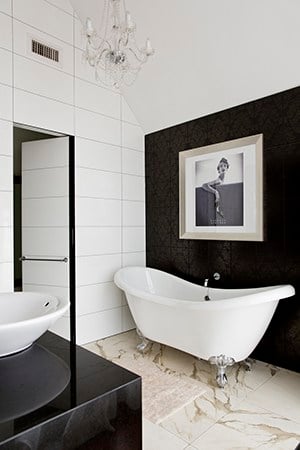 A VINTAGE BARNEY'S NEW YORK AD HANGS ABOVE THE BATH.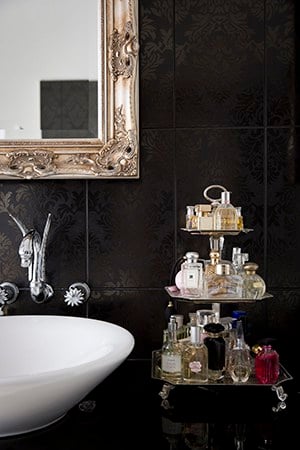 A TIER OF FRAGRANCES
My hair drives me insane.
It dries into a haphazard frizz and I have to tame it into submission! It's exhausting. My good friend and hairdresser David Babaii taught me that it's all about sealing the hair straight after I wash it. He has some amazing products that do just that so they're my staple. I'm working with him and Gwyneth Paltrow on all their new Blow Dry bars (called Blo) and in that process they're developing all new products and I just keep saying to them…'Focus on the frizz!!! Please!!!'
I think women with gusto are the most beautiful.
Growing up, I always wanted to look like Audrey Hepburn. I loved women who looked confident and carried themselves like they were going to conquer the world. I also love some of the other classic beauties such as Grace Kelly and Sophia Loren. And of course I've always wanted to have Kate Moss' hair.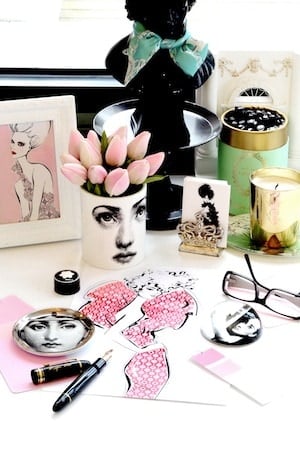 MEGAN'S WORK SPACE IS LINED WITH FSAHIONABLE INSPIRATION
MEGAN AND HER BEAUTIFUL DAUGHTER GWYN (8) CHAT IN THE KITCHEN
Like many things in life ageing is out of our control…
So it's useless to fixate on it or worry about it. The ironic thing is that the downside of ageing is our exterior but the great thing that we don't realise when we're a teenager is that with ageing does come a lot of acceptance and you let go of many insecurities as you age because you finally know what's important to you. I have an 'everything in moderation' philosophy to food. I eat everything, good and bad BUT I don't ever over eat. It's the 'eat and really savor' your food theory and I don't like to rush food. I think eating a little slower gives your brain time to register that you're full and content.
I have one daily practice and that's meditation.
After trying for years to meditate without success, I read a book that changed my life. Its called 'Why Mindfulness is Better than Chocolate'. It just had the meditating techniques that clicked with me and after a year of mediating every day it has become the most important thing in my daily routine, it really eliminates stress! As a working mum juggling work and family and everything else, I found that could easily get anxious. Once I learnt to meditate it really took that away. Life still gets completely crazy but 20 minutes of meditating and I can wipe it all away. It's the greatest thing I've ever done for myself. I love working for myself and having my own business. I know it means working longer hours but I love the freedom and choice that it brings. More than anything I just love being able to draw for a living. It's a luxury to do what you love as your profession and I'm honestly very grateful for it every single day."
TO ELIMINATE STRESS, MEGAN MEDIATES FOR 20 MINUTES A DAY
Story by Sigourney Cantelo; Arranged by Ally McManus; Photography by Craig Yelland and Marcel Aucar for The Grace Tales; Hair and makeup by Megan Hess.