It's hard to take your eyes off Samantha Harris. With her radiant complexion, voluminous lips and big brown eyes, it's no wonder that the camera loves her (seriously, how could it not?) The Vogue Australia cover girl and Ambassador for Priceline's 2014 You Beauty Campaign has been modeling ever since she was 13, and now a decade later, she is all grown up. Here, she shares with us her best makeup tips and beauty essentials.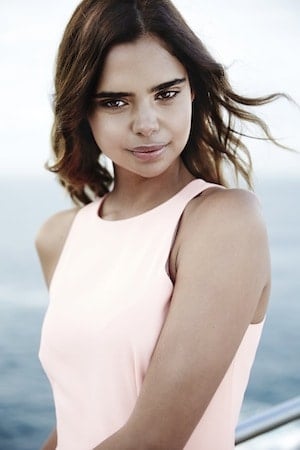 SAMANTHA WEARS WITCHERY DRESS.
My lips are my favourite feature
When I was younger I wasn't too keen on them because they were different, but as I've gotten older I've grown to love them.  It's funny now because everyone seems to want big lips – lucky for me! I don't tend to wear lipstick, rather I'll just put on a little of Benefit's Cha Cha Lip Tint or Lucas Paw Paw Ointment, which I carry with me everywhere.
I'm much more eyes over lips in terms of the makeup I wear. I really like those warm, bronze eye shadows. I have this Stila palette with all of these beautiful eye colours that I find work really well with my complexion. I curl my eyelashes with my MAC Cosmetics Eyelash Curler and I just got this new mascara by Benefit that I'm really into also. I don't generally like wearing mascara because I walk out of the house with one massive eyelash when it all clumps together, but I've found that my Benefit one doesn't do that for some reason.
I started modeling when I was 13
Back then I didn't know much about makeup or how to apply it properly.  When I turned 16 or 17 though I started getting the hang of it. I've learnt a lot along the way by watching makeup artists do my makeup. I'm always asking for little tips and tricks.
I like the look of peachy tones on my cheeks and have two cream blushes I swear by: Stila's Convertible Colour in peony and Becca's Beach Tint. I kind of mix them together to make this super peach. I use the Stila one on my lips sometimes too – it's so versatile and fun to wear.
I love foundation. One of my favourites is the Bobbi Brown Skin Foundation with SPF15. It's so sheer yet I can still build up the level of coverage if I need to. I use a pressed powder by MAC Cosmetics for touch ups throughout the day.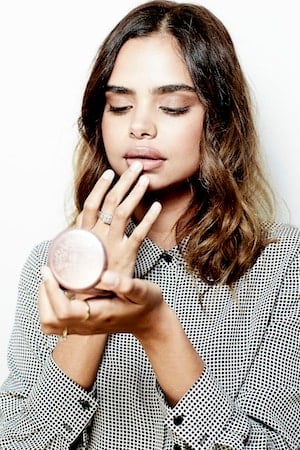 SAMANTHA WEARS SPORTSCRAFT SHIRT AND HOLDS HER STILA CONVERTIBLE COLOUR COMPACT.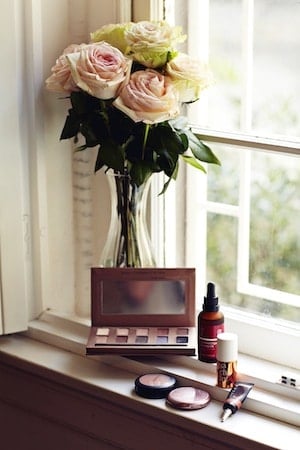 STILA, BENEFIT, BECCA AND TRILOGY ARE AMONG HER FAVOURITE BRANDS.
When Priceline approached me about their 'You Beauty' campaign…
I was really excited to be an ambassador. I love the idea that they're celebrating the diversity of Australian women; all different colours and ages. There weren't any Indigenous models when I started modelling so for me, this campaign is really important. I think at Pricelinethere really is something for everybody no matter your age, your skin type or skin colour.
I use Triolgy's Certified Organic Rosehip Oil from Priceline as my moisturiser. I use it morning and night but not too much in the morning otherwise I'll go out and look a little bit too shiny. I cleanse my skin with Cetaphil – it's super gentle. I also use several products from Dermalogica's skincare range; their Pre-Cleanser, Ultra Calming Mist and Eye Cream. I especially love the Ultra Calming Mist, it feels so nice on my skin after I've been working all day.
I get my hair balayaged
at Wild Life Hair Salon in Surry Hills, they do all my cuts and treatments too. I've been going there for about six years now, ever since I relocated from Tweed Heads to Sydney.  At home I like to use Aveda Damage Remedy Shampoo and Conditioner. At the moment, I will blowdry my hair because it's winter, but I don't really straighten it that much. I try to keep my hair as fresh and stress-free as possible because, as a model, I'm constantly getting things done to my hair.  During summer I'll just put some Toni & Guy Sea Salt Spray in and let it dry naturally – nothing too high maintenance.  I love Batiste Dry Shampoo too; it's great for that little bit of volume.
One of my really good friends, Jasmine, is a brow artist. She's always really busy but I'll occasionally sneak in to her salon with a coffee and see if she can squeeze me in – I bring the coffee, she does the eyebrows – we have a good system!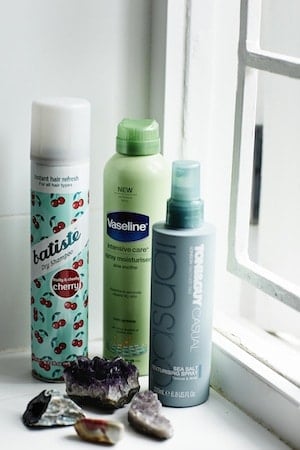 DRY SHAMPOO AND SEA SALT SPRAY HELP KEEP HER HAIR LOOKING FRESH.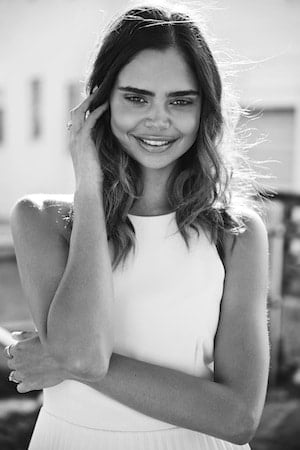 SAMANTHA WEARS WITCHERY DRESS.
I believe it's all about moderation
When it comes to eating well. I eat a lot of fresh fruit and vegetables but I don't do juice cleanses. I've tried to do one once and it was really hard. Just the fact of only drinking something and not actually eating anything solid for days. It's pretty tough.
I go to Fitness First in Sydney's northern beaches. I try to get to the gym as much as I can, at least five or six times a week where I do a combination of weights and cardio. I've learnt that I need to mix it up in order to keep myself interested. If I'm finding I'm a bit unmotivated and a bit bored with everything, I do boot camps. I like that sense of when everyone's doing it, everyone's suffering together; it helps you push each other through it.