If you're a fan of following the sartorial set, particularly on Instagram, you're no doubt very familiar with Australia's rising star label, Rebecca Vallance. The woman behind the eponymous label is the brand's aesthetic personified: chic and ladylike, but with an undone edge that gives off understated sexiness. The mother of two boys, Matthias (2) and Rafael (just 5 months-old), she's no stranger to balancing family life with a burgeoning business. And, we're not kidding when we say the latter. Since hitting the New York Fashion Week lineup six years ago, her designs have been thread of choice by the likes of Karly Kloss, Joan Smalls, Kate Beckinsale and Halle Berry (to name just a few). She is also stocked in Net-a-Porter, Harrods, Harvey Nicols and My Theresa as well as a flagship store in Sydney and a Melbourne shopfront opened just this week. Did we mention she has a 5 month old? So, we caught her at her incredible Eastern Suburbs home to find out, quite frankly, how she does it. We also talk her serious makeup addiction, her go-to beauty brand and how everything changed after kids...
"I always knew I'd be a designer. When I was seven I used to make clothes with my grandmother…
I'd go to her place in country Victoria during the school holidays and we'd make clothes together. I don't have any of the pieces now unfortunately, but I knew early on that this is what I wanted to do. I want to make clothes that I will wear, that make women look and feel beautiful. I only wear my own brand – I would never design something I wouldn't wear myself. My personal style is polished in an unpolished way. I like elegant pieces, but I don't like to be looked too considered.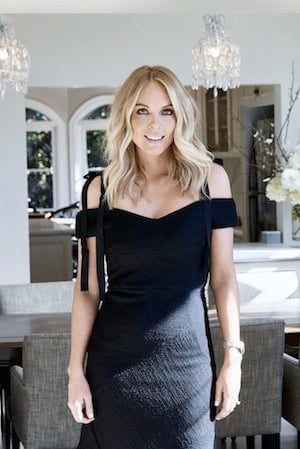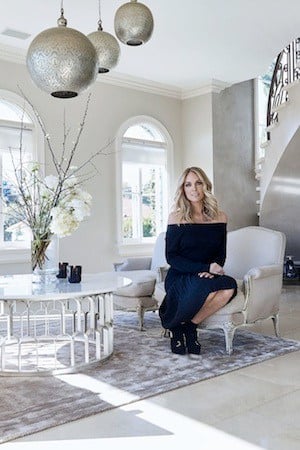 The best piece of life advice I've learnt along the way is to follow your gut instinct…
I've gone against this in the past and every single time it has been a mistake. In almost all decisions the right decisions I've made, it's been because I've gone with my gut. You know what's right for you, deep down. My designs are a product of my instinct and gathering inspiration from my favourite things. My most recent work is very resort because I love Capri, Italy. It's my favourite place in the world – I just organised by husband's 40th birthday there, actually. I love the drive down into Anacapri, I feel a great connection there.
I only took two weeks maternity leave…
…but I'm careful not to be a slave to the business. It's not that my priorities changed after having Matthias and Rafael, I always knew they'd come first (even before I had them), it's about fitting it all into the day. I work smarter, not harder. I have 18 hours a day to get everything up and running. I take both of my boys into work when I need, and I'm very fortunate to work everyday with people who are understanding and supportive of managing work with children, as it should be. I set up a little area to sleep, too!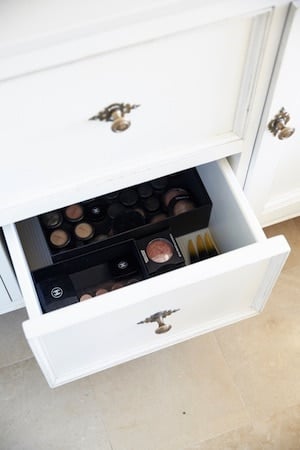 Elizabeth Taylor has always been my beauty idol, she was so glamorous…
…and I suppose that's why I feel most beautiful with a good set of lashes. I love the individual ones from MAC, I get them to put them on. If you have great lashes, the rest is easy. You don't have to worry too much about the rest of your makeup then, especially during the day. I like to feel a little bit 'done' even on a Saturday taking the kids to the park. It makes me feel good.
Being a mum, I'm so time poor – for me it's not about having a full skincare ritual…
…but I do love luxurious creams. I love La Mer Moisturizing Cream. I think it's better to use the best of what's out there, giving yourself that little bit of luxury, than using products that aren't as efficient. Or that don't make you feel great. I was on a plane recently and I had a little La Mer tub, it felt so luxurious on a long trip. I'm really fanatical about taking my makeup off. My grandmother was into that sort of stuff, she taught me the importance of this. But I'm more girly girl than her when it comes to really loving the products. I'm a big fan of Aesop body washes and balms, too.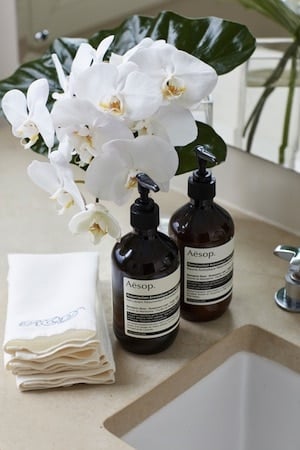 I genuinely love makeup. I think more is more.
… I love the products, I love the process of putting it on. I love learning how to do contouring and just have that kind of makeup most days. It's fun for me. The first product I ever bought was a hideous foundation… I felt so grown up buying it, but it was entirely the wrong shade for me. Awful. But, now I have a much better idea about what suits me. I use MAC Waterproof foundation, and am always doing my contouring with a highlighter, and have all the different kinds of makeup brushes. My favourite lipstick is Velvet Teddy by MAC, it's a velvety pink – I actually have a top selling right now in a similar colour.
I go to Paloma at Oscar Oscarand let them do whatever is right for my hair…
… I really trust them. I'm always blonde, though, it suits my skin tone. I don't like having my hair blown out, I much prefer a bit of an undone look when it comes to that. Nothing too polished. My hair uniform at work is a big bun because I'm always on the go and so busy. I like to use Moroccanoil in my hair to tame it a bit.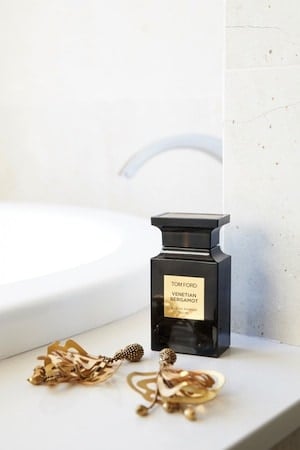 I love the Tom Ford Venetian Bergamot fragrance, I carry it around with me and spray it behind my ear…
It's such a beautiful scent. I also wear the Jo Malone White Gardenia moisturiser every day. It's nice to indulge in things that give you a real sensory experience. So, I use that moisturiser, and on days when I'm feeling a bit pale I'll go and get a St Tropez spray tan. I also use the St Tropez bronzer when I'm going out to a night event. Sometimes a fake tan just makes you look healthier.
Before kids, I had a personal trainer five days a week doing interval training… Now I go to Fluid Form Pilates.
It has just transformed my body after babies. I would get pretty bored doing interval stuff, whereas I really enjoy pilates. I find I get a lot more out of it, and they specially cater to women who have recently had a baby, I can even take him with me. I usually do private classes there. I try to eat really clean, too, that's when I feel best. I don't feel good when I eat carbs like bread and pasta, so I like to fill up on vegetables and salad and I recently cut back on sugar. I feel so much better for it.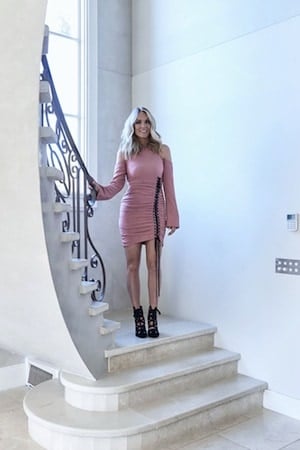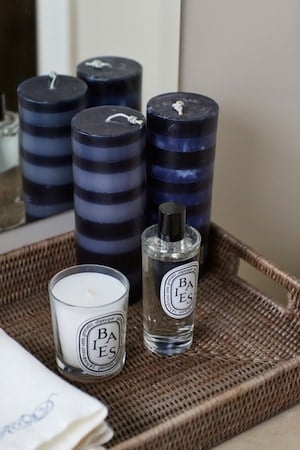 But, after a long day I love nothing more than having a glass of Pinot Noir with my husband…
…especially after having two little people to feed and bath, it's our little indulgence at the end of the day. I like to have a bit of calm then, light a Diptique Baies candle. I don't really do very much these days, like massages and things, that I used to do before kids. I used to have a full body massage every three months, now it's out of the question! I do go to Melanie Grant occasionally and let her do whatever facial she thinks I need."