Forever embellished in chiffon, lace and swathes of velvet, Stevie Nicks is best described as part rock star, part romantic gypsy. Her iconic music career was pieced together from a patchwork of impressive talent and a penchant for the rock and roll lifestyle, which she embodied in spirit and style. From her time onstage with Fleetwood Mac to an extensive solo career, her 140 million album sales and 13 Grammy nominations speak volumes for how influential Stevie was as an artist and icon.
Stevie broke the mould of the primped and pristine look of the 50's and 60's woman, instead paving the way for the rock boho style we still emulate today.

Her unruly blonde locks were here signature

Marching to the sound of her own drum... or tambourine.

Stevie, while a rocker at heart, kept a soft wistfulness about her.

While she was present in the party scene in her heyday, she took her health and happiness more seriously with age. Something she credits to her mum's influence.

As the best style icons always are: effortless

The uniqueness of her look, and the strength in her presence, is what makes her so intriguing to this day.
Her shaggy blonde hair, doe eyes and pillowy pout was her signature style, proving so popular her effortless '70s look have been mimicked by women ever since (she single-handedly invented boho as we know it today). Today we dive headfirst into the fantasy that is Stevie Nicks, complete with sordid love affairs, hair secrets and her beauty repertoire – used to complement (and sometimes hide) her party girl lifestyle.
"My whole life is a rebellious moment."
From her youth, Stevie was a magnet for the drama synonymous with the rocker brand of fame. Her time with Fleetwood Mac garnered a reputation for enduring a series of tumultuous love affairs, unsurprisingly with fellow musos (drummer Mick Fleetwood, The Eagles' Don Henley and songwriter J.D Souther). Paired with her success, Stevie had a penchant for partying that resulted in a few health scares. Despite this, a unique beauty that separated her from the (at least seemingly) polished posse of female-led bands of the time – The Carpenters, The Seekers – and bold presence, she was not, and is not, a polarising figure. Playing literally to the beat of her wild drum is, evidently, a recipe for a lifelong fan base.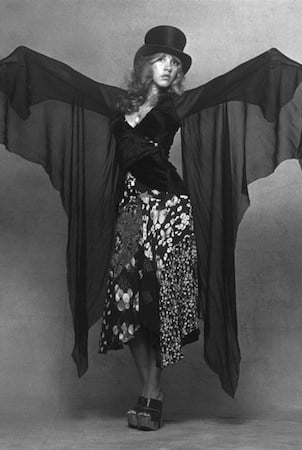 STEVIE WAS, AND IS, A TRUE PERFORMER AT HEART.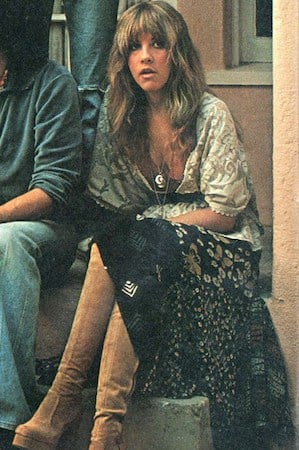 SHE BEGAN THE BOHO LOOK WE KNOW, LOVE AND EMULATE TODAY
"By the time I was five, I was a little diva."
Stevie's fashion inspired a movement of women dressed head to toe in ragged chiffon and heavy platform boots (it's rumoured she owned 25 pairs). Her look originated from a moment, at just 18, she experienced a Janis Joplin concert. Stevie spotted a girl in the audience wearing what she described as a 'mauve-y pink chiffon skirt, high cream suede boots and ribbons throughout her hair'. Stevie admitted that when she saw her, she knew that look was it. From there she evolved her personal style into the style icon we know to love, and had her working later in life with designer Margi Kent.
"I've got my dad's beautiful skin…"
… Stevie famously told Elle UK. She admitted that from the age of thirty she was rarely in the sun due to her 'party all night, sleep all day' lifestyle. While going sans sunlight is great for the skin, little sleep and partying is not. To counteract this, Stevie loved to soak in any myriad of expensive, luxe products she could get her hands on. Her favourite, Crème De La Mer . Stevie was also an advocate of never sleeping in makeup, as well as a little facial massage each day- perfect when you're applying skincare.
REBELLING AGAINST THE REFINED, HER RELAXED STYLE AND BEAUTY INFLUENCED WOMEN FOR DECADES AFTER
STEVIE FRONTED ONE OF THE BIGGEST BAND'S IN MUSIC HISTORY WITH A GUMPTION NEW TO WOMEN OF HER TIME
"If you are a beautiful girl who's trying to be beautiful with Botox, you will look like you're angry all the time."
Stevie admittedly tried Botox in 2003, 10 days before Fleetwood Mac filmed live in the USA. To put it lightly, she exclaimed the results on her face were less than desirable. She swears it pulled her face downwards, and ruined her beautiful eyes, exclaiming she would never do it again.
SHAGGY HAIR, DON'T CARE. SHE EPITOMISES LAID BACK BEAUTY AT EVERY TURN.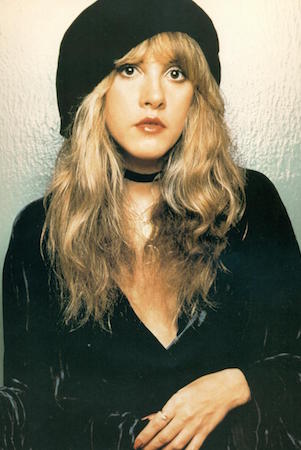 SHE RANKS HIGH AS ONE OF THE MANY GREAT BLONDES OF OUR TIME...
"I had my hair streaked when I was in the tenth grade, and I got into a lot of trouble for it…"
As famed as her whimsy style was,so too were her thick, dirty blonde cascades. While her wild mane was part genetics (and possibly part slept-in volume) you can achieve a similar look with gritty volumising product and a good tong. Try Kerastase VIP Volume in Powder Spray  in the roots, and loosely tong sections using GHD Curve Tong  before brushing out. Skip serum and don't be afraid of a few fly aways.
"Being able to take care of myself is something my Mom really tried to instil in me…"
Stevie admits she does light exercise to her favourite music, using different songs to time herself on different machines. A few of her favourite include the treadmill and the power plate (those one's you see in shopping centres that shake you around while apparently burning calories). We might give it a try…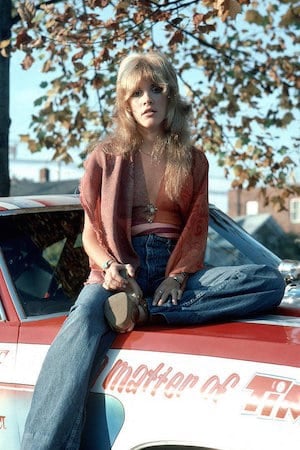 IT DOESNT' GET MORE 70S' COOL THAN THIS.