As creator of some of the greatest cosmetic game-changers in the industry (including the YSL touch éclat), it's no wonder Terry de Gunzburg is considered royalty in the beauty sphere. The French born cosmetics guru paved her own path through eclectic beginnings studying both medicine and the arts. With an opposing love for both science and art she evolved into a make up artist, art director and beauty product developer for fashion house Yves Saint Laurent.
Within a matter of years she founded her revolutionary and award-winning cosmetics brand 'By Terry' (availble at Mecca in Australia) – and the rest is simply history. We took a peek inside her art-filled homes in Paris and New York, and caught up with the leading lady to talk all things beauty and style. The cosmetics doyenne has a typically French outlook on life, and speaks nostalgically about being bathed in rose water as a child before turning the conversation to her best makeup tips – gleaned from decades in the industry. Merci, Terry.
"One of the very first products I used was rosewater.
My grandmother and mother used to bathe me in it when I was a baby. I also used colognes that my father used to extract himself. My grandmother is my biggest beauty influence; she was the ultimate example of chic and simple. She was a wonderful woman with so much knowledge.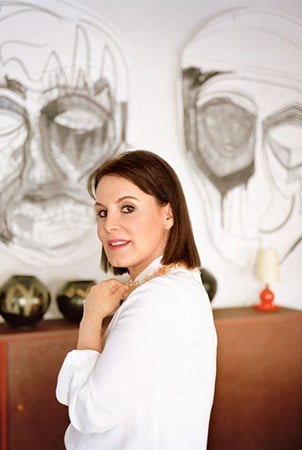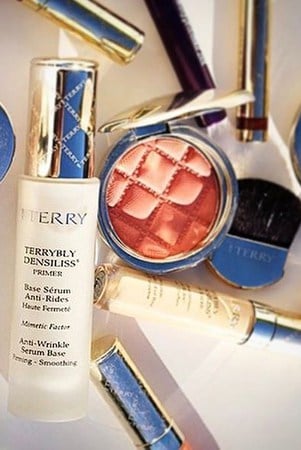 SOME OF TERRY'S FAVOURITE PRODUCTS
Too much yellow in your foundation…
can make you look sallow, so choose a luminous, yellow-based foundation but with rosy light reflecting pigments. When it comes to applying it, always use a foundation brush as opposed to your fingers or a sponge – it allows you to get a lighter coverage and reach places your fingers can't. For a luminous complexion, I like to use a brightening serum under my cream and let it infuse before applying makeup. For shaping the eyebrows never use black eye pencils as they are too greasy and too pigmented and eventually they will turn to a dark blue shade. It's better to use a very dark brown and a specific eyebrow texture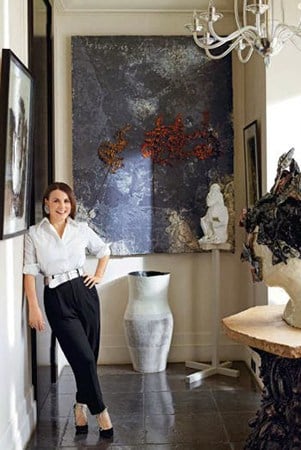 TERRY IN HER LONDON APARTMENT. PHOTO BY MARTYN THOMPSON FOR BRITISH VOGUE.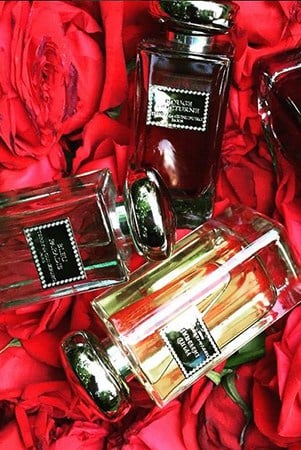 FLORAL FRAGRANCE A LA TERRY DE GUNZBURG
For night time I love bold lipstick
– either very red, deep burgundy or a flamboyant russet. Then I use the entire collection of Terry de Gunzburg Ray de Parfums layered on top of each other. My favourite scent is Ombre Mercure and Flagrant Delice combined together, or Rouge Nocturne and Rose Infernale to create a super sexy, unforgettable scent.
I normally wash and style my hair myself at home.
I change my hair products from John Friedato Oribe and Christophe Robin. I blow dry very roughly and I use straightener when I have enough time. For my shoots or other glamourous events, I see Alessandro Jottini at Josh Wood for a style. He's a magician with hair. For my haircuts I go to Massato in Paris, he's the master.
A PEEK INTO HER OPULENT HOME CARE OF W MAGAZINE'S PHOTO BY FRANCOIS HALARD.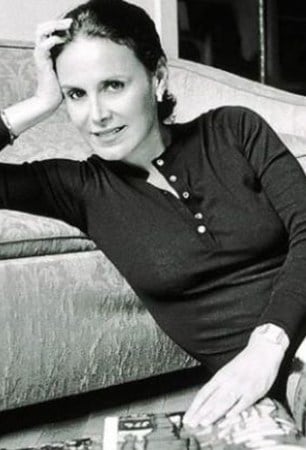 TERRY'S THOUGHTS ON AGEING ARE REFRESHING IN THIS SURGICALLY OBSESSED DAY AND AGE
Ageing is just part of the process of enjoying life.
Every small line I have indicates a beautiful moment of my life. Of course, I do try to keep my skin as healthy as possibly by cleansing, drinking a lot of water but I also accept what I cannot help. I also moisturise my whole body every day and I get a healthy suntan but always use factor 50. Never forget sunscreen. A tip is to use it on the hands instead of hand cream in order to protect and stop sunspots.
I am not obsessed with diet and exercise,
but I make sure to keep active all the time. I am typically French in that way. I walk everywhere not only because it's good for me but also because I enjoy it and because I travel constantly I can do it everywhere I am. When I am in London I do yoga and work out with my personal trainer, Tasmin, so I can keep strong. My diet consists of a full pot of Earl Grey tea in the mornings and a quinoa salad with fish or chicken at lunch. Then, roasted meat or fish with plenty of vegetables for dinner. I snack on cherry tomatoes, berries and nuts. Sometimes I treat myself to desserts and wonderful bottles of wine with my husband. For relaxation I sit in my living room and listen to opera music and read a book.
RICH FURNISHINGS AND ROSES APLENTY PEPPER HER PAD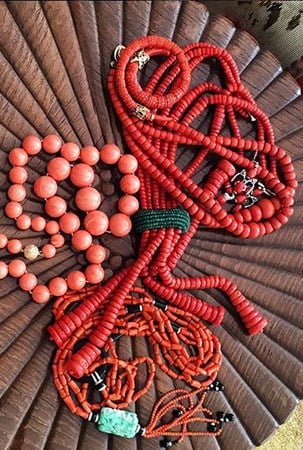 BOLD ETHNIC NECKLACES HINT AT HER ECLECTIC TASTES
I like to mix and match my style…
and make it clash harmoniously. I mix lots of colours and fabrics. My style is definitely eclectic. I can be very strict and simple with my outfit. For example, a crisp white shirt, black pants and stilettos, or the opposite, which is very bohemian chic. My favourite designer labels are MiuMiu and Prada, Manolo Blahnik for shoes, Chanel for gala outfits, Dior, and Lanvin. I like Tory Burch and J Crew for casual and summer clothing, as well as COS and Uniqlo. I also love getting manicures and pedicures once a week. There's a little place in London called the Nail Boutique, it's excellent!
I grew up in a family of scientists
with a great love and inclination towards the arts. From a very young age I had always had a fascination with nature and art. I used to stare at a rose petal for hours trying to understand how it was created and what it was consisted of.  My brain is very pragmatic and totally fantasist. I created 'By Terry' in 1998 because I wanted to give women the same experience they had in Haute couture, a truly luxurious product with the crème de la crème of active ingredients. It comes from my experience and expertise [and is designed] to make every woman's life easier and to help them get the glow with or without makeup.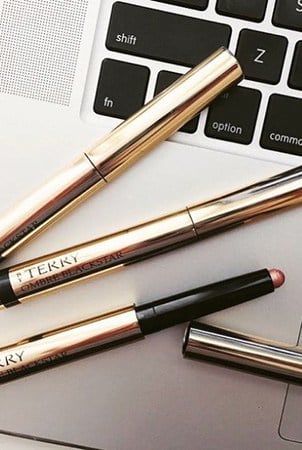 LUXURIOUS TASTES; BY TERRY PRODUCTS ARE THE EPITOME OF BEAUTY OPULENCE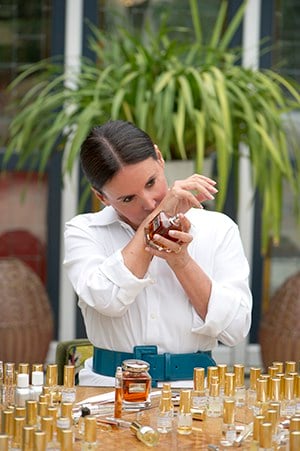 HANDS ON; TERRY IS VERY MUCH A PART OF THE BRAND'S INNER WORKINGS
I am very curious.
I love products so I try everything from my competition [which] attracts me in magazines. I'm most proud of having created the 'touché éclat' when I was makeup creative director at YSL, then in my own brand, the creation of 'Baume de Rose', which is now a best seller worldwide. It was the result of an "error" in the lab and I chose it because it was so unexpected. I am also proud of the balance I have created between my career and having time to spend with my family. This is very important to me."
Story by Claudia De Berardinis