As one half of Australian fashion design powerhouse Bec & Bridge, it should come as no shock that Bridget Yorston's interior aesthetic is as exceptional as her taste in clothing. Bridget welcomed us into her sublimely edited home and revealed an adept yet thorough beauty routine that still allows her time to focus on her business and two young boys.
I always loved fashion growing up
Apparently from a very young age I noticed and would comment on what everyone around me was wearing – much to my mother's dismay! I studied Fashion Design at the University of Technology, Sydney and that's where I met my now business partner, Bec.
BRIDGET WEARING MOONDANCE TOP BY BEC & BRIDGE WITH ACNE BLACK PANTS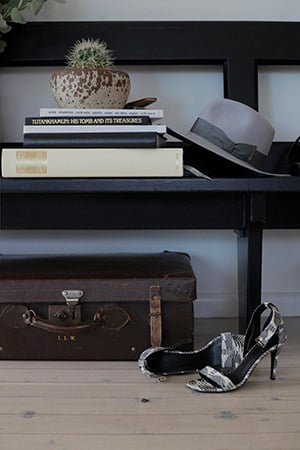 A BEC & BRIDGE AKUBRA HAT, CELINE SHOES AND TRUNK WHICH BELONGED TO HER HUSBANDS GRANDMOTHER DECORATE BRIDGET'S HOME
I remember being asked as a little girl what I'd like to do
My response was always, 'I want to be a fashion designer'. Interestingly enough, the older I got the more I lost confidence in this dream – I started to believe that it was an unrealistic goal. It wasn't until Bec and I started up our label that it suddenly felt real again. In the early days, we relied so much on each other for the confidence to give it a go. I love the entire creative process – it's very rewarding to work on something from the grass roots stage and then see the final outcome being worn by our customer. I also adore working with other creatives. It helps to keep me inspired and motivated.
My home is an eclectic mix of pieces that mean something to me
Pieces that I've collected on my travels or that have been handed down through my family. I found this wire and paper buffalo head at a local market in Cape Town, South Africa. I just adore it, as does my 4 yr old who is mad about animals. The botanical print I found at some vintage markets in London. The boleodores are from Argentina where my husband and I love to travel as he has family there. The chair is from Les Interieurs in Paddington and the Akubra is a part of a bec & bridge and Akubra collaboration –  hence why I have so many of them around the house!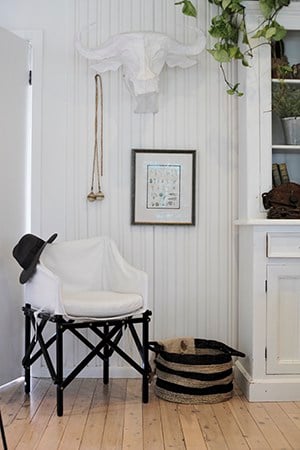 BRIDGET'S HOME REFLECTS HER CLASSIC DESIGN FLAIR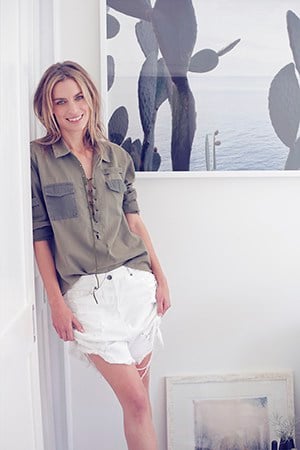 BRIDGET WEARS THE LONE RANGER SHIRT AND THE ROAD TRIPPIN DENIM SHORTS BY BEC & BRIDGE
My personal style is largely determined by my stage of life
Having a young family and a business to juggle requires a well-edited wardrobe and an uncomplicated beauty routine. I gravitate towards white, black, navy, grey marl, khaki, denim, leather and stripes; open my wardrobe and this is what you'll find.
I love to alternate fragrances depending on my outfit and mood
At the moment I'm using Tom Ford Black Orchid. It's quite strong so I apply sparingly. I've also had LeLabo Bergamote 22 on high rotation for the past 18 months. It's fresh, long lasting and seems to work for all occasions.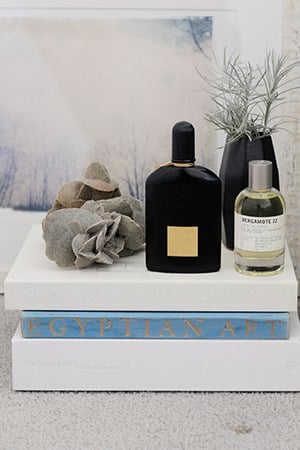 TOM FORD AND LELABO BERGAMOTE 22 ARE BRIDGET'S SIGNATURE SCENTS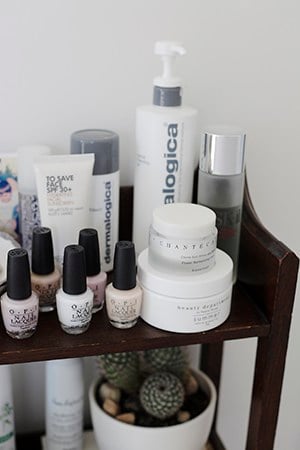 A SELECTION OF BRIDGET'S SKINCARE FROM DERMALOGICA AND CHANTECAILLE, AS WELL AS OPI NAIL POLISH
Day to day I like to keep it fresh and simple
I truly believe that beauty starts from within. A beautiful soul always shines brighter than anything else. If ones soul is nourished, it brings perspective to outward beauty and what matters. I start with a clean face using Dermalogica Special Cleansing Gel followed by a layer of my Chantecaille Flower Harmonizing Cream to hydrate my face, particularly in the dry winter months. I'll then apply my ever-faithful MAC Face and Body Foundation. It's quite sheer and light on the skin, perfect for everyday wear.
Filling in my eyebrows seems to change everything
I use MAC Eyebrow Pencil in brown, then for my eyes, I lightly apply my MAC Black Pencil Eyeliner on the top lid followed by a MAC Pencil Brush to soften it. I use my black volumising mascara on my lashes. If I have an event or occasion, I'll tend to put the focus on my eyes. I wish I was in the habit of using an eyelash curler but it feels like one step too many in my day-to-day routine. To finish, my MAC Crème Blush on the cheekbones makes all the difference. My husband thinks I look my best without any makeup at all – I'm not so sure I agree!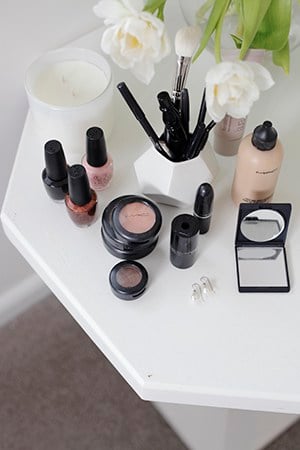 BRIDGET'S LOVE OF MAC MAKE UP IS OBVIOUS, AS SHE SHOWS OFF HER DAILY STAPLES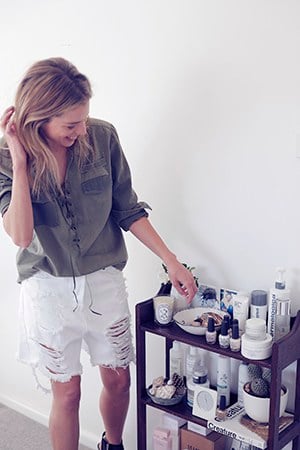 BRIDGET WITH HER IMPRESSIVE SKIN CARE AND MAKE UP SPREAD
I have extremely fine hair
It tends to either go very flat in dry weather, or curly and frizzy in humid weather. It drives me crazy! I have found that washing it less often and then utilizing copious amounts of dry shampoo in between washes, is definitely the way to go. I like Kloraneas my choice of dry shampoo. A bit of product build up seems to give it texture and volume, which is what I need. In terms of looking after my hair, I love the Christophe Robin hair care brand. He does the most amazing head scrubs and treatments.
Alan White from GHD Australia cuts my hair
He is a total hair guru. I'm fortunate that I get to work with him regularly on our Bec & Bridge photo shoots too. He's always full of helpful tips and suggestions when it comes to hair. I get my hair coloured every 6-8 weeks at QUE Colour in Darlinghurst, Sydney. Monique knows how to achieve great colour!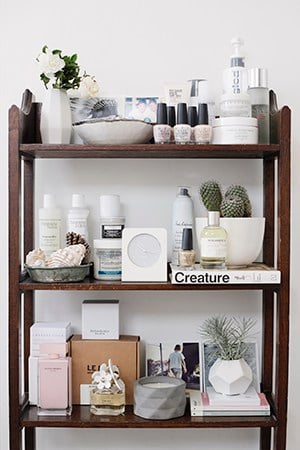 BRIDGET'S BEAUTY COLLECTION: A CHIC SPREAD OF SKIN CARE, PERFUME AND NAIL CARE WITH DECORATIVE PIECES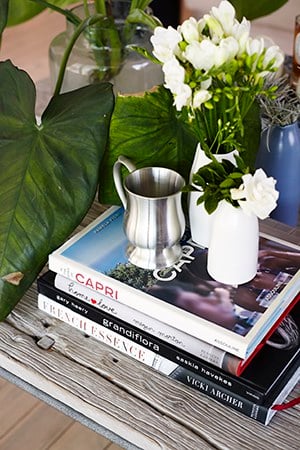 COFFEE TABLE BOOKS, FLOWERS AND ORNAMENTS DECORATE THE DESIGNERS HOUSE
My overall sentiment is moderation
I eat a balanced diet and avoid overly rich foods, mostly because they make me feel unwell. I've never been that interested in alcohol either but I drink copious amounts of organic Rooibos tea, perhaps partly due to my South African heritage but also because it's so rich in antioxidants. It's my favourite way to unwind – an inspiring book and a cup of tea.
I hadn't exercised routinely in about 12 years  
It wasn't until I had my second child that I decided to get involved in something more regular. One of my girlfriends is in the process of starting up her personal training business called Life.Sport.Style. She trains a group of us 2-3 times a week and basically our sessions are a mix of high intensity interval, endurance, functional, plyometric and strength training. Initially the appeal was having some much-needed 'time out' during my week, however it didn't take long for me to start feeling like a new person and I've never looked back.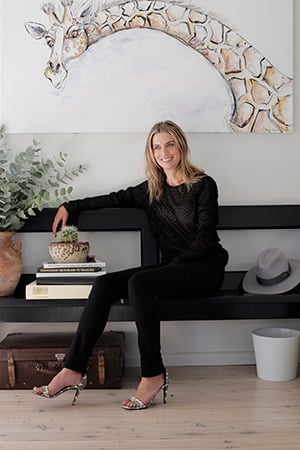 BRIDGET WITH A GIRAFFE PAINTING THAT SHE PAINTED HERSELF FOR HER SON