London-based Aussie Sarah Jagger is a makeup dynamo whose beauty is matched by skill. With a masterful stroke, Sarah has transformed some of the finest faces in the business including Reese Witherspoon and Mischa Barton. She also writes about beauty for a range of publications and frequently appears on morning television in the UK to talk about tips and trends.
Sarah invited us into her chic London abode and shared the secrets behind her stunning yet low-key look.
"I was practically born with a paintbrush in my hand.
With two painters for parents, it was inevitable that I'd end up doing something creative but it wasn't until I started modelling at 14 that I realised how much I loved fashion. I wasn't cut out for modelling (too short, too curvy, too shy, too awkward) but I loved being on shoots and thought the makeup artists had the best job. As soon as I left school I travelled to London to study makeup. After graduating from makeup academy I spent years slowly working my way up, but I've had some incredibly lucky breaks along the way. To me fashion is the most incredible platform for artists to collaborate, something magic happens when all the right people come together on a shoot.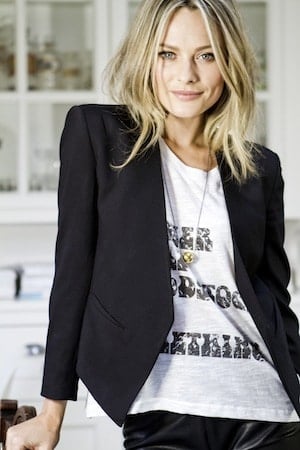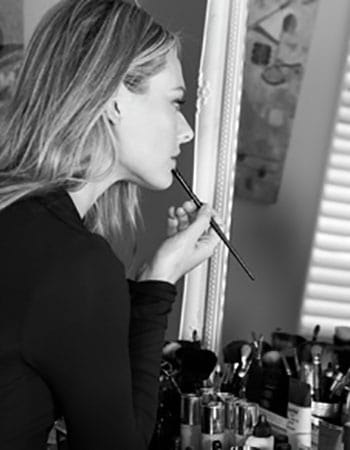 The truth about makeup is…
That one brilliant product can only do so much… But layering and cocktailing lots of products very sheerly is the key to complexion awesome-ness. Sometimes I can use up to seven different foundation colours and textures to make a model or celebrity's complexion appear impeccable. I'm always trying out new skincare to write about in my columns and use in my kit so my routine can be fairly high maintenance at times. I may not like spending too much time on beauty but layering lots of skincare is actually pretty quick and doing it properly is SO worth it. The products I use may change but the steps stay pretty much the same.
In the evening I ALWAYS cleanse twice.
I used to get really bad spots in my early twenties until a Japanese friend of mine (with perfect skin) told me that in Japan everyone cleanses twice. I gave it a go and my skin cleared up in recorded time. I use a makeup remover like Rodial Dragons Blood Cleansing Water and follow with a foaming cleanser like Astalift Moisture Foam to clean thoroughly. I then use an organic facial oil, either on it's own or before a moisturizer (like Sjal Kura Intuitif). At the moment I'm loving 001 Precious Finds Intensive Elixir, a pure and potent blend of biodynamic sandalwood, myrrh and frankincense.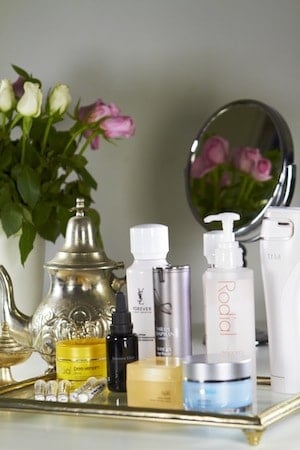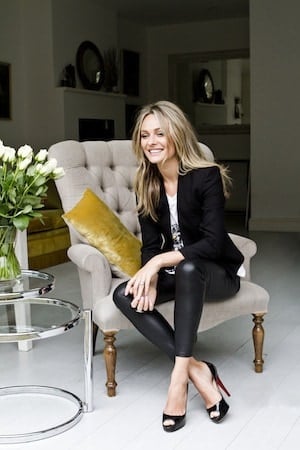 My hair's default setting is 'out of control'.
It's dry, straw-like and witchy. When it comes to styling I like it relaxed and messy so every night I pop it in a bun and spray it with Bumble and Bumble Surf Spray. In the morning I take out the bun, run my fingers through and that's it – instant, effortless beach waves. I also love texturizing powders (like L'Oréal Professionnel tecni.art Super Dust) even though it's a bit like you're putting glue in your hair. A little sprinkled onto the roots and I feel like Brigitte Bardot.
I have long blonde hair so I have to be careful….
Just one makeup colour too many and I turn into Barbie. I prefer my skin to look really natural and use sheer layers of illuminating products to 'glow'. Most days I'll do a neutral peachy look or a maybe a quick, grungy, smoky eye (eyeliner that looks less 'cats eye' and more 'left over from the night before'). Occasionally I swap eyes for a vibrant matte lip – but I rarely play up both at the same time because I don't like feeling too made up. I love to rock bright, dramatic eyeliner in yellow or blue but I'll team it with nothing more than a contoured cheek and a bare lip.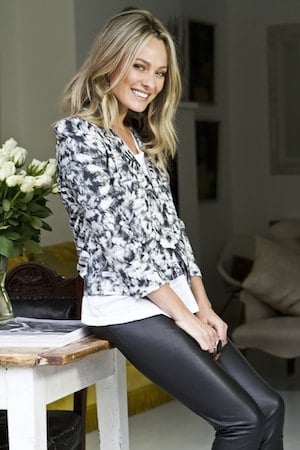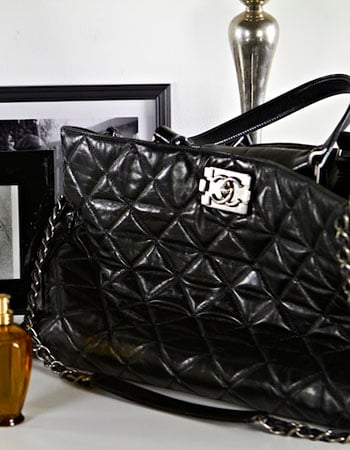 My pet hate is 'bling' beauty…
Big false lashes, glitter, nail art. It's fun in a photo shoot or on the catwalk but I don't like it in real life. Sometimes I have to wear false lashes when I'm on camera but I can't stand them! They're the first thing that come off when we wrap filming. Louboutins quickly follow.
I like simple, pared down makeup…
I think it looks more polished and expensive. At the moment my own dressing table is an antique trolley with 1960's giant bronze fruit containers in which I keep cotton pads and tips. There's a primer, concealer, illuminator, mascara, black eyeliner, brow pencil, cream blushers, lip balm and a peachy nude lipstick. My favourite cover up at the moment is Nars Radiant Creamy Concealer. I use it along my jawline where I'm prone to redness, around the nostrils and under eyes. I often use an illuminator instead of foundation or underneath it. Giorgio Armani Fluid Sheer gives the most subtle looking candle lit glow. Sometimes I'll follow with YSL Teint Touch Eclat Foundation applied with Hourglass Complexion Brush. When I'm in a hurry I'll skip eye shadow and line the top of my lashes with a black liquid liner and run over it with Mac Pencil Brush to soften any harshness. After curling my lashes I'll use volumising mascara like YSL Faux Cils.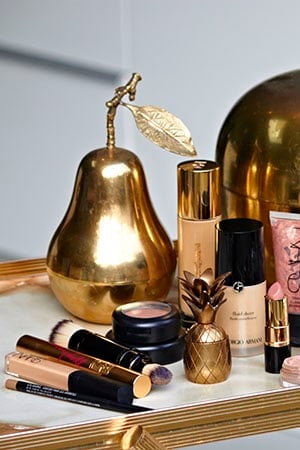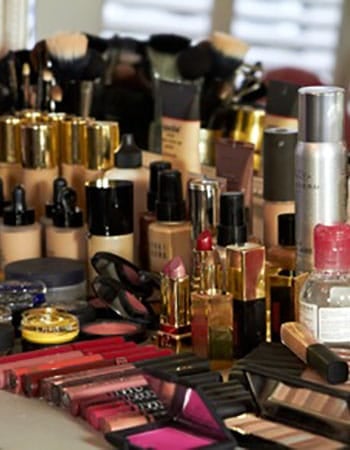 It's a misconception that you need to wear more makeup at night…
Although a big night out calls for long lasting techniques. I like small handbags and clutches for a night out so I never carry much makeup with me to retouch – usually just a lipstick. That way you don't need to retouch. A primer is essential for keeping makeup looking fresh all evening (especially in photos). I like to use a mattifying primer only on the t-zone like Becca Ever Matte Poreless Priming Perfector and an illuminator on the sides of the face and neck to create a glow. By Terry Hyaluronic Hydra Powder is also good because it sets makeup yet remains completely invisible and doesn't flatten the look of your makeup. It's the only powder I've ever met that actually hydrates your skin (you can dust it over the face before bed as a treatment).
Sometimes I like the fact that I've got a completely wonky nose…
Because it gives me character. But there are other times that I catch myself in photos and think 'damn it, I wish it was more symmetrical'. I feel at my most beautiful when I'm on the beach with a headscarf, no makeup and my favourite jingling jangly gypsy earrings. That and when my son tells me I look beautiful. It's high praise when a three year old notices. A tan helps too – albeit fake.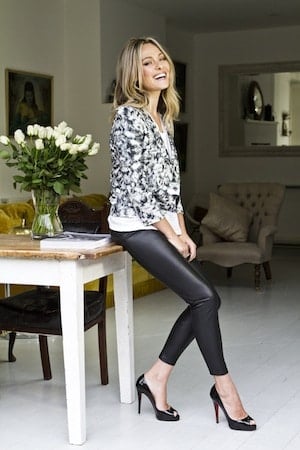 I'm always trying to marry practicality with style…
And like to dress glamorous pieces down. I don't know why…I suppose it's because I adore fashion but hate feeling over dressed. I'll wear a Chanel bag with bashed up biker boots or a tuxedo jacket with old boyfriend jeans. I practically live in Helmut Lang because it's minimal and classic but also kind of edgy. My life is all about flats!
I'm either standing on my feet all day at work or running around after my three-year-old little boy. I'm a serial shoe shopper and can't resist buying beautiful, impractical heels but in reality they rarely make it out of their box.
I prefer downtime to be creative…
So I'll put on some music, get out my paints and work on a canvas… or I'll cook a massive meal. That's meditation to me. I'm not really someone who often stops, sits down and chills out. I do the odd Bikram yoga class but in all honestly, being a travelling, working mum, I rarely have the time to exercise as much as I'd like to at the moment. I'm also a passionate foodie with an overzealous love of red wine and black coffee who eats out a lot but…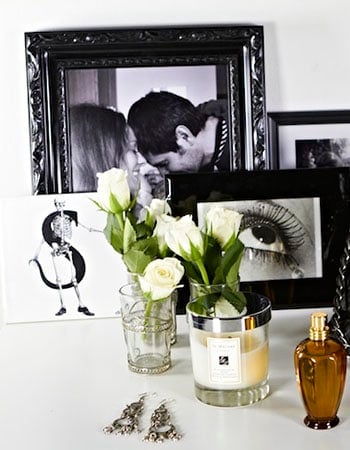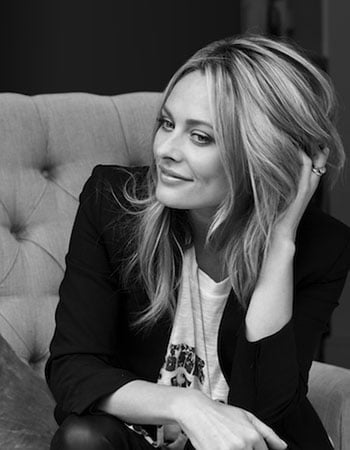 I pretty much follow a Paleo diet…
When I'm not at a restaurant in order to retain some sense of health and balance (not to mention waistline).  Dining out aside, the rest of the time it's the Paleo way of fish, meat, vegetables, fruit, nuts, seeds, good fats…and fresh juices. When I am dining out I really go for it: 3 courses followed by cheeses and petit four…last night I ordered two desserts to myself. You only live once.
I'm dedicated to morning juicing!
I start every day with an enormous green juice or two, without fail. I think it's important to listen to your body. I know what keeps my system feeling its best and with that in mind I stuff my breakfast juice full of all the ingredients I know my body needs. It includes spinach, kale, cucumber, broccoli, coconut water, ginger and carrots along with fennel and celery for fluid retention; pre soaked linseeds for digestion and powdered superfood. It fills me up until lunchtime and really puts a spring in my step. If I'm feeling tired or rundown I add beetroot – it's like a natural amphetamine.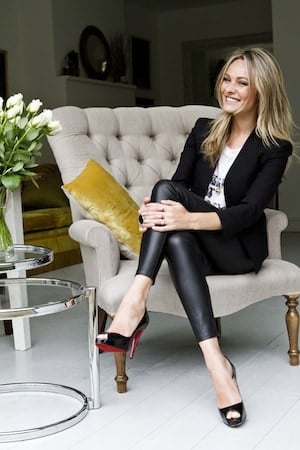 I have a sort of healthy morning ritual to keep me sane and set me up for the day.
I'm certain that starting the day being so healthy stops me from getting sick or run down when I work or travelling a lot. The first thing I do in the morning is light a scented candle… or four (closet candle addict) in an uplifting fragrance like Jo Malone's Pomegranate Noir orDiptique Bais. After a shower I liberally apply Antonia's Flowers Tiempe Passate EDP…it makes me smell like 'me'. I make my juice fresh every morning and include Amazing Grass Organic Raw Reserve, which is the most jam-packed powdered superfood I've found. Ever. I can't juice when I travel so I take Juice Plus capsules. Then I put my healthy ritual to one side and have a strong black coffee. You've got to have one vice, right?"