The A listers have a new glow making secret weapon: Rejuran, an injectable that contains salmon sperm DNA. Nicknamed 'baby skin injections', this latest breed of injectables are taking in-clinic treatments to a whole new level. Unlike traditional injectables, Rejuran doesn't cosmetically mask a problem (like Botox), but instead it goes down to the dermis and actively works to repair damaged skin cells and boost the skin's own collagen and elastin production abilities. Being a relatively new beauty treatment, we were naturally pretty curious - so Beauticate writer Kristina investigated the ins and outs of this procedure, whether people have actually seen results and what the potential risks are...
IMAGE: INSTAGRAM @BALMOAN
How It All Began…
In a study published by the International Journal of Cosmetic Science, researchers found that skin exposed to DNA extracted from salmon sperm had higher water content, increased skin elasticity, stronger collagen levels. Salmon sperm application also boosted the skin's own ability to produce hyaluronic acid.
With the power of salmon sperm DNA ratified by data, a South Korean pharmaceutical company capitalised on the benefits and infused the buzz ingredient into an injectable treatment called Rejuran. Celebrities reportedly undergo this procedure before major events to attain an otherworldly luminosity. While Rejuran isn't widely practiced by Australian clinics, it's taken Asian countries – particularly South Korea and Singapore – by storm.
Why Salmon Sperm DNA Is The New 'It' Ingredient
Rejuran's main ingredient is PDRN, extracted from salmon sperm DNA. PDRN naturally occurs in newly formed tissue as a protective and healing agent against damage.
Salmon sperm DNA stimulates the growth of fibroblasts in our skin – which are cells in the skin that are responsible for generating collagen and elastin, as well as the formation of new skin cells. Dr Siew Tuck Wah, medical director of Radium Medical Aesthetics, explains that the injection "awakens tired, aged cells to act younger and get to work again." Essentially salmon sperm sheds older, damaged skin cells to reveal fresher, baby skin cells. The regenerative capacity is said to fade hyperpigmentation, fade scars and overall produce a naturally brighter complexion.
Two independent studies in 2016 and 2018  concluded that salmon sperm DNA has strong wound healing abilities. One of the key reasons it's such a powerful healer is because it supports blood vessel growth. "Blood vessels are the highway for oxygen and nutrients for cells to grow and repair," Dr Rachel Ho, founder of La Clinic says. This leads to a thicker skin barrier that becomes more resilient against irritation. Combined with its capacity to block cytokine (an inflammatory chemical in the body), this injection is considered a form of defense against redness and sensitivity.
Rejuran also has the ability to reverse UV damage. "Rejuran enhances DNA repair, and clearance of toxic by-products of UV-damaged cells," Dr Rachel Ho explains. In fact, results from a lab study indicated that salmon sperm effectively blocked 90 percent of UVB rays and up to 20 percent of UVA rays. Scientists also found that the stronger the UVA/UVB light was, the more protective and powerful the salmon sperm DNA became.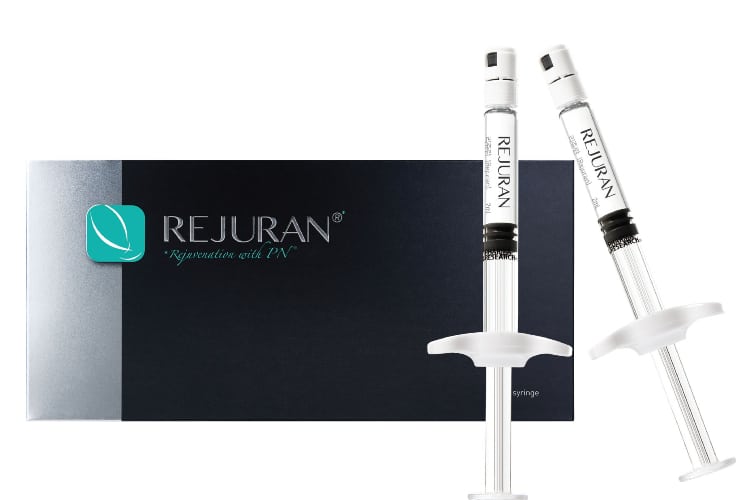 How Is The Procedure Performed?
A topical numbing cream is first applied to your skin. Depending on your doctor, a needle or an injectable gun is used to place the product under the skin. The needle precisely targets a very specific area of concern, whilst the gun is favoured for overall distribution. A LED light or soothing mask may be applied to calm the skin down.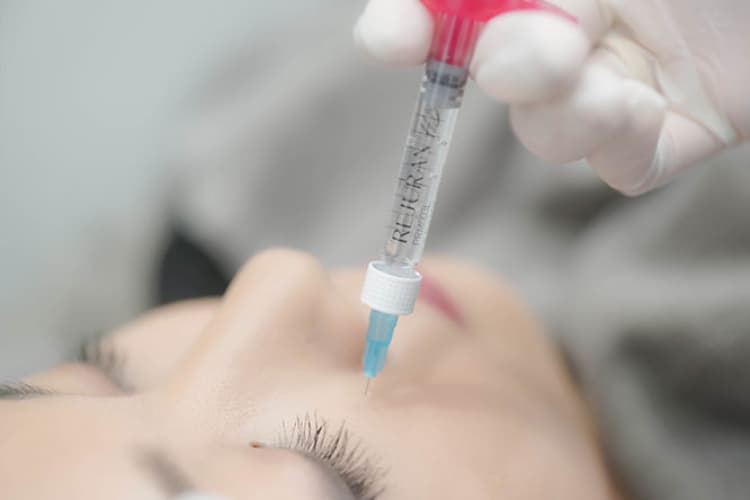 A NEEDLE IS USED TO ADMINISTER SALMON SPERM DNA. SOURCE: ONLY AESTHETICS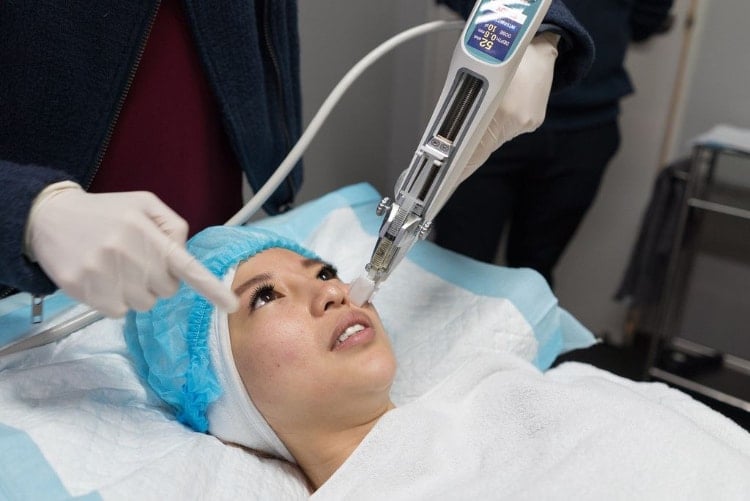 AN INJECTABLE GUN CAN ALSO BE USED. IMAGE:  MYFATPOCKET
Do Real Life Results Match These Claims?
The reviews are mixed. Joy Ling of Esquire shared, "What I did not see was the (supposed) 'glow'…It also didn't interfere with my existing acne (damn you adult acne)… Nonetheless, my skin showed minor, but visible improvements. Tiny discoloured marks disappeared and the overall skin evened out. Next to better elasticity, skin moisture is definitely locked in. My skin did not dry up in situations it normally would."
Azzy Soraya from Azzy In France described, "I felt peak glowyness around three days after my treatment. I was in Singapore that weekend after the treatment to visit colleagues and friends, and I remember just feeling like my skin felt so smooth, supple and whenever I applied makeup it felt like it just glided on."
The results aren't always as immediate as some might have hoped, as shared in this review from T: The New York Times Style Magazine Singapore: "The enlarged pores (scars from teenage acne) were still visible. Apparently, it will take a few more treatments to iron those acne scars out. However, within a week, the skin was no longer dry and dull. It was brighter, dewy, and an entire shade fairer. "
BEFORE AND AFTER. SOURCE: DOCTORXDENTIST
BEFORE AND AFTER. IMAGE: MAYPURE INTERNATIONAL
Side Effects and Risks
Right after procedure, you may likely have red, inflamed skin. You should also expect temporary welt-like lumps across your face – this swollen period generally lasts two to four days. So, this isn't a 'lunch time' procedure where you can simply whisk off looking unscathed – there is downtime.
While studies have shown that salmon sperm is generally compatible with human skin, some clients have had allergic skin reactions in the form of skin rashes. It's also reported that Rejuran reacts with certain types of cross-linked Hyaluronic Acid fillers, causing nodular bumps.
While the ingredient has been approved by multiple government health and medical agencies across the globe, such as the Korean Food and Drug Safety and the Singapore Health Science Authority, it hasn't been approved by Australia's Therapeutics Goods Administration. An Australian doctor, who has declined to be named, told Beauticate that "the ingredient hasn't been approved by the TGA, but it's very safe, (and) we can still legally administer the product with the patient's consent."
Not all doctors are convinced of the ingredient's benefits and point to the fact there have only been a handful of studies that showcase the effectiveness of salmon sperm DNA. Dr Angela Lamb told the Huffington Post that she was waiting for further studies to validate long-term positive results on human skin.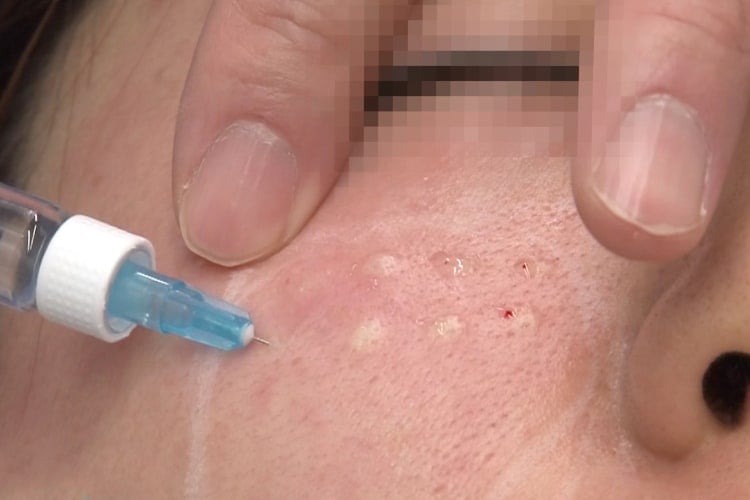 WELT-LIKE BUMPS WILL APPEAR POST TREATMENT. IMAGE: DR SIEW