My Mum, Maxine has always been an inspiration when it comes to skin care (see the Beauty Lessons she taught me here). She always said to me "you've only got one skin so look after it" and her Number One rule was to stay out of the sun. She spoke from experience, having seen the damage that came from chasing a tan in her teens and early twenties...
Mum and I on a beach in Malaysia when I was one

Mum made sure I always covered up even when I was two

Three year old me was def covered in sunscreen Three year old me was def covered in sunscreen

Mum and Dan didn't always see eye to eye on the show

They faced some pretty mega challenges and documented it all They faced some pretty mega challenges and documented i

...But it makes for some heart warming viewing
These days the sun is Mum's Kryptonite which meant she faced a serious challenge when she and her husband Dan quit their jobs and sailed off into the sunset — especially since they decided to film a documentary series about their experience. She not only had to dodge the sun and the wind, she also had to be camera ready.
Their 5 part series, "Living the Dream" premieres on Channel Nine this Saturday at 3.30pm. It shows what you can achieve when you get up off the couch and follow your dreams  – Bravo Mum and Dan. If you want to get a taste of their adventure, click here to check out the trailer on YouTube.
So whether you get roped into a sailing holiday, or the Sydney to Hobart, here are Mum's top tips for surviving the elements.
1. "Wear a long sleeved top and pants.
Arms and legs get sun damaged too. Loose white cotton or linen is cool and looks the part. Wrap a light cotton scarf around your neck that you can pull up over the lower part of your face to protect against wind and sun when you're at the helm for hours on end.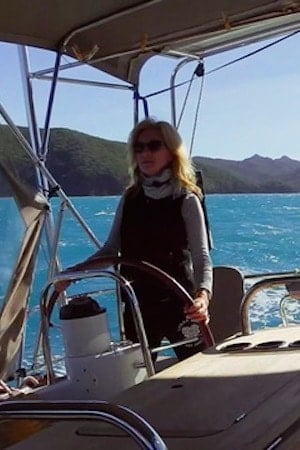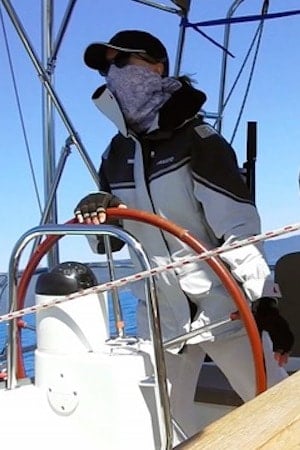 2. "Take a selection of hats for different wind conditions.
The legionnaire's style is the most sun-savvy, but it's terminally daggy. Find something with a decent brim – I settled for a little straw boho number most of the time. On wildly windy days wear a baseball cap with a neck tube scarf – if you pull the tube up at the back and sides it'll keep the cap on and the sun off."
4. "Between manning the helm and trimming the sails, there's not much time for make-up…
… but I always manage a dusting of mineral powder (Bare Mineralsor Nars), shaped eyebrows and mascara and a slick of Chanel lip gloss."
6. "When the sun goes down, apply an oil cleanser like Moo Goo's to emulsify the sunscreen and wash with warm water.
Massage in a light nourishing oil to rejuvenate the skin overnight. I like Kosmea Rose Hip. For body, I love Alba Botanica Kukui Nutbecause it really locks in moisture. Steer clear of any active products like Vitamin A because the skin needs TLC when it's battling the elements."
And if in doubt, tune into Mum's show on Channel 9 this Saturday to see just how to put all this into practice! I'm so proud of her and Dan for creating such a great show. Go guys!
Story by Sigourney and Maxine.