In our hectic lives, it's hard to be able to spend as much time in nature as we might like. The easiest solution? Bring a bit of the outside in. Lucky for us, plants are not only gorgeous – they're important for our health and wellbeing. Here are the exact ways to spruce up your space with plants to get the boost you need.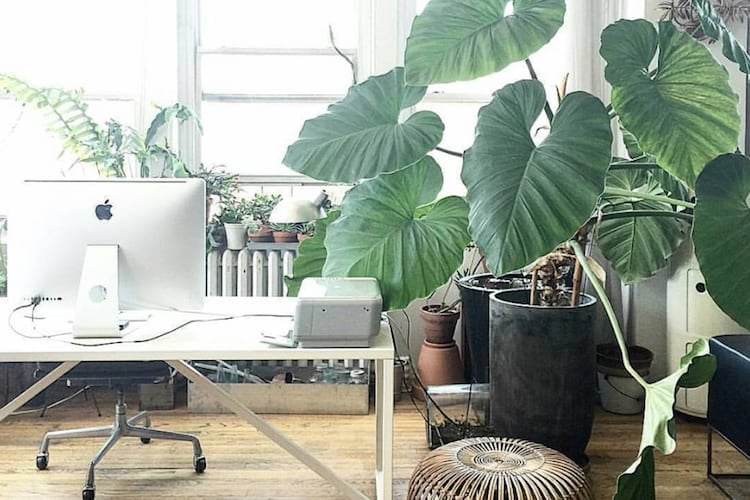 IMAGE: INSTAGRAM @INTERIORLANDSCAPES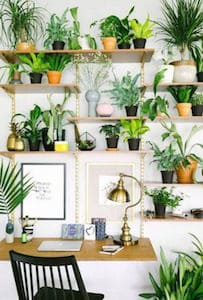 PLANTS MAKE YOU HAPPIER AND MORE PRODUCTIVE
Plants improve indoor air quality by filtering out airborne pollutants and organic compounds from things like paint and furniture finishes. Georgina Reid, of PlantLifeBalance (a new app that we love), explained that greenery enhances wellbeing by contributing to feelings of relaxation, inspiration, and positivity. These feelings are heightened when the plants in a room are complex and varied, but still maintain a cohesive look. The proof is in the research.
Researchers at the University of Melbourne and RMIT confirmed, for the first time ever, exactly how many plants you need to maximize your health and wellbeing. Studies show that indoor plants can remove 75-90% of airborne pollutants depending on the plant and type of pollutant. So how many plants do you need? In a medium sized room (4m x 5m), one medium sized plant is capable of improving the air quality of the room by 25%. But if you want to max out the health benefits? Add five plants of all different sizes and species to a medium sized room. Be sure to incorporate more plants if you would consider your room to be very large.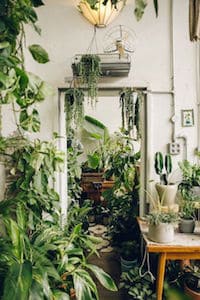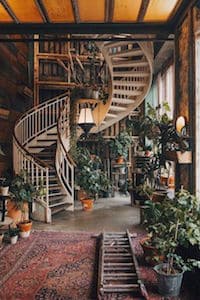 For those of us who work in offices or at home, we know that plain desks can start to feel boring and uninspiring. Thankfully, using plants is an easy way help brighten a space while enhancing our happiness and productivity. Model your office after a luxe garden or lush jungle, and you'll love showing up to work each day. And don't stop there. Decorate the rest of your home with all kinds of greenery to maximize your wellness.
Not a plant enthusiast? Overwhelmed with the struggle of choosing varied plants while maintaining cohesion? Try the PlantLifeBalance app. The app lets you take pictures of your space, and drag and drop different plants in, to style it before you hit the nursery. It will also tell you how healthy your current space is when you take a picture. If you're still confused, just remember there's no such thing as too many plants. Green looks good with everything.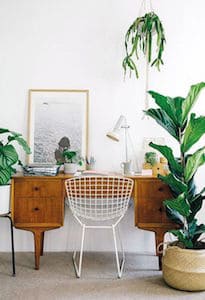 See some of our favorite garden products below: