It's not every day Ferrari offers to loan you a car for the weekend. Once I got over the excitement of taking a road trip in their new California T convertible, my first thoughts were, naturally, around packing. There's a lot to consider! The sun on your skin (SPF!!), the wind-whipped hair (detangling mist?), the minimal boot space (minis!!). But, hey, this was a beauty challenge I was very happy to take on. And the look on my husband Damien's face, when I told him, was worth its weight in beauty products. He's a huge car fan, and, like most guys, Ferrari has always been his favourite.
 With serendipitous timing it fell right on our nine year wedding anniversary, so we planned a romantic road trip, lined up babysitters and mapped out an itinerary that would involve LOTS of driving – one night in Palm Beach and one wine-tasting in The Hunter Valley. And so, with both the beach and the country in mind, I set to organizing my ultimate driving beauty playlist. Here, my roadworthiest tips to kitting out the car.
1. START WITH SUNSCREEN…
Even if you're not going to be in a convertible, being in the car for hours on end leaves you victim to sneaky UV rays. They come in through the side windows and can do some real damage. Pack a broad-spectrum physical sunscreen (which bounce UV away from the skin rather than absorbing which chemical sunscreens do.) For this trip, I knew I needed a serious sun soldier that wouldn't leave greasy marks on the leather interior, so I packed Cosmedix Reflect Spray as it's nice and light, it blends well and doesn't leave a ghostly film on the skin like many physical blockers do. For my face Colorescience Tint Du Soleil is tinted, so could double as foundation (naturally there were photo ops) and also they have the Sunforgettable Powder Brush, a brush-on mineral sunscreen, perfect for adding extra SPF protection on-the-go.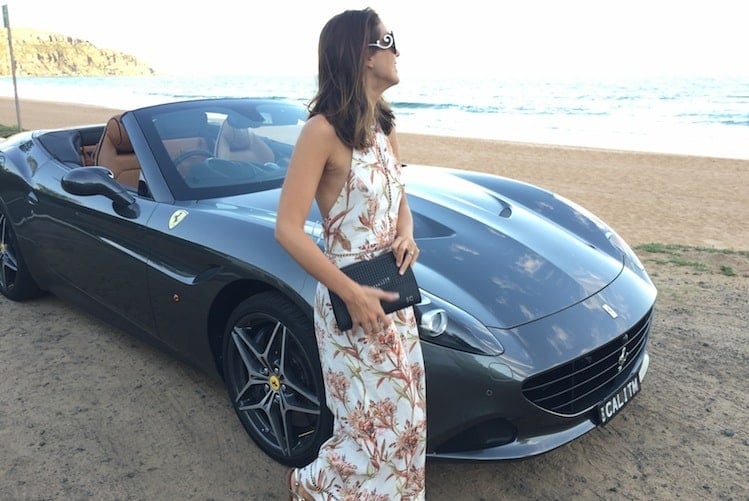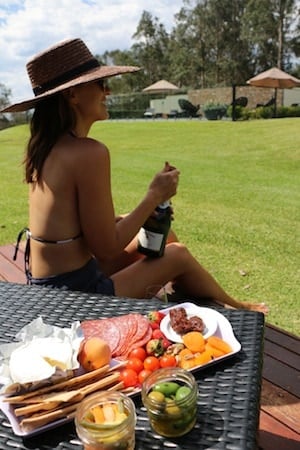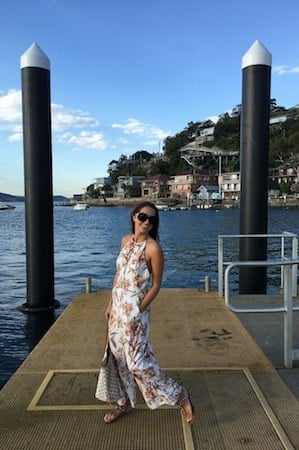 2. KEEP MOST THINGS TINY
The California T is a four seater hard top convertible, and the roof retracts automatically into the boot at the touch of a button, which is awesome to watch, but does take up a bit of boot space. That said, we could actually fit the baby seats in the back when we dropped the kids at our parents house! Wanting to leave more room for outfits in my bag, I was on the look out for great travel beauty kits. I packed David Mallet's Travel Kit, The Comfort Zone Sublime Skin Discovery Kit and the Onne Cleanser and Body Cream from their Trio pack. I like to mix and match minis from a variety of travel packs so I can fulfil all my needs.
3. BUT DON'T SCRIMP ON FAVOURITES
If they don't make the mini in something you love, just pack your full size. I'm currently testing the new Alpha H Vitamin Profiling Collection and I've also been using the SOS Revolution range. I didn't want to break my strict testing of the product, so snuck those in too. I also packed the R + Co Pinstripe Intense Detangling Spray because I couldn't find a small one.
4. KEEP THE MAKEUP MINIMAL
You don't want to waste precious mileage time fixing your makeup in petrol station bathrooms. Choose formulations that are easy to apply in stick and pen-style applicators and use the rear vision or side mirror! I packed IT Cosmetics CC Cream, Dior Flash Luminizer Radiance Booster Pen and Diorshow Fusion Mono Long-Wear Eyeshadow pot in Blazing, Clinique Lash Power Flutter to Full Mascara, Sisley Phyto Blush Twist in Glow and La Prairie Cellular Lip Colour Effects in Cocoa, all in my Tome and The Daily Edited X Tomemonogrammed makeup bag.
5. PACK PAMPER-WORTHY PRODUCTS
Once you arrive, you'll be glad you packed some creature comforts to make the room feel like home (and maybe set the scene for romance!) In The Hunter Valley, we checked into Spicer's Retreat – a stylish homestead with individual suites set among the vines, surrounded by bushland and packs of kangaroos. The rooms are set up well for lazy nights and days in, with front and back outdoor sitting areas, fireplaces, couches and dreamy king sized beds. We ordered a wine and cheese hamper and ate it by the pool then I had a spa bath complete with a sachet of L'Occitane Aromachologie Rebalancing Infusions For Bath (they're like little tea bags filled with fruit peel and salts). I lit a Byredo Travel Candle in Cotton Poplin and popped on a Trefiel Tissue mask (these are not so romantic – but this is the best looking of a scary bunch!) Finish with a fragrant body cream I love the Laura Mercier travel size boy souffle – they're dessert–inspired scents like crème brulee, almond coconut and fresh fig that smell good enough to eat. Finish with Sachajuan hair perfume – it has protective qualities (perfect for convertibles).
6. FIND A SCENT THAT SUMS IT ALL UP
It's really special when you assign a certain scent to a holiday – wear it while you're there and then whenever you spray it later you'll be transported back to those magic moments. Tom Ford Leather Ombre now perfectly captures our Ferrari experience (and it's unisex too, so we both wore it). Now whenever I smell it I remember it all so clearly… The delicious aroma of the tan leather interior, the feeling of driving such a superbly crafted car – the way the wheels caress every curvature in the road, the sultry purr of the engine, the sensation of being bathed in fresh country air and all it's earthy smells while you drive. The exhilaration of having all that power, trapped under your foot, poised and ready to pounce. For once, the journey was more enjoyable than the destination.  And now, it seems, there's more than one car fan in this family.