I had a tiny taste of Victoria's Mornington Peninsula when I went to Portsea Polo a few years ago and have been looking for any excuse to return ever since. The chic enclave, just an hour from Melbourne, features over 50 wineries and several hatted restaurants on an achingly beautiful silhouette of coastline. While it's home to over 165,000 Victorians, over summer it often swells to over 250,000 as it transforms into a playground for the city's luckiest bon vivants.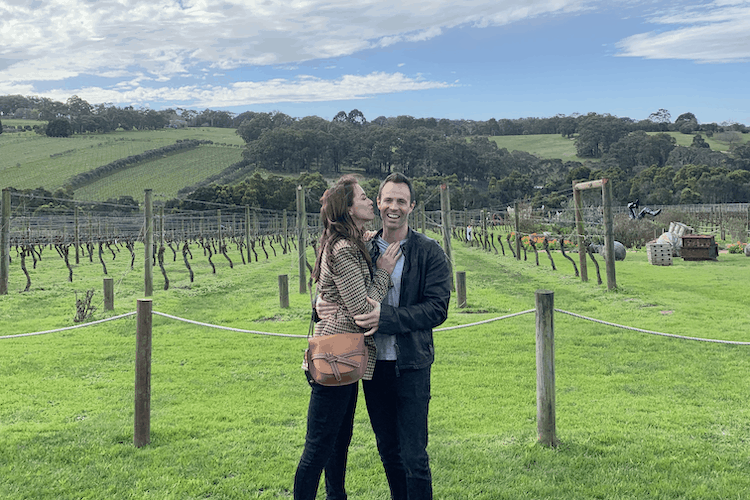 When an invite to visit from Icelandic skincare brand Bioeffect pings into my inbox, it's more than tempting. The brand is already interesting to me. They're the only skincare company to use plant-engineered Epidermal Growth Factor (EGF) in the world, and apparently 30% of Icelandic women use it since it launched in their home country in 2010.
For the uninitiated, Epidermal Growth Factors have been a notable recent trend in the skincare industry. Naturally present in human skin, EGF cells tell the other cells how to behave. Skincare companies utilise (mostly animal- and human-derived) EGF products to tell our cells to behave like younger skins and Bioeffect is leading the charge in plant-based EGF. The great thing about plant-based EGF? Not only is it sourced from ecologically-engineered barley plants in the company's native country of Iceland, it's natural and completely safe for pregnancy and even the most sensitive skin types. Big. Tick.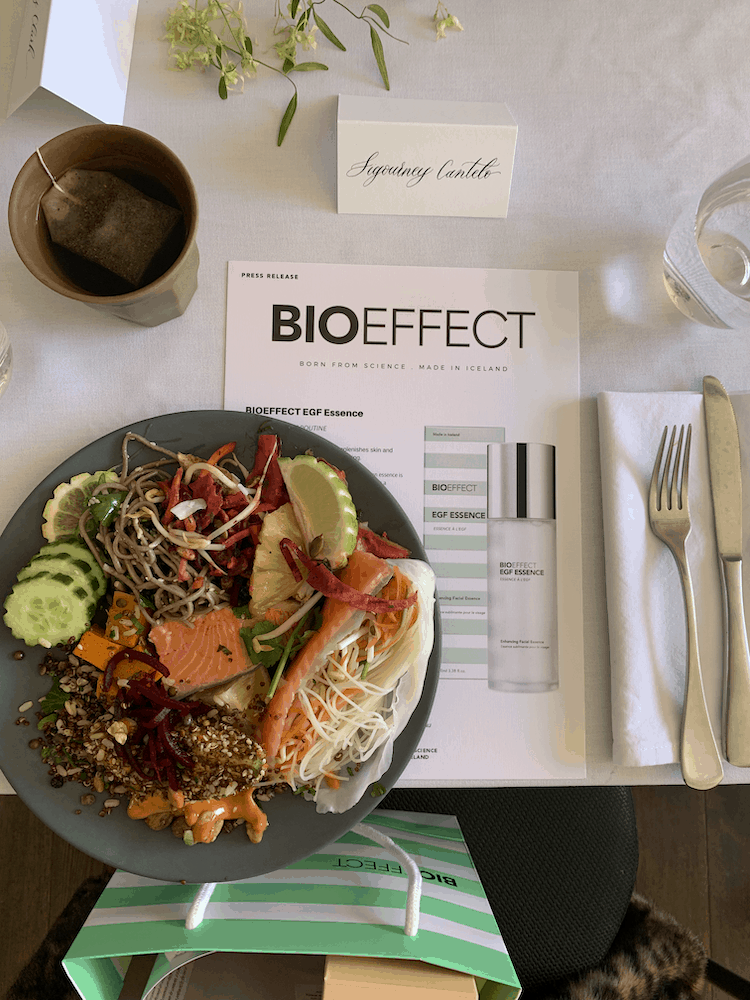 The reason Bioeffect is inviting me to the Mornington Peninsula? They're seeking to replicate an Icelandic cultural tradition: bathing in thermal waters (minus the 30-hour flight) at The Peninsula Hot Springs. They also want to highlight a major ingredient in the product – geothermal waters. In my eyes, this just happens to be the perfect excuse to visit the region and create some Very Important Travel Content. As I said, any excuse.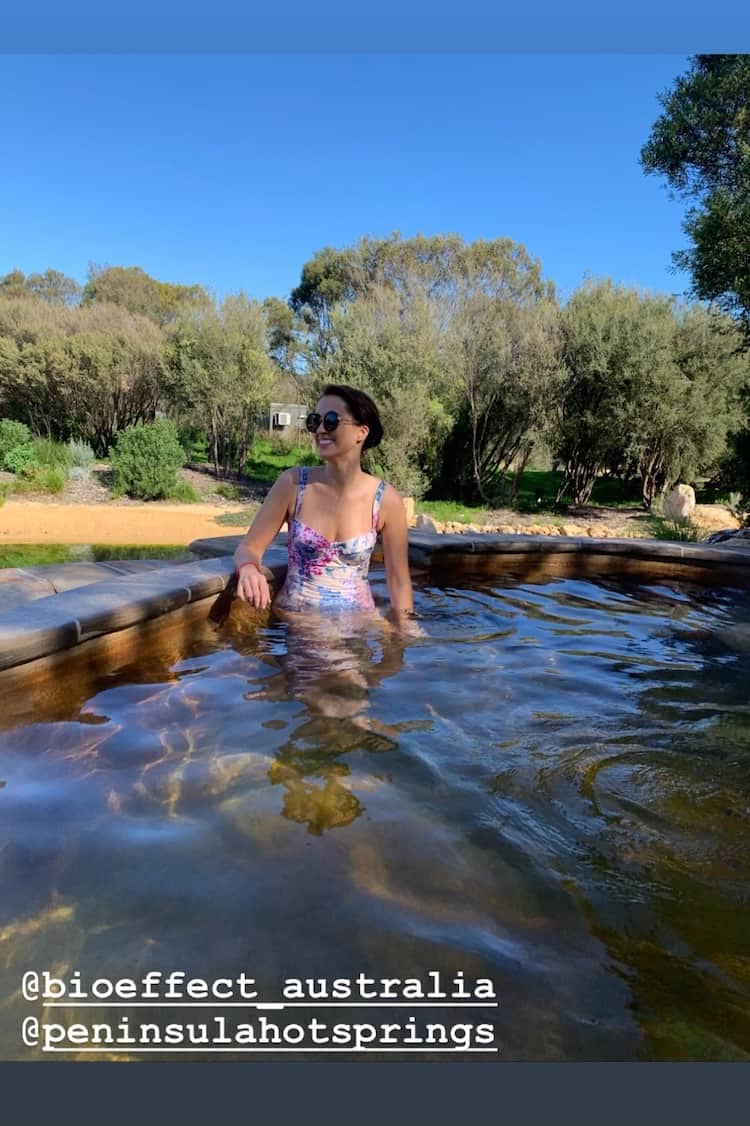 Our wonderful in-laws agree to watch the kids, and so Damien and I start planning the ultimate itinerary: one that will highlight the regions many gastronomic delights, while earnestly studying its viticultural traditions. My long time friend Simone, who looks after the PR for Bioeffect, suggests we stay on together for the weekend, along with her Melbourne-based boyfriend, Richard, who will play tour guide. A weekend with friends without kids where work was the catalyst? It almost seems too amazing to be true.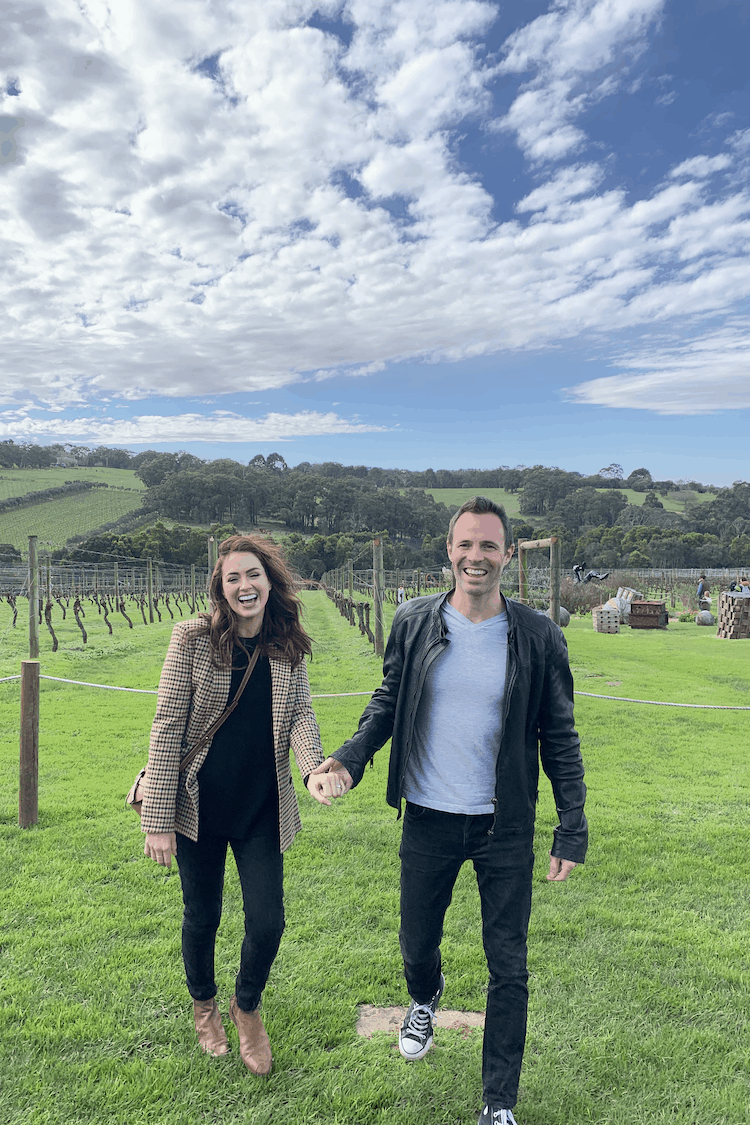 Of course, our early morning flight from Sydney is delayed. On the bright side, our chauffer deftly circumnavigates Melbourne's traffic in just over an hour. Arriving at The Peninsula Hot Springs I am met by the team and welcomed with a cup of steaming Tulsi tea, a fruit plate and delicious bliss balls. I'm given a toweling bathrobe, a towel and wrist band that will open my locker and am then set loose among the sprawling expanse of pools.
The man-made baths blend seamlessly with the topography of the environment. Walkways weave between each body of water, flanked by ponds and a tangle of bush. A chorus of frog mating calls are an amusing symphony to my progress. By some miracle, the sun is out and, although chilly, it's a nice respite from the hot water. I dip in and out of various pools before winding back to the wellness centre to enjoy a healthy catered lunch. When the other journalists reluctantly head back to the airport Simone and I can't jump in our transfer quickly enough. It's off to our home for the next two days – Lindenderry Hotel.
IMAGE VIA LANCEMORE HOTELS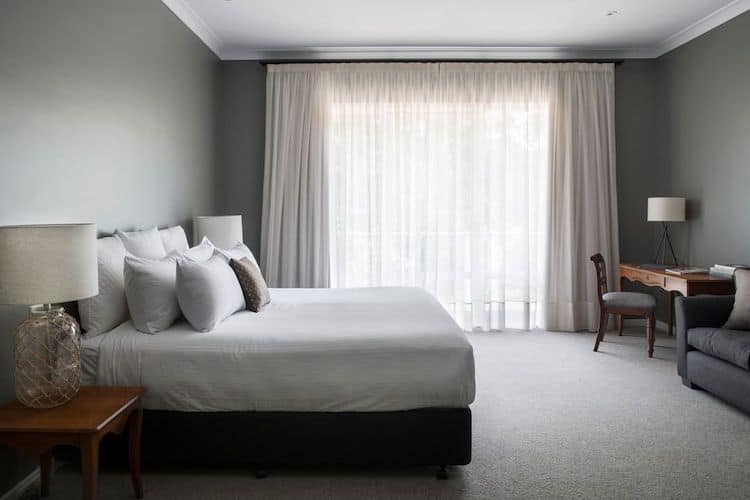 IMAGE: INSTAGRAM @LANCEMOREHOTELS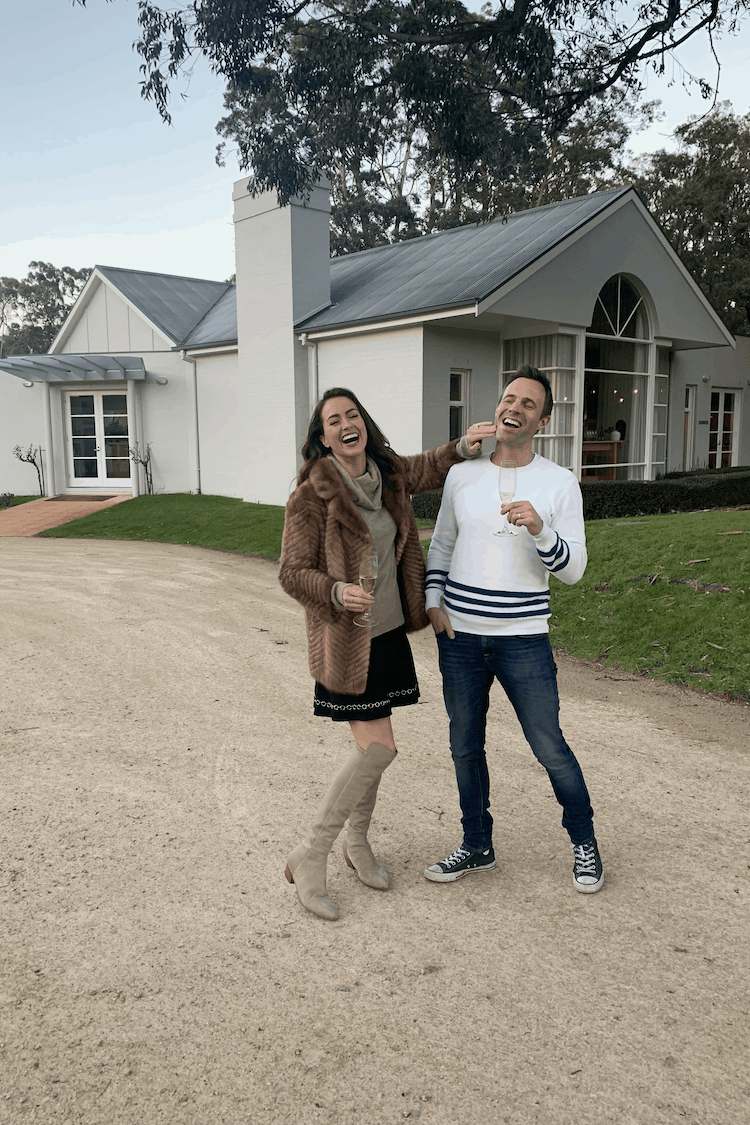 The grand residence has 40 rooms and sprawling over 34 acres of land in the postcard-perfect Red Hill. There are manicured gardens and pretty ponds which we promptly set out to explore – champagne glass in hand. The hotel has recently been refreshed by design studio Hecker Guthrie, marrying French farmhouse style with modern Antipodean art, creating a uniquely Australian feel. Before dinner we head into the reception area with its vast fireplace for complimentary wine tasting with the other guests. It's a lovely way to wind into the weekend.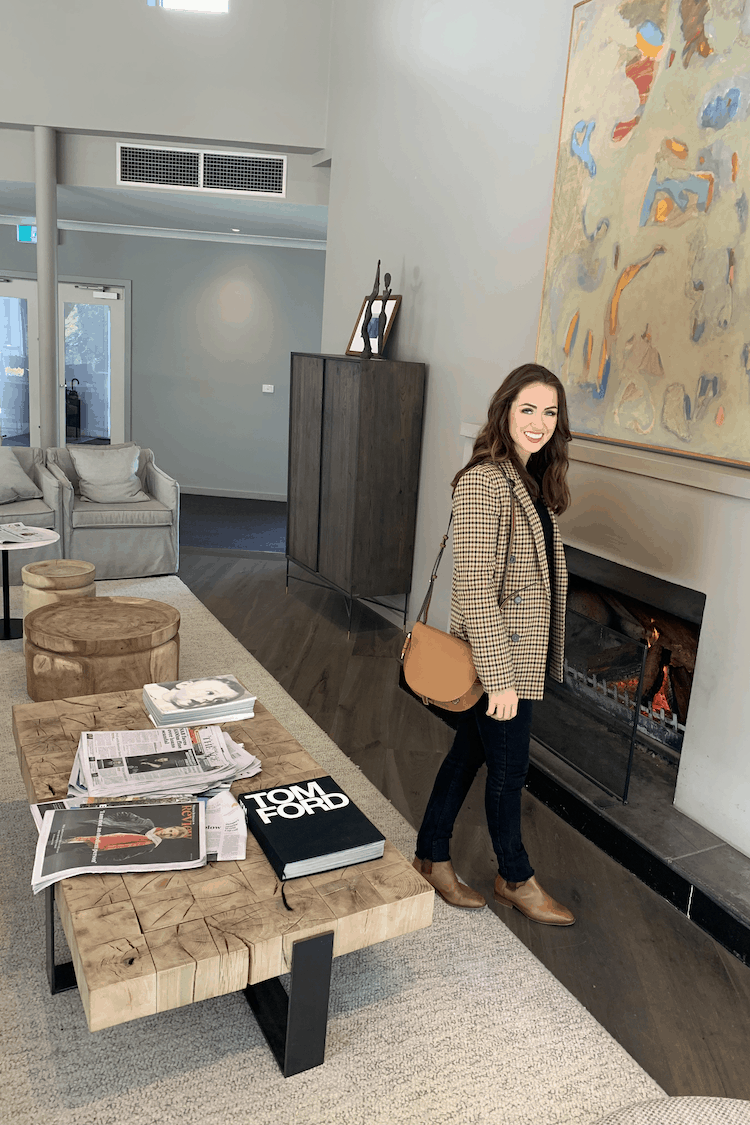 Dinner that evening at Lindenderry's resident 2-hatted restaurant The Dining Room does not disappoint. Each course is matched with Halliday-rated wines and served with a side of hilarious banter by our waiter. Damien and I somehow nab a fireside table so our Flinders Island Lamb and King George Whiting is accompanied by buckets of ambience. We find ourselves laughing all the way back to the room about something we can't remember in the morning. Signs of a dinner well spent.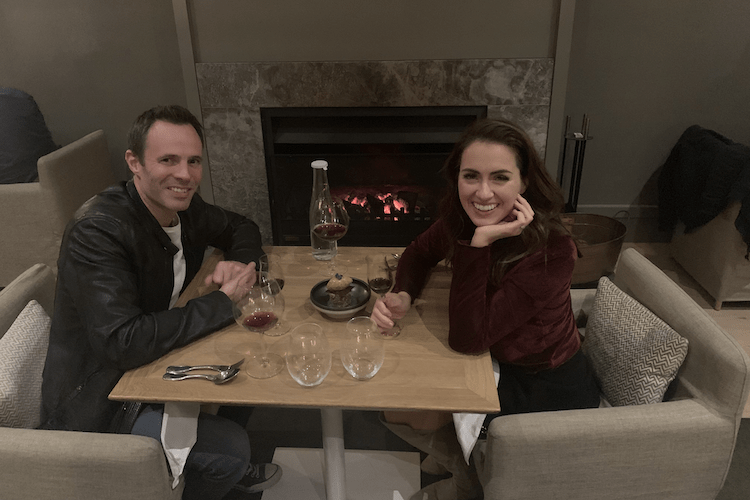 The next day we sleep in, enjoy a leisurely breakfast and finally head out for a jampacked day of wine tasting with Simone and Rich. First up? Port Phillip Estate rises out of the landscape like something out of a Bond film. An architectural feat of towering limestone, with a door that seems to magically open as we approach. Inside it's all light and glass and gorgeous views of the hinterlands. We can't linger over the wine list for long as we have an appointment for more wine at Montalto.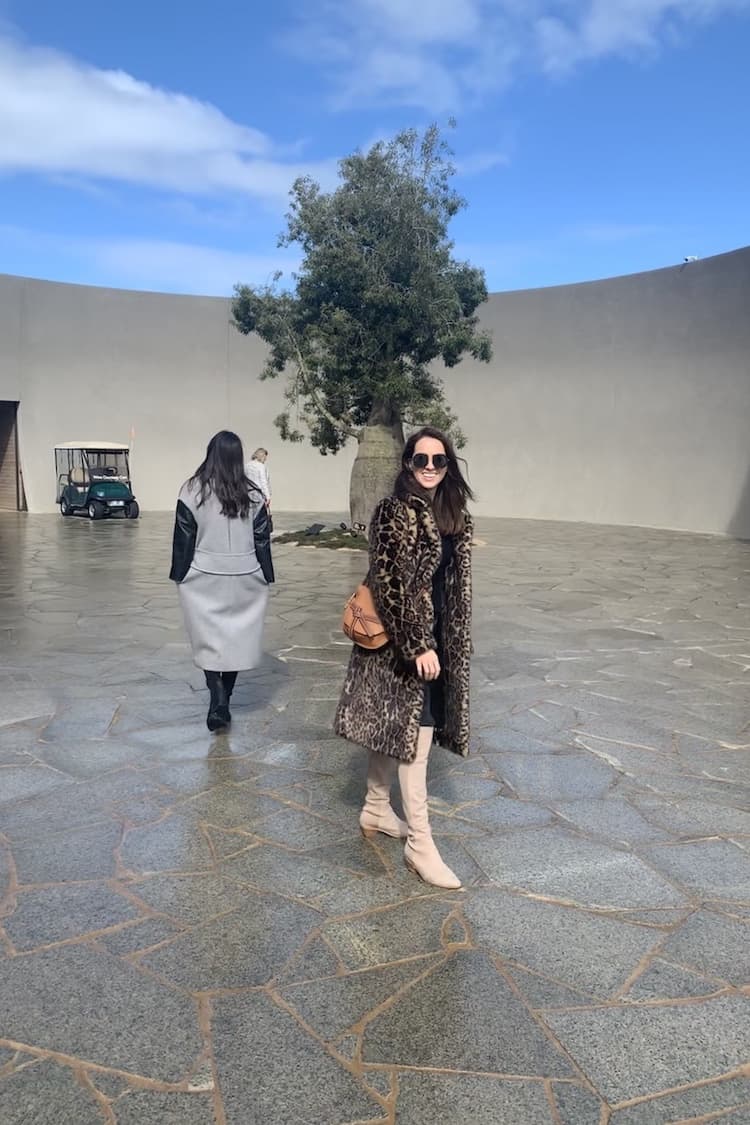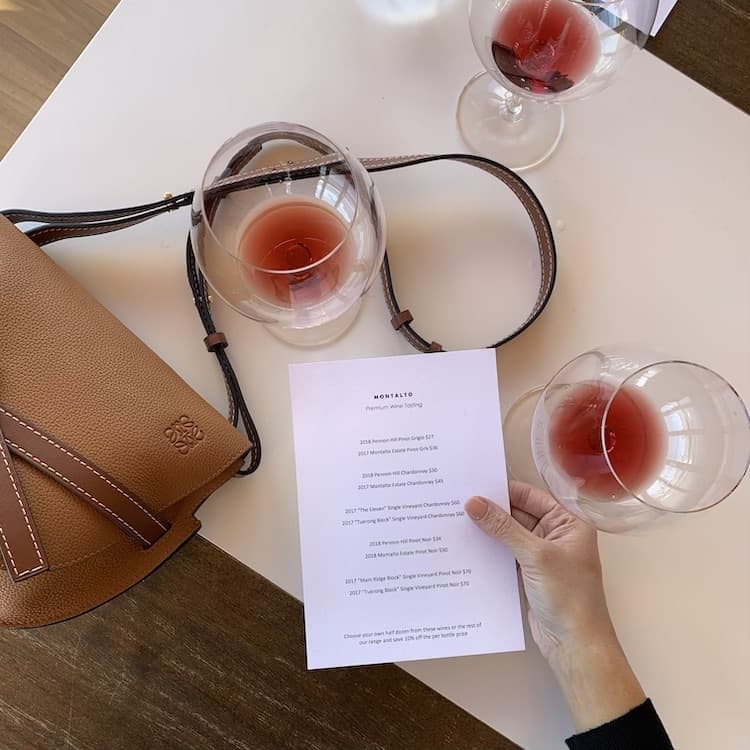 Another example of the perfect junction that is art, architecture, food and wine can be found at Montalto. This stunning vineyard boasts a cavernous light-filled  restaurant and more casual piazza alongside a sculptural walk and cellar door. We're booked in for the Mornington Peninsula Discovery Tasting to try local wines, followed by the most insanely gorgeous meal in the neighbouring restaurant. The food is nearly too beautiful to eat. Nearly. And it tastes as good as it looks. We meander through the sculpture walk after lunch, posing maniacally with various artsy animals and miscellany.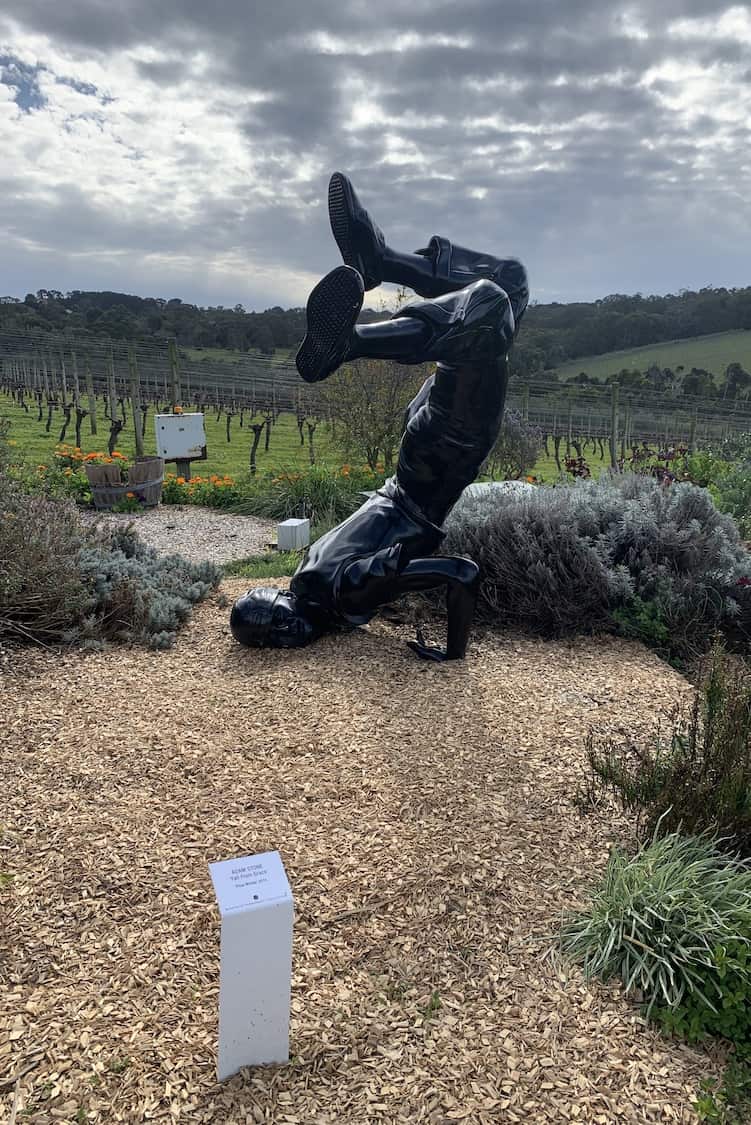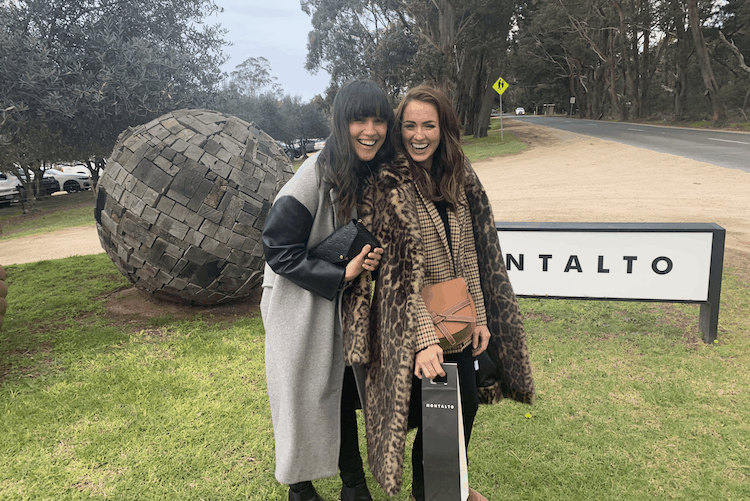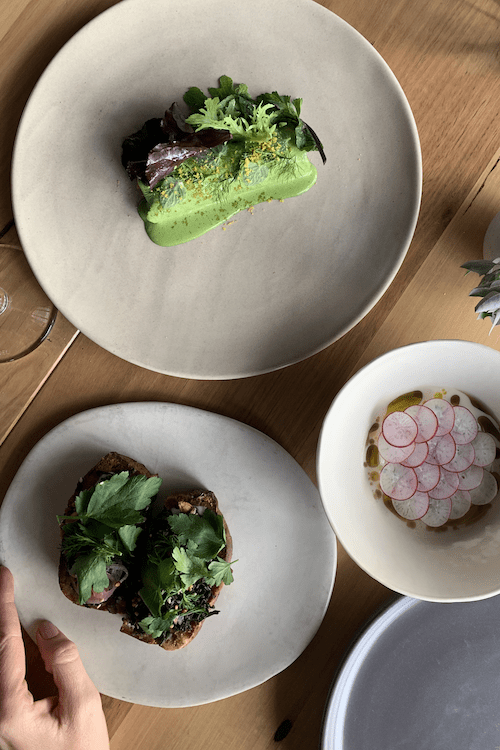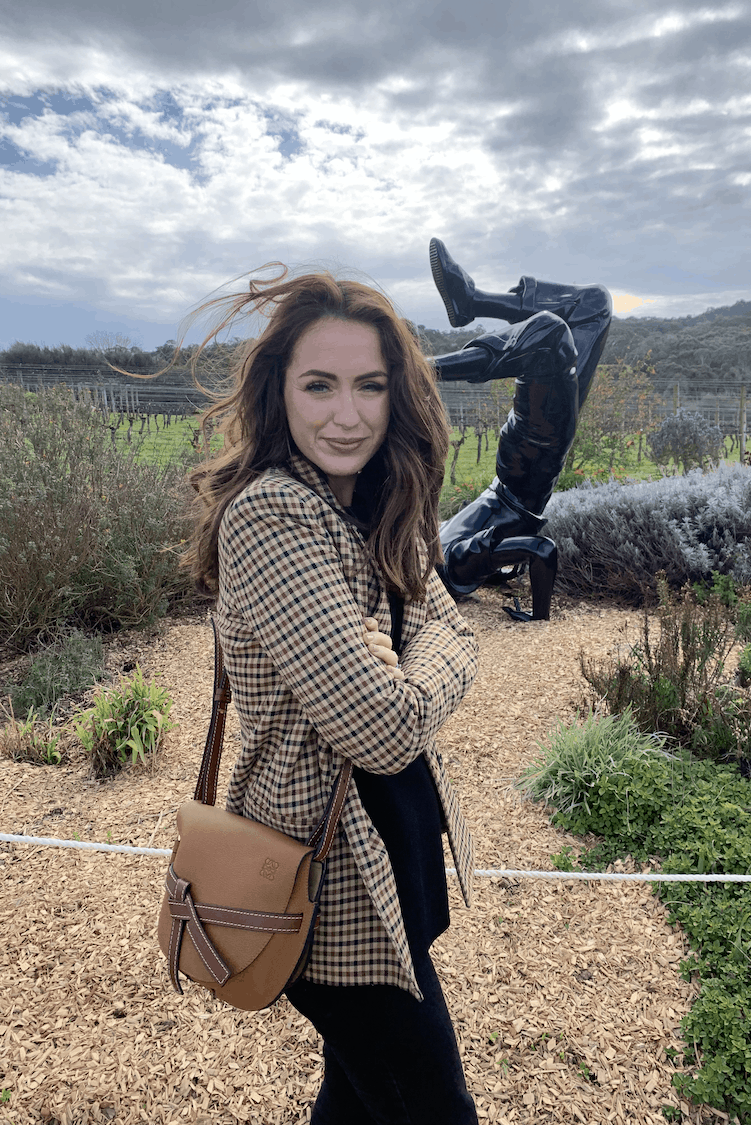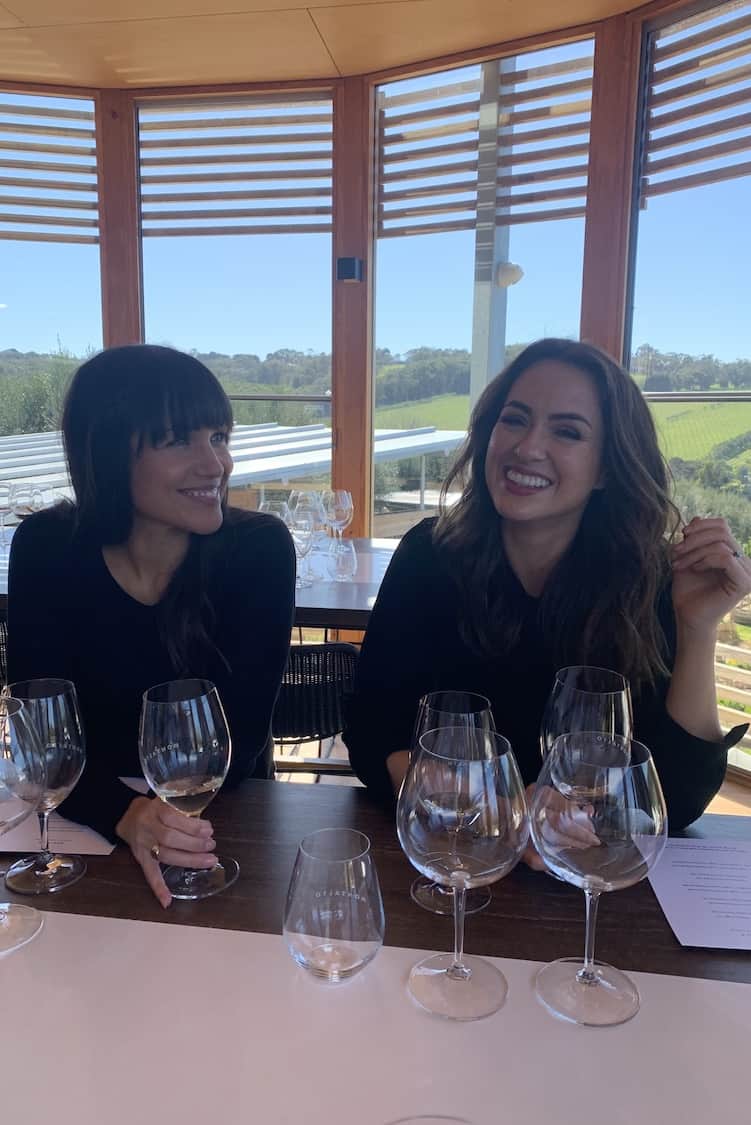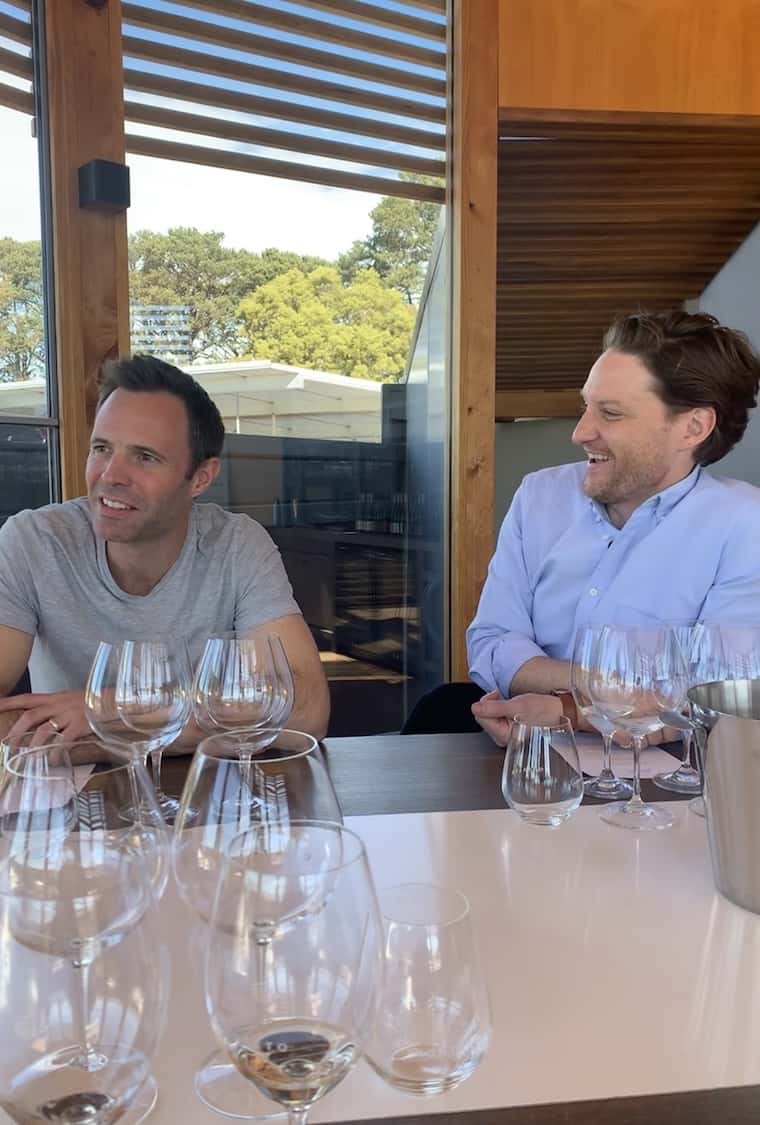 Needless to say we don't have much room for dinner, so it's a pretty light affair and an early night as we prepare for another jampacked day before our flight home. I'm sad to check out of Lindenderry. Apart from the fireplace in my room and gorgeous views out over the garden, I'm going to miss the ambience of the place. Lindenderry has that lovely boutique hotel quality where the staff remember your name and your favourite wine. I'll definitely be back.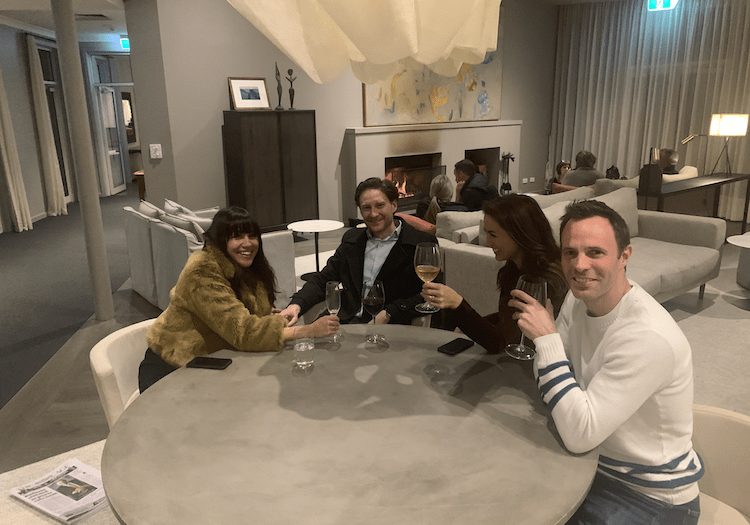 The next day we manage to jam in a few more must-sees. First up? Not ready to stomach wine, we let Damien have his way and check out the Red Hill Brewery. While he works his way through a paddle of ales, I spy some delicious looking slow cooked meats and decide I will definitely have to visit another day when I'm not still nursing a two-day food baby.
We do a driveby of the famous Merricks General Store where I pick up some wine and tasty conserves as a thanks for my wonderful parents-in-law for having the kids. Then we swing by another one of Rich's favourite wineries, Point Leo Estate, for a few more sips before lunch.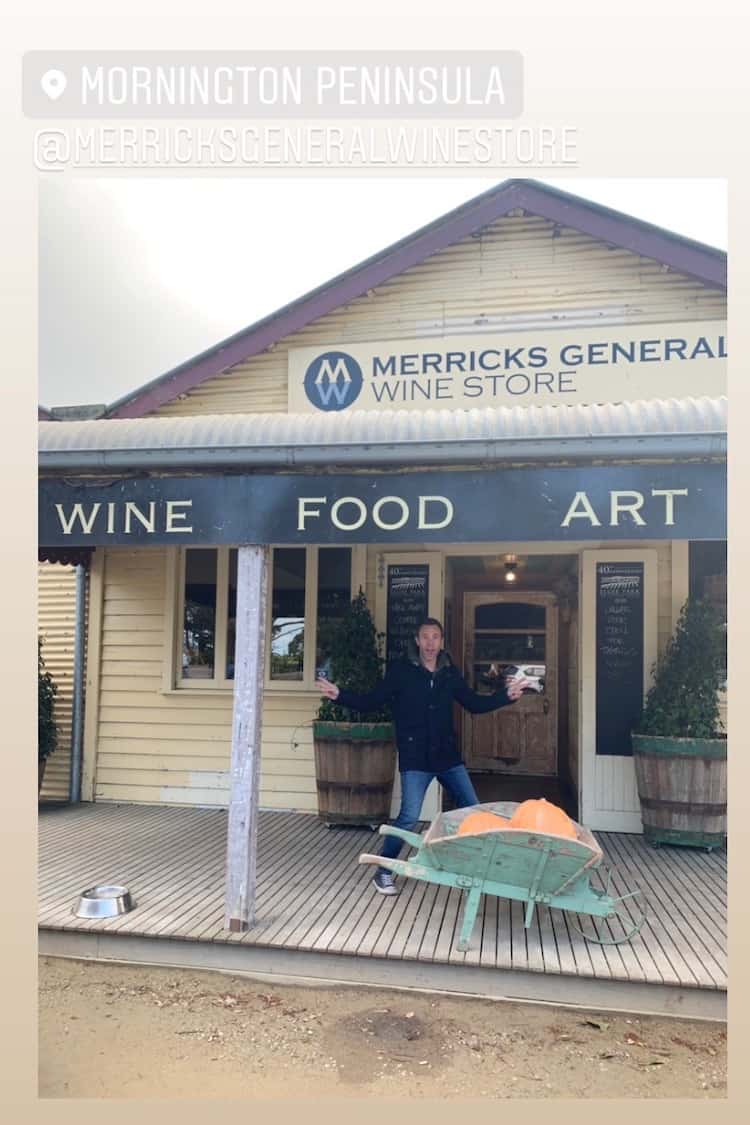 Undecided about what to do for our final meal, we decide to have TWO lunches. An entrée pulled pork burger at Point Leo – which has the most decadent view over MORE sculptures to the brilliant blue of the ocean. There are few wineries that fuse the beach and vines so beautifully as this one. It reminds me of Margaret River. We take a stroll through the art walk and attempt to build up an appetite for our next course.
Next stop is the terribly hip Jackalope Hotel. There's more modern and minimalist architecture with some, at times, surprisingly OTT décor hidden inside. We explore the glamorous bar (Flagadoot), pausing by the fireplace to admire the kooky décor before heading to the cellar door restaurant Rare Hare for Lunch Mark Two. We pick at some delicious salumi and antipasti type things like stracciatella with shaved fennel, orange and pistachio dukkha and chargrilled squid with romesco nero and charred lemon. One last glass of regional pinot and it's time to jump back in the car to the airport.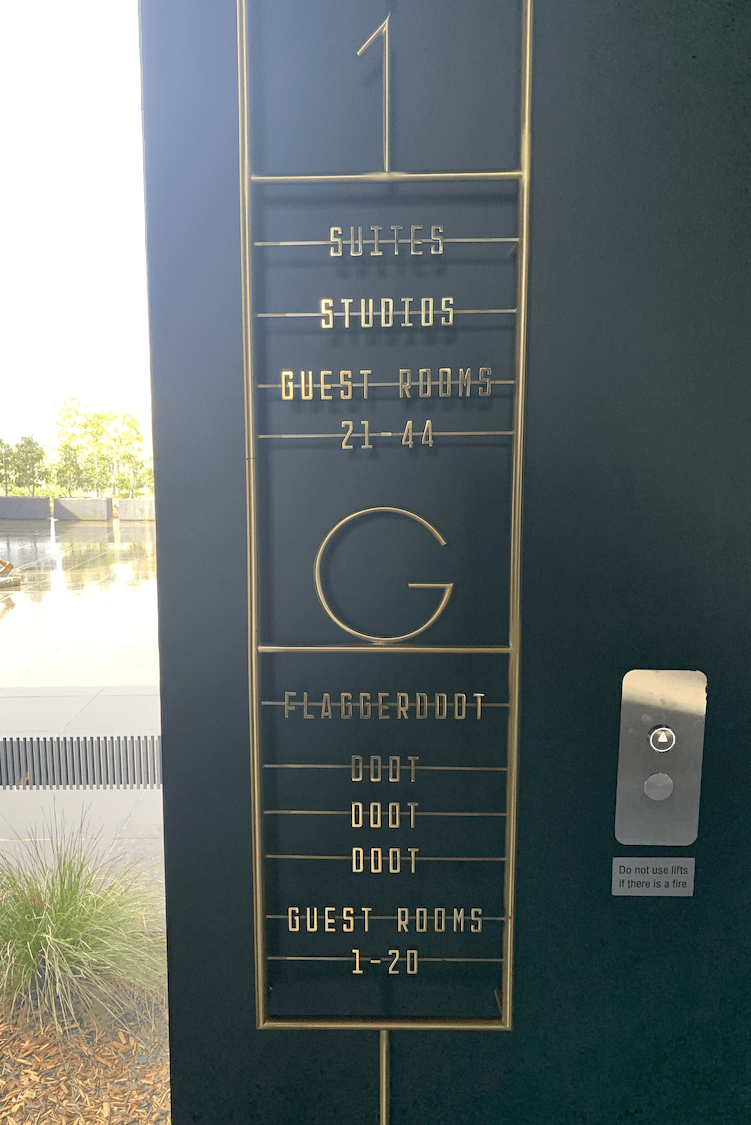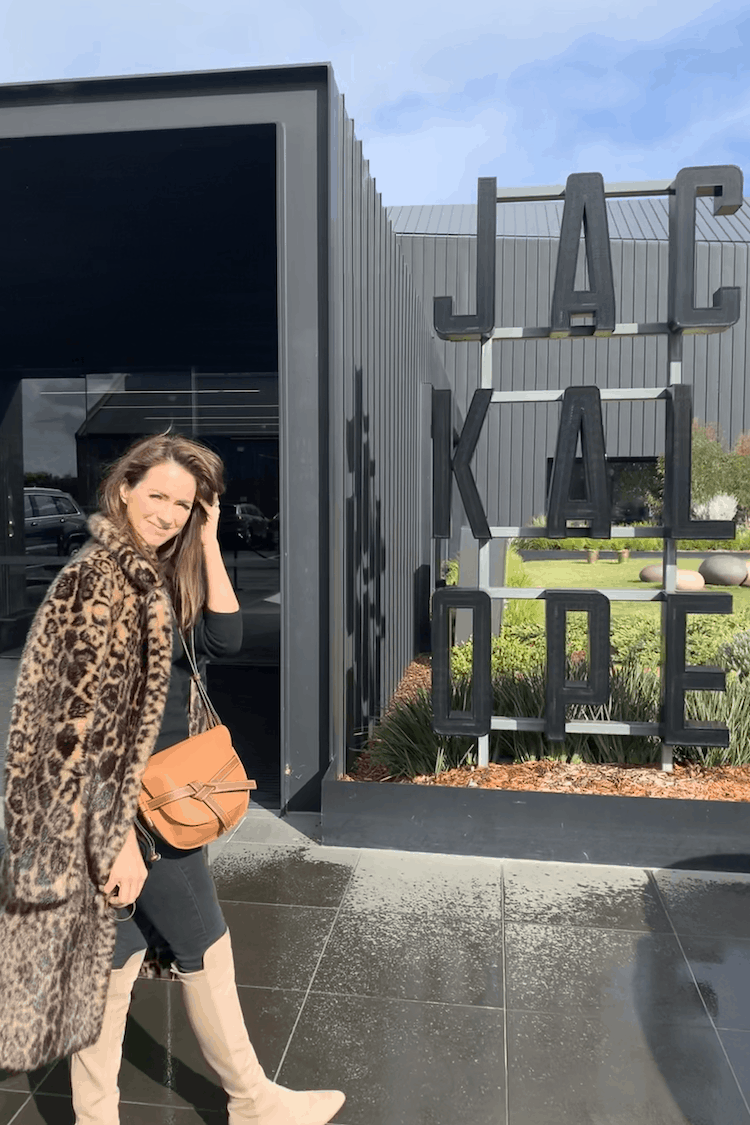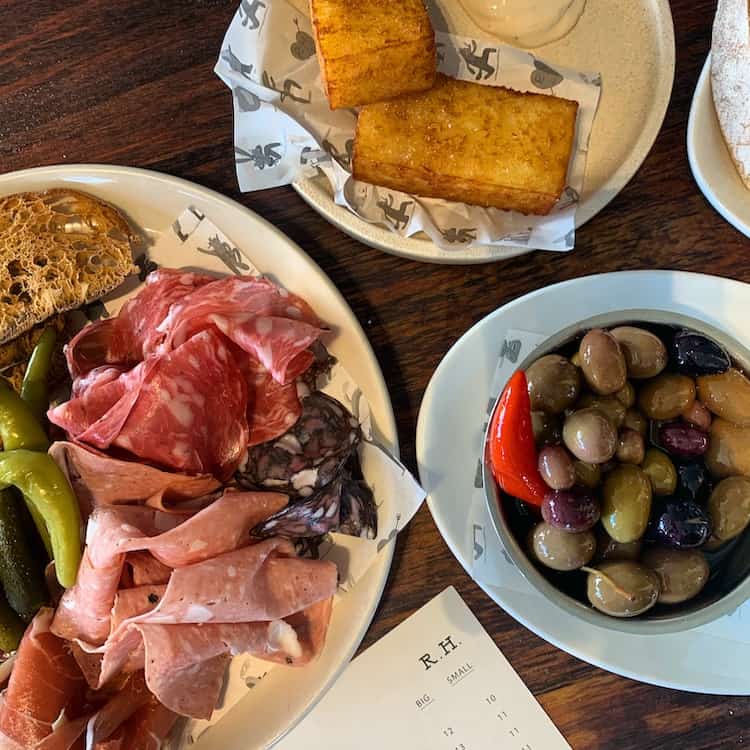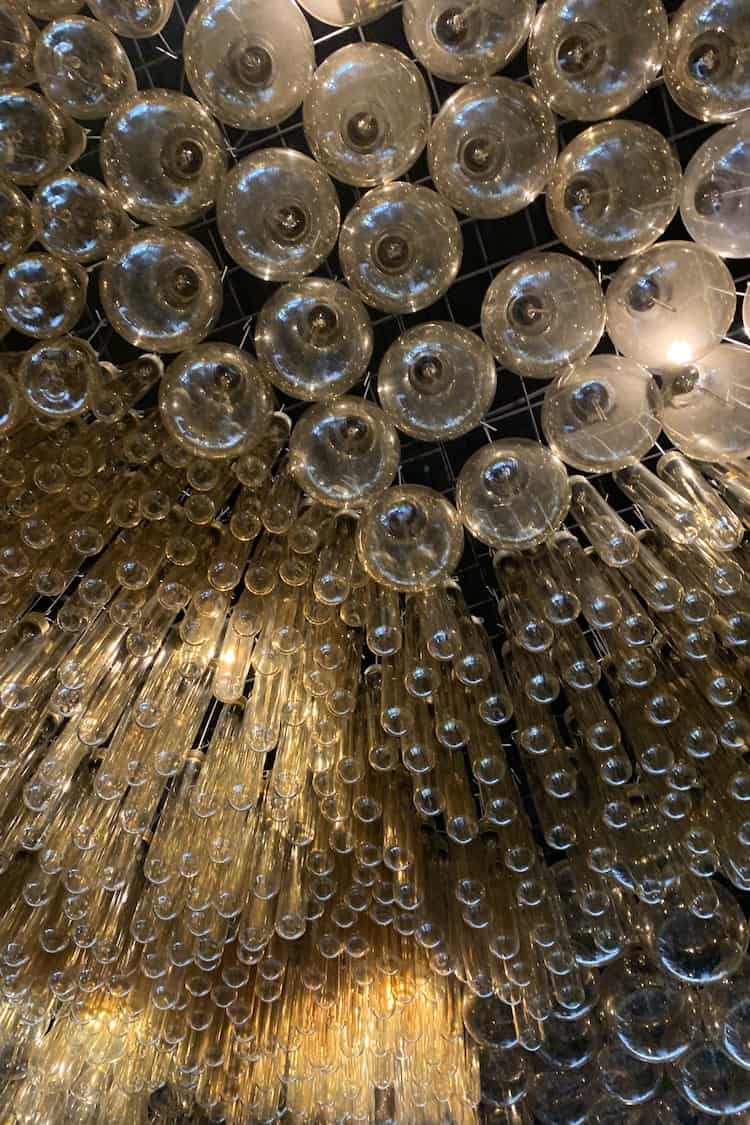 It's been an express tour and in true travel-writer-style we've jammed all the essentials in. I am literally itching to return. Next time we'll have more time. Maybe hire a house with the kids and let the days all roll together in a wonderful cycle of "beach, wine, eat, repeat". The Mornington Peninsula really is the most magical milieu – no matter what time of year you visit. It literally heaves over summer but when we visited towards the end of winter it was so full of atmosphere – the fires, the wines, and still, somehow, a brilliant sapphire sky that meets with the endless sparkling blue of the ocean. It's a rare treat and one that needs to be experienced to be fully revered.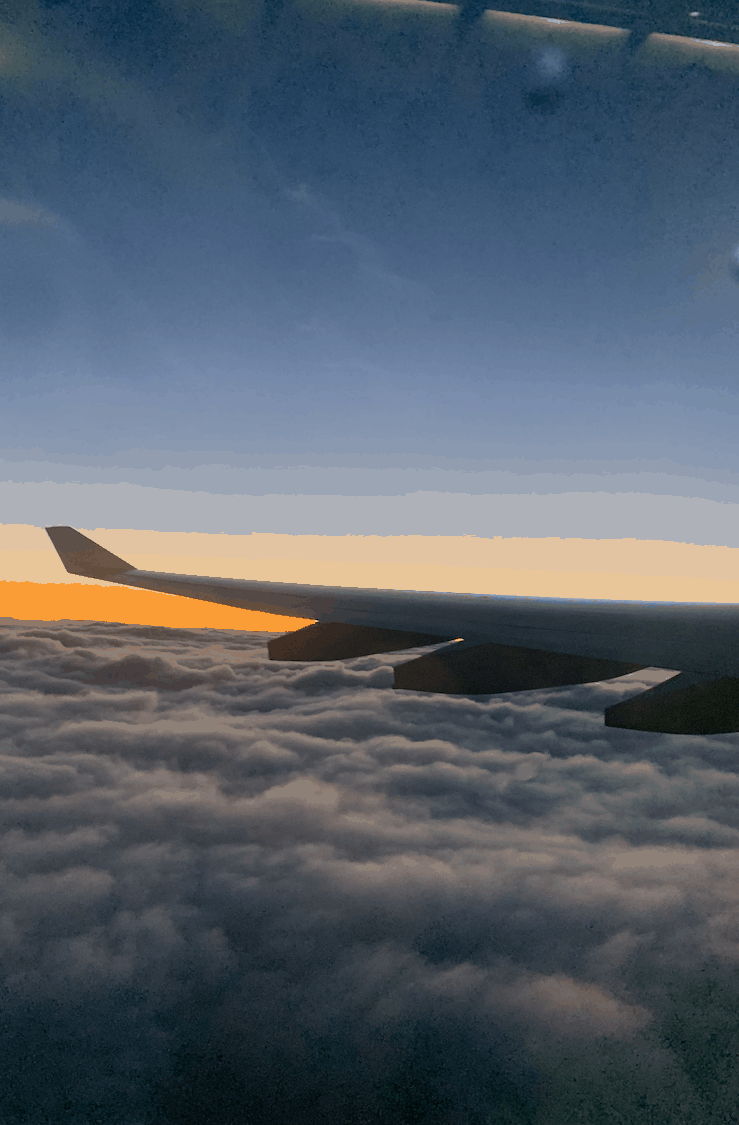 Story and photography by Sigourney Cantelo