When I was invited to spend three days in Byron Bay with legendary LA facialist Ole Henriksen – it was time to call in some favours. Since my husband was overseas for work, I had to enlist a revolving roster of parents and babysitters to cover my absence and put the Beauticate team on high alert. Not only did I know the Ole Henriksen #GlowCampByron was going to be a story worth telling, but if there was ever a time I might need to a dose of glow, it was now. I'd been flat on my back for three days with a flu come sinus infection and my skin had was rebelling with a kind of anaemic pallor. Here's how it went....
It turned out to be worthwhile for the welcome alone. The minute I arrive at The Byron at Byron resort, Ole rushes up to me and embraces me, kissing me on both cheeks.
"Sigourney, I am just in awe of you and of what you've done with Beauticate and your transition from Vogue and all that you've built," he cries staring into my eyes earnestly. "Thank you for coming here, when you are not well, and with two littlies and your business to run, thank you so much, it means so much to have you here,"
Ole has this ability to make every single person he encounters feel like a total rockstar. It is phenomenal. And it's most certainly a cornerstone of the brand's success.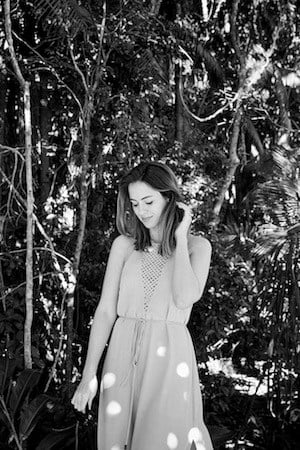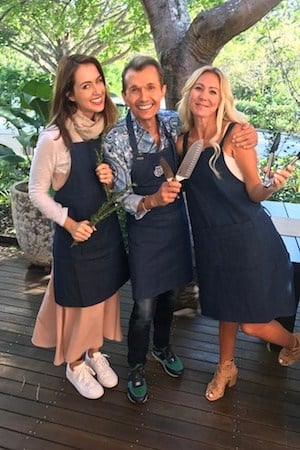 We first met over ten years ago, at his spa in Beverly Hills. The sprawling salon on Sunset Boulevard has played host to many sublime-skinned celebrities through the years – from Barbara Streisand and Cher in the seventies right through to the Supermodels, Madonna and Kylie Minogue. His Danish sense of hospitality and incredible knowledge of skin was famous. These days, Ole spends less time in the treatment room and more time traveling the world, as the face of his eponymous skincare brand (which is available in Sephora) and pedaling his holistic message of beauty through inner and outer health
It's fitting, because Ole (pronounced oo-leh) is the perfect poster child for this manifesto. After trading his native Denmark for Indonesia as a gymnast and dancer in his twenties, he suffered from debilitating acne and was treated with traditional Indonesian skincare remedies. He realised the power of active and natural ingredients and found his calling. After going to beauty school in London Ole headed to Los Angeles opened his spa and made up batches of skincare in his kitchen, peddling them to work in Beverly Hills on his bicycle. The brand grew in size and scope and is now one of the top 5 brands in Sephora in the US.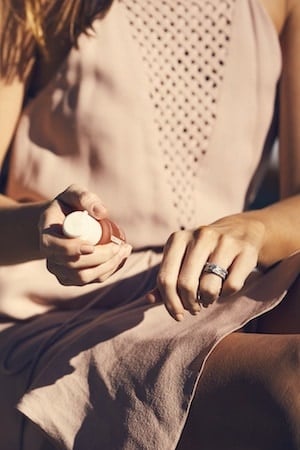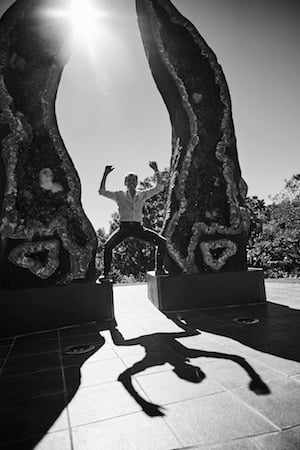 Somehow, at 65 years old, he looks younger now than when I met him ten years ago. As he swiftly guides me to a table overlooking the pool and orders me a hot honey lemon ginger tea, I watch him talk. There are absolutely none of the telltale 'tweaks' a man in the Hollywood aesthetic industry would usually have. Just gorgeous, elastic skin, that moves with so much expression when he speaks. And his whole being just bursts with this… energy. He doesn't walk so much as bounce, and his resting face is a Cheshire cat grin from ear to ear.
After a quick chat I'm golf-buggied to my room where the team have left a variety of lovely treats to help us on our glow journey – many inspired by Ole's Scandinavian heritage. There's a yoga mat and outfit by Moonchild  (a Danish yoga wear brand), a candle from Scandinavisk and The Little Book Of Hygge. Ole runs his company using many of the notions of Hygge – happiness, comfort and balance reign supreme.
After a hearty meal, I treat myself to a long hot bath, and scrub my face with the famous Ole Henriksen Sauna Scrub – the pumice buffs off all my tortured, dull skin and the menthol clears my sinuses beautifully. I snuggle into bed with a hot honey lemon drink, and feel that little bit of Hygge help sweep me off to dreamland.
In our one-on-one interview the next day, I beg Ole for some of his fountain-of-youth secrets, like, where on earth does he get all this energy? He admits that he has a strict morning routine consisting of 300 pushups (he drops to demonstrate and does ten with ease before pausing in plank and explaining that this is how he meditates. Um… wow. When he's home in LA heworks out extensively on the gymnastic rings that he has installed in his home. He also sticks to a mostly vegan diet and if he drinks, it's ONLY vodka on the rocks.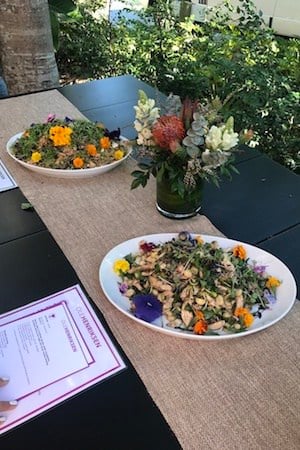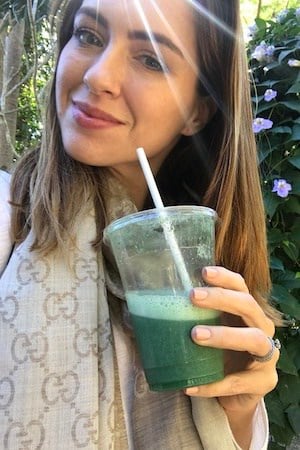 We talk until we nearly run into the next session, and are ushered off to our next activity – a cooking course with nutritionist and wholefood chef Samantha Gowing. She breaks us into groups and guides us through a menu inspired by ingredients featured the skincare ranges – Truth, Nurture, Transform and Balance. The products all contain natural ingredients alongside supercharged vitamins and skincare superheroes like superfoods, AHAs and Essential Fatty Acids.
After lunch it's off to the spa for a customised facial – Ole has analysed my skin and put me on a program. He proclaims my skin as "beautiful very beautiful, but perhaps a little prone to sensitivity, right now…" Which I find very diplomatic, particularly given my sketchy health situation. I've been prescribed the Nourish range with the Berry Nurturing Gel Mask (a gorgeous soothing gel which you can exercise or even sleep in) and the eye cream and eye gel from the Transformation range to de-puff my sleep-deprived eyes. After my facial I float down to the beach. I'm so floaty that I don't realize how far the walk is and how cold Byron has suddenly become – it is the middle of winter, after all – and by the time I finally find my way back to my villa I'm a sneezing, shivering mess. I trade dinner at Rae's for room service and an early night and wake up feeling nearly a hundred times much better.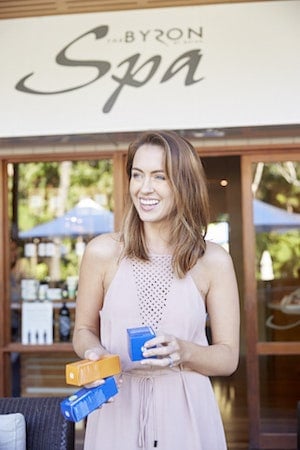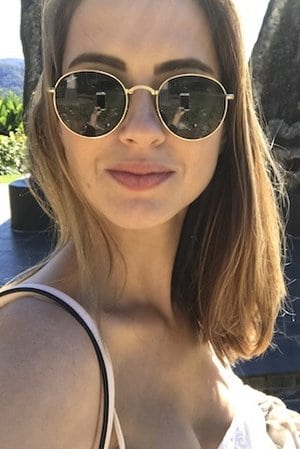 As we pack up our rooms and depart for a romp around Crystal Castle in Mullumbimby I examine my skin in the bathroom mirror. It's certainly better than when I arrived. The dark marks under my eyes have disappeared thanks to the eye creams (and two sleep-ins minus my babies!) There's a freshness about my complexion, too. I might even say a glow…
I wander around Crystal Castle with Ole bouncing along beside me, regaling me with hilarious tales of some of his more, uh, challenging celebrity clients (two words: Janice Dickenson) We imbibe a green juice and vibe with the world's largest crystals.
Our final stop? The Farm. As we graze over a stunning paddock-to-plate feast at Three Blue Ducks, I'm struck by an incredible sense of gratitude. While the outer glow is lovely – and something we're all striving to achieve – the real goal I want to achieve is this inner glow, this sense of contentment. It's this glow that Ole has demonstrated so beautifully on this trip. I watch the amount of effort he puts into every encounter – with waitstaff, photographers, his PR team… he compliments people effusively, but with such sincerity that they can't help but be drawn into his orbit. This positivity and energy creates a gravitational pull that has helped build a beauty brand that is as conscious and considered as it is effective. And it's these qualities that I intend to keep nurturing, in the hope that I'll be glowing even half as brightly as Ole one day.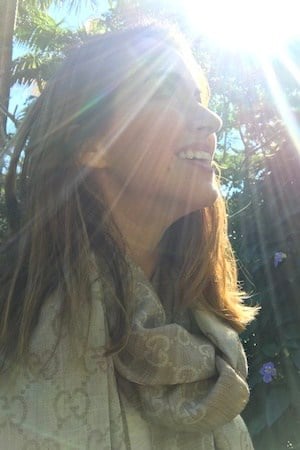 Story by Sigourney Cantelo; Photographs by David Cook and Sigourney Cantelo