As New York Fashion Week is in full swing, we decided to profile one of our favourite New Yorkers. Athena Calderone is an iconic interior designer, darling of the NYC social scene and creator of the visual treat-of-a blog, Eye Swoon. Her home in Dumbo, with spectacular views back across Manhattan, has been swooned over by all the elite design magazines. So it was an honor for the Beauticate team to step inside, and find out how Athena maintains her flawless beauty.
Inside Athena's beautifully decorated home

Cartier and Coqui Coqui Fragrances adorn her dresser

Athena uses hair products from Living Proof and Bumble and Bumble, and swears by oregano oil.

Her bedroom is beautiful in blue hues

Athena loves to wear a range of statement red lips

Interior books keep her inspired and creative

Athena always feels more put together in a matte red lip

She approaches design and food in the same way - by adding layers and texture

Athena's decorative talent is amazing and apparent in her New York City home

Athena loves combining polarising qualities in everything she does

She wears the 'Athena' heel named after her by designer Alejandro Inglemo
My personal style is definitely about extremes….
I am usually either wearing a very short or very long and flowy dress, probably representing the contradictory sides of myself.  Sophisticated tailored edgy and sexy all at once! Most of us are defined by contradictions – it makes us interesting. Design should never strike just one note. I love combining polarizing qualities – using elements that seem like they shouldn't work, but do – because I think it creates a tension that brings intrigue and curiosity to a space. So a clean environment with eclectic oddities, luxurious textures next to raw, old piece with new….that's what gives a room character and depth.
ATHENA'S DESIGN STYLE MELDS A CLEAN ENVIRONMENT WITH ECLECTIC ODDITIES.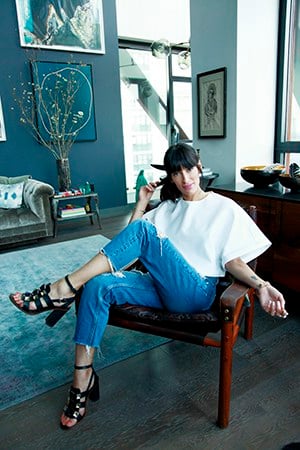 ATHENA DEFINITELY HAS A KNACK FOR DESIGN
I tend to be a little schizophrenic in everything I do;
One day I want to feel like a hippie in a rustic flea market and the next I want to feel lush and sophisticated. This is obvious in the way I dress from day to day and in my homes. For me, interiors happened by accident through designing my own homes with my dear friend and now business partner, John Rawlins. He helped me see that I had a unique eye in curating a room and encouraged me to refine and further my "knack for design" and go back to school.
Style & beauty are about giving yourself license to express yourself….
I either go either super natural and beachy with no makeup or completely pulled together in a stunning fashion frock with a red lip. I use YSL Touché Eclat Foundation and Nars Dragon Girl Lip Pencil. I also always use a cream blush or cheek stain.
I just feel more put together in a matte red lip for night – always Nars Dragon Girl, but lately for summer Nars Red Square (a bit more orangey). I suppose my trip is the matte lip pencil – it just stays on for hours!
ATHENA APPRECIATES HER MOTHER'S ATTENTION TO DETAIL AND HER APPRECIATION FOR BEAUTY.
My mother was – and still is – stunning.
She always held herself with grace and elegance and was always put together, even to run to the corner market.  I certainly appreciated her attention to detail and appreciation of beauty.
I suppose my favourite feature is my sharp bone structure.  But really beauty comes from within – my husband makes me feel like the most beautiful woman alive.
Both my parents were hairdressers, so I literally grew up in a hair salon.
Sweeping the hair was a favorite pastime.  We always had great hair products and I definitely experimented with perms and straighteners over the years. But now I'm a wash and go gal.  I never blow dry my hair and barely use any product in it.  Only if it is humid will I blow-dry my bangs with my fingers.  I never use a brush – unless my hair is wet after the shower.  I use Keratin treatments in my hair in summer to avoid frizz.
I like my hair either severe with bangs and shorter (shoulder length), or long wavy and one length.  So polarizing again, but it's been a while since I have gone the au natural route.
Scent evokes memory…
…a time and a place, like no other sensory experience so I do like to connect scent with travel. I love single note floral oils, like the ones my dear friend Leilani creates for Leilani Bishop Fragrance. Jasmine & Orange Blossom I swoon for!
Sleep is my beauty trick…
I absolutely need 8 hours to feel well rested and bright – both in my appearance and in the energy I exude. I'm rather grumpy and miserable without it, actually.
I couldn't live without Herbal Wellness formula and oregano oil when I begin to feel under the weather.  I'm also a big fan of probiotics.
ATHENA CAN'T LIVE WITHOUT OREGANO OIL
HER PASSION FOR DESIGN IS ALSO APPARENT IN FOOD IN ITS TEXTURES AND LAYERS
Cooking in the kitchen creating meals is where I'm happiest!
I approach design & food in the same way, adding layers and texture, balancing flavors and unexpected elements. Food, hosting, and the combination of flavors and textures is a creative process for me that feeds my soul, it's a massive piece of who I am.  I am passionate about cooking local, seasonal food and gathering around the kitchen island with friends and family. The kitchen represents togetherness & puts a smile on my face.
I always eat non-processed local and seasonal produce.
I cook and eat a Mediterranean diet – lots of fish and lemon and olive oil and everything has a ton of bright herbs! My favorite is a local white fish cooked on the grill on either cedar planks or on a bed of sliced lemons, always served with an herby & lemony salsa verde.  It is bright, fresh and delish! In the summer I love fresh baby heirloom tomatoes with shallots olive oil lemon and torn summer abundant basil from the garden.
ATHENA EATS AND COOKS A MEDITERRANEAN DIET
EYE SWOON AS BEEN A SPACE WHERE ATHENA CAN SHARE HER MULTITUDE OF PASSIONS.
I love making things beautiful.
When I'm designing a space I can always trace the inspiration back to a singular moment or image that gave me the vision for the complete room. The same thing happens with an amazing bite of food. Suddenly I'll find myself running out to re-create it and add my own twist. Eye Swoon became a way for me to group all those fragmented moments and give them one voice that speaks to all the sides of me, the design-addict, the fashion-lover, the food-obsessed, the mum, the wife. And hopefully it can do the same for people that share those interests and seek out inspiration.