With Father's Day just a few days away, stylish dads were in our sight. In the search for #couplegoals the buck stops with Interiors Designer and TV Judge (of home deco competition The Block) Darren Palmer and his husband Olivier Duvillard. They're a formidable force. Olivier, a skincare connoisseur who was CEO at Ultraceuticals before consulting to All Saints Skin Clinic, and Darren met eight years ago and have been married for 6. They have a son (8) and an incredible home. While their marriage (they wed in South Africa, where it is legal) is still unrecognised legally here, it's clear when visiting their Bondi abode that they've created a home of love and stability (and a grooming cabinet we simply can't get over). We visited their exquisite beach-side pad - decked out, of course, in Darren's new interiors range for Myer - a chic but affordable array of decor, bed linen and cushions - and chatted about the importance of men's skincare, their first date and the fragrance collection they're addicted to...
I went through both the books and pulled out a lot of the reference images. For example, I love corals and I love barnacles. We took all those things as reference points and we created coral out of resin – we needed to produce something that was replicable to scale, that you could produce and always get the same result, so they're predictable in their outcome. They work as individual pieces and they fit perfectly on a side table or bedside table. But if you plaster them together you get this amazing massiveness. That's something I really like.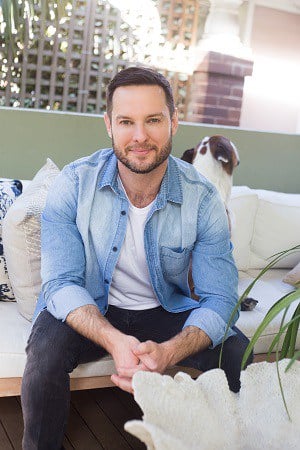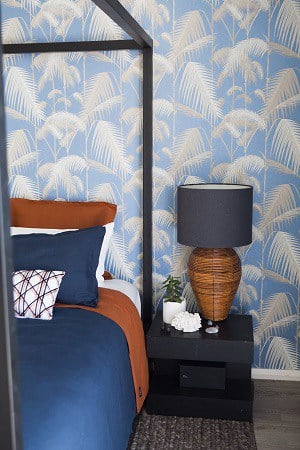 I'm most proud of the cushions they are highly adorned.
There's a lot of process in them – stitching and embellishment. The bed linen, the linen itself is called Reid Linen. It's the highest quality of Belgian flax, it's certified higher than pretty much everything else in the market. There's white, silver, navy and tobacco.
Olivier bought me this painting on our first date…
… he surprised me with it on my birthday two months later. I just made a comment about it when we walked past it and I went 'Oh, that's nice'. That was seven years ago! We met through old friends. For our date, we met at the gallery that was across the road from my office and we had dinner somewhere in Bondi. I dropped him home and gave him a kiss goodnight and then I knew I was in deep trouble.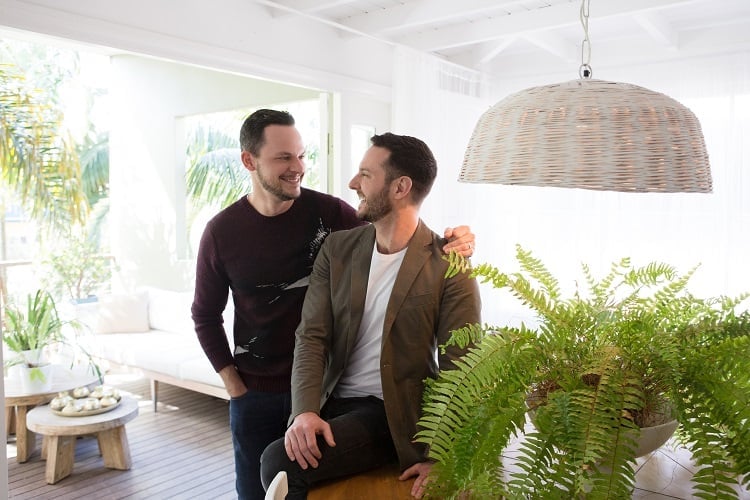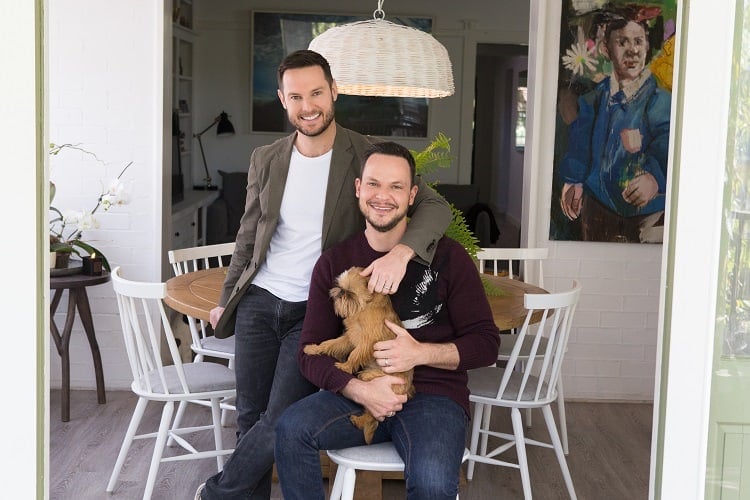 With skincare, whatever Olivier is doing, I'm doing.
I'm less disciplined though than him.  My favourite product for men is the Ultraceutical UV Daily Moisturiser SPF 50+. It's the one thing that I tell straight up all people, if you're using one thing at all then you have to pick this.  Literally, I'm always dehydrated. To re-hydrate, you can't beat Ultraceuticals Ultra B2 Hydrating Serum. I get the mattifying moisturiser. It's really nice and doesn't smell like a sunscreen at all. I sometimes use the Ultra Replenishing Mask too.  I also use whatever the Rationale stuff is, in order. It's easiest.
We share most of our clothes, except pants. I'm too short.
But, the shoe collection is the most impressive thing. Olivier just really loves shoes. There are definitely some shoes in there that we haven't worn for years because we had to rediscover them.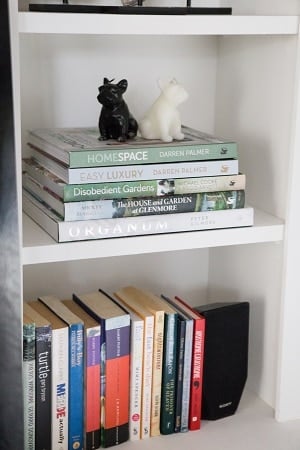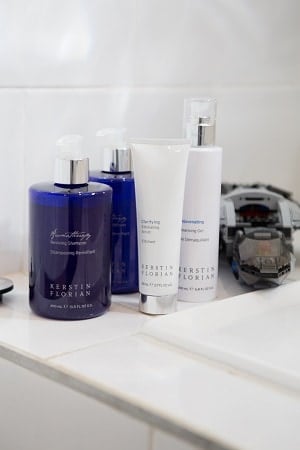 We get up at 6am to train…
… our trainer Dylan Rivier is so motivating. He's the loveliest guy and he's just the right person for us. He's a bit hardcore, 45 minutes to an hour in a group. We are pretty strict with food. The problem is going to functions and eating and not being the person who is like, 'Can I get some kale with no dressing?' But I've got to keep on top of it or else it all just goes south. It's about being fit and nimble and strong with some good core strength so your back doesn't go and so you don't really suffer all the stuff you usually suffer when you get older."
"Darren and I weren't in each other's direct social circle, but we knew of each other…
It was years later when I asked him on a date. We had a second date two days later, he came to my house and he just kept staying here, then four months later we got married. We were married in Cape Town South Africa, north of Cape Town. We'd like to be legally married here. All the arguments about kids, it's so obviously wrong. We don't want to go on debating or giving airtime to this kind of thing. Human rights shouldn't be debated, it should just be.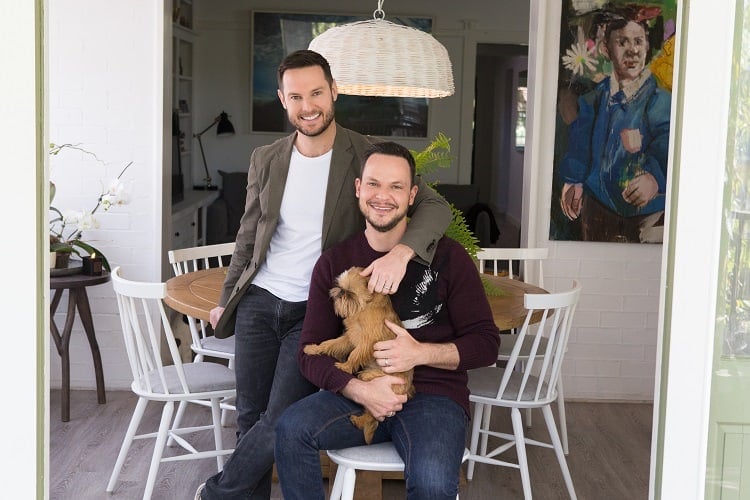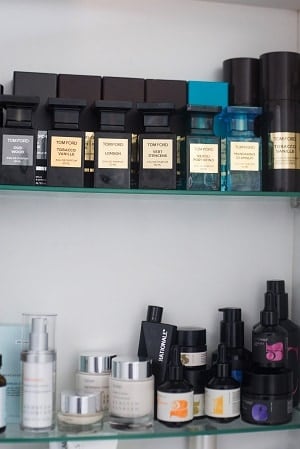 …we really haven't been using anything else fragrance wise. I love them because you can layer them, you can have fun with it. I reuse or try one or two and I usually put a bit of Tobacco Vanille and some Vert D'Encens is beautiful too.
Darren is under-disciplined with skincare.
I have learned that it's the routine that gets you the results. If you just put one product on a little bit, it's just going to get you nowhere. If it's a routine that works, it'll work. My all time favourite is the SPF 50+ Mattifying Daily Moisturiser It's impossible to find it in any other range, it's hard to find a pleasant one. It's got vitamin B3 so it's a basic moisturiser and some anti-ageing slash sun protection.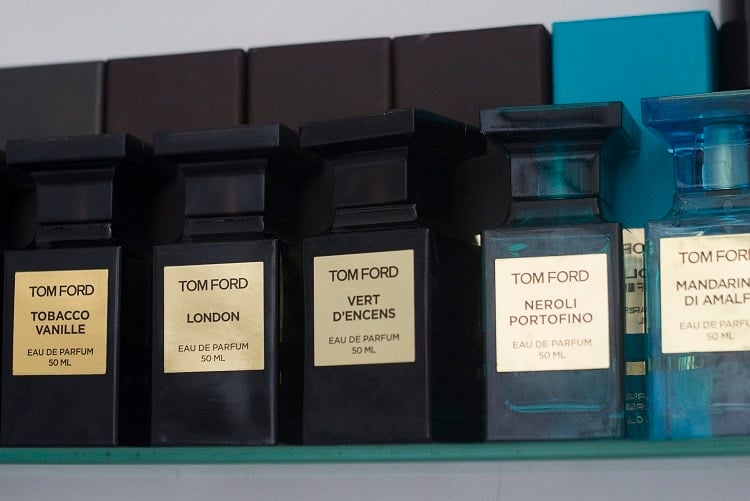 I am a hardcore Vitamin A user.
I have a mixed approach. I use the six step by Rationale and I've been experimenting with the Cosmedix super strong Vitamin A and adding that to the routine. I can't remember what percentage it is but I think it's the highest strength you can get. It's sort of my job to keep my skin looking good. I'm a little bit OCD, I don't really want to mix and match my skincare because it doesn't work if you don't stick to your routine.
Leif is my favourite, too.
I can't get enough of it. They have a really good shampoo, it smells amazing.
We also get regular treatments at All Saints – we go for Healite light therapy treatments every 2 to 3 weeks which is really great for skin overall health and overall improvement texture and firmness.
Our other favourite treatment is Clear and Brilliant laser. It improves overall skin texture, pore size, fine lines and long term collagen production for that younger and firmer looking skin. i just Love everything about how my skin looks and feels for weeks after the treatment. A little secret – Darren gets them a week or two before big events to look his best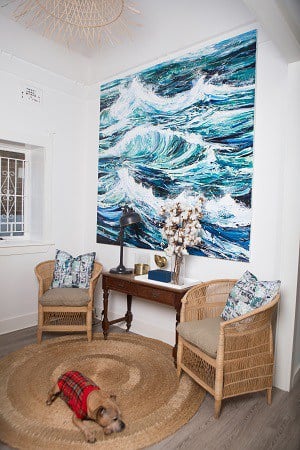 I like to body surf…
…and I enjoy swimming a lot, but I'm not a long-distance swimmer. We do spend a lot of time walking on the beach. We aim for four times a week. But, depending on our calendar and schedule of events and travels. If we get three it's good and we try to do beach days and some training outdoors with our trainer, Bill. We aren't heavy lifters, we used to be a lot more robust. But now we are more about strength and dynamic training. Training for lifting takes a lot of time and we just don't have that time anymore but we do want to remain fit and healthy. We do a green smoothie daily in the morning with kale or spinach, cucumber, half an apple half a lemon."
Story by Rikki Hodge-Smith; Interview by Sigourney Cantelo; Photography by Amy Hibbard.