It's no surprise that blonde songstress, Delta Goodrem, is at the top of her game. In a stellar career, that has spanned 15 years, she has repeatedly smashed chart records, reaching multi platinum selling status with over eight million records sold world-wide, yet remains approachable and dedicated to her fans– reportedly spending six hours at a time on in-store appearances. Her battle with cancer at age 18 only served to make her stronger and more determined, proving that a fierce passion for her craft underlies everything she does.
In person Delta is easy-going, warm and refreshingly down-to-earth. She arrived to our shoot at The Darling Hotel in Sydney without a skerrick of makeup, yet still oozing her trademark glamour. Dressed in a charcoal knit dress, felt Lack of Color hat, she was all leggy stature, with a sparkling smile and that Disney-Princess mane of flaxen hair. She even carted a suitcase of her most treasured items from home to the shoot, and was only too happy to reveal everything about her enviable beauty routine – one that is, naturally honed to a fine art after many years in the spotlight.
"I love beauty products
Sometimes I love them even more than collecting clothes. Like when you find a new product and you're like THIS is the bomb.com. A good moisturiser or a good lip or a good fragrance…I usually wear Oud Save The Queen, but I've just run out. You can only get it in Barneys in New York. It's in this gold bottle and it's a really expensive purchase, but it's worth it.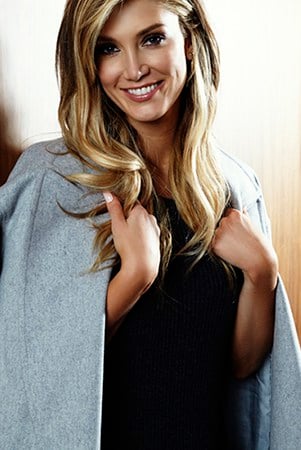 DELTA IS A SELF CONFESSED BEAUTY ADDICT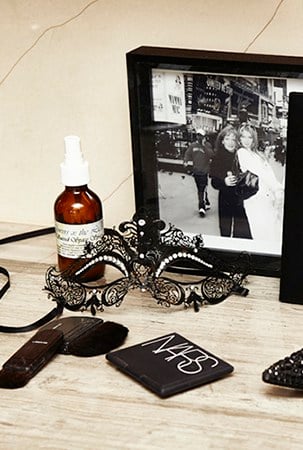 DELTA'S MUM TAUGHT HER THE IMPORTANCE OF GROOMING
My mum is the ultimate beauty person.
That's us in New York on one of my first ever trips, when I was with Tommy Mottola. Mum taught me that it is worth the extra effort to stay on top of looking after yourself. She would never go to bed with her makeup on, or walk out of the house without a blowdry. I'm not nearly as good as she is. I have taken until a bit later in life to be a bit like, 'Okay I'll get onto it.' People forget I'm a muso – that's what I am. Everything else I've had to learn. I'm not a model, but I really enjoy beauty now and I'm lucky with my profession I can get help with hair and makeup, I've picked up all the little tricks from professionals.
As someone who wears a lot of eye makeup, I need it to come off now! It's like a balm, you put it on an eye pad and it just swipes right off. One of my girlfriends, Jackie, always sleeps in her makeup and I'm like, 'You can't do that!' We have a girls night and she'll sleep and we'll wake up and she's got HUGE Bambi eyes. I always buy her the Eye and Lip Remover and stand there and say, 'Take off your mascara, you're going to age so much!'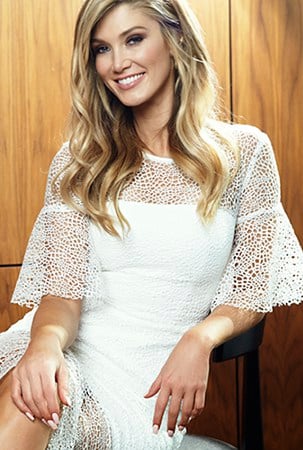 DELTA HAS PICKED UP PLENTY OF TRICKS FROM HER TIME IN TV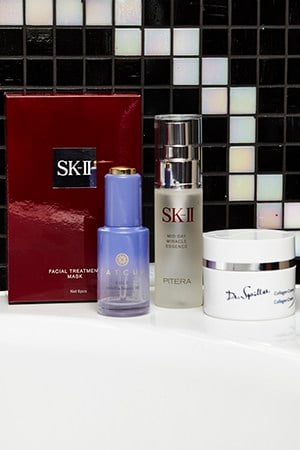 SK-II, TATCHA AND DR SPILLER ARE HER SKIN SAVIOURS
I'm not afraid of ageing – it comes with great wisdom.
But turning 30, I need to find products that work. I've really got to look after my skin now. I love Tatcha Oil and Dr Spiller Collagen Cream – it's the best. It's SO moisturising- it's amazing! On special occasions I use the SK-II Mask and the Moisturiser – particularly when I have been traveling a lot. I love the Asyana Tanning Products – it's the best tan and it's from Australia – there's The Tan Extending Tinted Moisturiser with a bit of tan it in, that is just the best.
With makeup, less is more
It's important to learn what suits your face. I've used YSL mascara my whole life – its nice and thick and black. A Shu Uemura lash curler is A MUST and Max Factor lipstickslast forever.  The colour palettes of MAC blush are the perfect natural but glamorous look and I'm obsessed with beauty blenders for getting the perfect finish on your makeup.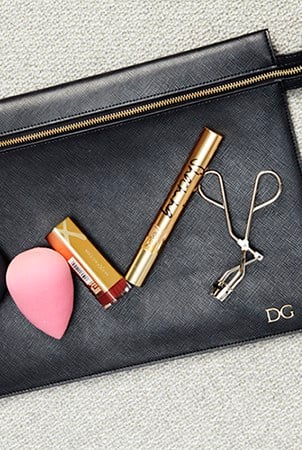 BEAUTY BLENDER, MAX FACTOR, YSL MASCARA AND SHU UEMURA LASH CURLER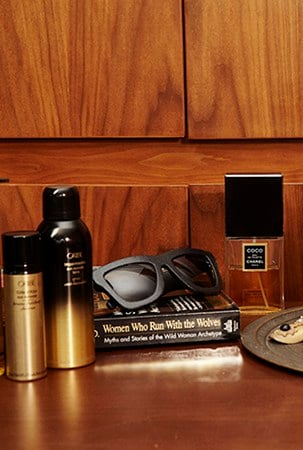 DELTA LOVES CHANEL COCO MADEMOISELLE
Everyone needs a signature scent that marks a chapter in their life!
I can't live without Chanel Coco Mademoiselle perfume and this is my favourite book in the whole world – The Women Who Run With Wolves. I'm really thankful for how busy life is right now. We're heading into the final stages of The Voice, my new single WINGS has been released and I have also just started rehearsals for Cats. I can't wait to start my new role of Grizabella in Cats. We have just started rehearsals amongst the craziness of Wings single promo and The Voice Live, so I am surrounded by music and performing!
I love seeing people so excited about my new single, WINGS.
It's been great getting back integrating classical piano in a pop song again. It has really inspired me to continue on that path and I love having so many supporters communicate with me about the song and how it affects them! There's more music in the pipeline and plans for the remainder of the year and 2016 being discussed. I think the key is knowing that sometimes you are in a cycle when you have to focus and work hard and then know that it will be less intense in a month or two or at the least, I can plan on a few days to recharge my energy levels.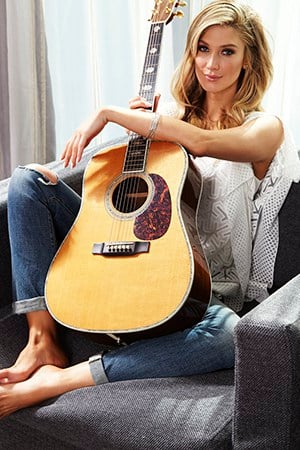 DELTA'S WINGS IS HER NINTH NUMBER ONE SINGLE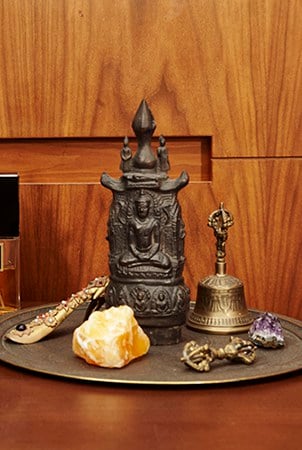 DELTA MEDITATES WITH TREASURED ITEMS
To stay sane amongst all the craziness of life…
It's all about balance. I make sure I train but also enjoy a glass of wine with friends to laugh about things and have heart to hearts with the family to continue to stay on course. In the mornings, I meditate with these – I bought this tray from home – it's got all my crystals, that's topaz and that's amethyst and the peacock signifies change. Every morning I have Zen times with my higher self.
Health is the most important part of your life
I am grateful for good health – my schedule is very different everyday so it's hard to stick to a routine, but I am just conscious of listening to my body. I maintain regular check ups but also just try to eat well, exercise and get the occasional massage or beauty treatment that really allows me to unwind! I have a couple of treatments that I am forever thankful and obsessed with…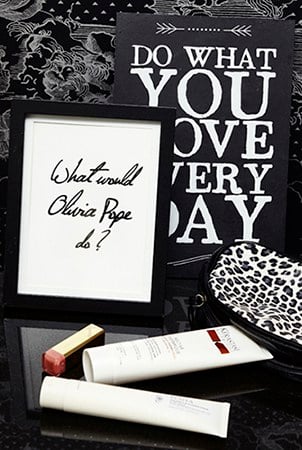 POIGNANT QUOTES KEEP HER FOCUSED
DELTA HAS BEAUTY EXPERTISE IN THE FAMILY
…I go there for everything at the last minute when I need to get lashes, or waxes. She's got all these sprays and oils that are really relaxing. She came on the Bocelli Tour with me and she would spray them in the room. I also go to Melanie Grant at Double Bay clinicfor my skin and my favourite place for a relaxing experience is at Jocelyn Petroni's Salon in Woollahra. For nails, I have a girl called Kelly Steinhauer of Nails By Kel – and she's a great chick – she does everything, she comes to me and is great on the fly. Michael Brennan does my hair and Noni Smith does my makeup. Monique McMahon is my colourist at her salon Que Colour in Sydney. I use Christophe Robin's Cleansing Purifying Scrub with Sea Salt & his Regenerating Mask with rare prickly pear seed.
I've got like a hundred dream catchers all over my house
I love them. I'm also firm believer in everything in moderation. My exercise routine consists of hot yoga, long walks and the gym.  In terms of food, a typical day is oatmeal in the mornings or a poached egg on toast with avocados then a smoothie a couple hours later, tuna salads for lunch then I snack through out the day. It changes every night depending on what I am doing!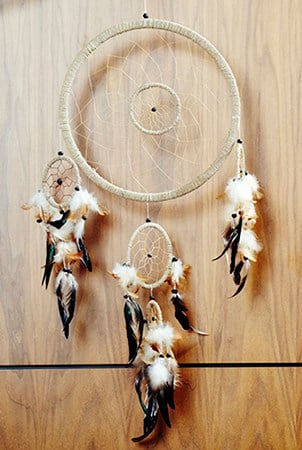 ONE OF DELTA'S MANY DREAM CATCHERS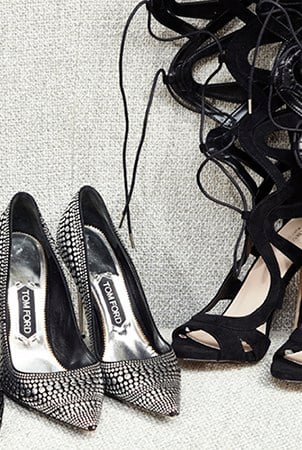 THE STATUESQUE BEAUTY DOESN'T SHY AWAY FROM HIGH HEELS
You've got to have nights with your friends.
It's totally important. That photo was from my 30th with my two best friends – Renee and Danielle –  we were dressed up as JLo, Britney and Cher from Clueless.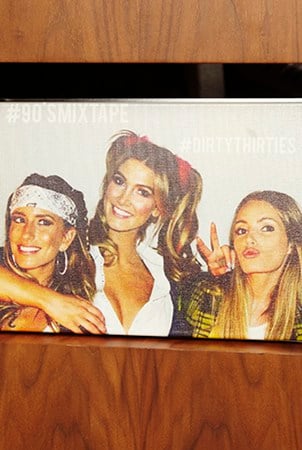 DELTA AND BESTIES RENEE AND DANIELLE,DRESSED UP AS BRITNEY SPEARS, JLO AND CHER FROM CLUELESS AT HER 30TH BIRTHDAY PARTY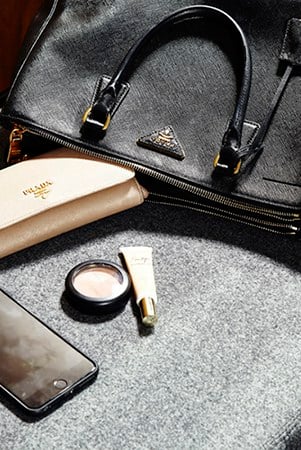 ON THE GO - DELTA'S PRADA BAG, WALLET, IPHONE, LANOLIPS AND MAC BLUSH
I don't leave home without my Prada bags and wallet.
Lanolips is important especially with the Winter right now – to have a bit of moisture. And the MAC Shine… that's my favourite as well.
I stay sane because my intention is to just bring good music to people.
My advice for anyone trying to find their passion is to just keep trying until you find something in life that lights your fire. Then keep working to perfect that skill. There's that generation that is like, 'I want to be famous!' And you're like, WHY? Why would you want to be famous? This from a girl who has lived it – my whole life. Unless you're driven by a love of music, or a love of a craft. Otherwise you'll be in for a rude shock. Just enjoy your life!"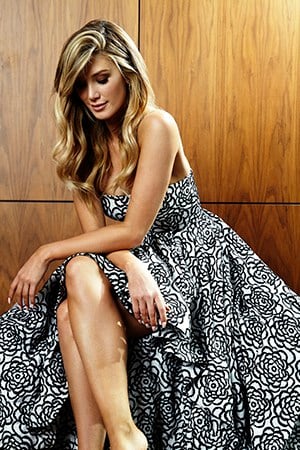 DELTA BELIEVES YOUR PASSION SHOULD GROUND YOU IN EVERYTHING YOU DO