"I came from an anatomy health science degree…
… but when I moved to England at 21 [I decided I] didn't want to do that. I went out on a limb and I spent a lot of money and went to Soho to study makeup artistry.  Because I came from an academic background I wanted to master the theory side as well as the practical. So I got all that, I learned from amazing people that were in New York, London and Paris. When I was right in the middle of it I met the right person [to help my career] and they invited me to do London Fashion Week, which then meant I got to do all the others. I also did a few short movies, things with BBC and did lots for Britain's Next Top Supermodel. I had such a range [of experience] that I decided what I wanted to do.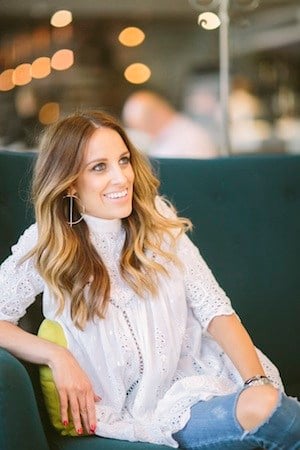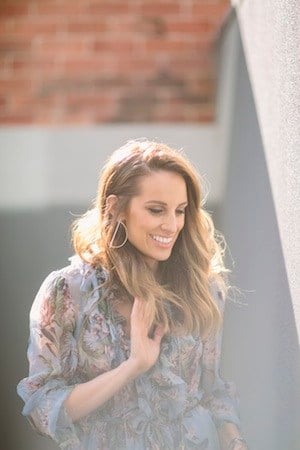 But when I had a baby and moved home [to Australia] I kind of had to start again.
My biggest thing when I came home was to say yes to everything. I was starting a family but I said yes to basically everything because I knew Melbourne was smaller and slowly I kind of fell into this myself.
It's about prioritising…
… when you're home with your kids, be home. With social media now… my daughter, she's the oldest and nearly four, knows when I'm on the phone. So just try being present, it's about being present and just prioritising certain things in your life.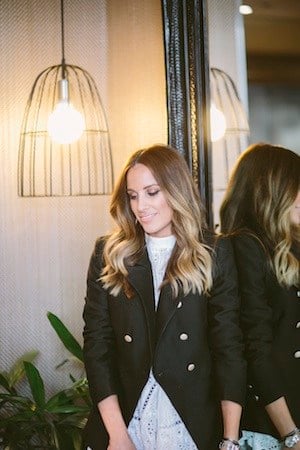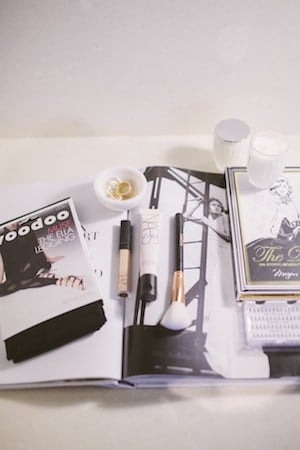 The biggest makeup mistake I see people do is being too heavy with contouring and highlighting…
… it's always really heavy on the shadowing. In England, you're taught to put on primers, moisturisers and then the corrector… by the time you've put all these layers on I just think, how much can you make it look amazing? Sometimes, you've just got to keep it simple.
It's a touchy subject, but I just don't like highlighting powders.
It looks wrong, so I'm all about creams. I think highlighting for me, because I see it being done wrong all the time, especially highlighting around the nose – people go right to the end of their nose. It just makes it standout even more.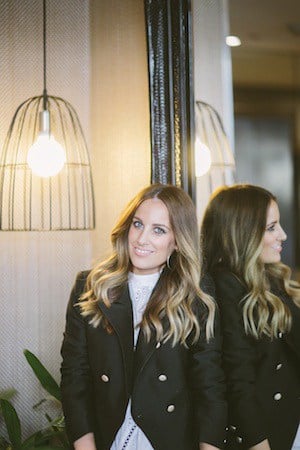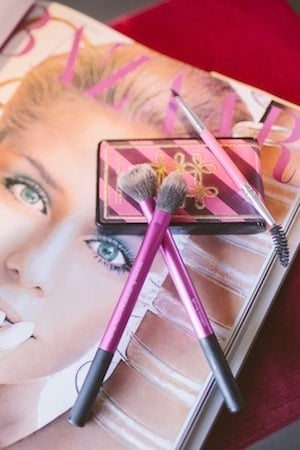 A good go-to trick I have is to mix in a NARS Sheer Glow Foundation with everything, it works.
Ellis Faas is amazing but it's sometimes just a bit too illuminating and it can look like a shine bomb. So a good one to put underneath foundation is the Shu Uemura Under Base Mousse – it's got UV in it and it also colour corrects. I really like using that. Instead of eyeliner, I think it's sometimes best using an eyeshadow and smudging it underneath and on top with your eye to create a depth. Brown shades work best.
The best makeup tip I have is to not have rules…
If you want to use lipstick as a blush, or wherever want to put it, just do what you have to do. It's about enjoying the creative experience. I know the rule is no cream on powder or whatever but I don't have rules. My thing is that, even on the eyes, I love creams. Charlotte Tilbury creamsset quite well. I really like Tartebecause the brand is cruelty free. I use a Tom Ford blusher, or a YSL bronzer, and put it all on my eye, so I've normally got a small amount of product to do my whole face. I use mascara, a Smashbox BB Water or a light tinted moisturiser like Laura Mercier, concealer and just make it all work. I also will always have a creamy highlighter.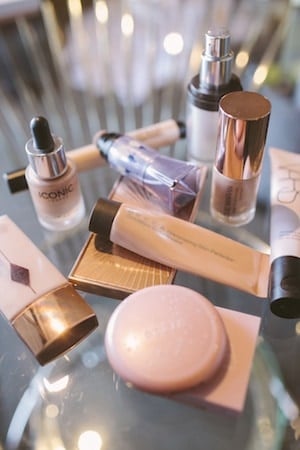 I would say if you are stuck because you don't know what to do [with your look], focus on your eyebrows.
Eyebrows and a lip, don't make it too complicated. I started off in eyebrows and eyelashes. They're such a 'thing' now and when people, especially with Instagram now, started focussing on them, it got crazy. The only thing I'm not sure of is tattooed eyebrows…. Well, you've got to have them done right. Because I see the aftermath when it's like red [and bad].
Everyone spends so much on skincare, but I think a silk pillowcase works best for wrinkles…
…especially if I've got an event on or something. You don't get any face creases. Seriously, I've seen them, [when you get them overnight] they stay. It takes ages to smooth them out, especially European skin. Cotton actually sucks the moisture out of your skin and it's proven that silk is 100% beneficial [to skin]. Zoe Foster Blake is a client of mine and I got sent her Go-To Face Case silk pillowcase – everyone needs a good one. Not only so you don't wake up with wrinkles and but it's just better for your hair and your skin in general. I also love the Go-To Very Useful Face Creamand Pinky Nudey Lips.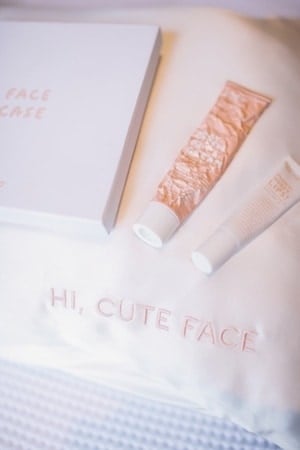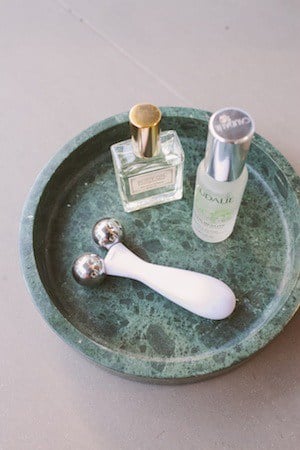 In saying that, the collagen cream I swear by is better than any other skincare I've tried on the market…
… it's Dr. Spiller and I use that [for day] and their night moisturiser. When I'm coming from a flight, or a client has, I mostly rely on cold face washers. I put them in the fridge. I put them around the eyes the night before I have an event, or tell the client to before a shoot, because it cools all the bags. You need cold. Even if I'm on the flight, I put anything I can find that's cold around my eyes.
I love pasta…
… I love food and coming from a European background, pasta is my favourite. But the one thing I have learned, when you're in this kind of role and there's catering with unhealthy food, so you kind of have to have snacks on you. I've been pregnant doing this job too. You have to have muesli bars, you have to have juices… And above all, I know this isn't healthy, I need coffee."