In our online exclusive, Beauticate has the beauty (and bump) scoop on the pregnant Kyly Clarke, who has recently turned her manicured hand to the beauty industry. Kyly has had quite the chameleonic career. From dabbling in interior design, beauty therapy and modelling, she started her lifestyle blog, Lyfestyled, after extensive travels around the world with husband, former Australian cricket captain Michael Clarke. Drawing on her wanderlust, the upbeat Kyly ventured down an entrepreneurial path launching her first candle and diffuser range in July, Lyfestyled Homewares.
We caught up with the glamorous mum-to-be at The Intercontinental in Sydney's Double Bay (when her bump was less visible!), where she divulged her initial career as a beauty therapist, her pre-pregnancy devotion to fitness and what she likes to cook hubby.
PREGNANT KYLY IS RADIANT IN ELLERY
"Pregnancy has been so lovely.
Sure there are some very tired moments, and taking more rest than normal seems to aid in the best result, but I'm so excited to meet my bundle of joy.
My school friends always complimented my mother's techniques as a mum…
and how loving and dedicated she is to her family and kids. I see it just as much as they do and to hear that constantly from others is truly inspirational. I may not have 100% liked the discipline when I was younger but I don't think you're meant to. As I got older I appreciated it more and realised I wouldn't have changed it for anything. I will be following suit when it comes to discipline. I think that is such a crucial part of any child's upbringing.
I learnt beauty therapy and I used to teach my mum and sister all the time.
I used to get roped into having to wake up an hour and half early before any Christening or wedding because 'Oh Kyly, can you blow dry my hair,' or, 'Can you teach me how to do a smoky eye!' I did beauty therapy and I actually wished I'd been a hairdresser. My auntie was a hairdresser and she used to show me a few things. Michael's asked me to try and cut his hair – I'm like 'I'm not even going to go there!' I don't want to be blamed!
I had a beauty salon called Classique Claws back in the day!
That was my original (career). I spray tan myself – oh, the perks of being a beauty therapist! I'm careful [with tanning] but I've got the European skin so you can kind of get away with a bit of sun, but I do think that fake is safer.
AROMAS APLENTY WTH HER PERFUMES AND CANDLES
QUITE THE JET-SETTER; KYLY SWEARS BY ROSEHIP OIL WHEN TRAVELLING
Take rosehip oil with you [when you fly]
I think just a couple of drops of rosehip oil with water on your face helps you not get dehydrated. [I dilute it] as it can be quite potent on certain skin types. On long trips make sure you get up no matter what size you are or how often you've travelled. They say it's really bad to overeat and drink on planes because your digestive system is not working as well because the air compression is a little bit different and that's why you do feel so sluggish. It obviously depends on how you feel. Sometimes eating is what helps you get through the long flight and you know how tedious it can be at times. In my opinion, take your own snacks! Cause if you don't like what's on offer, you're on there and that's it, you're stuck!
I hate being hungry!
I always carry nuts and sultanas and muesli bars. It's hilarious. I love to try and keep it as fresh and organic as I possibly can. That's very time consuming and quite expensive to be able to achieve that, so I do it to the best of my ability. I really love cooking and when you cook you at least know exactly what's going in your mouth. You might order a salad and it might come across as healthy, but it's not necessarily got the right oils. I love tuna and chicken salads. I try to keep it nice and fresh for dinner so lots of corn, broccoli, loads of vegetables, great stir-fries. I think you can still make hearty meals but make them healthy – whether it's premium beef strips or organic chicken. I like yoghurts, fruit and muesli for brekkie, and I try and stay away from bread as much as I can, and that's because I love it! So if you eat it one day, then you're going to want it every single day!
KYLY FAVOURS A FRESH, ORGANIC AND HEATHY LIFESTYLE WHERE POSSIBLE
AN AVID COOK, KYLY LOVES COOKING BOLOGNESE AND SCHNITZEL FOR MICHAEL
I can do a bit of a spaghetti bolognese and as long as my husband likes it that's all I need to impress!
My mum learnt a lot of the Italian cuisine from my father's side, even though she's Maltese so it's because of that [I cook those things]. He likes a bit of schnitzel too – that goes down a treat, but I do get disappointed he has to add tomato sauce. I'm like, 'Seriously it's got Italian herbs and spices, it's got the flavour!' My sister does it as well, and I'm like, 'What is this? You're ruining it! It's not a meat pie!'
Thankfully at the moment my diet hasn't felt like it has needed to change too much…
but I do have some days when I really would like something simple like tomato and cheese toasted sandwiches. I feel as I get bigger my stomach is also placed differently and that affects how much you can eat at one time. Not every day is the same and I go with the flow and listen to my body. It could be fruit one day, and another day nothing but bread and butter is all I am wanting.
I [used to] train every day, for anywhere between 55 minutes to an hour – haha!
I'd do about 30 minutes of cardio, so whether that be a combination of walking and running, or the cross-trainer, or taking the dogs for a run – so I would try and vary that up. Then I'd also do 25 minutes of weight training, whether it's arms or legs one day, or stomach or buttocks or whatever I feel like needs it the most, and I had been doing that for a very long time now, probably since I was about 15 or 16. I worked on my body a lot. People may say I'm naturally slender or skinny or whatever, but at the end of the day, just like everyone else I can put weight on when I go on holidays – and I do.
I think it's just about what you want the most
and if you don't want the body the most, that's OK but never knock someone that does, and if somebody has the ability to train hard and the determination to want to be fit and look ultra healthy then that's just them and who they are – and that's just me. [I go to] Anytime Fitness cause it's anytime! I do all my gym and running myself, obviously I ask hubby for any sort of fitness tips or new squatting or lunging styles if they come out, I'm like "am I doing it right?" But once you know what you're doing you can run with it. I used to love my Barre Attack classes, that's what's changed up my running, I believe you can't run every single day. I really enjoy it – you've got ten other girls there and you're all getting egged on and I love getting yelled at a little!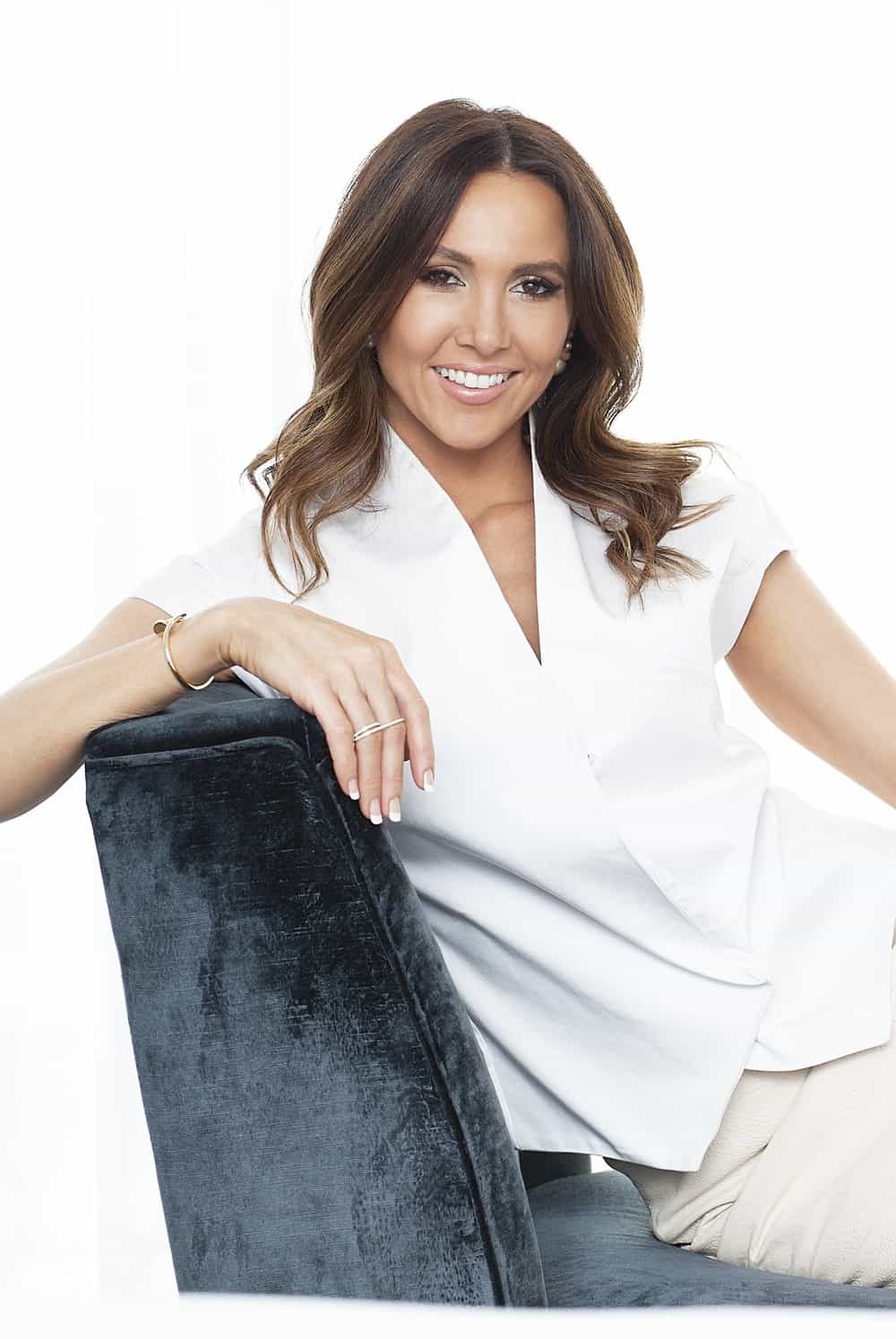 FITNESS FANATIC; KYLY HAS MAINTAINED HER PHYSIQUE WITH A VARIED TRAINING REGIME OF BOTH CARDIO AND WEIGHTS
KYLY HAS ADAPTED HER FITNESS REGIME UPON FALLING PREGNANT
Now my exercise has gone from running, to the cross trainer to walking.
It is what my body is telling me to do. It gets tired quicker, so you have to pay attention to the signs and respect that you are creating a little human and that takes a lot of your own body. Making sure you still get the vitamins and nutrients you need I think plays the biggest role.
It's all about embracing your new curves
I have done my best to stay as on track as I can with my body. Eating the right foods and exercising in a healthy way. Finding clothes isn't as easy, I love Topshop and Jeans West Maternity Jeans, Kookai is also perfect – stretchy and easy to wear. I have dresses lined up as it's nice to not have any pressure on your belly. I also seem to turn to easy to wear gym clothes from Rebel as they have the best range.
My beauty routine is a lot more simple than most people would think…
Sometimes I think less is more, it just depends on what you're doing and where you're going. But for an everyday routine I keep it really simple. I make sure that I always sleep with no makeup on – that's just rule number one, making sure your face does get the opportunity to breath. In the morning, I cleanse with an Aldi wipe – they're like two dollars for 80 of them! ModelCo also has some great wipes as well as Milk. The moisturiser I use depends on what I'm doing, so if I'm going to a launch or something where I'm going to be photographed I like to use more of a matte moisturiser, so something like Olay for normal skin, I find it to be perfect.
BEAUTY BONANZA; NARS FOUNDATION AND LIP PENCIL, SHEER COVER AND MODELCO'S ROSE MIST
CRAZY FOR BATISTE DRY SHAMPOO TO CURE THREE-THIRTY-HAIR-ITIS
I always make sure to cover my neck because that's what shows your age – so slather it on!
Especially at night! Clinique also has a fantastic moisturiser, Dramatically Different, and I usually use that one during the day, and if I really want something that's got heavy hydration I'll switch to something like Estee Lauder. I might not wear foundation in the office and I'll just keep the moisturiser on and do my eye makeup – I think that that can be really healthy for you skin as well.
In the first few months [of pregnancy] I did notice a change in my skin…
but I think the best thing is to make sure that you remove your makeup as soon as you get home and stay as fresh and hydrated as possible. I have made an effort to apply more hydrating creams during the day using Estee Lauder's Hydrationist and also their Night Repair Eye Cream.
The most important thing for me is  giving myself a DIY facial on a weekend.
Doing a proper cleanse, a really good scrub, getting rid of the dead skin cells, then a nice tone and putting a really good hydration mask on. I think we forget about those things, I think that everyone is quite time-poor, especially when you have businesses or you're a parent – but you have to give back. People don't take care of their feet enough, massages and reflexology or even just a pedicure – I mean they hold your weight every single day of your life and I think it's really important.
A LOVER OF ESTEE LAUDER SKINCARE
MAD FOR MODELCO'S MASCARAS AND A CURTIS COLLECTION NUDE LIP
Oh, I LOVE makeup!
I think MAC has fantastic pigment when it comes to eyeshadows and I also think Napoleon ticks a few of those boxes. I am in love with ModelCo's mascara, I can't seem to use too many others, because of the fact we are time-poor and we need things that work and work well and stay on – the results are perfect, they don't smudge. I don't like panda eyes and I don't want to have to worry that I'm getting little black dots underneath – so I think their Lash Extend and also their new Lash Lineis wonderful. It's fab – I'm using it today – so I really love that.
I use Nars foundation
I find that they don't throw off any orange, so when you are actually quite tanned or have a bit of an olive base, you really need to make sure that you've got that right undertone because it can really make your face look a bit dirty. I was the face of Sheer Cover many years ago and I still love their brand. There's a thing called Base Perfector; if you put that under your eyes or around your nose or any areas that have more of an open pore or wrinkles, it actually blends in and fills those areas – it is really silky smooth . The other primer I really like is Curtis Collection, I think if that's all over your face it just makes everything look really nice and glow-y in a natural way. I was wearing her nude lipstick today as well and I think it's always important for someone of my colouring to have a great nude.
PLAYING FAVOURITES; NARS, MAC AND CURTIS COLLECTION ARE IN KYLY'S BEAUTY BAG
TOM FORD IS HER TOP PICK FOR ILLUMINATION AND CONTOUR
I like to have a nude lip and stronger eyes and more of a bronzed blush
For shading and highlighting, I use Tom Ford's Illuminator – it's out of this world. I've also got a great Estee Lauder Palette – when it comes to creams and eyeshadows, it can be very hard to find the right one that pops in the corner of your eye. So lots of different combinations – your face is so different and what one cosmetic brand will produce compared to another is very different for lots of different skins, so you need to pick and choose what really works for you.
I like that two-day-old hair look
and getting a little more bounce in your roots helps, so when it comes to a body booster spray TIGI has me sorted. I love Batiste Dry Shampoo, especially the travel size! Perfect for the handbag and a quick pick-me-up in the afternoon when your hair has gone flat! One of the best hair treatments is Eleven and I use it daily along with their shampoo and conditioner – I love the results – my hair is silkier and the treatment works well on dry hair if you blow dry and style it three to four times a week.
HAPPY HAIR; HAIRCARE INCLUDES ELEVEN AND TIGI
PUTTNG HER BEST FOOT FORWARD IN THESE BALMAIN BEAUTIES
Lyfestyled started in April 2014…
I really always wanted to expand the business and I thought one of my strongest passions is interior design, having had that trade and working in that area. I thought that through the power of aroma that would really hit a high note…and that's how Lyfestyled Homewares came about. I've absolutely always been a candle lady! I think because I am a bit of a zen-y kind of person. It's important to give yourself 10 minutes before you go to bed to unwind, even try using an app like Headspace, just to take a step back. Lighting candles and burning incense sticks and having those aromas keep me calm."