It's one thing to say art imitates life, but for art consultant Kym Elphinstone, art became life – one far from the legal eagle lawyer she had become – when she left the brief case behind and began arts and culture agency, Articulate. In the seven years since, Kym has become a name dropped often by some of the country's leading artisans at gallery soirees. We couldn't help but have our curiosity piqued at peaking into the life of someone with such a renowned eye for beauty – our favourite subject, after all.
Since establishing Articulate in 2009, Kym has made a name for herself in the contemporary arts and culture domain

Electic artworks fill Kym's Paddington home

Kym credits her family to keeping her life in check

Revel in the small joys because they are actually the big ones. Amen to that

Kym's home is impeccably renovated and timelessly furnished, combined with an array of hidden treasures making for an effortlessly cool abode

Kym enjoying a moment with her adorable son Hamish
Kym and her beautiful blonde-locked son, Hamish (19 months) welcomed us in to her Paddington home – not surprising perfectly curated, from every cushion to custom canvas – where she lives with husband, Ben. We interrupted our mesmerised tour of her abode to talk life lessons, the love of art, the art of beauty and three things she can't live without…
"I love what I do, I work hard and surround myself with inspiring people.
I try to live in the moment and be grateful, always. I've found since starting a family I'm more aware of how I'm spending my time and focusing my attention. It's definitely made me stricter with my schedule and what I say yes or no to. This was a welcome lesson, as it means I've got to proactively work at balance, rather than it being a vague notion in the background. I'm more efficient than ever with my business and like to think I'm more present with family, friends or Hamish.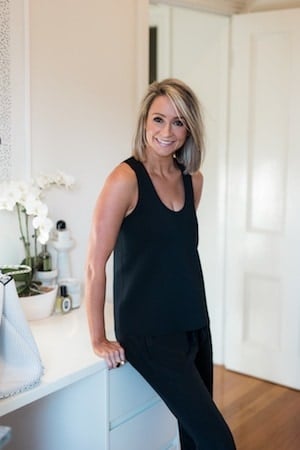 THE BEAUTIFUL KYM IN HER ARTISTICALLY CURATED PADDINGTON ABODE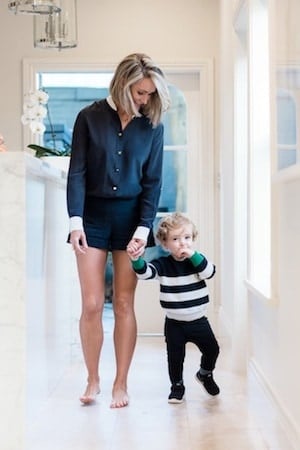 SAY CHEESE; KYM WITH HER ADORABLE SON HAMISH
I love to read, especially non-fiction…
I have a thirst for knowledge that keeps my mind alert and curious and continually adjusts my approach to life. I like to think of it as 'curating my life'. I've learned that the harder the challenge the greater the benefit once I've worked through it. I think travel is important – near or far – for the perspective and clarity it provides. I try to look after my overall health and wellbeing – it all starts or stops there. I also try to have a sense of humour about myself, and life in general – revel in the small joys because they are actually the big ones.
My first love was always contemporary art…
… and I am still regularly humbled by the incredible artists and creatives we are fortunate to work with at Articulate. I started my career as a lawyer, but founded the business in 2009. Being exposed to contemporary artists on a daily basis I have acquired a few pieces for my own along the way. One of my favourite artwork is a photographic print by London-based Australian artist Christian Thompson called 'The Devil Made Him Do It'. All my pieces are by emerging Australian artists – some bought from galleries and others are direct artist commissions.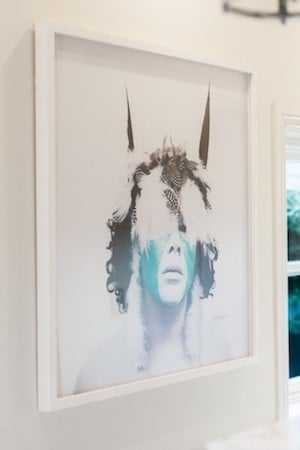 ONE OF KYM'S FAVOURITE PIECES BY AUSTRALIAN ARTIST CHRISTIAN THOMPSON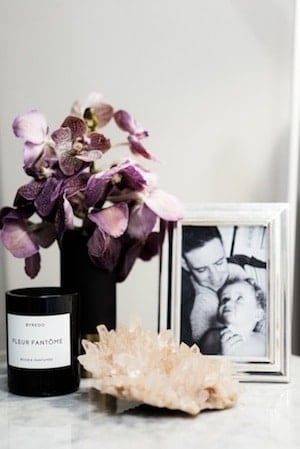 IN KEEPING WITH HER MINIMALIST VIBE, KYM HAS TAKEN A LEAN APPROACH TO DECORATING
My favourite photo is of my boys…
… I have a black and white one of them looking at each other that I've placed in a silver Ralph Lauren frame I received as a wedding present. It also happens to match my love for layered grey tones. Freshly cut flowers are one of my regular indulgences around the living areas of the house and in the bedroom. At the moment, I have purple vanda orchids in a beautiful vase by The Line placed next to rose quartz crystal – it's very calming.
I prefer a minimalist approach to beauty…
…and gravitate toward products or treatments that give maximum benefit for minimum input.  My favourite skin care brand, Aspect Dr, I love for their serums (serum B & Serum C shown here) and their moisturiser. I try and get the basics right and anything additional is icing. For hair, I always go to Salon X and for skin boosts I book in at Alkaline in Potts Point, and the rest works itself out along the way! With an active 19-month-old little boy and a thriving business there is little time for preening. This makes beauty appointments all that much more special as they represent precious down time for me. I love Venustus in Paddington for that reason because you can go there for a standard treatment and there is always some wonderful head or foot massage surprise for me, and the staff are delightful.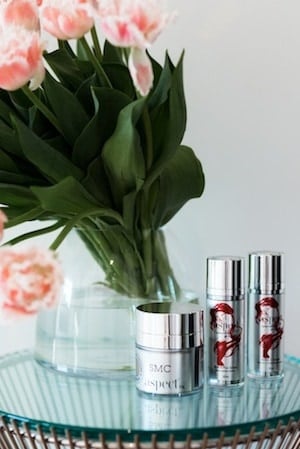 LOW MAINTENANCE: KYM'S SKIN SAVIOURS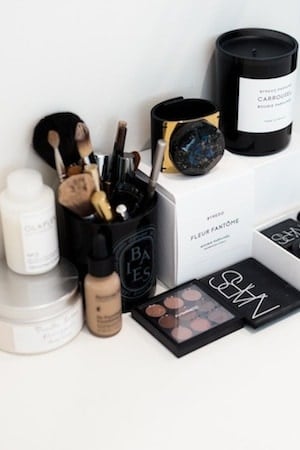 JUST A FEW OF KYM'S PRIZED POSSESSIONS
I prefer a monochrome or tonal palette…
…in most things and this extends to make-up products and home wares. I love using empty Diptyque candle to hold brushes and pencils and am a big fan of NARS compacts (bronzer, cream highlighter, mascara, blush). Olaplex hair treatment from Salon X, it's amazing when I remember to use it and French moisturiser a gift from one of my lovely team. I have a gorgeous Marni cuff; I call my superwoman cuff! I like to arrange small groups of the things I love together; beauty products, candles, jewellery…
KYM IS A LOVER OF ALL THINGS CHIC THAT SMELL JUST AS GOOD AS THEY LOOK
KYM'S HOME IS FILLED WITH HIDDEN TREASURES
I went on a yoga retreat…
…many years ago and brought back a little bronze statue of Ganesh, the Hindu god known as the Lord of Beginnings or Remover of Obstacles. He sits near a photo of my little man and a signed photo of Marina Abromovic that I received as a gift from Kaldor Public Arts Projects when I worked on their amazing In Residence project. I tend to decorate little areas with the trinkets I've collected over the years; stacks of old jewellery boxes, ceramics and vases. One of my favourites is a copper vase from The Broad Place.
Sleep, yoga, eat green – do as much as you can of each.
I really believe they have more impact on glowing skin than all the creams in the world. With some help from good products such as serums and the occasional Omnilux/Triple A Facial at Alkaline, which is incredible, I can combat tired and stressed out skin. Oh and dry shampoo – what a genius, time saving invention!"
KYM IS A FAN OF LOOKING AFTER HERSELF FROM THE INSIDE AND OUT