Having created a blog that caught the eye of no less than the Vogue Australia team, Michelle Lau hasn't looked back. Instead, she's parlayed her vision into Instagram account @thisis_michelle with over 50,000 followers, who can't get enough of her chic personal style combined with beautifully shot scenes of her family and their travels. Her WA home is just as stylish as you'd expect – think lots of white, lots of light, and perfectly chosen statement pieces – and she invited us in to discussthe creative fulfilment her work brings her, the importance of a good gin and tonic and her ultimate red lipstick.
"I moonlight as a content creator on my Instagram account
@thisis_michelle, and I'm a Spy Style blogger for
vogue.com.au.
By day, I'm in PR/Marketing/Comms (which I'm currently on maternity
leave from). I've been in the marketing profession for over a decade now
and it's my number one passion.
I so appreciate that my work interests me enough to want to keep doing it
forever, and also allows me to be a mum first and foremost as soon as I walk
through the door at 5pm. My work is a very grounding aspect of my life and
one that I value just as much as being a mother.
IMAGE: INSTAGRAM @THISIS_MICHELLE
My style is classic, easy, a little minimalist and undone,
then depending on my mood I throw in some colour and print.
I look to Totême and Bassike for day to day (both absolute godsends during
pregnancy and postpartum too), and Scanlan Theodore and Pleats Please
Issey Miyake for the office, as well as quirky printed pieces by Ganni. I also
swear by Topshop denim.
Some favourite recent wardrobe additions include a Haider Ackermann
black kimono wrap shirt  I recently stumbled across in a vintage store, as
well as a pair of early '90s Levis 501s, which I've been wearing when the
weather's cool enough. A beautiful crystal Chanel brooch my husband
bought me during our recent family trip to Tokyo is very much a prized possession.
I adopt a 'less is more' approach to beauty – mostly out of necessity! Someone is always either hungry or bored in my house, so I've got my routine down to five minutes flat.
I'm all about luminous skin, defined but natural-looking brows and a wash
of colour on my cheeks and lips. I have also been embracing a makeup-free
face quite often these days when it's just me and the kids and we haven't got
much on.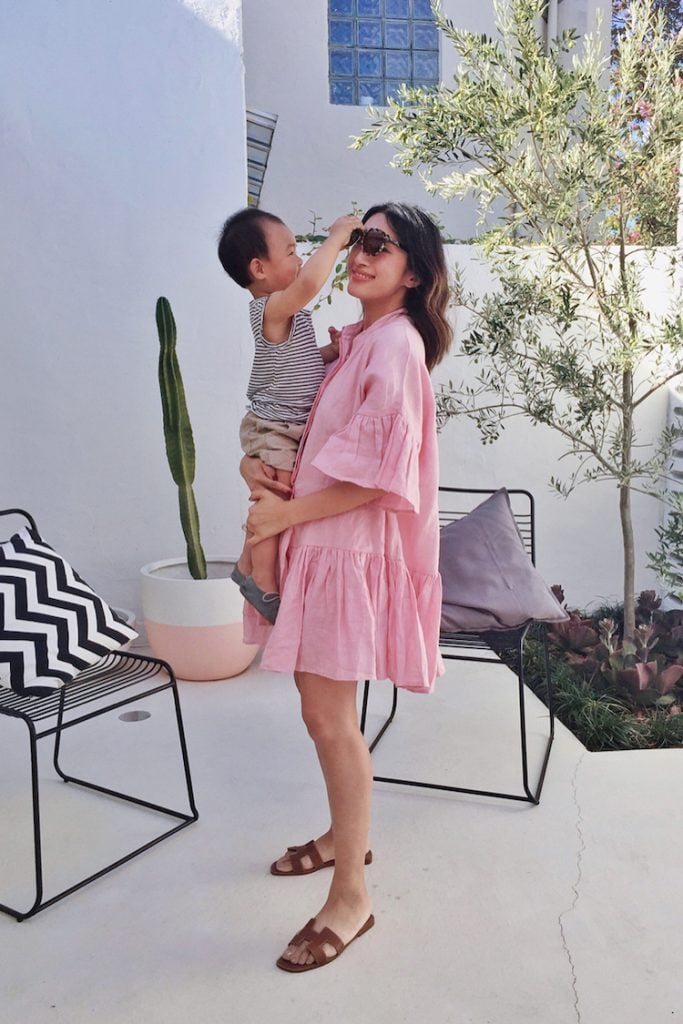 IMAGE: INSTAGRAM @THISIS_MICHELLE
I tend to experiment more with cosmetics than skincare. It's
amazing what a difference to an outfit – or a day – a bold lip or a cat
eye can do.
I'm also unapologetically a creature of comfort. I'm quite choosy with what
I use as I have hypersensitive skin, but I like to think that I am also a
minimalist – all I need is concealer, a brow product, blush and a bit of
powder, and I'm out the door.
Old faithfuls I've been using for years – some for decades! – include RMS
Un-Cover Up concealer in 22, Armani Luminous Silk Foundation in 5.5,
NARS Eyebrow Pencil in Ipanema, and Make Up For Ever HD Powder. (Oh,
and I'm looking to try Skin Veil by Ellis Faas as I've heard so many good
things about it). I really love a multitasking cream blush. It saves room in
my makeup bag by applying it to both my lips and cheeks. My all-time fave
is Cactus Flower by NARS [Ed. note: not available in Australia].
When I want to feel dressed up, I rely on a good red lip and
mascara.
Tom Ford lippy, straight from the bullet, in Wild Ginger is my go-to for a
bold red lip. For mascara, I find Japanese drugstore brands work really well
for me. After years of using Chanel Inimitable, I now repeat purchase Kiss
Me Heroine mascaras. Unfortunately I can only buy them whenever I (or
my sister) travel to Tokyo, so I tend to stock up.
I'm really lazy with mascara – both with the process of applying it and when
it comes to taking it off at the end of the day. So instead, sometimes I'll
apply dark brown eyeliner really close to my lash line when I don't want to
wear mascara that day. I find this still opens up the eye area and makes me
look 'done'.
IMAGE: INSTAGRAM @THISIS_MICHELLE
I only wash my hair twice a week and let it air dry 99% of the time.
When I do blow dry it, usually if there's an event the next day, I'll spritz
EVO Salty Dog on my damp hair (mostly at the roots), then blast it with my
Dyson Supersonic as it's powerful but gentle and doesn't fry my hair. It also
dries my hair so bloody quickly, which is great, because kids wait for no
one. Dry shampoo is an essential, not only to extend days between washes,
but also as a styling product, in place of hairspray. Toni & Guy always
makes good ones for styling.
For special occasions or right before the weekend, I swear by Bumble and
Bumble Brilliantine and Schwarzkopf Osis+ Dust It powder. After I've put
some S-shaped waves in my hair with my GHD straightener, I'll texturise
the roots with the powder, then run a small amount of Brilliantine through
the mid-lengths and ends. That kind of sets the waves in a natural, undone
way.
I've been seeing Marie Cain at Head Studio for almost 12 years now. She does such a good, choppy lob, which is my go-to style after having longish hair for years.
Postpartum hair has been tricky to navigate, and after treading these
waters twice now, I'm amazed at how different my two experiences have been on my hair. After my first baby, my hair didn't start falling out until around the four to five month mark, and it took ages to grow back. Second time around, the hair loss began at the three month mark, but it only took a month or so for it to all start growing back. I have a little trick to hide the postpartum receding hairlines: I have curtain bangs cut (making sure the fringe starts from the top of the crown) and it immediately adds thickness to the front of the head. Then, as the new hair comes through, it blends into the existing fringe.
IMAGE: INSTAGRAM @THISIS_MICHELLE
I haven't told anyone this but my pharmacist-turned-personal-hairdresser husband actually cut my recent fringe, because I needed it done so badly and couldn't get a hair appointment!
Look, it sounds pretty rogue and like a true recipe for disaster, but after a couple of YouTube videos… I'm still shocked to this day that he did a decent job of it, even though he cuts his own and the kids' hair all the time. I think
I was happier to take the risk because, having gone through two postpartum
hair losses, I've realised hair is just hair and it grows back (thankfully).
My mum has always been pretty fuss-free when it comes to beauty and grooming.
She drilled into me the importance of taking care of my skin by being sun smart, and my favourite facial sunscreens include Mecca's To Save Face and
Biore UV Aqua Rich SPF 50+ [Ed. note: not available in Australia].
While she has a laidback approach to beauty, to this day she is fastidious
about her eyebrows. Sometimes she would only do her brows and leave the
rest of her face, and she would be out the door still looking 'made up'. That
kind of thinking has really left a lasting impression on me, and just getting
out the door having done whatever your own essentials are is something I
now live by.
Speaking of eyebrows… her brow pencil was such a part of her routine that I just had to use it myself, at at the ripe old age of 12.
I remember proudly walking into the kitchen with my new eyebrows all
ready for school and my mum couldn't help but be equal parts amused and mortified.
These days, I steer away from anything resembling black on my eyebrows,
despite having really dark hair. A mousey grey/brown creates so much
more of a natural look for me.
IMAGE: INSTAGRAM @THISIS_MICHELLE
To recharge, I rely on music, YouTube and replenishing my sleep bank when I need to. It's as simple and as difficult as that!
Ever since I've had kids, just an uninterrupted two hour nap can
offset a whole week of sleep deprivation and make me feel human again.
I like discovering a lot of new music on Spotify and have recently gotten
into podcasts (Offline, The Podcast by Alison Rice is a current fave). I'm
also addicted to ASMR (autonomous sensory meridien response) videos on YouTube. Failing that, a gin and tonic once the kids are in bed does
wonders, as does a cup of tea before I turn in for the night."
Story by Zoe Briggs. Photography by Michelle Lau and select images from her Instagram account @thisis_michelle