Florist, perfumer and author, Saskia Havekes has a sixth sense for beautiful things. As her bio so rightfully reads, she 'does not arrange flowers, she curates them'. The success of Grandiflora – her one-time passion project come globally hailed flower shop – has blossomed into a career that now also boasts four books and two fragrance launches (in Paris, no less). Oh, and she's stunning to boot. With Beauticate being as much in our name as in our nature, we were eager to sit with Saskia and pick her brain on her approach to beauty, who and what influences her creativity and what she really, really can't stand…
Saskia wears top by Romance Was Born

A shopfront marked by the incredible scent of seasonal blooms

Floor to wall florals...

With a gorgeous golden mane, it's little wonder her hair is her favourite feature.

Nature's artist's palette at its best...

Grandiflora fragrances are inspired by her life's work

Saskia has spent over 20 years in the flower business, and shows no signs of slowing down.

In blooms and beauty products, Saskia knows her stuff.

Grandiflora is a sensory experience from the onset...

All things bright and beautiful...

How she presents her store, and herself, to the world is a top priority

Mum knows best... Saskia was taught from a young age to care for herself, inside and out.
"I feel most beautiful when I'm in nature…
…sitting under a tree in the sun, or on a bush walk. Nature has always managed to evoke a sense of freedom in me. My daughter, Sunday, is a keen horse rider and I also find being around horses so relaxing. It provides that same sense of freedom.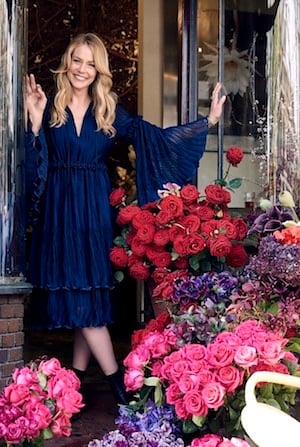 SASKIA PREFERS A NATURAL APPROACH TO BEAUTY.
SHE TAKES SANCTUARY IN HER GRANDIFLORA STORE
Flowers in their natural environment are quite magical.
So, I love visiting the growers – we wouldn't be able to create the beautiful things we do if it weren't for their hard work. Any time I get to be amongst flowers it's always relaxing – be that in nature or in the Grandiflora shop. I find being at home with my partner Gary and daughters, Ginger and Sunday, relaxing too. Home always provides such a safe, comfortable feeling.
Mum instilled the ideal of simple beauty in me and my sisters from a young age…
…and the politeness of putting a small amount of effort into your appearance daily. She would apply PONDS Cold Cream every morning and evening. And I always remember her applying perfume behind her ears – a little trick I've held onto. It allows the fragrance to really warm into the skin. My all time favourite products are YSL Touche Eclat under my eyes and the Sisley Phyto-Kohl Perfect pencil on my eyes – in a deep metallic blue, I like how it intensifies. I would feel quite naked without it. I've grown to love the YSL mascara too – I find the brown colour a little less severe.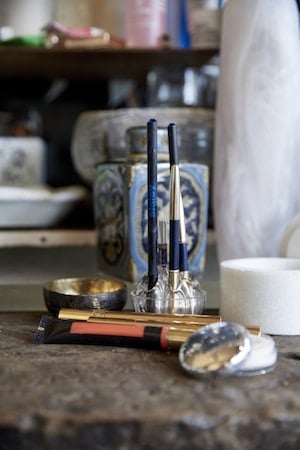 CLEAR SKIN AND A DEFINED EYE IS SASKIA'S MAKEUP MOTTO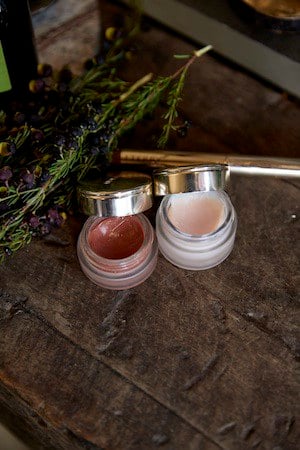 I get beauty advice from my clients…
…and stick to good recommendations and word of mouth for new products to try. My approach to beauty has become quite simplified. I have an eclectic mix of top of the line products, old favourites found in health food stores, and unique treats fortunately gifted and found on flower adventures around the world.
Nothing works better than a cold splash of water first thing in the morning…
… to wake me up – a little trick my father instilled in me from a young age. I've created quite the ritual in that. From there, my routine is quite simple. Vintner's Daughter Active Botanical Serum has become a luxurious addition to my mornings. I came across it while doing research for one of the Grandiflora fragrances– I love the story and process behind it. Then Actinia 50+ sunscreeneveryday without fail – an essential product that Melanie Grantintroduced to me several years ago.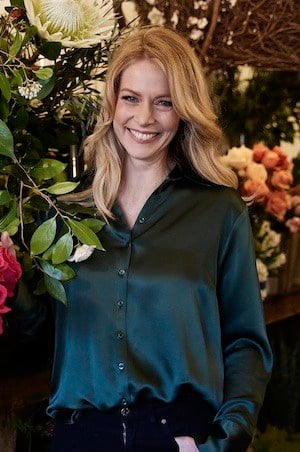 SASKIA FACES THE DAY FRESH-FACED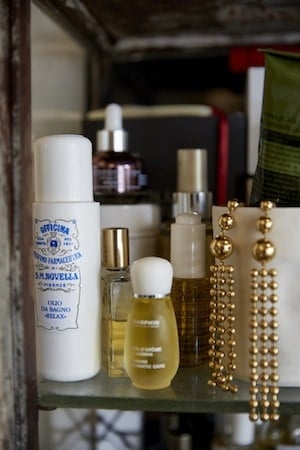 CLEANSING IS A NON-NEGOTIABLE PART OF HER NIGHTLY ROUTINE.
I use my fingers to apply everything…
…because brushes have always seemed quite fussy. Lately I've been using Charlotte Tilbury Light Wonder– this was a special gift from Mia Fenwick when we launched [Grandiflora's] Madagascan Jasmine Fragrance in London at her family's department store. It is quite light but makes my face look and feel healthy with a very natural finish. On days I feel in need of a perk, my trick is a wash of cheek colour – the YSL Blush Encre de Peau especially. I love the feel of it – no stickiness, blends very well and wears all day.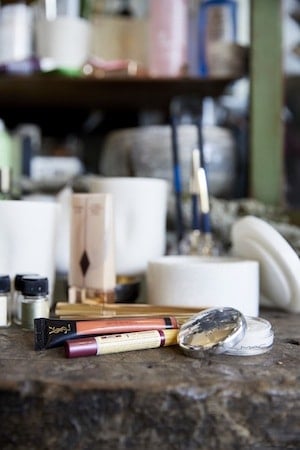 A FEW OF HER FAVOURITE THINGS... SASKIA KEEPS IT SIMPLE WITH BEAUTY PRODUCTS SHE KNOWS AND TRUSTS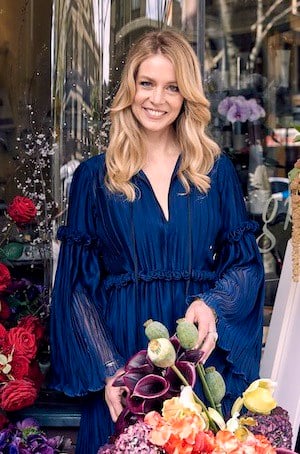 SASKIA WEARS DRESS BY ROMANCE WAS BORN
I loathe heavily caked makeup…
…it makes the skin look like it can't breathe and distorts any natural features. I like a natural look, always. It's the best way to look fresh and healthy. I keep my makeup routine very simple. Perhaps that's the trick, not overcomplicating things. Kelly Tapp is the one I ask about makeup tips and tricks – she is my favourite makeup artist. I often use her for photo shoots and events. She knows how to keep me looking and feeling like myself, but a little more glamorous.
My hair is my favourite feature.
I always seem to be able to make it work. If my hair is under control, I can make everything else work. I've been having a blow-dry once a week for years. Having a sensitive scalp, I've found this is the best way to keep my hair and scalp healthy. Diane at KODA Cutters in Bondi does the best blow-dry. She really knows hair, and is a wonderful cutter and colourist. Through her I've grown to love Oribe hair products – they smell divine, and don't irritate my scalp.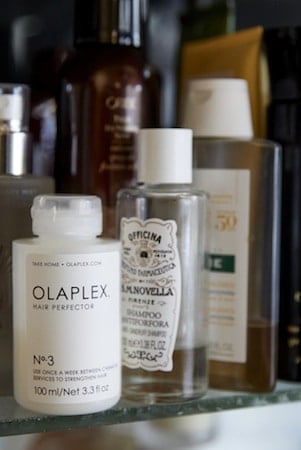 SHE PRIORITISES CARING FOR HER MANE ATTRACTION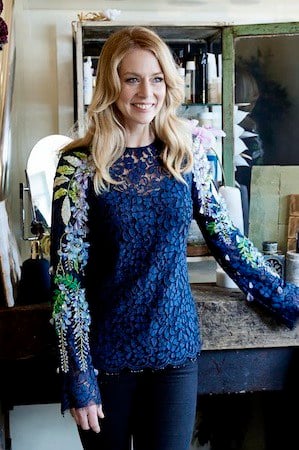 SASKIA KNOWS THE IMPORTANCE OF LOOKING AFTER THE INSIDE AS MUCH AS THE OUTSIDE
Once a year I detox.
I like to do the 101 Wellbeing Program prescribed by Dr Liu at TCM in Bondi Junction. It's a detox for the organs, and great for general health and wellbeing. I'm also a big believer in acupuncture. A visit to Billabong retreat is a real indulgence, too – perfect for a weekend of yoga/meditation and relaxation.
Grandiflora is my exercise.
My work allows me to be active all day. On market days, I can be on my feet from 4am until I get home that evening. Throughout the day I am unloading flowers, lifting vases and branches etc. so it is a constant stream of activity. I like to do pilates at Emergy , and go horseriding or bushwalking."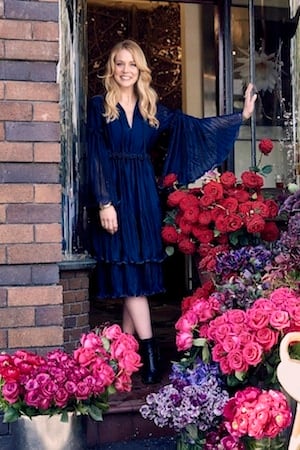 HER ON-THE-GO LIFE KEEPS HER FIT AND HEALTHY