Meet Somer, one half of the Sydney sister design duo Watson x Watson. With one heck of a cool clash of styles, Watson x Watson has taken the Australian fashion scene by storm since it launched three years ago, taking Somer (and Liberty) along for the ride. We've always admired Somer's flawless skin and paired-back look, and we were lucky enough to be let in on some of her aesthetic secrets when she welcomed us into her Bohemian Bondi apartment.
The WxW brand is a mix of style between my sister and I…
The idea to finally start our own thing came to us when I was in London and she was in Italy. I design it, but with both of us in mind. I always show Liberty the designs as we're going so she has input as well. Liberty loves a traditional fitted or tailored sexy dress, whereas I like the more casual elements of the brand that are twisted in a luxurious way, like a t-shirt in a gorgeous vintage lace, or athletic shorts in a standout metallic leather. I love that juxtaposition.
SOMER WEARS WATSON X WATSON MESH TEES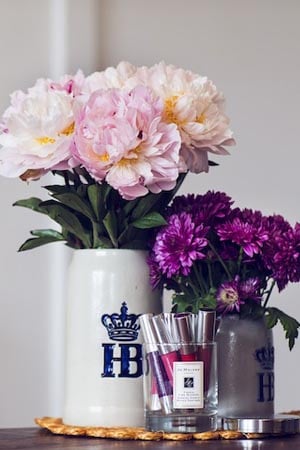 SOMER STORES HER FAVOURITE CLINIQUE CHUBBY STICKS IN A REPURPOSED JO MALONE CANDLE.
The house is a collection of all the things I love,
and it really keeps it feeling warm – that and lots of candles and flowers. My home is a classic 2-bedroom art deco apartment in Bondi Beach. I love to have nice lighting around me so when I moved in I painted it and put in new lights. There's bed throws from India, prints from Germany, a kitchen table my Dad made for me from an old tree house on my parents property, vases and knick-knacks from my travels to LA and NYC as well as piles upon piles of magazines and books scattered around the lounge room with old lithographs and paintings leaning against the wall. I love bedrooms to feel cosy and romantic, so I sleep under a big cotton mosquito net, which makes it feel like I'm on vacation every night.
My mum taught me to not fuss too much on my skin,
and to get plenty of sleep. She was my biggest beauty influence, along with the Vogue beauty pages I used to look at even when I twelve years old – I asked for my first issue as a birthday present. I think we learn so much about beauty from our mothers, and my mum never really wore a lot of makeup, not even foundation, so it was all about good skin with a freshen-up from some blush and a little lip colour if needed.
IN SOMER'S CELINE POUCH: CLINIQUE BRONZER, NARS LIPSTICK AND CHANEL VITALUMIERE FOUNDATION
My basic look is focused on good skin…
I'll use a little Chanel Vitalumiere foundation if I need it, and then I just add some bronzer, a quick swipe to fill in my eyebrows, and sometimes I'll run a dark pencil on the underneath of my top lid to define my lashes some more. If I'm heading out – and I feel like I can pull it off – I'll do a cats eye, a good strong one, with some pale pink blusher, and a dab of foundation on my lips. I also love to combine clear skin with a strong lip. I love Nars lipsticks or Clinique's Chubby Sticks. I love the Naked palette from Urban Decay that I picked up in Sephora. At the moment I'm loving wearing lash extensions from the Bronzing Boutique in Double Bay, I LOVE it. You wake up looking like you have Bambi eyes.
I love those French actresses that look like they aren't wearing makeup…
Lou Doillon, Charlotte Gainsbourg, Camille Rowe, Mélanie Laurent. If anything they'll polish up with a classic red lip, but they always have great skin and look so fresh and bright. My approach to beauty is quite understated, I'm not one of those faces that looks great with a lot on – less is more in my case. I try to imitate those actresses and focus on having good skin, and I solely rely on La Mer to achieve that. It's an incredible product; I love LOVE using every day. I use the La Mer cleanser, toner, radiant skin serum, and Creme De La Mer, or the Soft Creme in summer. Once a week I'll also scrub my face with a little brush to help exfoliate my skin. I like doing it before a night out so I look all glowy and fresh.
SUMMER'S HOME REFLECTS HER ECLECTIC, INTELLIGENT STYLE
SOMER WEARS SUNGLASSES AND TOP BY WATSON X WATSON
My hair is tricky.
It's fine, kind of fuzzy, has a weird kink to it and I'm going a little grey as well. I get it cut and coloured at Edwards and Co. Christine colours my hair and Luana Coscia cuts it. They are so wonderful. I use Redken Colour Extend Shampoo and Conditioner; they put so much moisture back in my hair. I generally like to let it dry naturally, but if I'm making effort, I'll blow dry it and make some smooth waves with a GHD. I like my hair textured, a cleanish-but-tousled kind of thing,
I kick-start the day with a green smoothie.
I use spinach leaves, chia seeds, coconut oil, cucumber, some almonds, mint, a squeeze of lemon or lime and I mix it all up with coconut water – I love it. I also put Vital Greens in my smoothie, and if I can remember I also take Vitamin B, Vitamin C, Fish oil in the morning, and Zinc at night. My diet could probably be described as mostly Paleo I guess, apart from coffee. I eat mostly vegetables and meat and I try to stay away from bread as much as I can, although sometimes when I'm super busy it's hard. I have one coffee in the morning – although I'm thinking of giving up – and I try to drink two to three litres of water a day, but some days I'm hopeless.
SOMER STICKS TO A MAINLY PALEO DIET
THE ACT OF BEING GRATEFUL: SOMER REFLECTS DAILY ON THINGS SHE APPRECIATES.
I keep a grateful diary
and try to have a moment in the morning to give thanks and make some intentions for the day or week ahead.  When I'm good and taking care of my body properly, it's all about a quick run and swim at Bondi before work. I try to run about three times a week, sometimes on soft sand, sometimes the Bondi to Bronte track. I'll also attend the odd yoga class and I usually over summer I'll swim laps at Icebergs. Massages are also an awesome way to change up your energy if you're feeling anxious or stressed.
Interview by Sigourney; Compiled by Jasmine Turvey; Photography by Jake Terrey; Hair and makeup by Desiree Wise.