Statuesque, smart and gorgeous, nutritionist Zoe Bingley-Pullin is a gleaming example of good health. As the more sensible half of Channel Ten's cooking show Good Chef Bad Chef, Zoe's warm and eloquent yet practical approach to nutrition makes eating well achievable for even the most far-gone foodies.
I believe it's what you put in your body shines through to your health…
and your external beauty. It's really about what you eat, in my mind.
Every morning I do a shot of apple cider vinegar and chia seeds. Apple cider vinegar or lemon helps increase bile production so they help get your body digesting food effectively. Chia seed is soluble fibre and full of good fats and natural anti-inflammatories. Then I have a cold pressed juice made with my Champion juicer. Today it was cucumber, tomato, lemon, carrot and kale. I love my veggie juices, they make me feel good. I always have that first thing in the morning before I do my exercise. I try to do something five days a week. I have a pilates teacher, Wendy Carrol from Fitness First Bondi Platinum. She does a combination of reformer, TRX and matt stuff. I do weights and I do the Bondi to Bronte a couple of times a week.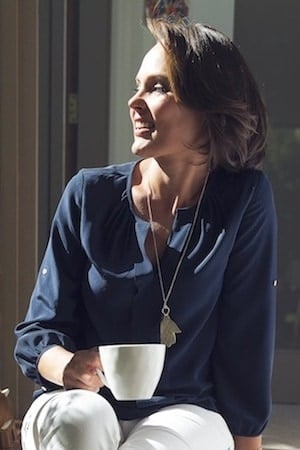 Every day I take a probiotic – it's really important.
And fish oils. Right now I'm taking a pregnancy with iron supplement. I also take zinc, vitamin C and coenzyme Q10 if I need them. When it comes to supplements, I recommend that you try a practitioner range like Ultraceuticals or Metagenics. What you pay for is what you get. For lunch I still love a sandwich. I just make sure that there's lots of salad and veg in it, a bit of lean protein on a good quality rye bread or sourdough. I find it easy. It works well for me. I don't have any gluten intolerance. I've always been a big eater. I'm not someone who can afford to eat poor quality food because I'd be the size of a house. So it's all about eating lovely quality food, fresh, healthy whole food. It's about listening to your body.
I only started wearing makeup later in life.
I use Bobbi Brown because I find it's really nice on my skin, I've always used their products. Now I'm very fortunate to be a Bobbi Brown ambassador. I don't get paid, I just get to sample their beautiful products. The Bobbi Brown BB Cream and Illuminating Bronzing powder in Aruba is amazing.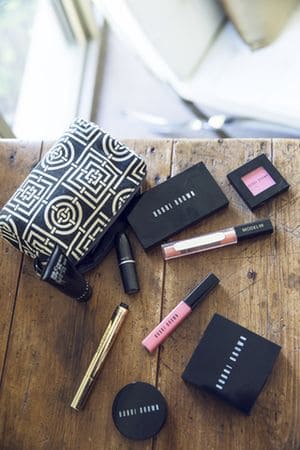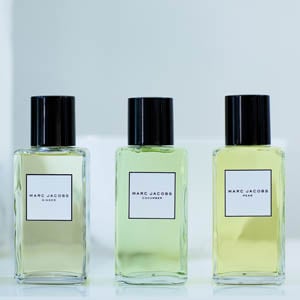 I've got this real thing for cucumber right now. I can't get enough of it.
Everything I eat or drink at the moment… And I've just started using the Marc Jacobs Cucumber Cologne. It's so fresh. I also love Fracas, Acqua di Parma and at Barney's in New York you can make your own perfumes up. I made one with grass, spices, I like those fresh natural smells. I also wear Narciso Rodriguez For Her and Jean Paul Gaultier. I like The Aromatherapy and Co Kitchen range and Maine Beach Organics hand wash cleanses without stripping natural oils from the skin.
I've always been very diligent about my beauty regime…
I've cleansed and moisturized every day of my life. Bobbi Brown skincare range is a really lovely, comforting, yummy skincare range. The eye repair cream is fantastic – it's quite thick. I put it in on as a mask at night. The toner is amazing. Aesop products are also gorgeous and really natural and I love Kiehls' Crème to Corps. I'm a big believer in using oils. I've been using an organic jojoba oil and a sweet almond oil on my body from the health food store – it's great for stretch marks and hydrating the skin.
I try to use all organic products. I had chronic eczema and allergies as a child so I have very sensitive skin. I grew out of it at 18 and haven't had it since, but it was pretty bad as a child and teenager growing up. That was part of my passion about learning more about nutrition and health. I did some modeling at 16. I was very tall so I fit the bill quite well, but I didn't have the right confidence and I don't think I had the right ability, either. I couldn't have someone telling me what to do based on what I looked like. It just didn't sit well with me. I wanted to own the modeling agency. I didn't want to be the model in it!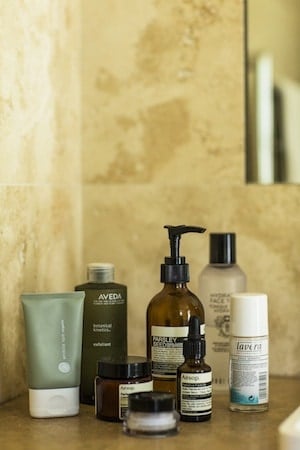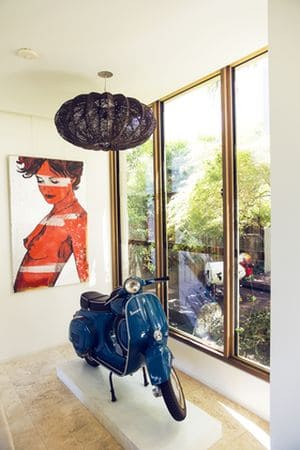 At school I really struggled because I had dyslexia and ADD [Attention Deficit Disorder].
I was a typical disruptive child. I bombed out completely in year 12 – I got 16 out of 100!
Whenever I went home mum was always cooking healthy fabulous food and she would get me to help her and I noticed that my self esteem was really high. I love to eat, it excites me.
I was 17 when I left for England to study at the Cordon Bleu. I really loved studying cheffing, but I was eating everything I cooked because I was poor – and that included crème caramel for breakfast. I put on about 10 kilos so I became self-conscious about my weight.
After that I went to work in a villa in the South of France.
It honed my skills and my approach to food. I became more of a whole food chef because I saw the purity in food, and the pleasure and sensual aspect, as well.
I came home and knew that was the direction I wanted to go but there was nothing on offer. I didn't want to go into a kitchen, so I went to Naturecare college to do a diploma of nutrition course and an additional third year of counseling.  After working as a health consultant I saw that people were more interested in how they change their own diets. I started my own business, Nutritional Edge. I come from quite entrepreneurial parents. My mum left school in year 7 and it was all about making something with the tools you had. She had a business in cane furniture and later studied interior design and my dad owns a hotel loyalty business called Advantage Plus, which is a worldwide business. The foundation was there about success, and what that meant.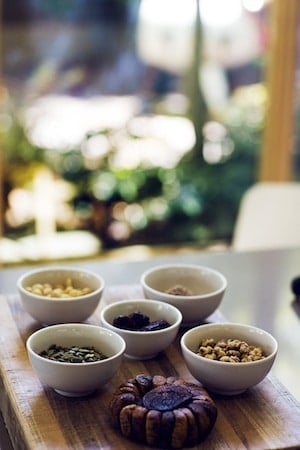 I realised that education was the key thing
people wanted to know the building blocks. A lot of the advice was very vague and it's very much geared towards weight loss as opposed to health, so I devised a program that was focused on health and how to educate people. Food groups, glycemic index, food plans, where to shop online. It became very personalised. I loved working with people from the ground up. To work out what was their attitude towards food and how could we change that.
At the end of last year I decided to close the clinic, I'd been there for twelve years, it was a long time and I wanted to focus on other aspects of the business. I auditioned for Good Chef Bad Chef and got it, it goes to air in January, and I'm really enjoying it
We found out about three years ago that my fallopian tubes were blocked
so we decided to go down the track of IVF and I was still working ridiculous hours and I was so overwhelmed. I needed to start focusing a little bit more on myself. I went to Chiva Som in Thailand for a two week retreat and got into meditation. I just decided it was all about me and [my husband] Michael. The IVF really shook me around quite a lot and we did six cycles. It took us two years and I'm now six and a half months pregnant and it's a little girl. And I really wouldn't ever take it back. It changed me as a human being it made me prioritize. It made me incredibly grateful for the tiniest of things. I've chilled out as a person. I really value the experiences that Michael and I went through and we have the best relationship because of it.