Warm, honest and with a calm wisdom way beyond her 23 years, Laura is a joy to talk to. She invited us into her family's Northern Beaches home, impressed us with a superb cannonball into the backyard pool, and while we nibbled on her mum's cookies she revealed how she combats the most skin-sapping, sun-burny, hair-frying conditions imaginable on a daily basis. Only days after our interview Laura won the Australian Open Surfing Title - proving she is just as focused and inspired as ever by her sport.
"My office is the ocean and it still changes every day…
Some days it's rainy and cold and a bit like, 'ehhhh' but you still get that same thrill. You get out there and sometimes it could be just one wave that could make the session horrible, but then you do just one thing, ride that one wave, and you're like, 'Oh that felt really cool.' Being in the ocean, and going under the waves, it's always so exciting. I've got so much energy and I'm a big adrenaline junky; I just love challenges so being able to work with the ocean is just unbelievable. The sun, particularly in Australia can be so harsh, so when I'm surfing or on the beach all day I always make sure I protect my skin. I love Ella Baché 50+ Sportsbloc Active it's four hours water resistant and absorbs quickly. It's perfect for my lifestyle!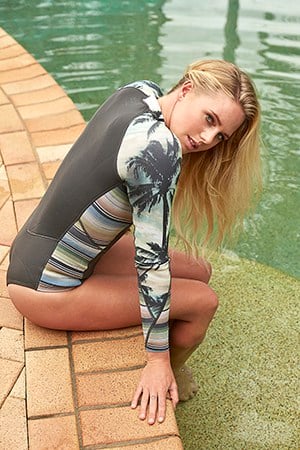 LAURA WEARS WETSUIT BY BILLABONG
LAURA SWEARS BY MOISTURISING TREATMENTS TO SAVE HER STRANDS
It's so funny because I go surfing in the sea salt…
I come out, wash my hair, and the first thing I put back in it is sea salt. I love the feeling of the texture that you get from the ocean, but I also love to have clean hair as well. Leaving the sea salt in there after being in the water all day, can be damaging on the hair, so I come home, condition and use a little hair mask and put the sea salt back in. I also love volume in my hair so I'm always using the Batiste Plumping Powder, or Eleven I Want Volume, or Leave In Foam.
When I was younger I learnt the hard way with my hair
I learnt what damage the sun and ocean can do. My ends were just frizz, so it took a long time to come back from that… I just became very aware [about using treatments regularly]. Right now my favorite shampoo and conditioner is Eleven I want Body Volume. So I'll use the shampoo and conditioner and then the treatment. Sometimes I use the I Want Body Three Minute Repair just as a conditioner as well.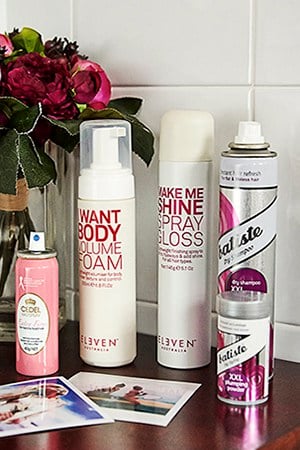 ELEVEN AND BATISTE PRODUCTS KEEP HER HAIR TEXTURED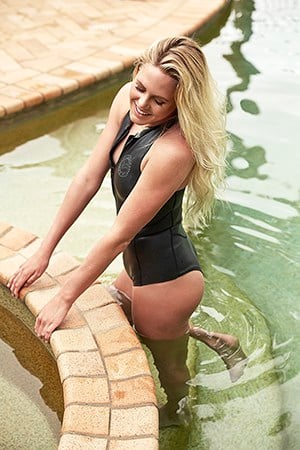 LAURA CONSCIOUSLY KEEPS HER DIET HEALTHY AND NATURAL
I actually live a very healthy lifestyle…
I usually have an apple with peanut butter and coffee in the morning. Then after I come home from surfing, I'll have a smoothie with protein powder, kale, spinach and maybe a little bit of banana. I was off and traveling for six months last year and I used to travel with my blender for the first couple of months. I had a little mini NutriBullet but then I had too much stuff, so I had to let it go.
I use Old Spice deodorant…
My dad wore it, so if I smell a guy with it on, I really like it. I put the Old Spice on, and my Tom Ford Black Orchid over top, creating my own smell! It's funny, it's actually been really embarrassing. I had a guy that was like, 'What the hell?', he saw it in my bag when I was traveling, and I was like, 'Don't judge me!', But it's nice not to just go for what's cool. I also use Coconut Deodorant, it's amazing! I mean, I'm always in the ocean so I don't really notice when I'm sweating but it's pretty awesome.
A ZEN BEAUTY ROUTINE: ELLE BACHÉ SPORTSBLOC, BASTISTE DRY SHAMPOO, AND TOM FORD BLACK ORCHID EDP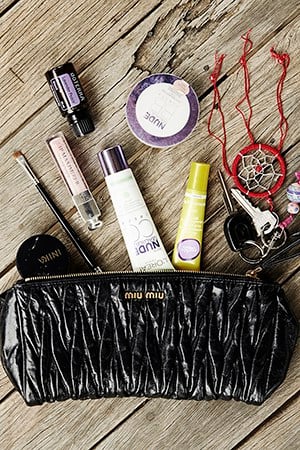 LAURA KEEPS HER MAKEUP AS NATURAL AS POSSIBLE
I used to put zinc on my lips…
…but the oil base of the Ella Baché Lip Saver just stays on and hydrates, while protecting me the whole time I'm in the ocean. It's seriously like my best friend, it doesn't come out of my purse. For makeup, I do try to stick to the natural mineral makeup. I love the Inika Mineral Foundation and Powder, but I'll only use that under my eyes or over blemishes or something – I use it with my favourite Elizabeth Arden brush. I've got quite a red tone under my skin so I use the Nude Magique, L'Oreal BB Cream. I don't like heavy foundation, but it is the perfect, light amount of coverage
I also have always loved face mists.
Towards the end of summer, I notice my skintone can be a bit uneven and my complexion starts to look dull from over exposure to the sun. The Ella Baché Radiance C Defence Mist is so nice, it contains vitamin C, and is great for brightening the complexion and it lightens any pigmentation spots. I also just love anything really natural, like rosehip oils and essential oils – Doterra are my favourite. My friend put me onto them in America but you can go online and order them. I've got a starter kit and I've just been reading into what every one does, like Lavender is calming. So on flights or if I'm ever stressing or just getting ahead of myself, the lavender on the temples or behind the neck is just so perfect. Another good place to put it is under your feet as well because it gets into your body really fast from under your feet.
LAURA LOVES USING ELLA BACHÉ, DOTERRA AND ECO SONYA
LAURA PROTECTS HER SKIN WITH REGULAR SUNSCREEN APPLICATIONS
I've definitely achieved some surfing goals like when I was younger
…but I didn't take much notice of it. I was just kind of enjoying myself so much that these results came and it was just so exciting at the time. I won the World Junior Title's at North Narrabeen, which is like the biggest comp you can win as a junior, in front of all my friends and family and then I made it onto the tour and it's just been a crazy journey travelling and competing on the world circuit at such a young age.
One of my greatest achievements would be getting to know myself…
…and figuring out who I am and what I stand for as a person, achieving personal goals, more so than even competitive goals. When I was about twenty, I realized that I had been competing and traveling since I was ten, and had made it to the highest places you can get, but then you just start asking yourself questions like, 'Why am I doing this?' It started to become for the wrong reasons and I made sure I took a step back from that and made sure that I always love surfing, because I love the ocean and riding waves – that's really the simplicity of it. I came out of it feeling like I've grown up five years, in one year.
INSIDE HER FAVORITE MARC JACOBS BAG, A GO PRO AND A SERIOUS CAMERA REVEALS A LOVE OF PHOTOGRAPHY
AT TWENTY-THREE, ENEVER CAN CONFIDENTLY SMILE AND ENJOY WHERE SHE IS IN LIFE
I'm twenty-three, and loving it for all the right reasons now.
…Balance and clarity for me has been a big achievement, and just being so happy. Don't get me wrong: I want to win [and] try to win, but being happy and loving what I'm doing, and doing it for a great purpose, is kind of winning already for me. But yeah, I've got goals for this year, competitive wise, but there's also a lot of other things outside of competition that I'm so excited for."