With her cocoa complexion, exotic features and bangin' bod', Bianca Cheah is the ultimate poster girl for a clean-living lifestyle. Her site, Sporteluxe features fashionable activewear, health and lifestyle tips all alongside shots of Cheah looking glowy and gorgeous. She welcomed us into her stunning Sydney home and shared her secrets to beautication…
"I'VE ALWAYS BEEN SPORTY.
I was a tennis player when I was young – I used to tour up and down the east coast of Australia. My dad is a 7th Dan martial artist master, he brought Tae Kwon Do to Australia. I grew up on the Gold Coast in Tweed Heads and came to Sydney in 2006.  I started commercial modelling when I was 20 so I was a late bloomer for a model. I love it – as long as you don't take things too seriously.  Beauty has always been a big part of my life. My mother, who was an ex-beauty therapist, taught me how to look after my skin. When I was 18 I became a beauty therapist for Shiseido. I did the makeup events, skincare events and facials. My beauty routine is really simple.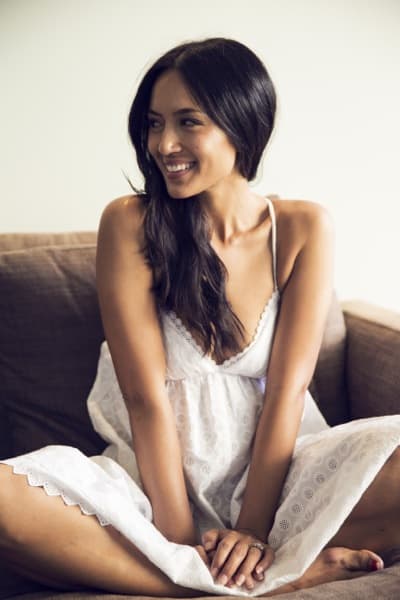 BIANCA WEARS DRESS BY ZIMMERMANN
WHEN I WAS 21 I HAD TERRIBLE ACNE THAT LEFT ME WITH DARK FACIAL SCARS.
Going anywhere always involved extra coverage foundation. I was told about how rosehip oil is great for scars, so I used it morning and night, and after six months it completely changed my skin. It makes my skin glow, and takes away any extra pigmentation.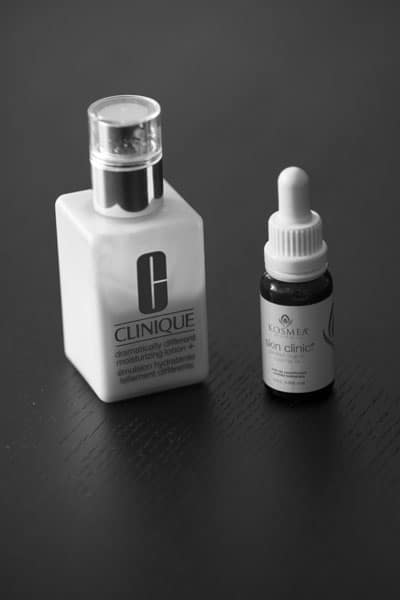 BIANCA'S SKIN SECRETS: CLINIQUE DRAMATICALLY DIFFERENT MOISTURISER AND KOSMEA ROSEHIP OIL
Now every night I do a facial massage with Kosmea Rosehip Oil. In summer it's a bit too oily so I water it down with a few drops of water, in winter I mix it with my moisturizer, Clinique Dramatically Different moisturizer. I do a shiatsu massage I learnt at Shiseido. It uses pressure points in the face to activate lymphatic drainage and works the muscles to plump the skin up and keep it glowing.
I've got oily/combination skin so I use a Kora clay mask  once a week, it's really good at drawing out the impurities in my skin. After my shower, I spritz on Ella Bache Vitamin C spray, it's a really good antioxidant.
Some nights when I feel like my skin is really tired, I'll put on Estee Lauder Advanced Night Repair before I go to bed. I take Milk by Lindy Klim Facial Wipes with me in the car after a shoot to take off makeup. One side cleanses and the other side has exfoliating beads to buff your skin. I use an exfoliating mitt in the shower and always moisturise my body.
I NEVER USE FAKE TAN, I GO REALLY BROWN IN THE SUN.
Nobody knows where I got my dark skin, My dad's Chinese Malay and mum's parents are Danish and Irish – both my dad and my sister's white. It's a kick back from somewhere!
I love the smell of Aesop Hand Soap and Hand Balm. It has really good antibacterial properties and love that the ingredients are plant based. I wear Coco Chanel because it reminds me of my mum. She lives up at Byron Bay so I wear it to remind me of her. Chanel Coco mademoiselle is my summer fragrance, it's fresh, clean summery. I like the Palm Beach and Jonahs candle, it's coconut and quince and Circa Florence Broadhurst candles.
My hair is on the dryer side, so funnily enough has quite a bit of wave to it. Once a week I like to use a Toni & Guy deep conditioning mask and I love Moroccanoil.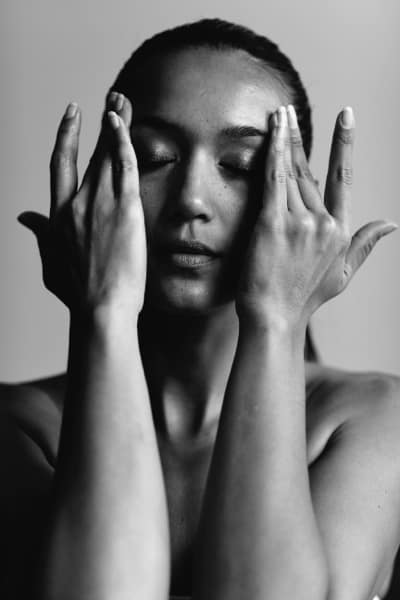 BIANCA SWEARS BY HER DAILY SHIATSU FACIAL MASSAGE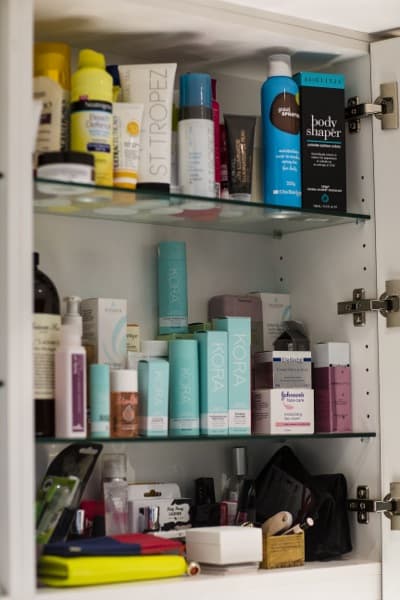 INSIDE BIANCA'S BATHROOM CABINET: KORA, ELLA BACHE, ST. TROPEZ AND NEUTROGENA
I HATE FOUNDATION. I HATE THE FEELING OF ANYTHING SITTING ON MY SKIN.
Instead I just apply M.A.C Studio Fix Powder to block out oiliness, then apply a rosy sunkissed M.A.C blush to my cheeks. I can't walk out of the house without blush on my cheeks.  On my eyes I use a Clinique neutral eyeshadow palette to create a smoky look and I always use a volumising mascaralike Maybelline as I have skinny lashes. I'll always pop on a maroon/ red lip tint to accentuate my lip colour, I love Ella Bache Lip tint in Mocha it's got sunscreen, hydrates and plumps the lips up too.
…three times a week, we do high intensity training (HIT) so a lot of resistance training like lunges, goblin squats, dead lifts and kettlebell swings with 16kg kettle bells. I do supersets of 12 reps in four sets with no break – you work the muscle to exhaustion. On my other days I do cardio because that loses weight. I used to run a lot around Centennial Park but I was getting bad knees from the pavement so now I go to the gym and use the incline on the treadmill. I do intervals,  where I run for one minute for as fast as I can then do a slow jog for another minute. I do that for 45 minutes. I like to sweat. I try and do stuff at home, too, basic situps and stretching and using the Fithoop, which is like a weighted hula hoop – I use it a couple of times a week while I'm watching TV for ten minutes. They have smaller ones, which you spin around the arms – it's really good for the shoulders.
I LIKE REEBOK AND NIKE FOR ACTIVEWEAR AND SHOES…
…they put so much R&D into their clothes and runners. Lululemon is best for yoga gear – they make their garments really well they have a guarantee on them for five years.  They think of things that no other company does like invisible tape so it doesn't move around and pockets in places that make sense.  Their fabric is thick so there are no visible panty lines and stretch well with your body.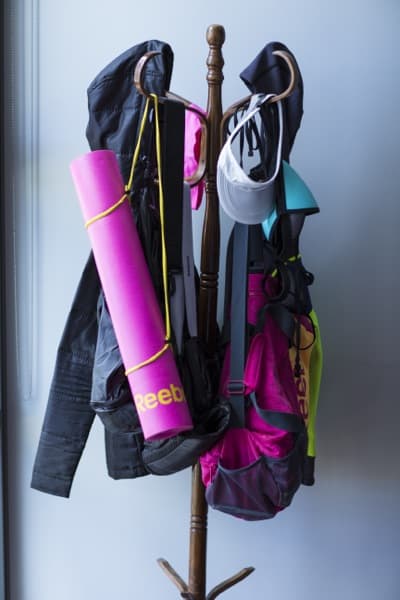 A HAT RACK IN BIANCA'S BEDROOM HOLDS RUNNING JACKETS, HATS, BAGS AND YOGA MATS
I'M NEVER HUNGRY IN THE MORNING…
…so I'll force myself to drink a smoothie with raw eggs, Body Science Antioxidant Powder, chia seeds, fresh young coconut water,  frozen blueberries and lactose-free milk – which just gives it more substance, or it's too watery. At 10 am I'll have breakfast  – boiled eggs with tomato and avocado and no toast. I'm not coeliac, but I try to avoid gluten when possible to avoid bloating. My diet is very high in protein and vegetables. I'm not a big red meat eater, so chicken and fish are always my top picks. Nuts, C Coconut water are my go-to snacks. If I'm sick or haven't been exercising or after the silly season, I'll do a detox. I loved the Lucky You Cleanse – it was really tastier than others I've tried. Before a shoot, to prep my body, I do kettlebells to tighten everything up and cut down on sugars and salt, and any white-looking foods – potatoes, white rice and pasta. I'll only eat brown rice and sweet potato. I'll drink only water, no softdrinks. and no dairy because it bloats me.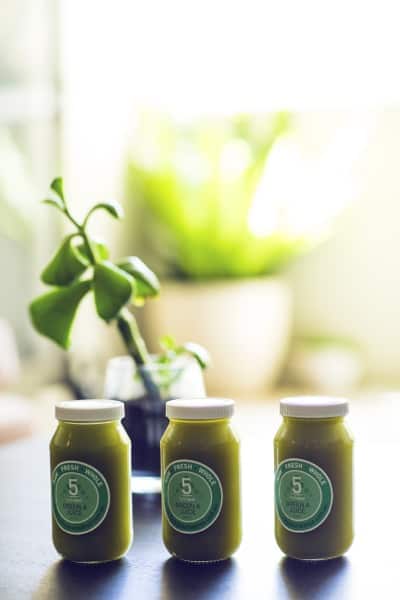 BIANCA OCCASIONALLY DOES JUICE CLEANSES LIKE LUCKY YOU TO GIVE HER SYSTEM A REST
MY PASSION IS BEING HEALTHY AND ACTIVE…
…so it only came naturally to start a site that helped inspire people to be healthier. I wanted Sporteluxeto be different to any other blog out there, [covering] everything in the health and fitness world – that's what Australia needs. I love everything about Sporteluxe, getting to explore all parts of the business. Every day I get to put on so many different hats."
Words by Sigourney; Photography by Jake Terrey; Hair by Amanda Kowalevsky at Oscar Oscar Paddington; Makeup by Regina Gao.