The one-time emerald maned hair maestro from Perth, WA has seen and done it all: from washing supermodels' hair in his bathtub to creating their glamorous looks while they still slept in bed... But, David Mallett has now become one of the most influential hair stylists in the sartorial circles. A secret hair obsession from a young age saw him pack nothing but scissors and a blow drier into a suitcase before setting off, traipsing the globe with a desire for the relentless world that is editorial hairdressing. Cue then, a phone call inviting him to Paris where he secured his spot as one of the most lust-worthy names in hair.
We ventured inside his opulent Parisian apartment, inspired by his love affair with the city - an aesthetic he also carries into his salon, Salon de Coiffure. With us, he shares the details of his surprisingly pared back grooming regime, his line of hair products and the frivolity of working in one very chic part of the world.
"I've come a long way from the 15-year-old punk with green hair and multiple piercings…
…from suburban Perth. At 21, after I won both Newcomer of the Year and Hairdresser of the Year at the Schwarzkopf Awards in Australia, I put a blow-dryer and a pair of scissors in my backpack and left. I went to Tokyo, Moscow and Milan. Then came the hard, lean London years: living in a squat, skipping meals, doing badly paid work for UK style magazines i-D and The Face. Then I got a last-minute call asking if I'd fly to Paris and I set out to discover the life I wanted to have.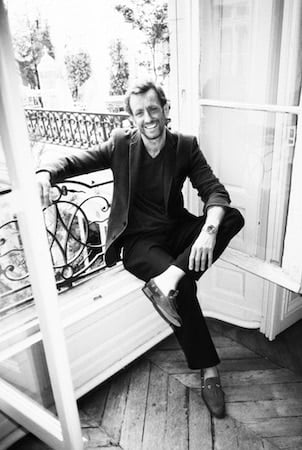 AUSTRALIAN BORN DAVID NOW CALLS PARIS HIS HOME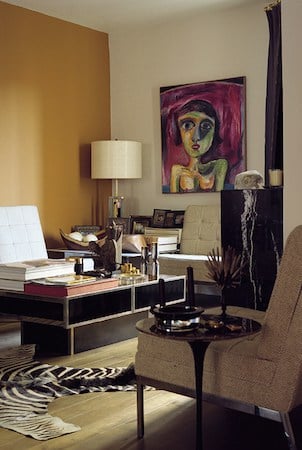 DAVID'S LUXE PARISIAN APARTMENT MIXES GLOBAL INFLUENCE WITH FRENCH
I have been secretly obsessed with hair since I was a little boy.
I arrived in Paris at the age of 27; it was kind of an accident. There was no plan when I came to France. When I got the call asking if I'd fly to Paris to style Lenny Kravitz for a shoot with cult photographer Jean-Baptiste Mondino — the hairdresser was sick — I sprinted to the airport. The editor was Emmanuelle Alt [now French Vogue Editor-in-Chief]. She asked me if I wanted to work on another shoot the next day with Diane Kruger. It all took off from there – I've been there almost 25 years.
The nineties was a really incredible period to work in fashion and in Paris.
The circuit was much smaller and the models were fewer, almost always the same, so the relationships were intimate. You became very close to the girls you were working with. You knew their friends and families, their boyfriends and lovers, dogs and so on. This period was much more a family experience in the fashion industry. I remember getting models ready when they were sleeping in beds; people not turning up to shows – things got quite intense! There was this small close-knit group of people who travelled the world to photo shoots and remained very connected.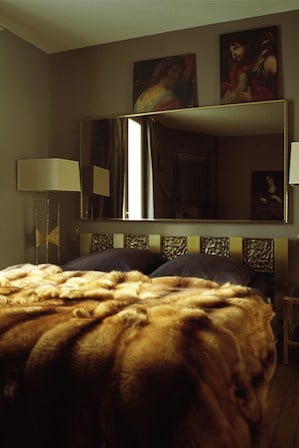 SOFT FURNISHINGS AND EARTHY COLOURS GIVE HIS HOME A CHIC, COSY FEEL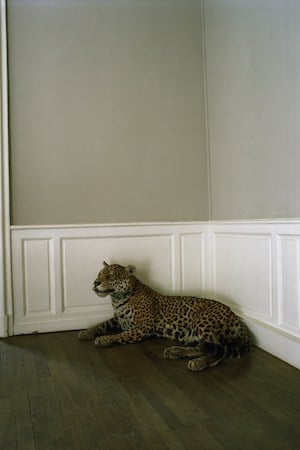 A PANTHER GUARDS THE ENTRY WAY AT DAVID'S SALON DE COIFFURE
The thing I love most about my job is that I direct now and I am responsible for the looks…
Before I was creating someone else's vision. It is a big difference. I love my team. I train them, they accompany me on the shoots. It is such a satisfying and rewarding experience, inspirational too, of course – younger staff bringing in fresh ideas from the street. The scope has become much wider now. Before it was only models, but today it's actresses and everyday people asking for beauty advice. It has made the atmosphere much more human. The danger of my work now, of course, is that I only answer to myself so I've got to keep a clear head!
I have the honour of looking after celebrities of all types.
There are several that have had an impact on me, not because of their status but their integrity, humanity and talent. Women like Natalie Portman, Marion Cotillard, Diana Kruger, Léa Seydoux, Clémence Poesy are all beautiful. It is really difficult for me to identify favourites.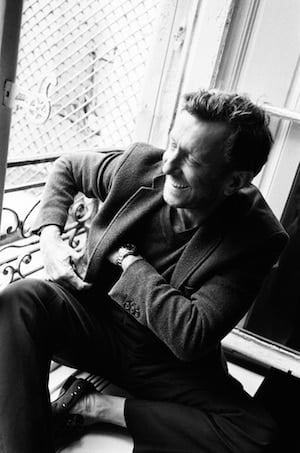 OVER HIS CAREER, DAVID HAS TENDED TO COUNTLESS CELEB TRESSES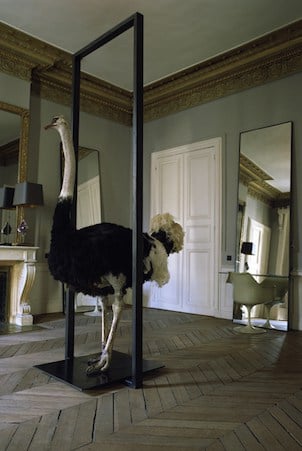 BABETH, THE QUIRKY CENTERPICE FEATURED IN DAVID'S SALON
I personally designed the interiors of my salon, the centrepiece is a stuffed ostrich called Babeth…
… and guarding the entrance way is a resting panther. All around the salon, there's art coral, sculptures, Geisha wigs and crystal lamps. Most of the objects in the salon I have collected over the past 20 years from flee markets and holidays abroad. I wanted this place to be like walking into a fantasy, I never wanted an obvious hairdressing space. The furniture is a mix of 17th century antiques, original artwork and 20th century modern designer pieces. One of the nicest things about this fantasy is to see a princess, an actress, a model and the woman working in the butcher, all talking and having a cup of tea together.
I started my product line about four years ago.
It started off as an idea to create a replacement for all the products my clients kept saying were missing from the market or simply wouldn't work. These are highly concentrated formulas that are free from any superfluous substances and don't weigh hair down or damage its delicate structure. We started off with just one product, the serum, which took us a great amount of time. We call it Numero 27 because we did 27 full tests back to the lab just to get it right. French women hate flat hair, and believe me, it is not easy to develop a weightless moisturising product.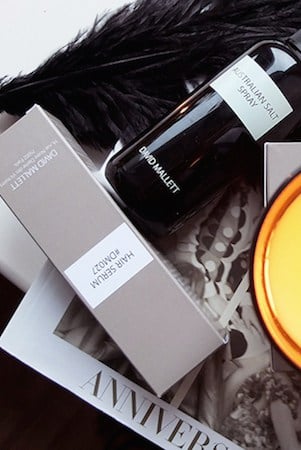 NUMERO 27 IS A HERO PRODUCT IN DAVID'S RANGE, WE LOVE THIS FLAT LAY BY BLOGGER ANNIE JURGENSON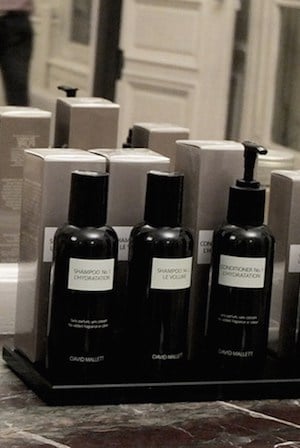 DAVID'S LINE IS A CURATION OF QUALITY PRODUCTS INSPIRED BY FRECH WOMEN'S LOVE FOR LUXE VOLUME
I think it is such a quality product. I absolutely love our Australian Salt Spray, which re-connects me to my country. It is perfect as a styling product – without real styling. The inspiration is my youth, holidays, sea breeze, boating, and surfing. I've always loved vacation hair: tussled, clumpy curls and cascades of thick waves. I also wanted a fresh and clean summer air-type smell that reminded me of a warm breeze, instead of a heavy and oily frangipani scent. Our salt sea mist is like an Australian holiday hair in a bottle.
My attitude towards my own grooming is absolutely minimal.
I shave as little as possible, I wash my hair with my products, put a helmet on, and ride a scooter to work in the morning. It might sound ironic, but my hair is of no interest to me at all. I use our Hydration line. I towel-dry my hair, I don't even own a blow-dryer! My salon director Alain Haberlay cuts my hair speedily as I'm so impatient. Daily, I aim to be clean – have a shower, moisture with fragrance-free creams and dental hygiene. I love Clinique's fragrance-free body cream, Hydranorme from the French, La Roche-Posay, Dior's Hydra Life line and Crème De La Mer's Moisturizing Cream. These are the best out there.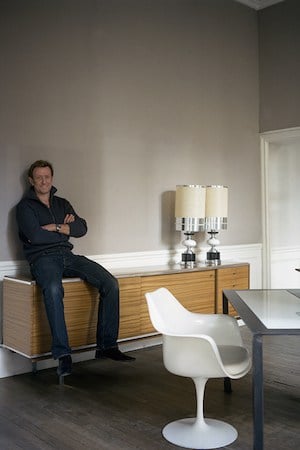 DAVIDS OWN GROOMING REGIME IS SURPRISINGLY PARED BACK
DAVID PREFERS THE SUBTLETY OF CHANEL WHILE WORKING WITH CLIENTS
I sit next to women who wear heavy signature smells so my own fragrance needs to be stand-offish.
My perfume is Chanel's Eau de Cologne – it is very discreet and I absolutely love it. It never contradicts with a woman's perfume. In terms of pampering, I also like to make time for a few treatments at my salon. Laurence Pignata, who is probably one of the best manicurists in the world, takes care of my hands and Emmanuelle Deleu, our massage therapist, does an incredible scalp massage to release tension whenever I'm stressed. I think it's important to make time for yourself, so I make an effort to work out a few times a week as well."
Story By Emily Algar. Images by Ivan Terestchenko.