Elle is one busy bee. In addition to her role as Fashion Editor at Sydney's The Daily Telegraph newspaper, she is also a co-host on Nova's Confidential radio show and does regular TV appearances on Channel Nine. On a recent (and rare) day off, the 28 year-old beauty invited us into the Bondi Beach apartment she shares with her husband Nick. We took a peek inside her beauty cabinet, where along with other cult beauty buys, we found a seriously impressive fragrance collection.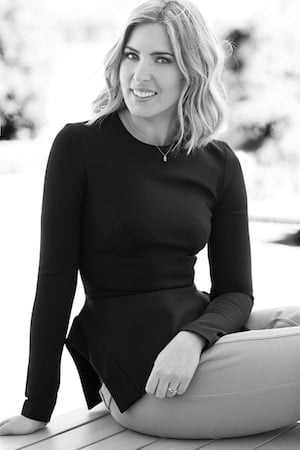 ELLE WEARS CAMILLA & MARC TOP AND PANTS
My make up bag is kind of like my wardrobe…
A mix of high street (or chemist, rather) and luxury. Day-to-day, I like to keep it simple – a Dove tinted moisturizer or Estee Lauder BB cream (if I feel like going a bit more luxe), a coat of Benefit mascara, whatever lip balm is closest and that's pretty much me done.  When I have to go on TV though, it's an entirely different story.  I do regular TV appearances for Channel Nine from the studio in our Daily Telegraph office, which means I don't have the luxury of having my hair and makeup done so it's a last minute DIY job.
Being on TV you do feel pressure…
To look polished. But at the end of the day I'm a journalist so while yes, I do feel the pressure, my priority is to I get across what I need to say.  I don't really get too caught up in how I look.  That being said, I learned very quickly that when it comes to the camera, shine looks awful and there is no such thing as 'dewy'!  Rather, it's all about heavier make up with a matte finish.  For my base I use MAC Studio Fix liquid foundation, Nude by Nature blush, YSL pressed powder and a little Clinique highlighter on my cheekbones and brow bones to make it look like I've had more sleep than I probably have. I love changing my eye makeup depending on my mood.  I might wear liquid liner and Lancôme gold eye shadow one day or do a dark smoky eye the next. I'll finish with a bold lip shade from Chanel and then just hope for the best.
ELLE WEARS DION LEE DRESS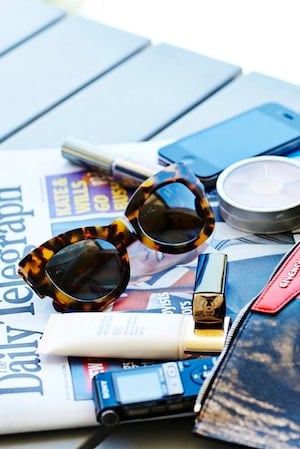 ELLE SWEARS BY KRYOLAN'S CONCEALER WHEEL (TOP RIGHT)
I have an emergency beauty kit on my desk…
For last minute TV appearances or when I have to rush out the door to a work event, which is most nights of the week. In it is one of the best beauty buys I've ever discovered – Kryolan's concealer wheel. It's my savior for spots as it's so thick yet it's also a great tool for contouring.  I call it my war paint. My sister got me onto it. My two older sisters used to practice doing make up on me when I was too young to protest. (They're ten years older than me). Fortunately they were both quite good at it, so I learnt a lot of tricks.
I started doing my own make up when I was 13…
Back then it was all about Lancôme juicy tubes, tacky blue mascara and glitter hair gel – so terrible!  Luckily my make up sense evolved fairly quickly and by the time I was about 15 I think I had it nailed relatively okay. Well, maybe a little heavy on the bronzer and the eyeliner but aside from that it wasn't too bad. I guess make up is a big hit and miss growing up and you have to just feel your way through it like everything when you're a teenager.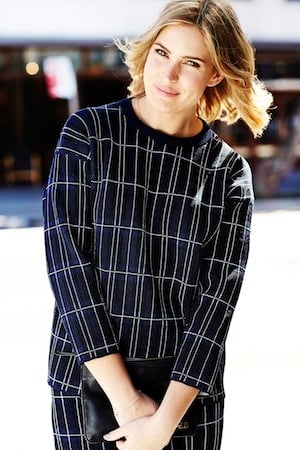 ELLE WEARS SCANLAN THEODORE TOP AND SKIRT AND CARRIES MODE COLLECTIVE CLUTCH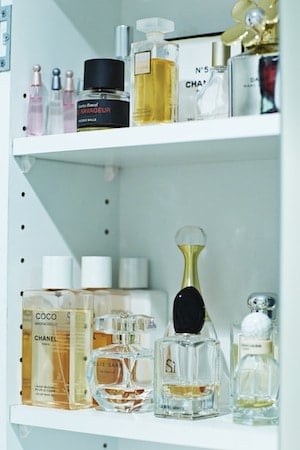 ELLE'S BATHROOM CABINET OVERFLOWING WITH FRAGRANCES
Fragrances to me are kind of like a book…
A way to remember chapters in my life. For my wedding I bought the Balenciaga Paris perfume and I wore it everyday in the lead up to the wedding, on the day itself and then throughout my honeymoon.  I now spritz it on every time I have a date with my husband. For me it's one of those 'happy' scents. I have a lot of friends who just wear the one perfume all the time but I like to change it up depending on how I'm feeling.  At the moment I can't get enough of Si by Giorgio Armani. I also can't go past Chanel No.5; it's quite sentimental as it reminds me of my mum who has worn it for years.
As for skincare, I used to just use whatever…
Was lying around (including the hand soap!) But as I get older I'm getting better at looking after my skin.  In the morning I'll just wash my face with water but in the evening I'll use a gentle cleanser like Cetaphyl or Kiehl's, followed by The Jojoba Company's intensive anti-inflammatory antioxidant balm and La Mer's Crème de la mer moisturizing cream. I've also just started using an anti-aging eye cream for the first time after a girlfriend recommended the La Prairie one to me. If I age as well as my mother has I'll be happy. She has great skin.
I got a vampire facial for a story once and it was so excruciatingly painful that it scared me off having invasive beauty treatments (I'll reconsider this at 35!) but I'll occasionally pop into The Clinic in Bondi Junction for a facial when I get the time. If my skin is ever really bad I have an at home quick fix I swear by – baking soda mixed with bit of water to make a really quick face scrub.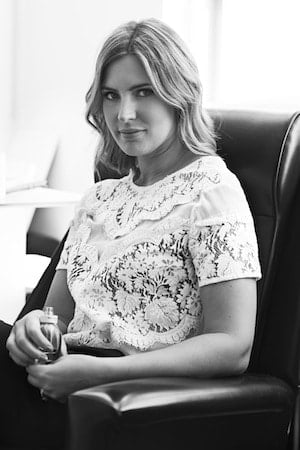 ELLE WEARS LOVER BLOUSE, JOSH GOOT PANTS AND HOLDS THE BALENCIAGA PARIS PERFUME SHE WORE ON HER WEDDING DAY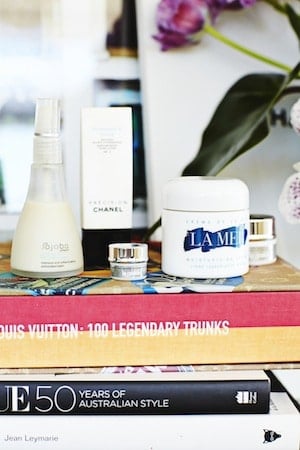 ELLE'S FAVOURITE SKIN CARE ATOP HER PILE OF FASHION BOOKS
I'd be lost without dry shampoo…
The same goes for Original Mineral Rootalicious spray and thickening spritz – my hair is so fine it needs all the volume it can get. I'm also a fan of Kerastase. I sometimes use their nutritive mask as a conditioner if my hair is really dry. I get my hair done at The Blonde Room, George Giavis' salon in Woollahra. I've been going to George for about four years now and it's not just for his hair styling expertise, his mum makes some killer Greek desserts that she often brings to the salon.