If January is inspiring all sorts of new year, new me thoughts in you, prepare to have as your 2020 poster girl someone who lives this way year-round. Clinical nutritionist and author Jess Sepel tells us about the impact her mother and grandmothers have had on her view that food is the key to health and beauty, and the importance of positivity, especially as we age. And even if you're not on the clean living bandwagon just yet, we're pretty sure you'll be able to get behind Jess's sloth Sundays concept just as keenly as we have.
"As a clinical nutritionist, I believe that beauty is an inside job. When we take care of beauty from the inside, it shows on the outside.
I'd say I'm a minimalist when it comes to beauty products. I'm much more focused on my gut health and nutrient consumption, and then use topical products to support the work I've started inside. I start my skincare routine in the morning by cleansing my face with natural soap. Then, I use the Kora Organics Vitamin C serum, Trilogy moisturiser and Ultra Violette sunscreen.
In the evenings I cleanse and wash my face with a natural soap and a warm towel, which lightly exfoliates without being too harsh. Then, I use Go-To Face Hero. If I see a pesky pimple, I put some apple cider vinegar on cotton wool and dab it directly on my blemish. It's amazing how quickly it works its magic!
My beauty look is very natural and simple – I just wear lightweight makeup.
For me, it's all about that natural glow. If I'm going out at night, I love using the Becca shimmer cream for an extra pop. It's not all about natural beauty, though – I do love a blow wave! I tend to go to MOB Hair for my colour and blow out. I don't spend much other time beautifying but I have to recommend my friend Gabrielle for a divine, relaxing facial.
I love blue jeans and a white shirt as my go-to outfit.
I usually get my sisters, Gabriella and Olivia, to help with my outfits. My day-to-day is pretty casual, and I tend to shop mostly at Zara. I'm really not into fashion or trends that much.
I've been lucky to have two grandmothers that really inspired my love for a natural approach to beauty and wellness. One of them is 95, is healthy and strong and hardly has a wrinkle!
My mum was the one who has taught me about inner health and how important it is to eat a wholefood diet in order to care of your body. And it was through one of my grandmothers that I landed on my career path. I remember being at a health retreat with her when I was 16, and there was a nutritionist giving a talk on healthy eating. I just thought, 'that's what I want to do!'
I appreciate being able to positively impact people's lives. I want to help people end the obsession with dieting and find an easy, simple and accessible way to live a healthy life. It truly is my passion and calling in life.
The key ways to taking care of my body are eating a nourishing, wholefood diet, exercising in ways that I love, getting enough rest, drinking enough water, and prioritising stress reduction every day.
Exercise gets your lymphatic system flowing and encourages the release of toxins. I alternate between HIIT, Pilates, yoga and walking in nature. I used to have a grueling exercise regimen, but I've realised that my body responds better when I treat it with respect and exercise in ways that I enjoy.
I also like to stimulate skin circulation by having a shower that alternates between hot and cold water. This oxygenates the skin and stimulates circulation. I also like using a natural body scrub, which removes dead skin cells.
My diet is made up of plenty of wholefoods. As a nutritionist, consuming a range of different nutrients and minerals is essential.
That means organic meat and chicken, sustainably caught fish, veggies, fruits, legumes, grains, nuts and seeds. The truth is that I love food but I don't love slaving away in the kitchen.
I'm also obsessed with vitamins! Feeding your skin with important minerals – such as selenium, magnesium, vitamin C and vitamin E – helps to prevent early signs of ageing and support other body functions. I also believe that it can be hard to obtain all of the daily nutrients and minerals that our bodies need to thrive – particularly at certain stages of our lives – so that's why I created my own range of premium vitamins.
I really try to love and accept my body despite its imperfections, which is why I started my blog in the first place.
I loathe the pressure the beauty industry puts on us, and the pressure we put on ourselves. I truly believe that all body shapes and sizes are beautiful. It's time we appreciate how unique and special we all are. It's time we nourish, not punish, our bodies.
I am quite accepting of getting older. Of course, I do have moments of fear when I see my skin ageing (and I really found this to be true when I turned 30) but overall, I just go with it and try to remember that age is just a number. I feel my most beautiful when I am lying with my husband in bed – he loves me any which way, and I am truly grateful for that.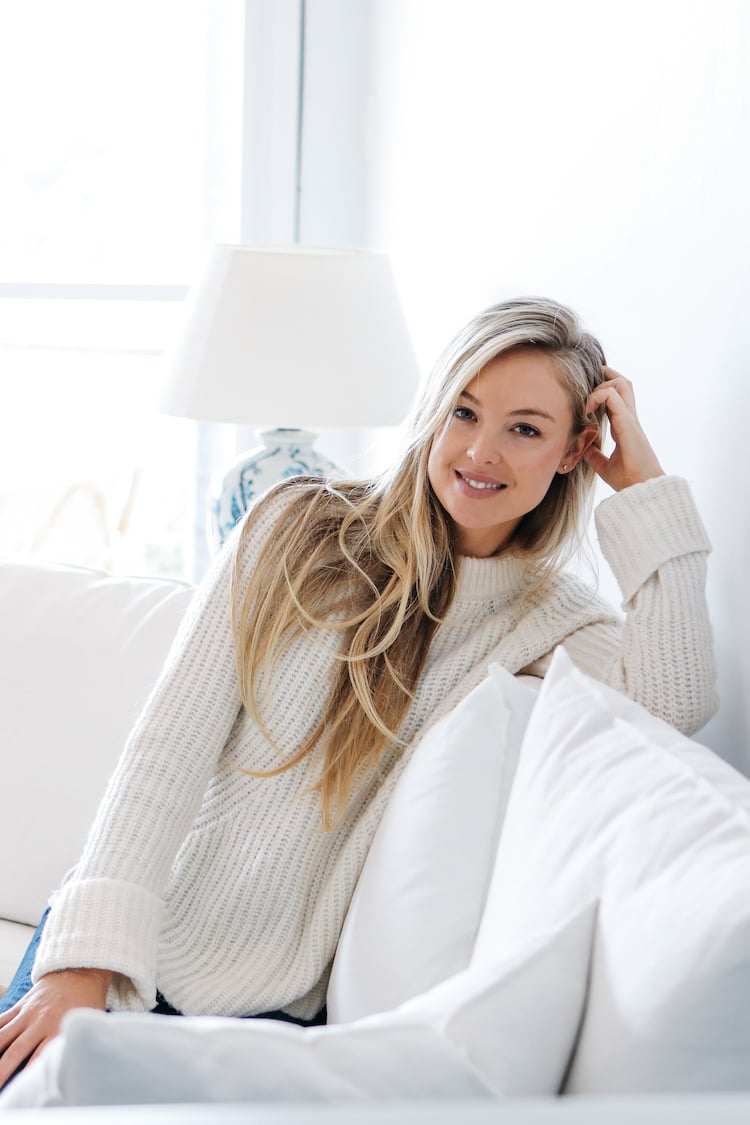 I find it important to meditate, repeat positive affirmations, practise body love exercises and give thanks for my body and how hard it works for me.
I like to do yoga at home and prioritise days for rest. One of these each week is my slow Sunday where I drink coffee in bed, cook a late breakfast, get my food shopping and prep done for the week, then curl up early and watch a feel-good TV show. I call this routine sloth Sundays. It's the best!"