Grace Huang's star is shining bright. An already accomplished actress in Asia, the former model has ten feature films, including a role in the soon to be released blockbuster Independence Day: Resurgence, and four television series brimming from her creative belt. Grace is also currently the face of Kailis pearls, a fashionable nod to her modelling days of old, and boasts brains behind the beauty, trilingual in English, Cantonese and Mandarin. However the Cantonese / Taiwanese bombshell is actually quite disparate to the glamorous self she often presents. A self-confessed goofball, she is cheeky and wholly unaffected, and most importantly not afraid to laugh at herself – a rare feat for the oft fickle and flashy world of acting.
We caught up (and laughed a lot) with the effervescent Grace on a recent visit home to Sydney, where she divulged all; from how she fell into acting, her special Asian beauty tricks and a unique hair tip involving that dreaded four letter word: perm (yes, you heard right).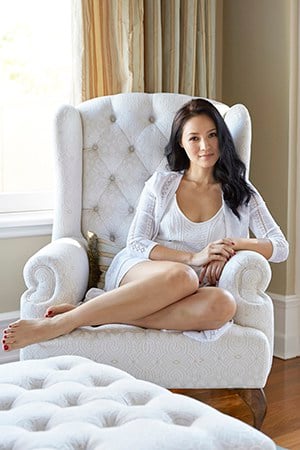 THE ASIAN BEAUTY SWEARS BY DRINKING WARM WATER
"I'm Cantonese, but born in Taiwan…then grew up in Australia.
We moved here when I was six, so although I'm totally Aussie in many ways, my Asian heritage has an influence on me. I drink a lot of water – but warm water, which is an Asian thing. Really cold water is bad, according to Asian beliefs, for the female reproductive organs and digestive system. I drink it warm, or will mix hot with cold, just as long as it's not cold or freezing. I have a friend who didn't believe me and she used to get cramps all the time. She decided to try it for a month, had no cramps and after being totally convinced, she's on this warm water regime now!
I fell into acting by accident.
I was modelling through high school and uni just as a part-time job. I was flown to Taiwan a lot for work as a model, and then I got cast in my first TV show. I thought I'd give it a try, why not! I shot 42 episodes, which is about two seasons, over a year in Taiwan, in Mandarin – yep shock horror! I spoke the language at the time but I couldn't read; now I can read! When you're shooting a show on a tight schedule, you just kind of learn under duress. It seemed an impossible feat at the time and it was very stressful and exhausting to take so much on, but I'm glad for the experience. Now I take on any challenge and know that I can handle it!
DRAMA QUEEN; ACTING HANDBOOKS AND GRACE'S BEST ACTRESS AWARD AT THE 2011 HOLLYSHORTS FILM FESTIVAL IN LA
STRIKE A POSE; DESPITE BEING A KNOCKOUT IN FRONT OF THE LENS, GRACE PREFERS MOVING PICTURE
I found that acting suited me more than modelling…
I love being able to fully step into a role and becoming that person. To embody, embrace and express through their psyche is like creating magic. As a model, I felt confined to express in 2D form, whereas acting is 4D.
I love Australia and I want to shoot more projects on home ground!
Strong female roles find me and I've enjoyed all my characters in TV and film. I'm particularly excited about the increase in female driven shows on TV, real quality stories being told. I wish that Australia would produce and shoot more shows like America. We should showcase the talented people in the industry here. I'm currently developing and writing an action thriller script, and it will be shot here, with focus on the Asia-Pacific region and human trafficking.
BREAK A LEG; PILES OF SCRIPTS, GRACE'S FILM 'LOST FOR WORDS' AND MAC LIP IN SALMON AND VERMILION
GOOFING AROUND; GRACE IS EQUAL PARTS SASSY AND SPIRTIED
I'm goofy…
and people are usually surprised when they meet me for the first time. It's like they have this pre-conceived notion that I'm a very serious person. I am definitely intensely passionate about the things I love, like my work, and when we talk about that, I do geek out…but normally, I'm a goofball and I'm known for having the most animated and weirdest expressions when I'm with friends.
The little green thing is an eye drop and one of my secrets.
They're Japanese eye drops and they're minty, so basically it's as if you're dripping mint into your eyes, which is a bit shocking. Some people freak out from the stinging feeling but it really clears the eyes up, so I love it for on set.
GRACE'S GOODS; HER GO-TO MINT EYE DROPS, BATISTE DRY SHAMPOO IN CHERRY, SUKIN ROSEHIP OIL AND LUCAS PAW PAW
THE APPLE OF HER EYE; GRACE HAS A SIZEABLE STASH OF HER ALL-TIME FAVOURITE MASCARA
My mascara, Maybelline Magnum, has been discontinued in Oz!
The companies always get rid of the good stuff, it's infuriating! I have 20 tubes of it stocked in my drawer in Sydney right now. Luckily it's still available in Hong Kong and I buy it up like a crazy woman! The concealer I use is Japanese, Ipsa Japan Creative Concealer, which I also get in Hong Kong. For face, I love using the Nars Tinted Moisturiser with SPF for everyday and for red carpets and events, it's the Giorgio Armani Maestro foundation.
I definitely take all my makeup off
At the end of each day, it's important for me to cleanse and moisturise my skin. Quality and effective skincare is very important for hydration. I use a lot of rosehip oil, which is not very costly and I also love La Prairie skincare because it's so luxurious and moisturising. When my skin acts up, I find that the Nars Skin Toner, calms it down very effectively. LA is dryer than Sydney so I top up my skincare routine with weekly My Beauty Diary masks from Taiwan.
FRESHEN UP; NARS SKIN TONER, LANEIGE WATER SLEEPING MASK AND A CIRCA HOME CANDLE
A GOOD BASE; GRACE FAVOURS GIORGIO ARMANI AND NARS FOR FOUNDATION
I use facial wipes and I wash.
I know the wipes must do their job but in order for me to feel that my face is clean I need the sensation of water. I'm old school like that. Working with makeup on all the time, my skin runs the risk of being clogged. Sweating under hot lights on set combined with action sequences and then layering more makeup on top to retouch…it spells trouble! So when I wrap for the day and all that's on my mind is to crash and sleep, it's very important for me to have a good cleansing regime set up.
Three months ago I decided to go get a perm
which is that four-letter word which is SO NOT the thing to do!! My hair is actually quite healthy, so usually when it gets styled, it drops easily and we have to empty half a can of hair spray on it, which sucks! So yes, I went and got a perm! It's to sort of stuff up the quality a bit, give it more texture and now it's really easy to style and totally holds curls! I now curl it once after I wash, and it holds until the next wash (without any hair spray), which is amazing. I regret not discovering this method earlier!
HAIRY SITUATION; GRACE LOVES MASKS, TONI AND GUY DRY SHAMPOO AND SHU UEMURA FOR HER LOCKS
Because of the perm my hair gets quite dry, so my trick is…
to use a hair mask as conditioner and I apply Kerastase Hair Oil before I blow dry it. I love the Shu Uemura Detail Master hairspray because it doesn't make my hair hard and crunchy, it's a soft hold instead. I've recently discovered dry shampoo which is very late in the game, but I always thought will it be talcy?! I was always a bit scared of it and thought it would be simpler to just wash my hair but I'm loving it! The Toni and Guy is good and I've also tried the Batiste – I'm new to the game so I'm trying everything!
to the game so I'm trying everything!
It's the first perfume I ever tried. My sister gave it to me when I was 16 and although I've tried other fragrances, I get more comments wearing this than anything else, so I guess it's the right perfume for me. Just meant to be.
ISSEY MIYAKE AFICIONADO; L'EAU D'ISSEY WAS GRACE'S FIRST FRAGRANCE
GRACE IS STRIKING IN WITCHEY AND KURT GEIGER
I buy multiples in shoes, in clothes, actually in anything I like!
I hate the idea of running out – like with the mascara – so I have a tendency to buy multiples of the stuff I love. I have a Zara Cashmere top in three colours, and I often buy heels in at least two basic colours and other clothing items too! For me it's about the irreplaceable quality of classic pieces. Because I travel so much, I have to split my wardrobe between Sydney and LA, so having multiples really work for me.
My travelling tip, it's all about hydration
A very important rule that I follow is to drink a lot of water and get abundant sleep. I usually can sleep on planes – but I need a window seat to have something to lean on – unless my neighbour is single and handsome…then I can borrow his shoulder haha!
There's SO much kale in LA!
I find that it's much easier to be healthy in LA because there's such a focus there to eat clean. They're so into kale and it's offered on every menu and huge selections in supermarkets.
When I'm home in Sydney, my mum loves to cook Asian meals and feed me, which is great. In LA, I eat a lot of salads and less processed stuff so I definitely eat 'cleaner' there.
ALWAYS UP FOR A LAUGH; GRACE IS EQUAL PARTS SASSY AND SPIRITED
THE AFFABLE ACTRESS IS ETHEREAL IN ALL-WHITE
I yoga and I jog – those two for sure!
Depending on the facilities available, I also try to swim or kick box. If I'm shooting an action role then they'll train me for a few weeks so that would up my exercise quota for that training period. But yoga and jogging are my two staple exercises.
I got given this mantra band "Enjoy the Journey"
by one of my best friends. In the entertainment industry, everyday is unpredictable. It is exciting not knowing what's around the corner but it also causes angst. This year, I'm trying to do what the mantra band says – "just enjoy the journey and go with it."
THE SELF-AFFIRMATION SHE SWEARS BY IN THE OFTEN TOXIC WORLD OF SHOWBIZ