Hollywood star-turned-princess, Grace Kelly lived a life so charmed it would be easily mistaken for a fairytale opening with 'Once upon a time…' Born to a wealthy family - her father was a champion Olympic athlete and self-made millionaire - her pursuit and success of silver screen stardom only added to the charmed path of the Oscar winner. From feature films to television and stage, the beauty and poise of Ms Kelly cemented her status as an iconic screen siren.
Perhaps more famed than her acting was her beauty and elegant sense of style. With creamy skin, pared-back eye, subtly stained lips and lightly defined cheeks, Grace was classic and timeless. Unlike other Hollywood icons with lavish beauty rituals, Grace Kelly was a testament to the statement that less is, quite often, more. So for the next installment of our retro beauty series, we stepped gracefully into the world of Grace Kelly, and put together our best tips for mimicking her style and beauty. Here's a little sticky-beak into one of the most glamorous real life fairytales that ever there was…
"Mr Hitchcock taught me everything about cinema. It was thanks to him I understood that murder scenes should be shot like love scenes and love scenes like murder scenes."
Legendary director Alfred Hitchcock was known to be infatuated with Grace's elegance, beauty and, of course, her innate talent for acting. She was the leading lady in many of his films, including Dial M For Murder and Rear Window. He soon became one of her greatest friends and mentors, in no small part due to her classic Hitchcock blonde aesthetic. With a slew of leading roles, TV appearances and an Oscar under her cinched waist belt, Grace's glittering career was almost everything she had dreamed of; she had envisioned herself as a Broadway star, although her voice was not quite suited to the stage. With a bi-coastal life – alternating years living between New York City and Hollywood – her style truly represented the best of both worlds (chic and classic with Californian cool).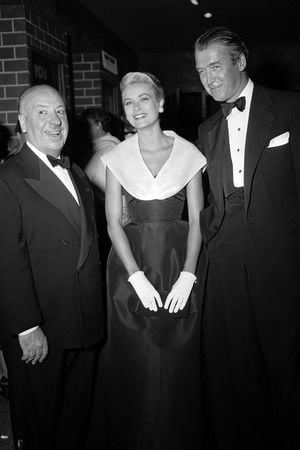 GRACE KELLY WITH FRIEND ALFRED HITCHCOCK AND CO-STAR JIMMY STEWART AT THE PREMIERE OF REAR WINDOW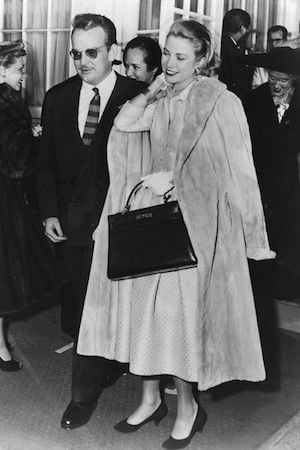 GRACE, EVER STYLISH, WITH THE 'KELLY' BAG IN TOW
"Your dress should be tight enough to show you're a woman and loose enough to show you're a lady…"
Grace's acting could arguably be outshined by her status as a fashion icon. Her style was a personified creation of elegance and ladylike glamour. Dark sunglasses, a beautiful pantsuit and chic, well-fitting dresses were all wardrobe staples. A true icon, Grace knew the power of artfully placed accessories. Hermés scarves were one of her favourites – as a result they sold out across Europe and the United States. A true indication of her iconic style status is the Hermés 'Kelly bag'. Spotted by Kelly in the Hermes store window, it was love at first buy – Grace even used the bag to hide her growing baby bump from the prying paparazzi. Her infatuation was noticed by Hermés, who went on to name the bag in her honour.
"The idea of my life as a fairytale is itself a fairytale…"
In 1955, Miss Kelly was invited to Cannes Film Festival where her film The Country Girl was to be shown. Part of the festivities included a photo shoot at the Palace of Monaco where she met future husband, Price Rainier III. The rest, as they say, is history. Prince Ranier gifted his bride with a platinum and diamond engagement ring from Cartier. Grace wed the Prince some seven months later in a gown so exquisite it has served as bridal inspo ever since – even dubbed as the inspiration for Princess Kate's stunning wedding dress. Vintage lace, a heavenly silhouette supported by three petticoats and the most dramatic of trains were part of the design, as created by Hollywood costume designer Helen Rose.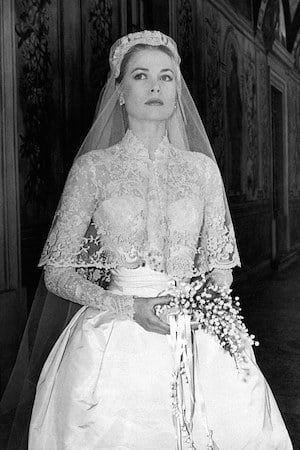 GRACE'S GOWN HAS SERVED AS BRIDAL INSPO EVER SINCE WEDDING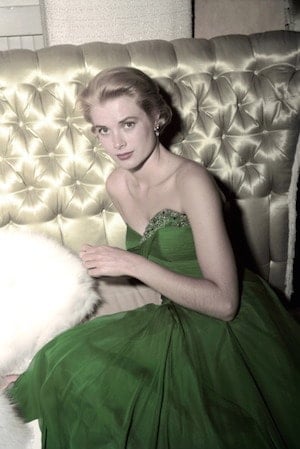 ERNO LAZLO WAS THE NAME BEHIND SO MANY FAMOUS COMPLEXIONS
"Beautiful skin requires commitment, not a miracle."
Like many Hollywood beauty icons (Marilyn and Audrey, to name a few), Grace was a fan of cult beauty brand Erno Lazlo. Her immaculate complexion is the only proof we need to believe that Mr Lazlo was truly a skin connoisseur. Still selling today, you can try the cult Formula 3-9 Repair Cream. Then, another classic Grace favourite Phelityl Cleansing Bar to cleanse the skin thoroughly of all makeup at the days' end. In true Hollywood fashion, follow with the infamous Lazlo 'splashing technique' that involves precisely 30 splashes of warm to hot water during cleansing. Infused with nourishing botanical oils, this bar is suited for dry skin and will leave you soft, glowing and hydrated.
"I believe that it is right to honour all those who create beautiful things and give satisfaction to those who see me wearing them."
Grace was known to pay attention to detail, in both her style and beauty, and was never one to go without her signature scent. Fluerissimo by Creed was commissioned by Prince Ranier to be made specifically for Grace on her wedding day. With notes of tuberose, violet and iris, it was an instant classic and has since been worn by the likes of Jackie O and Madonna. It was created to complement the blooms that were to be placed in her wedding bouquet. Oh, to be a princess.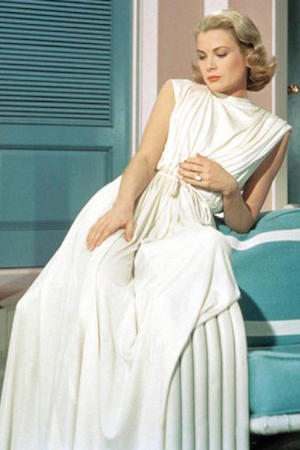 GRACE WAS A TRUE ICON WITH AN EYE FOR BEAUTIFUL DETAILS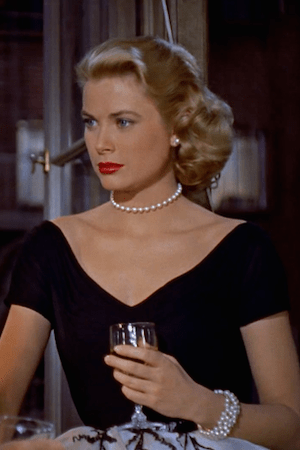 PERFECT SKIN, SUBTLE EYES AND STAINED LIPS MADE GRACE'S ICONIC BEAUTY LOOK
"A person has to keep something to herself or your life is just a layout in a magazine."
Princess Grace never followed trends, instead opting for  more timeless and understated beauty. Grace was coy when it came to makeup, perhaps explaining why her beauty is so sought-after. Her signature was creamy, flawless skin, natural eyes, a touch of blush and a subtly stained berry lip. To mimic her perfect skin we love Chanel Perfection Lumiere Velvet. It has the perfect velvety matte finish. Grace was also known to hone the power of artfully placed blush. She used two shades to sculpt her cheeks – lighter on the cheekbone and deeper beneath it). There's no shortage of contour kits currently on the shelves, but we love Clinique Chubby Stick Sculpting Contour and Highlighting for ease of use and a natural but luminescent finish. To complete her look, Grace loved a creamy raspberry coloured pout. The closest shade we've found is L'Oreal Colour Riche lipstick in Carmin St Germain – not too red or pink, with a creamy (non-sticky) finish.
"If anyone starts using me as scenery, I'll return to New York."
Grace was an iconic blonde, and always wore her hair perfectly styled in glamorous, very classic-fifties finger curls. To re-create the look yourself, we suggest using a medium sized curling tong, wrapping the sectioned hair towards your face (don't wrap too tightly or you will end up with spirals). When you're done, gently brush them out. If you want to go all out and mimic Grace's shoulder grazing length, create your own faux-bob by tying lengths loosely in a ponytail and pinning underneath – or use the Scunci Perfect Bob. Mist with hairspray to keep in place – we love Cedel Hair Lacquer. This look is the ultimate in vintage glamour.
BLONDE CURLS WERE THE EPITOME OF FIFTIES GLAMOUR
GRACE LOVED SWIMMING TO STAY SLIM- SEEN HERE IN A SHOT FOR HER FILM HIGH SOCIETY
"I love walking in the woods, on the trails, along the beaches. I love being a part of nature. It is therapy. One needs to be alone, to recharge one's batteries."
Unlike the voluptuous, curvaceous screen sirens typical of the fifties (like bombshell Marilyn Monroe), Grace cut a slimmer and much taller figure. Hollywood costume designer Edith Head thought she was too long-legged and that her waist was much too small. In retrospect, this carries more than a little irony. Grace was known to take very good care of herself – no drinking or smoking and, as a ballerina in her youth, she knew the transformative power of proper posture. It was said she did sometimes struggle with her weight and was known to rely on swimming and therapeutic walks to stay slim.
Story by Rikki Hodge-Smith; Interview by Sigourney Cantelo; Photography by Myles Pritchard; Hair and Makeup by Isobel Claire