Jessica Mauboy is one of showbiz's most widely-loved stars. Ask anyone who's worked with her and they can't sing her praises highly enough. She is relatable, engaging and earnestly grateful for the journey that saw her - one of five daughters in a musical family - being discovered at 14 and going on to become runner up in talent show Australian Idol. Since then she has become a bonafide star, establishing herself not only in the entertainment industry but in the style stakes too – always keeping her two feet (Dolce & Gabbana shod or not!) firmly on the ground. The Melbourne Cup fiasco (where she was unable to perform the National Anthem due to the aforementioned footwear clashing with the sponsors) was unfortunate – and while she refuses to be drawn on it any further - it's no doubt given her a new perspective on the serrated edge sponsorship and fame.
Putting all that behind her, Jess has a thrilling year ahead. She is set to play the lead in Secret Daughter, a channel Seven drama written specifically for her, as well as finishing recording on her newest album. She's become quite the star in the beauty realm, too. She has a tight relationship with Lancome, performing at their 80th birthday, and recently released her first fragrance, Be Beautiful, which, by has been receiving record sales at Target and Priceline. I hosted the fragrance launch with her and she was an absolute sweetheart – telling the audience about her upbringing in Darwin and surprising everyone with a rendition of Beautiful. The day we shoot her – in a luxe apartment, Skypad in Sydney's Darlinghurst – she is warm and bubbling over with enthusiasm, turning up with a suitcase of her favourite things and sharing her best stage beauty tips that she's learned over the years.
"Growing up in Darwin, I didn't know anything about beauty!
It was very, very laid back, we didn't wear make up at all.  I grew up using coconut oil for everything, which I still love today. When music came into the picture everything changed. I love that makeup allows me to transform into a character. It's great for getting into performance mode.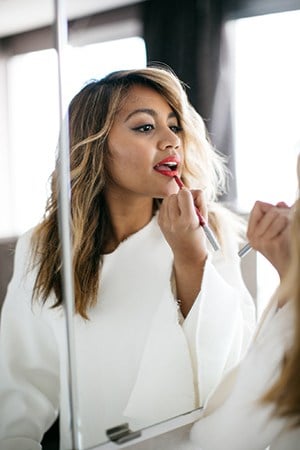 JESS ADMITS SHE WASN'T ALWAYS ADEPT WITH BEAUTY
DERMABLEND FOUNDATION, TOM FORD LIPSTICK IN DARK PINK, L'OREAL MASCARA AND A TOM FORD BROW SCULPTOR NEXT TO JESS'S GORGEOUS CHANEL BAG
My mother taught me when it comes to beauty that less is more
So for day to day I keep it simple with minimal makeup. I apply Dermablend Cream Cover foundation in Café Brown. I use that for every day and highlighting or shading- it's from Priceline. It's light and dewy, but gives good coverage. No one really knows about it, but it lets my skin breathe, especially because I'm wearing makeup all the time. Then I lightly pencil in my eyebrows with Chestnut Tom Ford pencil . Now that I have lighter hair I need to lighten my brows a little too! I apply Tom Ford Deep Mink lipstick, that's my favourite for day to day- a more natural lip. I often use my Maybelline mascara, and then just shake my hair out, maybe dry shampoo it depending on what I have been doing and I'm ready to go!
I like to look fresh but I do enjoy having fun with colour – I love a bright lip!
I do my own makeup for events all the time, and love to mix it up with a bright red or red/orange lip. When I'm on stage, I use theL'Oréal False Lash Architect Mascara, I've used it for the last two years at every gig. Clinique Chubby Sticks or NARS Illuminator are great for highlighting while I'm on stage.  My Shu Uemera Duo Pencil is another one I love- well I call it a concealer but it's a highlighter- it's amazing. I also can't go without my Shu Uemura Eyelash Curler– there's a reason everyone has one!
TOM FORD ESCAPADE ILLUMINATOR, NARS ILLUMINATOR IN ORGASM, CLINIQUE CHUBBY STICK IN CURVY CONTOUR AND SHU UEMERA DUO PENCIL ARE A FEW OF JESS'S STAGE STAPLES. HER ISON GLASSES ARE PERFECT FOR BEFORE SHE HITS THE MAKEUP CHAIR
LIKE THE REST OF US, JESS IS GUILTY OF MISTREATING HER BROWS WHEN SHE WAS YOUNGER
I remember shaving my eyebrows when I was 10…
I was just trying to copy whatever I thought my sister had done to make her eyebrows look so good! Which as it turns out, probably wasn't to shave them!  I had to go to school with only one eyebrow for a whole month!
with only one eyebrow for a whole month!
I have my staple beauty buys, but I love discovering new products
My go to products are Hydropeptide Exfoliating Cleanser by Hydropeptide and Boots Laboratories Optiva Comforting Moisturizing Cream- I discovered this through a friend and thought I would try it out. And my facialist Melanie Grant recommended the Hydropeptide. Now this is the first thing I do every day. I like to look after my skin, but I'm not afraid of ageing. I say bring it on, I'm happy to accept the grey hairs and all. For my body, I use Nivea Moisturiser– Oh my gosh, it's my favourite! I also love coconut oil. The smell is just so warm and relaxed.
JESS'S HYDROPEPTIDE CLEANSER, BOOTS OPTIVA DAY CREAM AND NIVEA MOISTURISER ON THE VANITY
WITH AQUATIC NOTES, BE BEAUTIFUL IS PERFECT FOR THE WARMER MONTHS
The inspiration for my new fragrance 'Be Beautiful' was definitely the feeling of spring and summer in Darwin…
As my first ever fragrance, I wanted it to reflect who I was. I was involved in every aspect of the development from the scent to the bottle, packaging and price point.  I wanted a really distinctive feminine fragrance that was earthy and natural but also alluring. It has lots of fresh, aquatic floral scents with a soulful depth and fruity highlights. I am so proud of how it's turned out and the response so far!
I don't like to wash my hair too often, it styles better that way
My approach to hair care is very minimal. I use sea salt shampoo/scrub by Christophe Robin and follow up with either the Conditioner or Protein Toner. When my hair needs a boost I use the Christophe Robin Prickly Pear Mask. I like to do that at the beginning of the week and allow my hair to get dirty for a few days. I pop on a spray of Tigi Queen For A Day if I need it- I sometimes use it over night when I go to sleep with damp hair to lift my roots, I lay my hair out flat, and when I wake up I look like I've just come out of the salon! One spray and I'm Queen Bee for a Day!
A SPRAY OF TIGI VOLUMINIZER BEFORE BED ENSURES JESS WAKES UP WITH FULL BOUNCY LOCKS
JESS LOVES REGULAR FACIALS, AND ALWAYS HAS HER BROWS GROOMED
My facialist Melanie Grant just knows my skin
She is just gentle and makes my skin glow. Also Fumi from Zen Facial – she is amazing! She calms the face and you walk out feeling like you have had a facelift. She gets the skin breathing and releases tension and fluid in the face and it's so relaxing! My brows are done by Jazz Pampling –She creates a shape for each person and it looks natural. It really creates structure the whole face.
I have so many favourite designers, it's hard to name them all!
Some of my all time go to's for events are By Johnny, Toni Maticevski, Alice McCall, Yeojin Bae, Zimmerman and Ellery. I love my Louboutins- I have the nail polish as well based on the heel. The colour is red, the same as the sole of the shoe! I love modern & feminine looks and always and stay true to myself. This means my wardrobe isn't all designer. I've been wearing a beautiful double breasted blazer that I got from Target- it's such a wardrobe staple! Their new line of summer dresses and off the shoulder tops are amazing as well!
JESS'S GORGEOUS LOUBOUTINS AND MATCHING NAIL POLISH
RETRO MARIAH AND J LO STILL INSPIRE JESS'S WARDROBE
Mariah & J Lo would have to be my biggest fashion icons and influences
I absolutely loved watching their music videos back then. I still do now! In those days they were very natural and never looked like they were trying too hard. It was all about the double denim!
I feel most beautiful when I'm not working, wearing no makeup and chilling on the couch
I'll just have jeans and a baggy T-shirt on, watching DVD's. I always find time to relax. I paint and I write in a journal. Not on a musical level but diary entries about that day and what I feel like doing. And I love to run! That releases a lot of emotion and stress from a long working day.
JESS LOVES BEING AT HOME, AND ALWAYS HAS TIME TO UNWIND
JESS LOVES TO KEEP FIT AND DE-STRESS BY JOGGING AND THE OCCASSIONAL GYM SESSION
My favourite feature would have to be my eyes
I like big eyes and my chicken legs! I get them from my mum! My least favorite would have to be my feet. I have my little bunions that hurt when I wear heels but I refuse to let my heels go! To take care of my body, I love to run and watch what I eat. I go to the gym when I can. It's important to clear my head, especially after travelling. I don't have a trainer- I just do my own routine! I also gargle salt water in the morning, and drink hot water with lemon, honey or ginger for my voice
My handbag has everything inside, I'm over prepared!
I've got undies, bras, and a toothbrush just in case. I've had my suitcase lost three or four times. On my first trip to Sydney ever from Darwin to sign with a record label, I went on a shopping spree. Mum and Dad had given me money so I looked presentable. Because it was a connecting flight, it was going to L.A, Mexico or something and my bag was lost. I cried. It was gone. Mind you I had a really bad feeling. Because my bag was pure black, and I'd seen someone roll this trolley away with black bags and thought 'imagine if my bag was on there'. I never saw it again.
EVER PREPARED, JESS ALWAYS HAS A CHANGE OF CLOTHES IN HER HANDBAG
A FEW OF THE SENTIMENTAL TREASURES IN JESS'S BAG INCLUDING HER SECRID CARD HOLDER
My sisters and I have never missed a Christmas together
Every year we get a photo together, and we've never missed one. I have one of the photo's of us I carry around together. It's sentimental. There a few items in my bag that are. I have a necklace that was made by my dad. I like to wear it as a bracelet. It is made from crocodile teeth, and the Aboriginal colours. It's something that reminds me of who I am what I've been brought up with, and everything mum and dad taught me growing up. I also always carry a photo of my partner and I. And my Secrid card holder, it holds six cards and they just pop out when I flick a tab at the bottom. It's the best.
My big break came along with Australian Idol…
But I have always loved singing and was always performing since before I can remember. I absolutely love my job, I get to do what I love to do every day."
JESS'S CAREER HAS GONE FROM STRENGTH TO STRENGTH SINCE IDOL DAYS
Interview by Sigourney Cantelo. Arranged by Emily Algar. Photography by Rachel Kara. Hair & Makeup by Linda Jefferies. Styling by Mikey Ayoubi.