It's no secret Lisa Messenger is building an empire. The events, PR and marketing maven turned uber-publisher and author has just released her seventeenth book, Purpose, and her magazine The Collective is distributed in over 37 countries. An "entrepreneur for entrepreneurs", Lisa is passionate about providing a community and resources for the growing culture of start-ups and independent business owners around the world. Known for her rebellious, disruptive approach to business, Lisa has made The Collective a vibrant multi-media hub that celebrates the individual - and all their creativity.
In person, she is every bit as dynamic. Lisa recently invited us into her bohemian-luxe beachside apartment and talked us through her favourite things. Both warm and self-deprecating, the super fit Lisa has a clear-eyed focus on health and impressive discipline when it comes to exercise. As for her beauty routine? It's as focused yet multi-faceted as she is.
"When I was younger I thought I would spend my life working with horses
The absolute last thing on the planet I expected to do was to own and edit a magazine. After years of working on PR, marketing and events,  I craved something more. I started my own publishing company The Messenger Group.  We have published over 400 books including about a dozen of my own. I saw a gap in the magazine market for positive media and something to inspire entrepreneurs, business minds and creatives like me and voila, The Collective was born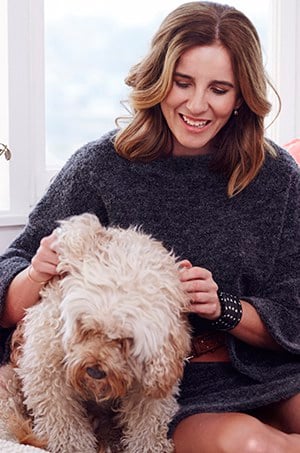 LISA WITH HER BELOVED DOG, BENNY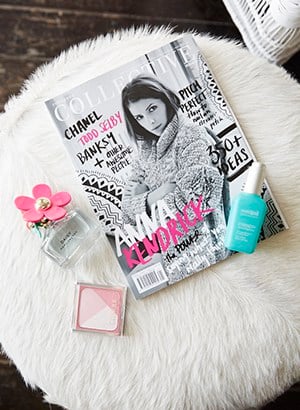 THE COLLECTIVE MAGAZINE IS LISA'S PROUDEST PROJECT
Ultimately I am an entrepreneur for entrepreneurs…
and the magazine just happens to be one of the mediums we connect with our audience on. I love everything about my job, even when I hate it, I love it. I get to meet the most extraordinary inspiring people every day and I get to travel the globe. There is no limit to what we can achieve with this baby.
I try to not over think beauty, I'm very minimalist.
I'd prefer not to worry about checking or fixing my makeup when I'm flying in and out of meetings. I also tend to get out in the sun in the mornings or afternoon so it's very much about the skin and a SPF protective with a light base and a bit of mascara then I'm ready to go for the day. You need to do what you feel comfortable with and be true to yourself. I also truly believe it starts all the way down from the cells in your body: feed, nourish and protect your mind and soul with all the good things and it will shine through!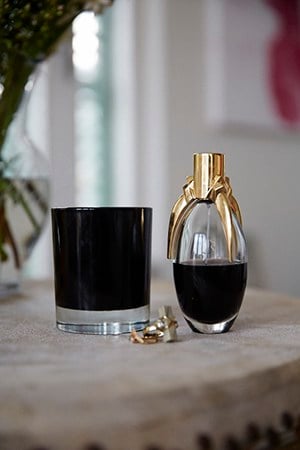 JO MALONE CANDLE, , MANIA MANIA RINGS AND LADY GAGA FAME EAU DE PARFUM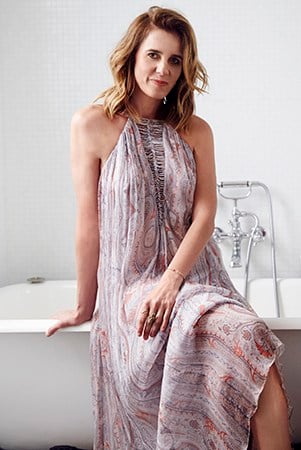 LISA'S ELEGANT BATHROOM IS A SHRINE TO FEMININITY
My top priority is to protect my skin
with travelling and always being on the move. Also living near the ocean and getting lots of sun, I need to help my skin adapt to the continuous changing environments. My beauty products are all about finding protective, calming, nourishing and restorative properties. Rosehip oil comes in and out my life in many brands. It calms and hydrates my skin and helps repair and regenerate. At the moment I'm using Grown Alchemist's Rosehip & Camellia Seed.
My mum taught me that beauty comes from the inside
I admire anyone who is confident and natural, I aspire to be like that. I feel the most beautiful when I'm connecting and truly being present with my friends, family or our community. When I know I am 100% me in my fullest most joyful essence, then I feel beautiful no matter what I actually look like. When I was growing up, beauty wasn't high on my radar. I didn't really care too much about my skin until later in life. I probably got too much sun, but then again what Aussie growing up before the 90's didn't?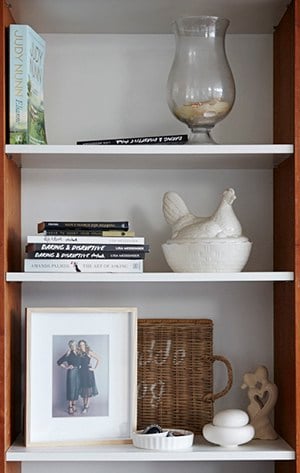 THE AUTHOR'S BOOKS AND TREASURED PHOTOS TAKE PRIDE OF PLACE.
LISA IS DEVOTED TO A HEALTHY LIFESTYLE.
I'm pretty fearless but ageing is probably the only thing that even slightly scares me.
Only because I feel like I am finally coming fully into who I truly am and I don't want my external looks to slow me down. I still feel 32 but I'm not – I believe age is an attitude. I try not to let it define me. I also meditate and write a journal, which stills my wild mind. I religiously start every single day with a green smoothie. I'll have  a chicken salad for lunch and a light healthy dinner. I also try and drink 1 litre of water per day, at least.
I'm all about the creams!
I'm an absolute sucker for divine smelling products and that keeps my skin feeling nourished and youthful-looking. Maine Beach's Lord Howe Island Coconut range was given to me as a gift and it's wandered its way into my bath routine. It smells divine and completely free of all the nasties like mineral oils and parabens. L'Occitane Almond Milk Concentrate is super hydrating but doesn't leave that sticky residue and goes on so easily. When I'm rushing in the morning it's easy to quickly rub it in and keeps me comfortable (and soft) all day.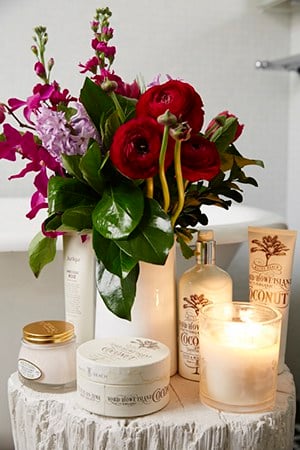 LISA'S BATH AND BODY FAVOURITES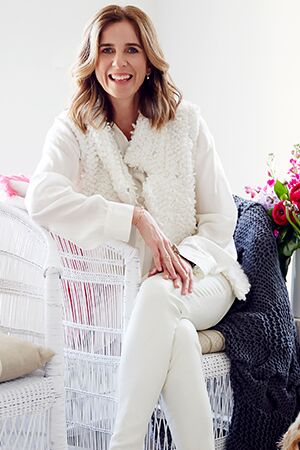 LISA CUTS A LITHE FIGURE IN A BELTED XXX
I exercise like a mad woman. I love to train.
I do weights at Fitness First generally three times a week. I also do at least one spin class a week (I love it – its my kind of moving meditation).  I do yoga generally once a week as well. Also anything outdoors and I'm there. If I'm not training hardcore I do the Bondi to Bronte walk, for a meeting or as a catch up with friends.  Other days I either box for an hour at the park with my trainer Rob who I've had for over three years. Then intermittently I'll go for a surf, have a game of golf, rock climb or anything else. I'm not particularly good at any of them but always have a go.
I'm ALL about preservation these days…
I've been trying out the Clinique Smart custom serum range, it's all about targeting damage you see and don't see. All I know is that my skin is super smooth and even! Clinique has become one of our partners at The Collective. They were one of the first beauty products I used. I think we all used the three step system at school – which is kind of funny that 20-something years later we are partners. Some days I'm just not crazy about putting on much make-up so I like to use their Super City Block SPF 30, only very sheer colour and fool proof when running out the door. I also love Aspect SMC (Super Moisturising Complex) – it's extra nourishing and hydrating, I use it when my skin is feeling tight after a day in the ocean or in the morning I find it puts that perk back into my skin.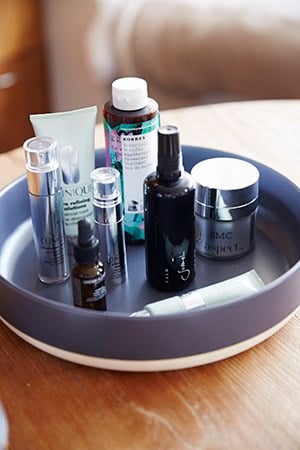 A CERAMIC COUNTRY ROAD BOWL HOLDS HER SKIN SAVIOURS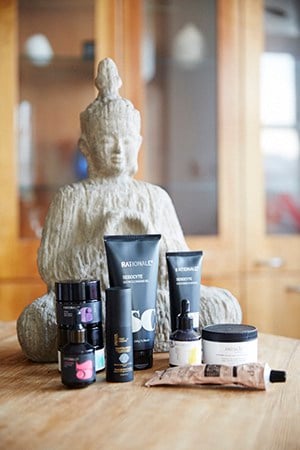 LISA'S LATEST SKIN ROUTINE INCLUDES RATIONALE'S ESSENTIAL SIX
Like my skin, my hair can get dry and on the days where my hair is just not cooperating it keeps it tame and smooth!
I've been seeing Robbie from Halt Hair for a while now, and I let him do his magic. Although I have been using Moroccan Oil and Paul Mitchell's smoothing range – and it does exactly that! St. Tropez is my go-to tan, the mousse in summer for any events where I need that extra glow and the gradual in winter.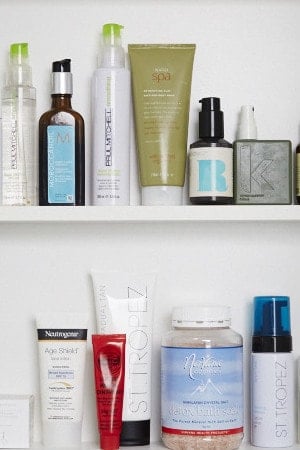 INSIDE HER BATHROOM CABINET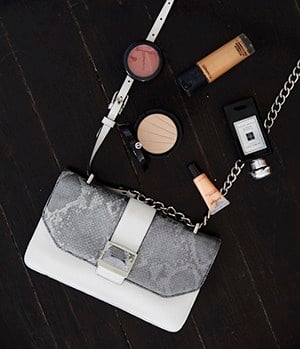 LISA'S MIMCO BAG WITH FAVOURITE FRAGRANCE AND MAKEUP
Anything that can work more than one way is a winner in my books
My Jo Malone Tuberose Angelica Cologne Intense is my absolute go-to, love love love. It will take me from day to night. I love MAC cream blush because I can use it on my cheeks and lips on night's out . When I need fuller coverage I use my MAC foundation – and I mix it with moisturiser for the day, matches the St Tropez tan to a T! My Giorgio Armani highlighter is great on its own, quickly across my cheeks it gives me a healthy glow and to be honest, it's the only make-up piece that has a handy mirror.
It's super thick and creamy and smells absolutely divine. I mix it with a body oil in the evening or I'll mix the cream with St. Tropez Gradual Tan. It gives me a light and even wash of colour and minimises any streaking or dry patches. I'm also absolutely loving Body Shop's Spa of the World range.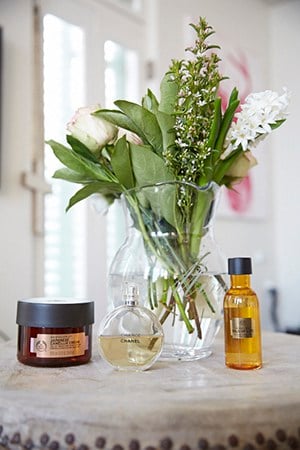 FRESH FLOWERS FILL EVERY ROOM IN HER SUN-FILLED HOME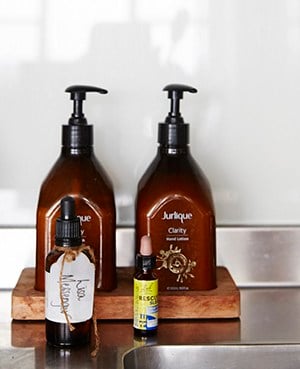 BY THE SINK: JURLIQUE, RESCUE REMEDY AND A CUSTOM BLENDED OIL
I'm pretty sure I have enough hand creams to turn into a shop…
…but couldn't resist adding to the collection with Jurlique's Precious Rose hand cream as they recently celebrated their 30 year anniversary (can't wait till the Collective reaches that age!!) I also have Sodashiproducts strewn through my house and office, my gorgeous friend Megan has created beautiful products that are so therapeutic and pure. The Calming Rose Face Mist is my favourite, I just spray it all over my body whenever I feel like it, especially after a day in the sun."