Talk about a Type A personality: Margaret Zhang not only runs the super successful fashion blog, Shine By Three, she also shoots, writes, styles and collaborates with brands, studies law at Sydney uni, is a top ballet dancer and maths genius (exhausted? Us too). She also happens to be a lovely person who always goes that extra mile. Margaret invited us into her home and gave us a glimpse into her creative and glamorous life.
"I STARTED MY BLOG WHEN I WAS 16…
…when I realised there was more in the world than ballet. Since I was four all I cared about was being a ballerina. I was training to be a ballet dancer and I went to Melbourne for the Australian school and I was like "Jokes, I miss maths". I'm a massive nerd. I did four unit maths in high school – it was so much fun. I got into fashion when I started to do costume design with ballet, because I hated everything they put on me. They always put weird oriental stuff on me because I'm Asian, and I was like "Guys, that's kind of racist!" So I did all the costume design for my own solo work and started making stuff and designing it and so the blog started as inspiration, tumblr style, it was a lot of internet surfing and saving pictures and posting a lot of imagery, and then some days I'd post things I was wearing.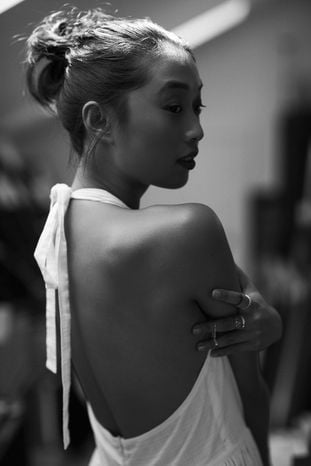 I DIDN'T KNOW THAT FASHION BLOGGING WAS A THING.
I was just on New York magazine looking at inspiration, like art based and magazine editorial photography. It was only a year after doing all this blog stuff that I realised there were other people doing it. I found out about Fashion Toastand was like "Woah, her photos are really pretty I have to take better photos" and so I got a DSLR for Christmas and shot my own photos with a tripod, and I still do that which is fun. It means I do everything myself and if I make a mistake I can just do it again whereas I find it really hard to work with photographers for my own content unless they have the exact same vision as me.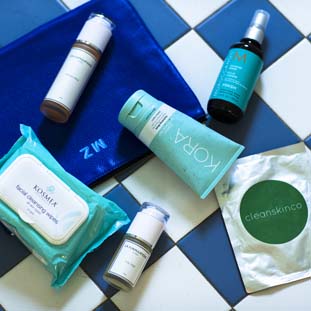 MARG'S SKIN KIT: KORA, KOSMEA AND CR FORMULATIONS
I'M MORE OF A SKIN CARE RATHER THAN MAKEUP PERSON…
I use the Kora Hydrating Mask once a week. It's just good to put on for 15 minutes while you're doing some work. It feels fresh once you take it off. I also do these Clean Skin Co tissue masks – they have a Vitamin one, a Cleansing one, a Deep Clean one. I'm also using CR Formulations, it's a new Australian range. I always carry around cleansing wipes. Because I'm really clumsy and if I rub my eyes  get black eyeliner everywhere. I switch between Bioreand Kosmea – they're fresh and have enough liquid in it so that it's actually effective. Some cleansing wipes are rough on your skin and these are really soft.
I'M VERY ORGANISED WITH MY BAGS…
I carry a lot of accessories, like watches, sunglasses, my wipes and money in a pouch that I transfer between handbags like this MZ bag from Rebecca Minkoff [above]. I have too many Michael Kors watches. When I met his team I was like, 'Guess how many watches I have?' and they were like 'We think you have a problem'. They're really good watches. My rings are from ASOS and Lovisa. I've made a habit of buying cheap jewellery because I lose them. They fall off my fingers. I love Karen Walker sunnies, and my little M card holder was just from Hong Kong, by this little bag label called Misha. The [fluoro orange] bag is Sophie Hulme, it's just a really happy bag. I always have Kit Cosmeticssunscreen in my bag because I'm paranoid. Even when I wear lots of sunscreen I tan – even when I'm inside.
IN HER SOPHIE HULME BAG: KIT SUNSCREEN, KAREN WALKER SUNNIES AND MARC JACOBS SCENT
MY PARENTS ARE BOTH FROM MAINLAND CHINA…
…my mum is from a farming family, and my dad is from a similar area but more cityish, but my dad is quite dark, he tans very easily and so do I. I think it's important. A lot of people forget because they're young thinking "Oh I'm invincible, I'm young and amazing, I can do whatever I want", but the sun in Australia is so damaging. Having an Asian background, when you go back to Asia and you notice how much they look after their skin, as much as I don't agree with the whole whitening culture… Everyone wants something they don't have, so in the Western word everyone wants to have a golden tan and straight hair, and then in the Asian world they all want perms and buy bleaching creams to make their skin whiter. China, Japan, Korea are all pretty bad for it. Surgery is quite openly accepted in Korea and Thailand: eye lid folds, straight noses… I'm getting really good at spotting a nose job! [laughs] I think it's interesting and I agree that some plastic surgery is for self expression – like in Japan there's the Cosplay culture, Harajuku – and some people get plastic surgery to look like a cartoon character. I get that it's something that they want to do, it's like getting a tattoo, but when you feel like that's going to make you feel more beautiful, I'm not really too sure about that.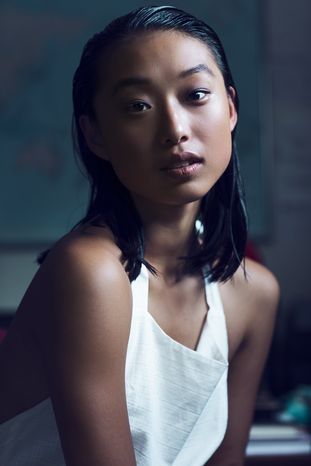 MARGARET SPORTS A CLEAN, FLAWLESS COMPLEXION
I LIKE CLEAN SKIN AND NOT TOO MUCH MAKEUP…
Sometimes I do winged eyeliner with gel or red lipstick. I think lipstick is a really good way for countering masculine dressing. I have a baby face so if I just wear boy clothes then I actually look like a boy so I have to wear something feminine. I normally only wear red lippy or dark lippy. I have a very dark purple Versace one and I have a little red Tom Ford one, and a lot of M.A.C ones. I smashed my La Prairie foundation yesterday, the one with the concealer in the lid and I was crying on the floor. It was such a bad moment in time. I like the Charlotte Tilbury highlighter sculpting palettebecause it's formulated for all skin tones so it goes on top of whatever your colour is instead of being specifically for Caucasian skin or Asian skin and so it doesn't really matter what undertones you have and it's nice packaging, it's so pretty. I love Charlotte Tilbury, the first time I met her I was backstage at Proenza Schouler in New York when I was 17 and I was like, "Oh my god I love you", like a nerd.
IF I'M HAVING A BAD HAIR DAY…
…I use gel. As long as your hair is shiny nobody's going to say anything. I use a random chemist brand, with a weird angry name like Super Power Gel. It turns your hair into concrete. I used to use it for ballet because I have so many baby hairs.
My hair doesn't stay in curls. It's terrible and Paloma, [my hair stylist from Oscar Oscar in Paddington] always says "We've got to do crazy stuff. Dip dye navy ends and blue hair!"  because it's a big trend to have peroxide white hair for Asians right now, and a friend of mine, Vanessa, who's a blogger in Canada also just peroxided her hair and she's like "You've got to do it, you feel so awesome" but I don't think I'm cool enough to do that. And you have to keep getting it done. Imagine having black roots. Disaster.
I think Kerastase is the one shampoo that hasn't made my hair too greasy or too dry and the Initialiste is good just to have as a treatment. I leave my hair out or do a top knot or put a wave in it or something just to make it look a little more girly, because I do dress a bit like a boy. I find that Moroccan Oil is too heavy for Asian hair, but argan oil is good because it makes your hair shiny.
FRAGRANT ESSENTIALS AND AN ASSORTMENT OF RINGS
CHLOE IS MY DAYTIME FRAGRANCE.
It's quite mature. My two Marc Jacobs are my weekends, they are really fun, obviously, and Florabotanica and Bottega are for night times. Bottega is a bit sexy isn't it, even the bottle is sexy, I'm all about packaging.
When I started blogging it was not a serious thing. I've never been in the game to be famous.
MY DAD STILLS THINKS I HAVE AN ONLINE STORE.
Literally he comes home and is like "How's the stock moving?" I'm like, "Dad, it's been four years, you need to get it together, it's not a store". My mum doesn't really understand it she just gets really angry when I Instagram myself in a bikini on holidays or something. She's like "No bikinis, too much flesh!" Okay mum… and my brother, well my brother's girlfriend really likes my blog so that's the only reason he stays kind of interested, he doesn't really understand it, he's like "I don't understand how you make money from taking selfies" I do a bit more than that! Kind of…"