With rock 'n roll style, bambi eyes and a skyrocketing modeling career, Australian model Matilda Dods has the world at her feet. The willowy brunette also happens to be a talented singer/songwriter and has been featured on Triple J Unearthed.
The Byron Bay beauty credits her vegan diet for lasting energy

Model Matilda Dods favours natural beauty products to counteract sensitivity.
We caught up with the Byron Bay beauty who revealed her battle with eczema, why she only uses natural beauty products, the tips she has picked up from make up artists around the world and how her vegan diet helps her glow.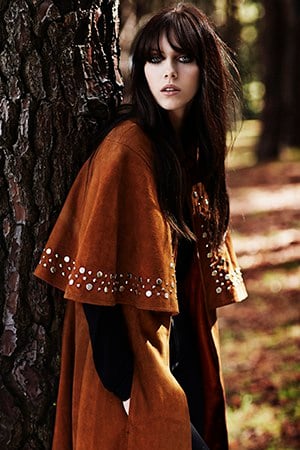 MATILDA DODS IN HER FAVOURITE VINTAGE FIND - A SUEDE COAT.
I never had any intentions of being a model
I never thought that it was ever a possibility for me. I got a call to cast for Saint Laurent, so I flew to LA that weekend and spent 30 seconds with Hedi Slimane. I'd never walked, never cast, never done a job, 16 years old, so jetlagged, deliriously tired. Four days after I got back from LA, mum said, "so, you're flying to Sydney tomorrow morning to shoot with Vogue." And that day that was the first job that IMG ever booked me for. I arrived and there was a bodyguard for the four pieces of Cartier, I wore a $10,000 dress, it was amazing, what a dream.
I get really wretched eczema
My eczema gets so bad my eyes swell shut. Avene is what I am using right now, and they are the only three products that I have with me when I leave the house.  It literally cured me. I use the Gentle Toner, Extremely Gentle Cleanser and the Rich Compensating Cream, twice a day every day. I am really scared to use new products. I wash it off really gently with cold water, eczema really doesn't like heat, because eczema holds heat so you want to try and keep it as cool as possible. When it's bad in the morning I run spoons under cold water and just hold those over my eyes to get the swelling down.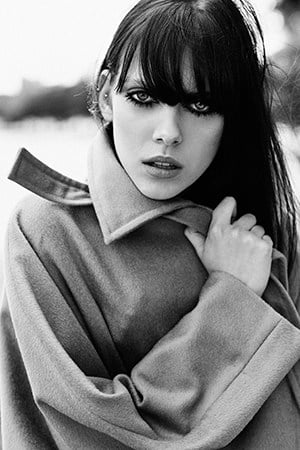 MATILDA WEARS WATSON X WATSON COAT
VITAMIN E CAPSULES ARE THE MODEL'S SECRET WHEN TRAVELLING.
I buy Vitamin E capsules, pop them open and put them on my skin
I do this when I am flying, because my skin really dried out when I fly. You can take them orally because it's the strongest concentration of Vitamin E that you can get so I just pop them and put them on my skin. It makes your skin feel a bit gross while you are on the plane and I have to wash my face really thoroughly afterwards as it leaves a bit of a residue,  it doesn't completely absorb into your skin. I also use Trilogy Rosehip Oil for pimples, just two drops in with moisturizer. I think it's good for everything, it's the same as Vitamin E cream; you can put it on anything.
Day to day I don't wear any make up
Chiefly because I am scared of irritating my eczema, and also I would rather sleep in for an extra 10 minutes than do my make up. For my face I use the Kiehl's Skin Tone Correcting and Beautifying BB cream, with 50 SPF, which doesn't irritate my skin. I don't use any products that are tested on animals. Before I started modeling I used to wear make up, but then I started getting my make up done professionally and I realized how terrible I was at doing it. I've picked up lots of really good tips, I never knew how to put mascara on properly: don't clump it, put it right on the ends, and from above – that's another good tip I picked up. Curling my eyelashes slowly, five seconds three times going up. I used to just do it once and get square lashes.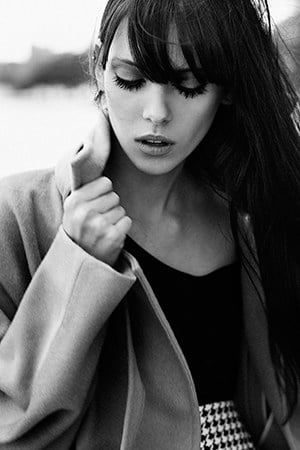 MATILDA ABSTAINS FROM MAKE UP ON A DAY TO DAY BASIS.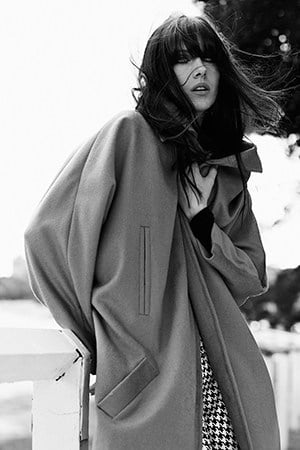 MATILDA'S LONG, DARK HAIR IS AN ANOMALY FOR HER.
This is the longest my hair has ever been in my life.
I am itching to cut it all off and do something new, because I always change my hair. Since I started modeling, IMG said, "probably don't wreck your hair, keep it healthy, don't change it all the time," so it's taking so much self control not to cut it all off and bleach it. I have just finally found a dye that doesn't fade in my hair, O&M, which I get done at Manik Hair in Byron Bay.
My life is just carbs.
I'm vegan; I pretty much live off potatoes. I think that calorie counting is not a good way to monitor diet, I think the best way is just not to eat food from a packet! Put things into your body that your body is going to appreciate. Calorie counting is really inaccurate because you can eat a handful of nuts, which are so good for you, but when you put it into a calorie counter it is not going to acknowledge that. I am known for smoothies that are a whole ecosystem, because I put 20 ingredients in them, and they are grey when they come out of the blender. I snack on bananas, nuts, and chips; you can only be so healthy.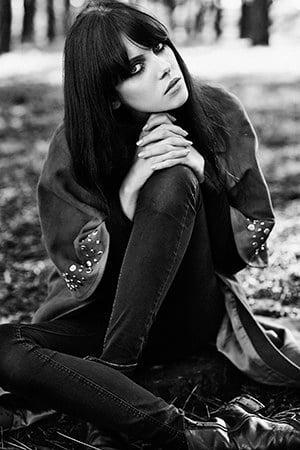 MATILDA ENJOYS VEGAN SMOOTHIES, BANANAS AND NUTS FOR ENERGY.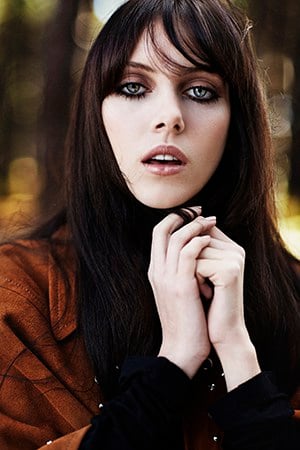 RESCUE REMEDY AND FERMENTED FOODS ASSIST IN HER WELLBEING.
Homeopathies are good
I usually use them for staying calm, Rescue Remedy is the best thing ever, and I keep it in my bag all the time. I am just rediscovering natural remedies because my mum is quite into it, and I am getting over that usual 15 year old rebellion of anything that your mum likes, is really bad so I was like "I just want to go to the doctor and get antibiotics!" and wrecked my gut. Now I eat lots of sauerkraut. I don't make it but I really want to try and make it, mum and I made pickled radishes and carrots a couple of weeks ago, I have them in salad.
My style icons are Jane Birkin and Patti Smith
My style is a bit rock 'n' roll, because of my music and also because I like to wear a lot of black. I am trying to make the transition to most of my stuff being vintage, but all the leather that I buy is vintage, finding vintage for me is quite hard because I am a weird shape, just tall and skinny. My aunty runs a semi-vintage store, and she just collects things and has garage sales, I saw [the vintage suede coat] and thought it was amazing. I feel like Severus Snape in suede. I love it, it's so me.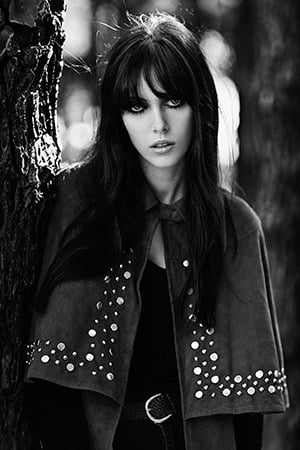 MATILDA IN HER FAVOURITE VINTAGE SUEDE COAT.