Rosie Huntington-Whiteley is a beauty brand's dream. I first met her when I interviewed on Hayman Island last year when she was out here for ModelCo (for which she is face). Tall, barefoot and wearing a simple white lace Zimmermann dress, she was mesmerising. When she opened her mouth it got even better. I instantly warmed to the Victoria's Secret Angel as she told me in minute detail the secrets behind her flawless jetset beauty. The great thing about her? She's one of those girls who shares. She's not all mean and secretive about her beauty routine. She remembers product names and details and tells you what to put, where, and how. God love her.
Fast forward a one year and Rosie was back again in Sydney for the launch of ModelCo's new Natural Skincare range at Café Sydney. I had the pleasure of interviewing her a second time. Now, with the VS show once again in our peripheral, Rosie's wings since hung up as she's relishing in her new role as mum to baby Jack Oscar (with partner Jason Stratham), I look back at our conversation, where we got down the nitty gritty of how she burnishes those bronzed limbs, applies those lashes and gets that enviable glow.
"Enhance the things you love about yourself…
A really great thing I picked up over the last 12 years of my career, is how to enhance your favourite assets. For some women it's their eyes, their lips, their shoulders or arms…  My approach to beauty is never hide, [but] to enhance, so bring out your best asset rather than complaining about things you don't like. I'm famous for my lips I guess. I love to do a feline eye, with lots of lashes. Again, I'm not one for really big experiments or trends with my make up or hair, I like to keep things natural and young and effortless.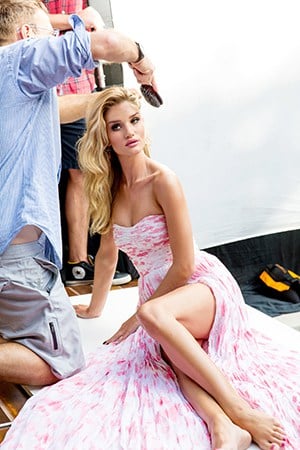 ROSIE IS PRETTY IN PINK ON SET WEARING AN AJE DRESS.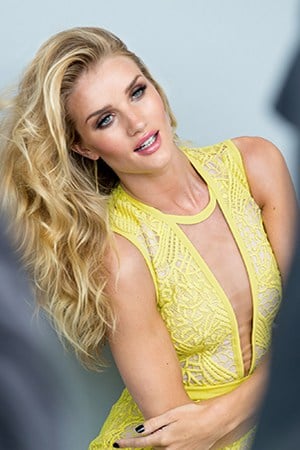 ROSIE LIKES TO KEEP IT SIMPLE WHEN IT COMES TO SKINCARE.
I believe less is more…
I don't want to be spending 15 minutes putting on tons of different creams, and that's just what works for me. I've spent the last twelve years trying to work out what works for my skin, and simple is the key for me. That's why I love these new products from ModelCo. I've had the pleasure of trying them all out over the last month, and integrating them into my existing skincare routine. I love the Gel Cleanser and the Cream Cleanserfor removing my make up at the end of the day. They're really gentle, they don't strip my skin. I love the Rose Hydrating Mist for throwing into my travel bag when I'm on the plane…I really enjoyed spraying that, it made my seat smell delicious as well.
I just want my skin to feel glowy and fresh and pretty…
It's just calming and rejuvenating for the skin. I love the Instant Miracle Booster; actually that's been one of my favourite products so far to use. It does exactly what it says on the box, great at the end of the day, for me at work, it's just rejuvenating and hydrating and it just gives my skin a real glow that might have gone through the day, because I've had tons of make up on. It's also great for me when I land at the airport, and there's some paparazzi. So those are my favourite ones.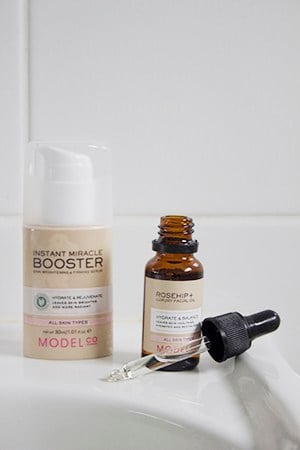 THE INSTANT MIRACLE BOOSTER AND ROSEHIP PLUS LUXURY FACIAL OIL REALLY HELPS GIVE HER SKIN A REJUVENATING FRESH GLOW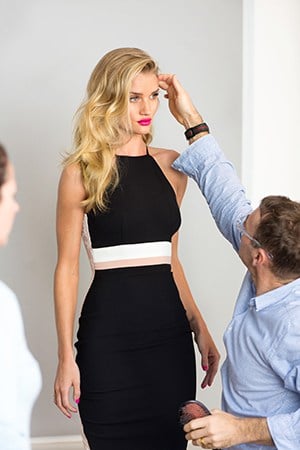 ROSIE ENJOYS FACIALS AND LIGHTSTIM TO BOOST HER SKIN IN NUTRIENTS AND COLLAGEN.
There's a thing called the LightStim, which I'm obsessed with…
at the moment. It's at my dermatologist, Dr Lancer's office, and it is basically a LED light, which is so rejuvenating for the skin… It's great for collagen and bringing back all the nutrients that you need in your face. I've found it to be a really good thing.  My facialist is Shani Darden, so I will go for a facial and then [get] the light over me. I've seen such a big difference in my skin since using it.
I used Tan In A Can before I started to work as the face of ModelCo…
It's special to be here because I actually use the product and it's a meaningful collaboration for me, which I always look for when I align with a brand. And Tan in A Canis a great product, I mean it's the most iconic product for ModelCo… I'll [spray tan] in my bathroom on a towel in front of a full-length mirror. There are a few tips I've picked up. You want to get those stick on feet things because you end up standing back in the tan and end up with horrible orange feet. I've learnt that the hard way! I lay out a towel on the floor so not to get messy… And just standing in front of a full-length mirror with really good light, a little bit of moisturiser on the elbows and knees and around the knuckle area… Good light, or natural light is really important to be able to see where you're going
TAN IN A CAN AND FAT LASH MASCARA ARE ROSIE'S STAPLE PRODUCTS FROM MODELCO.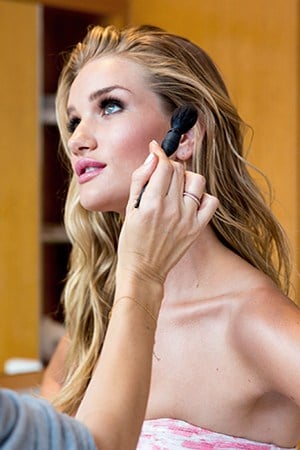 ROSIE HAS A GREAT TRICK UP HER SLEEVE WHEN IT COMES TO APPLYING FALSE LASHES.
My make up artist Monika Blunder taught me how to apply a strip lash…
and there is a skill to it. I don't know if I'll be able to put it into words, but basically, the trick is to lean forward over a mirror, so if you have a mirror like this, you want to take the lash and put the glue on your hand, and you want to run the lash very gently through the [glue], or put it on with a cotton bud, you want to let it dry a little bit so it's a little tappy. You should take your tweezers and hold the lash in the middle of the, so in the centre of the lash, and lean forward over a mirror, and then you want to stick the lash on in the middle of your eye and then joining each side of the ends up slowly so they match your eye. And that's the trick to get them on yourself! I love this mascara, the Fat Lash Mascara is so great because it's just fibre building and it's just, look at the size of that brush. So you could really get the false lash effect through a good mascara I find, and this one from ModelCo is excellent. No one is allowed to touch my brows. No one…
I'm very OCD about my eyebrows, I won't let anyone touch them.
I love to do my own hair and make up…
I'll curl my hair, and then I like my waves to always look loose and natural so it's about brushing it out afterwards…I love Shu Uemura hair products, and I love Moroccanoil products. I have the best, I mean it's one of my favourite things in the world, it's a curling tong called the Beach Waver. Made by a woman called Sarah Potempa, and actually it will give you this look… it's the best product ever and I don't know if it's launched yet, but you'll clip your hair in the end and you press left or right, depending on what side of your hair you are and you press the go and it twists your hair up so you don't have to fiddle around burning yourself and everything. And then I'll just brush, I'll do a loose wave and then I'll brush my hair out with my favourite hair brush that I use – the Tangle Teezer. I mean it's the same approach to my beauty routine, I just think less is more. I mean I might put a bit of hair spray at the end or a bit of dry shampoo to kind of rejuvenate…I love Kerastase Dry Shampoo
SHE FOLLOWS THE SAME APPROACH TO HAIR CARE AS SHE DOES WITH SKINCARE - SUPER SIMPLE.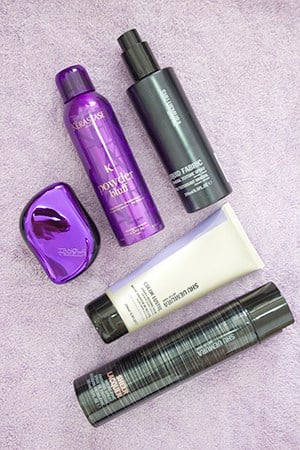 HAIR FAVOURITES INCLUDE THE TANGLE TEEZER, KERASTASE POWDER BLUFF AND SHU UEMURA STYLING PRODUCTS.
A good cut is really important…
George Northwood has been cutting my hair since I was sixteen years old. He's one of my very dear friends in London. And I think a regular cut helps because my hair grows so quickly and it can get really out of control and it's thick so I need to make sure that the shape's cut into it, and the visible layers. It just keeps it long and healthy and hydrated, instead of having long, ratty split ends. So that's my most important thing. And every time I get my hair cut I'll have a deep conditioning treatment alongside the hair cut, just to put back the life that get's taken out from work and having tongs and blow dryers, and colour in my hair.
I'm a big smell person…
I'm a massive massive Jo Malone fan… I like Red Roses, I like Lime Basil and Mandarinbecause that's my mum's scent, she's always worn that so I have the candles in my house. So they drift through the house and that reminds me of my mum. Red Roses is one of my favourite… Yeah, so I love that. And I'm also a big fan of Diptyque – Ambre Room Spray. Tons of candles and smell-y things in my house; I'm such a girl. And loads of room sprays in every room. I love a bath, and again I actually love Jo Malone, I love her bath bubbles and the body washes. I'm trying to think of what else I use in the bath that I really really love…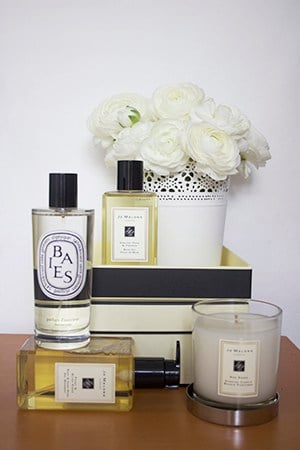 A SELF-CONFESSED 'SMELL' PERSON, ROSIE LOVES TO HAVE JO MALONE AND DIPTYQUE SCENTS AROUND HER.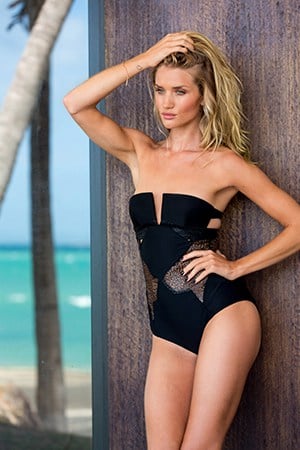 SHE HAS NOTICED A HUGE DIFFERENCE IN HER BODY AND FITNESS THANKS TO PILATES. ROSIE WEARS SWIMSUIT BY SUBOO.
I've been into Pilates this last year and I've really seen the difference…
it's made in my body. Andie Hecker, she's an ex-ballet dancer, she has her own studio in LA called Ballet Bodies. And I love that because she knows exactly how I want my body to look, which is long and lean, with good posture and delicate, feminine… but strong. And I want to see muscle definition in areas, so she helps isolate specific areas that I want to work on each week and I can really focus on them. I've just really noticed a difference in my body this year after doing Pilates.
If I can be 75% good and 25%, naughty, that's the right balance…
It's half genetics, half working out. My mum's 6 foot tall. She always had a fantastic body, but she was a fitness instructor, so she worked really hard on her body and she looked after it. What you put in you get out. When I'm travelling I find it very difficult to keep up with my workouts but when I'm home I'm really tough on myself: I'm in the gym as often as I can 4/5 times a week, I'm eating really clean when I cook for myself, so I can enjoy myself when I'm on the road. So much of my life is in restaurants and business meetings and cocktails with clients so I always try and eat really well when I'm at home then I can enjoy myself when I'm on the road and not stress too much about things. I love my food. Food is one of the greatest luxuries and pleasures in life and we should enjoy it, it's all about balance."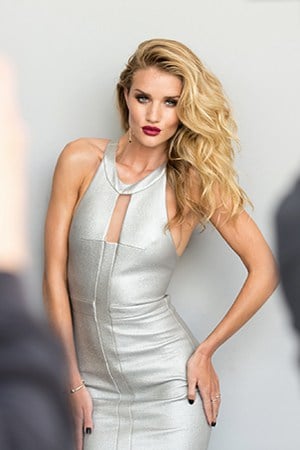 FOR ROSIE, IT'S ALL ABOUT FINDING A BALANCE WHEN IT COMES TO FOOD AND LIFE. SHE WEARS A SILVER DRESS BY MANNING CARTELL