In all its irony, They All Hate Us (the online hub that is part blog, part online store that is changing the face of fashion consumption) is run by two of the sartorial sect's most likeable women. Tash Sefton, along with her best friend and business partner, Elle Ferguson, have affixed themselves as the poster-children of laid-back Australian style we can all access. And all while maintaining, and publicly demonstrating, a genuine friendship so rarely referenced in the fashion world. Tash's own frenetic life as a mum-of-two, wife and empire builder has resonated with all of us, who feel anything but hate for her fun, inclusionary take on high-end and affordable fashion.
Tash's home is an extension of her stylish love for beautiful things

Chanel jewels are one of her must haves

Always on the go, Tash has mastered the art of getting ready in less than 5 minutes

Stylish coffee table books fill her home

Tash's wardrobe is an eclectic mix of beautiful designer buys

With books on display all through her home, Tash says they give her 'much joy'.

Tash took full control of the wardrobe, kicking her hubby out of the master robe

Tash has passed on her love of crystals, which are placed in every room, to her son Max - who holds them in his hand as he sleeps.

Tash's style secret: You're never fully dressed, without a great pair of shoes.
She invited us to her home in Sydney's upper north shore, where she resides with her husband, Mark and two sons Jay (10) and Mac (4). But, most importantly, we were invited to her wardrobe for an old-fashioned girly chat on clothes, shoes, beauty and balancing it all with family and friendship. Here, we found out that while she is in an integral part of Australia's fashion fabric, there is so much more to this stylish mama than being ahead of the style curve, at every stiletto'd step.
"They All Hate Us is 24/7…
…because our online store has gotten really big in America, we ship 40 per cent of our orders there. It's really interesting because it happened without us doing anything. They love Aussies and they love our style and how relaxed it is because they don't have that over there. We've spent a lot time over there and everybody always comments on our white t-shirts or our shorts. Some of the brands we sell have even been able to move to America because of [popularity on TAHU].
TASH EXUDES EFFORTLESS STYLE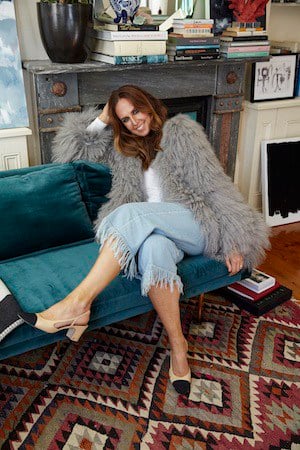 HER HOME DECOR HAS THE SAME ECLECTIC EDGE AS HER WARDROBE CHOICES
Elle and I are genuine friends!
We both worked at General Pants – I was head of women's wear and she ran the visual merchandising for the women's team, so our roles ere really intertwined. Because we spent so much time together, our friendship just blossomed. I think thats why we can work together now really well – we were so under the pump there, we worked in extreme circumstances. You learn how to work with each other and I that's what everyone always asks, 'Is your friendship real?' And we're like, 'Its real!'
I love to travel…
I grew up with it. When I was at General Pants, I spent three months of the year overseas. I would be in New York six times a year and London, much more [travel] than I do now. I'd go do a global trip every two months, I'd be in LA every six weeks. When [my sons] were babies I could slip away and they didn't know, but Jay is 10 now, he wants to to come!
HER FAVOURITE FAUX FUR COAT IS A WINTER STAPLE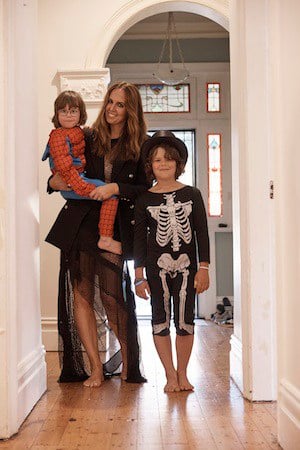 TASH CREDITS HER FAMILY FOR KEEPING HER LIFE IN BALANCE
I have the most incredible family.
I wouldn't be able to do [the business] without them. My sisters don't have children, so my kids treat them like their sisters. They, and my parents, have a car seat in their car [to help with the kids], especially when I'm travelling a lot.
I love taking photos.
My husband and children always say to me, 'Stop taking photos!' But they love to look at them – go figure! We love travelling and the photos in our kitchen create a post card of memories of the incredible journeys we've been on. I still print off my photos and have photo albums…not sure if anyone else does that these days? My very special aunt recently passed away very suddenly and she had a mind-blowing collection of books. So most of the books in my house are from her – she had the most incredible collection of cookbooks that remind me everything I cook of her.
IF PICTURES CAN TELL A THOUSAND WORDS, TASH'S FAMILY PHOTOGRAPHS COULD FILL A BOOK
HER BATHROOM CABINET IS FILLED TO THE BRIM WITH NATURAL SKIN-LOVING OILS AND POTIONS
When I was pregnant, I became really allergic to skincare…
…I used to use that had strong ingredients in them. My whole skin would go red or I would have reactions. I have just recently started using oils on my skin, Dr Hauschka Clarifying Day Oil and Rose Nurturing Body Oil which has changed everything. I don't know why, my doctor said it's because of the hormones from having the boys. Now I have found these oils, I use them as moisturisers for my face and my body.
Elle is like my beauty magazine…
When we go overseas I sit there and she teaches me everything because I have no idea. So she has been really amazing at – she reads and watches all the tutorials and reads everything, then I just ask her. My whole thing, though, is I have about five minutes in the morning to get ready because I do the school drop off every morning and normally we're running late, so I've perfected the art of getting dressed and doing makeup in literally five minutes.
TAKING BEAUTY INSPO FROM BEAUTIES PAST AND PRESENT: READING COCO CHANEL'S BIO
HER CREATIVE FLAIR EXTENDS TO HER BEAUTY FARE WITH INVENTIVE STORAGESOLUTIONS
I did, though, recently buy a full range of Chanel [makeup] brushes…
… and yes I needed to save up for that purchase! They sell out really fast so when I was in New York recently I went to every Chanel store in Manhattan to build my collection. For storage of my make up and brushes I love using science glass beakers (from Mark Tuckey).
My hair holds its shape because it's dirty…
I get my hair blow dried once a week and then, at the end of the week, I put a bottle of dry shampoo in my hair. I have naturally curly hair but it's a it crazy, so it needs to be blow dried and smooth. I've perfected what products work for me. I put it in a topknot when I go to sleep and then when I wake up it's got this curl and it does hold because [I haven't washed it in a week].
TASH IS A NO-FUSS BEAUTY, OPTING TO TAKE A NATURAL APPROACH TO HAIRCARE
EVERY WOMAN'S DREAM: AT-HOME SALON-LEVEL SPRAY TANNING
I have a spray tan at home and my husband does my back.
Sometimes, I don't even do my back – I'm not in a bikini every day. But it was getting to the point where I wanted to get a spray tan but hated the process. I hated standing there, and talking to someone while I'm there nude. So last year this woman sent me Minx Tan – it's the same thing you got to [a salon for] when you have a spray tan, but you just plug it into the wall. I'm obsessed with it.
When I was pregnant, I also couldn't wear perfume…
…because my senses became so hectic, so I started wearing the Aveda Chakra sprays. There are seven of them and they are all over my house and they're in every single handbag. I've only just started wearing fragrances because I'm still trying to get my head around how strong they are. I will say, I don't like it when my boys don't like a fragrance. I change my mind every day with what fragrance I like wearing…It is my mood that determines my scent for the day. Gypsy Water for when I feel strong, Aveda Charka spray for when I need life, etcetera. I also love the look of perfume bottles – even the empty bottles I keep.
NO SIGNATURE SCENT: TASH PREFERS CHOICE IN FRAGRANCE FINDS
A MOST ENVIABLE CLOSET SPACE...
I kicked my husband out of the our wardrobe so I have the whole thing now…
… because I need it, and I need it [to look] like a shop. I like everything colour coordinated and in categories. So, when I have that minute to get dressed, I just grab and grab and grab and that's it. I have a rule – all shoes you are currently wearing must be on display and not in boxes. I don't have 'good' things. I have beautiful things. Nothing is too good to not wear every day. I just wear everything whenever, I try not to protect my clothes too much, I just wear them. I went fishing with the boys in a $2,000 outfit yesterday because that's what I do.
I recently started a painting business with my sister, Hayley
It's called Sefton Segedin. We create one of a kind original art for affordable prices. It has been a whirlwind success – and although keeps us super busy is a lovely calming thing to do."
A WOMAN OF MANY TALENTS, SHE HAS TAKEN HER HAND TO THE FINE ARTS