There's definitely something about Jodhi Meares. The former model and founder of luxe sportswear brand, The Upside, has this beautifully thick hair, glowy, sun-kissed skin and one of the most enviously toned physiques going round. The fact that she is so genuinely warm and down-to-earth also makes hating her for it impossible. With her Point Piper apartment in the midst of renovations, the laidback beauty invited us into her Surry Hills design studio to talk exercise, 80s brows and not being cheap on your hair.
There's not that much method behind my beauty routine.
I'm very wash-and-wear. For me, it's got to be really simple, quick and easy – the faster the better!  I love Kate Somerville and always buy her products when I'm in Hawaii. I especially can't go past the Kate Somerville Dermal Quench Liquid Lift Advanced Wrinkle Treatment; it's a really fun product to use. I started out with her Exfolikate face exfoliant loved it, and I also now use her Exfolikate for the body. La Mer's Crème de la Mer is another one of my favourites and a total indulgence.  I use it morning and night and particularly if I'm up in New York in the winter. It's a really great barrier cream.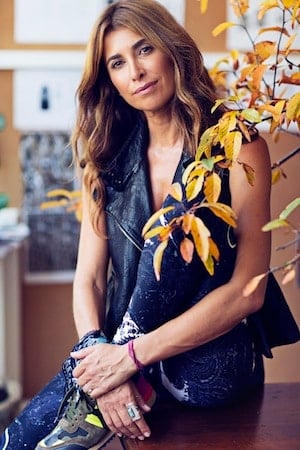 Sunscreen is really important for me…
because I am in the sun so much.  I swear by Glymed Plus Photo-Age Environmental Protection Gel SPF 30+ sunscreen, which I have been using for years now and never go anywhere without.  Sometimes I even put it on at night because I'm just so used to it! My beautician Paula Mason who works out of the Ashbrooke Cosmetic Centre in Mosman was the one who first got me onto.  When I initially came to see Paula I was getting bad pigmentation, which she fixed. I've seen her for over 8 years now as have my mum and sister. She's amazing and not into all of these crazy treatments.
I do believe there is such a thing as just doing too much to your skin.
I feel that the healthier I am the better my skin is going to be, so for me great skin is an internal process.  If I'm tired or I've been travelling a lot I just put myself on a juice cleanse, always using leafy greens as a base.  I take also liquid oxygen (it's an amazing hangover cure) and vitamin c everyday.
I'm not a gym girl…
But I spend a lot of time exercising, whether it's paddle boarding, yoga or walking. When I'm in Sydney I do yoga at Dharma Shala in North Bondi about 5 or 6 times a week.  I love all the teachers there, especially Rick who is a good friend of mine.  At Dharma Shala they practice a very true, traditional form of yoga. The Jade Yoga mat I use is made from recycled rubber and I wouldn't practice on anything else.
For me, it is about feeling and looking good…
and really loving what you're wearing when you're working out. One of the reasons I started The Upside was because I just really couldn't find anything I wanted to wear to yoga.
I love to relax with a bath in the evenings with Jo Malone pomegranate noir bath oil.  If I have been training really hard that day though and my muscles need a little TLC, I'll use Epsom salts.
I love Gypsy Water from Byredo. I only discovered it about 6 months ago but now I'm obsessed with it. I'm not usually into perfumes either, instead preferring to mix essential oils such as patchouli and frankincense, but Gypsy Water is the exception.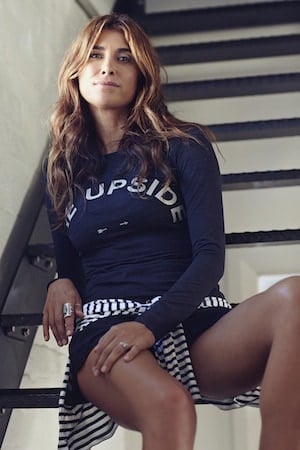 I'm pretty low maintenance when it comes to make-up.
In fact, I would probably spend more time deciding on what trainers to wear in the morning than in front of the bathroom mirror.  I wear Nars Tinted Moisturizer in Malaga, a coat of mascara, M.A.C cream colour blush in Virgin Isle and mineralize concealer, as well as a bit of bronzer.
I'm very into eyebrows. I don't fill them in but I use M.A.C. clear brow gel to keep them in place.  When I was modeling back in the eighties it was all about Brooke Shields eyebrows but then in the 90s they just took them all off.  I felt so naked when that happened and my mum was furious.
Taking care of my hair is important…
and as I'm in the water and sun all the time, I really need to protect it. I do frequent leave-in treatments and colour shines at the salon.  Exercising frequently means I wash my hair at least twice a day, so I need to use something high quality. I've just discovered Shu Uemura Moisture Velvet Collection; it's amazing and makes my hair feel incredibly soft.  I'm also a fan of Wella Luxe Oil (all the girls in the office are obsessed with it).  I try not to blow dry my hair too often but I do love my Parlux 385 hair dryer. It's super fast.
I don't mind hair that's a little bit wild.  I'm not, as you can probably tell, the most groomed girl, and I've always been that way.   I remember my mum bleaching her hair platinum blonde with a toothbrush in our kitchen and thinking she was so cool.  She would bleach the roots every week and used to iron her hair too.
Mum always said you should never be cheap on your hair.
Her philosophy is that you can go anywhere in jeans and a t-shirt if you've got good skin, nails and hair. My mum is a real beach girl and she is very wash-and-wear too. She will get up and walk down the street without an ounce of make up on. At 67 she has incredible skin and just doesn't care.  I'm a little more vain but we're all pretty like that in my family. We were raised by a very bohemian woman and we all love beautiful things, but it doesn't have to be perfect to be beautiful.