Madeleine and I met five years ago when we were both working at Vogue. Although she was in the fashion department, she spent a good chunk of time in my office going through the beauty deliveries with me. After Vogue she tried her hand at PR working at evh across brands like Scanlan Theodore, Max Mara and Ladurée, but the call of the written word was too strong. She went freelance working on Broadsheet writing fashion profiles. When I set up Beauticate, Madeleine was one of the first people I called on and she slipped into the beauty editor role as if she'd been cut for it.
Tall, Grace-Kelly-blonde and always immaculately turned out, Mads is the epitome of good grooming. She also worked at Mecca Cosmetica for a while, so she has a slight predilection for their brands - but has quickly found some other firm favourites among the beauty offerings. She pulled out the contents of her beauty cupboard and tipped up her Chanel handbag to reveal her best beauty finds so far.
I feel really lucky that I get to try beauty products
…and call it work.  I love that there is always something new and exciting to discover and I believe makeup is something you can really have fun with.  When I was four I loved playing with lipstick. I'll never forget that one time I used Mum's favourite shade of pink to 'decorate' my chest of drawers.  Not much has changed, though I do keep my lipsticks away from furniture. Despite being a beauty journalist I don't actually spend much time doing my makeup in the morning. I prefer to keep it quite natural.  My go-to foundations are ByTerry Sheer Expert Foundation and Chantecaille Future Skin – both are quite dewy and sheer coverage. I use ByTerry's Touché Veloutee concealer – it's really brightening, which is ideal for me as I can get quite dark under eye circles especially after a late night. I love blush and usually wear either Nars Deep Throat or Gilda, then dust on a bit of Nars Laguna Bronzer.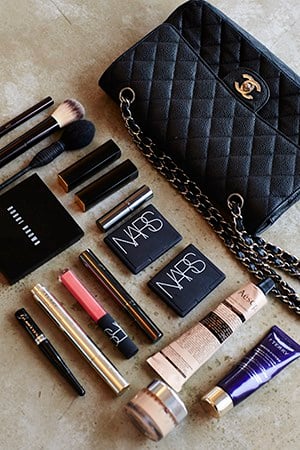 MADELEINE BELIEVES MAKEUP SHOULD BE FUN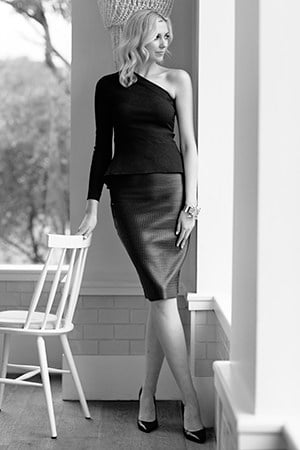 SHE WEARS SCANLAN THEODORE TOP & SKIRT, MAWI CUFF AND GIANVITO ROSSI HEELS
I've always done my own eyebrows
I'm such a perfectionist about them!  I fill them in with an Hourglass Brow Pencil in soft brunette.  I don't feel 'done' unless I've penciled my brows. I also swear by Chantecaille Faux Cils Longest Lash Mascara. While it's not cheap, I have a weakness for a lash serum mascara that gives long, voluminous lashes. Liquid eyeliner is probably one of the first beauty products I ever mastered. I've tried so many different black liquid eyeliners but I always go back to Rimmel Glam Eyes.  It's around $14 from the supermarket and the best thing going round. Eye shadow-wise, I'm a fan ofStila's Kitten Eye Shadow (for day) and for nighttime or if I have an event, I look to Chanel or Bobbi Brown's smoky eye shadow quads in browns and taupes.
Which I use every night.  It removes makeup, cleanses, gently exfoliates and has quite the cult following. It's thick like a balm and you apply it to dry skin, then wipe it off with a damp muslin cloth. I love the ritual of it. I have really dry skin and this doesn't strip, yet my skin always feels squeaky clean after I use it.  After that I apply Ultraceuticals Red-Action Serum (it's one of those products that you can actually see working) and Rationale's DNA Reactivating Night Cream, which contains a vitamin A so is great for pigmentation.  I follow this with Verso Super Eye Serum.  Every few days I'll use Dr Dennis Gross peel pads to exfoliate – they're magic! I've got so many of my friends onto them.  I also do an Aesop clay maskonce a week.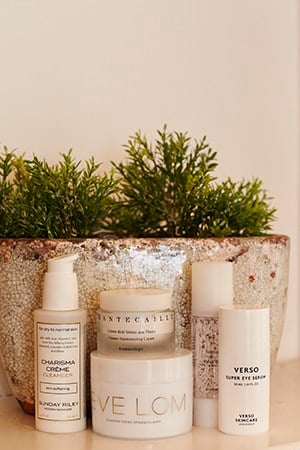 ON HIGH ROTATION; A LOT OF EVE, A LITTLE SUNDAY AND A DAB OF CHANTECAILLE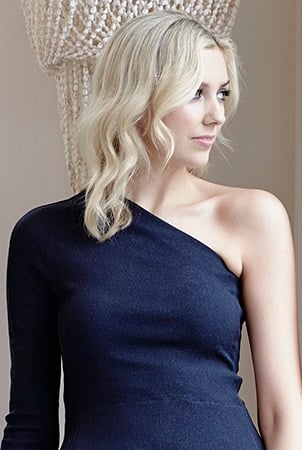 MADELEINE HAS REPLACED THE SOLARIUM WITH SUNSCREEN
I'm obsessed with fragrance
And have a penchant for florals. I discovered Jo Malone perfumes when I was living in London about six years ago. Her Red Rosesand Wild Bluebell are two of my classics.  I also love fragrances by Serge Lutens (Nuit De Cellophane) and Byredo (Inflorescence and Bal D'Afrique especially). Tom Ford's Black Orchid is great for a night out.  I remember Mum used to wear Elizabeth Arden Red Door when we were growing up – it always reminds me of her.  My first ever fragrance was Ralph Lauren Romance – I loved it. My sister had TommyGirl and I had Romance – that was the 90s for you!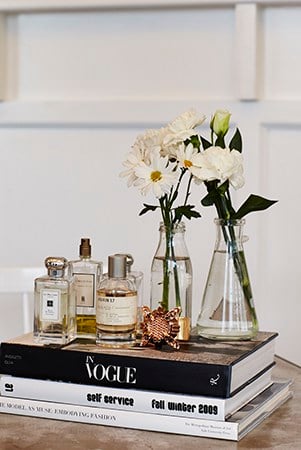 A STYLISH SETTING; BOOKS, BOTTLES AND BEAKERS FILLED WITH FLOWERS
SHU UEMURA AND KERASTASE ARE AMONG HER HAIRCARE BRANDS OF CHOICE
I'm so hopeless at styling my own hair
Makeup I can do, but hair is another story! Having colour treated hair means it gets stressed out pretty easily and often needs a lot TLC. Shu Uemura's Ultimate Remedy Treatment is my once-a-week savior for strong, silky locks. I have really fine hair so I can't go past my Living Proof Root Lifting Spray. I love my Mason Pearson hairbrush and Tangle Teezer too. I've been getting my cut with Paloma and my colour done with Michael at Oscar Oscar in Paddingtonsince I moved to Sydney.  When I first moved up here from Melbourne I had no idea where to go.  I asked the girls in the [Vogue] fashion office and they all said, "Go see Paloma".  So I did and haven't looked back. I get BioSculpture on my nails at The Nail Lounge. I've tried Shellac in the past but I find it starts chipping off my nails after only a few days and leaves them quite brittle. For me BioScuplture is so much better.
I definitely struggled a lot with my body image
When I was younger, like most teenage girls I suppose.   I'm so much more comfortable with my body now in my late twenties. I do find I have to work harder to stay in shape though. I try to exercise frequently – whether that's running the Bondi to Bronte or doing a reformer Pilates session.  I've been seeing Kirsten King at Fluid Form Pilates for about three months now, she's amazing.
OPULENT FRENCH DELIGHTS; CHANEL, DIPTYQUE AND HERMES
Photography by Jake Terrey; Hair by Penny Baldas for Oscar Oscar Salon; Make up by Desiree Wise; BioSculpture Manicure by The Nail Lounge; Shot on location at Watsons Bay Boutique Hotel.