A lively spark with creative (and literal) energy to burn, Pip Edwards boasts big talent with an equally big personality to match. The hot mama has always had a fashionable inclination, and one that skewed towards tomboy, so it's fitting that she land in the world of lycra and sweatshirts. Only a year old, her retro-inspired activewear label, P.E Nation (which just so happens to be her initials and the abbreviation of physical education – fate much?) is now a global brand, with fashionistas everywhere clad in their bold crops and modish leggings. With sartorial stints at Ksubi, Sass & Bide and General Pants, plus work as a freelance stylist, Pip isn't afraid to show her true colours through dress.
We visited the little Bondi sanctuary she calls home with son Justice, 10, and boyfriend Ben, to talk all things beauty, fashion and fitness. The pad is punctuated with eclectic furnishings and nik naks from a life-well travelled. Also evident is her artful eye for style and clever composition. Amongst stashes of sneakers and piles of pumps – seriously, never have we seen a shoe collection like it – we discussed her rather minimal makeup routine, a tip for a voluminous 'do and unearthed an unexpected ear for music.
"I've always been sporty.
Even more so when I had my son. The single mum thing is really all about being active with your child. I juggle working and being a mum with my own mum. It's the only way. She does school drop off and pick up because I work all day. I'm at General Pants one day a week, and then the other six days of my week I'm working with P.E.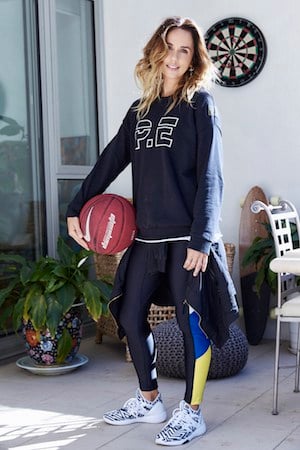 COOL CAT; PIP CHILLING OUT IN HER BEACHY BONDI DIGS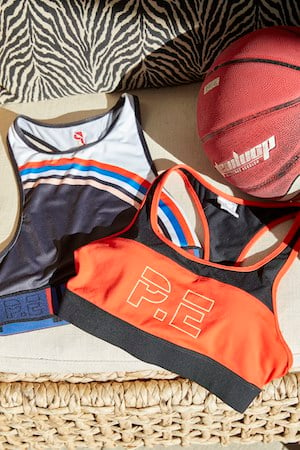 PIECES FROM PIP'S RETRO INSPIRED LABEL, P.E NATION
I was never ready to do my own thing before!
It was actually a year ago when I worked at Sass & Bide. I was Senior Creative and my girlfriend was Senior Designer – we sat next to each other for five years and worked really well together. We went off and did our own things, then I met back up with her and had this idea that I wanted to do my own thing. The planets aligned, then two months later it was happening – it was all kind of organic. A year on and now it's a fully-fledged, global brand!
I love urban sport – it's my style.
It's what I wear all the time and I felt like there was an attitude that no one had done before. Then being so retro, I'm an eighties girl, and I love the seventies, so the colour-blocking and all those primary, strong colours are super important. It's everyday wear. Hey, as a mum, you drop your kid at school, you go to work, you go to the gym, I needed P.E to do all of that for me in one day.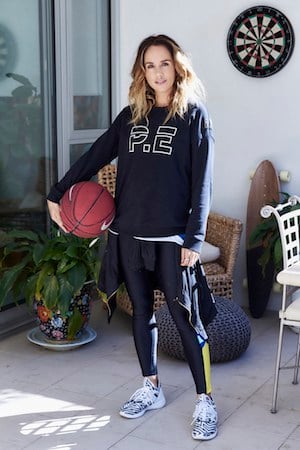 P.E NATION FROM HEAD TO TOE
PIP WEARS ELLERY BLAZER, REDONE JEANS AND OF COURSE, P.E. NATION BAG
Mum was pretty fashionable when she was younger; she was actually on the cover of Time magazine back in the day!
She grew up in Egypt, and was one of the first women over there to have her own car and wear pants. She was always wearing designer stuff and instilled in me to be conscious of what you wear and how you present yourself. It was about putting outfits together and being respectful, being conscious of how you present yourself is quite important. Some people can take it a superficial way, but it's more about the presentation.
I was steered to be more academic, I wasn't meant to be in fashion.
I've got a commerce / law degree and worked at Price Waterhouse Coopers for three and a half years – so I ticked that box for my parents and went "Nup!" I came over to fashion –and all through Uni I worked retail, which was priceless education. Even though I don't have a fashion degree, it was the practicality of that that served me.
FROM BALMAIN TO PIERRE HARDY; PIP'S LOVE AFFAIR WITH SHOES IS UNDENIABLE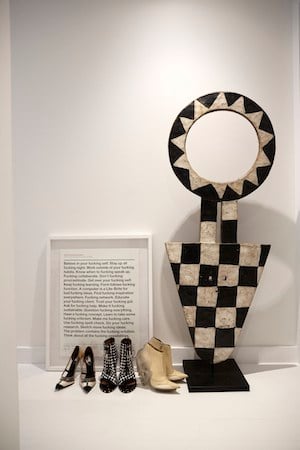 HER FAVOURITE SELF-AFFIRMATION, ARTWORK AND UBER RARE BALENCIAGA BOOTIES
I have this thing. My friend calls it the Third Ear……
I can hear perfect pitch and in terms of spatial composition I can pick up things. That's kind of my thing, my back catalogue of music is just insane – I never forget a tune! It's a bit scary though, because when I hear music I'll tear it apart I think 'Oh my God, they've stolen that bit from that song!" There's this one Gypsy King song and at one bit they go out half a beat! I have my AmusA in Piano 2 – so I studied music too; piano, flute and singing.
I've always been into high-end, expensive, beautiful shoes!
Not so much to have the latest shoe, but my shoe is quite eclectic in its taste; it's about its fabrication, construction, the use of metal work – it always had something to do with the way it was made. I see them as art. And trainers as well, I live in them. But I'm not a bad girl with other things – it's just the shoes! You start from the bottom up, and it's all down to comfort.
SHINY DISCO BALL; CHRISTIAN DIOR BLACK PUMPS COMPLETE WITH DIAMOND DISCO BALL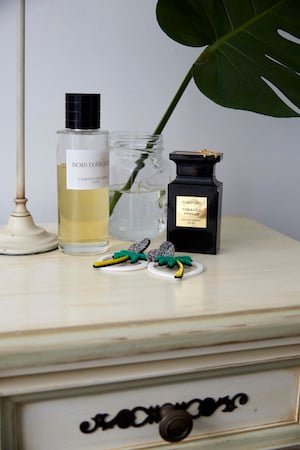 SHINY DISCO BALL; CHRISTIAN DIOR BLACK PUMPS COMPLETE WITH DIAMOND DISCO BALL
I do the same beauty thing everyday…..
It's just Paw Paw, a light cream foundation, strong brows and loads of mascara. But in terms of skin, I just moisturise. I've only just started getting into the regime. I go to The Clinic – I LOVE The Clinic, they've helped maintain my skin. I get IPL, Blueberry Peels and then all their products.
My hair is grey – I was very grey early.
I dye my roots once a week – that gives it the fullness. And then peroxide the rest. I do the tinting of my roots at home, and then every five to six weeks Brad Ngata does the full thing – he has been my hair guy for 12 years – he's also my counsellor!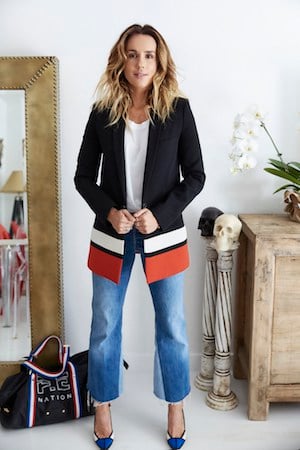 PIP CONFESSES SHE WAS GREY FROM AN EARLY AGE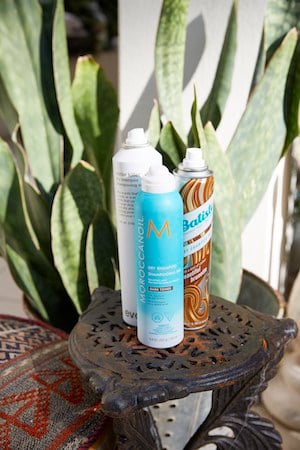 DRY SHAMPOOS ARE A HUGE PART OF PIP'S HAIR REGIME
I go to bed with wet hair.
And that's why it has that volume. So when I go to sleep, I lift it up backwards. Then I just use dry shampoo. I use Batiste, Moroccan Oil, all the dry shampoos – I change them, that's why I have a lot of products! I like to mix it up.
In summer, I am a big soft sand runner, that's my exercise.
I listen to one song on repeat, I'll do that for two years, and then I'll switch to another song. I've only ever had a couple of songs – obviously because they last a long time! I just get lost in it and the different levels take me to a different part of my run, and then when I'm about to die, the crescendo at the end gets me to the finish line! I also do circuit training at F45, I have a trainer now to get me through winter. And then Pilates, it's kind of necessary!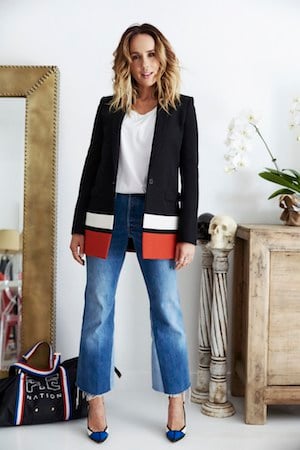 REDONE DENIM, PIERRE HARDY PUMPS AND VINTAGE ELLERY BLAZER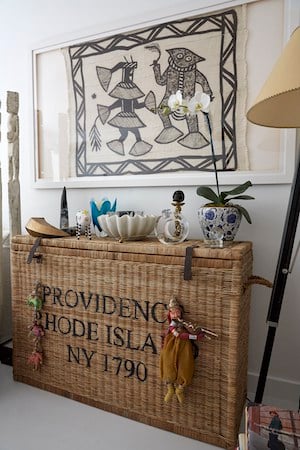 PIP'S HOME HAS PIECES COLLECTED ON HER TRAVELS
I'm not that great with my diet…..
I forget to eat, I eat at wrong times! But I try to be more Paleo than anything. Except with dairy – ha! But I don't do carbs. And Liquorice Legs tea all the way – every night before I go to bed! I use coconut oil with everything – my favourite dish is actually sweet potato mash with coconut oil.
I moved to Bondi about 18 years ago and I won't ever leave.
I tried, when I split from Justice's dad. I had to get out of Bondi and moved to Paddington for two years, but I just needed to be by the beach – I'm a beach girl."
A CANDID SHOT OF PIP WITH HER ADORABLE SON JUSTICE