With her dark European features, that accent and naturally sultry presence, Sophia Loren unapologetically sauntered into a Hollywood that coveted the blonde bombshell – the Marilyns, the Jaynes and the Bridgets. Born in 1934 Italy, she grew up bearing the burden of WWII, even suffering shrapnel wounds to her chin as a child. This depth of life experience behind her chestnut eyes made her destined to be more than just another pretty face in search of fame – she had serious talent. Sophia's dedication to the craft won her Best Actress Academy Award for the 1960 film Two Women; along with a Grammy Award, five special Golden Globes and a BAFTA Award. She is now an icon of yesteryear Hollywood, strong female leads and, of course, beauty.
Regardless of her devastating effect on men, Sophia vowed to never love again following her husbands death

Warm brunette locks, defined eyes and a full pout make up Sophia's iconic beauty

Sophia never shyed away from a bold accessory

Sophia in pink tulle in film Arabesque

The perfect bedroom eye only added to Sophia's sultry stare

Sophia preferred a life spent by the Italian seaside
She was witty, passionate and endearing, not to mention remarkably beautiful. The proclaimed 'Italian Marilyn Monroe' was a curvaceous, caramel-skinned brunette bombshell with a come-hither gaze worth its weight in kohl. With that glossy olive complexion, perfectly pigmented lips and a flawless cat eye, we take a trip to little Italia and uncover a few Sophia-worthy beauty tips to use at your disposal. Ahh… La Dolce Vita.
"At the dressing table, every woman has a chance to be an artist and art, as Aristotle said, completes what nature left unfinished."
Wise words. Sophia was a firm believer in the transformative power of artfully placed makeup while remaining true to her natural beauty. Sophia wore a cat eye so well, she is the unofficial poster girl for the feline flick we all lust over today. It takes ample practice, but a quality liner makes the world of difference. We love Benefit They're Real Push Up Liner. Holding the outer corner of the eye, pull gently to create a smooth surface on the eyelid. Draw a line from the inner corner of the eye, out, and slowly draw the 'flick'. Start small and build on it as you need. Sophia rarely donned a dramatic eye without a punchy rouge lip. To mimic her pout, Dolce and Gabbana have saved us hours of laborious searching and created Sophia No. 1. The perfect deep cherry red is still sheer enough to let the natural pigment of your lips shine through.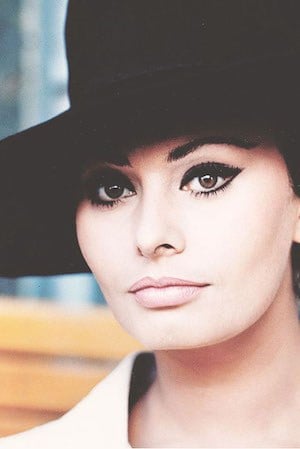 SOPHIA IS ARGUABLY THE QUEEN OF A DRAMATIC WINGED EYE
A SECRET TO SOPHIAS GORGEOUS DEWY SKIN IS OLVE OIL
"Beauty is how you feel inside, and it reflects in your eyes. It is not something physical."
Sophia's dewy complexion has always been quite the beauty talking point, but she surprised everyone when she credited her great skin to extra virgin olive oil. As a true Italian, it was consistently present in her diet. She admittedly consumed over two teaspoons a day. As well as physically rubbing it into her complexion as part of her beauty repertoire – it is rumored she even used it as a bath soak, adding a few tablespoons for soft and nourished skin.  If the thought of rubbing olive oil directly on to your skin is a little too greasy for your liking, we love The Body Shop Olive Body Butter or Olive Beautifying Oil for an added moisture hit.
"A woman's dress should be like a barbed-wire fence: serving its purpose without obstructing the view."
Sophia's style followed the fashion maven's beliefs that the art of dressing should be unanimous: feminine curves to flaunt the womanly figure. Nipped waistlines, voluminous lace, sultry slip dresses and punchy florals make up her wardrobe, even today, at 81 years old. She never forgets a few curated accessories; hats, waist cinching belts and bright jewellery frosted her look. Before she found the Hollywood spotlight, Sophia was thrifty when it came to style – even once admitting to dying her skirts, blouses and even handkerchiefs black so she had something classic and elegant for all occasions, at no cost. Of course, Sophia soon favoured Armani over clothing dye and acted as a muse for Dolce & Gabbana – all in a day's work for the icon.
A MUSE FOR DOLCE AND GABBANA AND A FAN OF ARMANI, SOPHIA'S STYLE IS ICONIC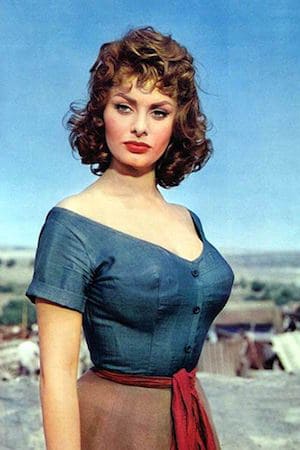 VOLUMINOUS, GOLDEN BRUNETTE WAVES WERE SOPHIA'S SIGNATURE
"I always prefer a simple hairstyle, no matter how formal the occasion."
While Sophia was known to change her hairstyle and colour often, it would be fair to say that her signature look was a honey golden brunette worn tousled and voluminous. Flirty, windswept and never too 'done', the key is light product and selective styling. Apply a volumiser to damp hair – we love Christophe Robin Volumizing Mist, suitably made in Italy. Stepping it up a notch from vintage velcro rollers, hot rollers will leave you with Sophia-worthy tousled volume. (If hot rollers instil fear, watch our short tutorial). When finished, give your hair a good rake with your fingers to break up curls and add a little lived-in texture. Mist with vintage inspired Cedel Hairsprayand say ciao to locks with height, glamour, and just a little sex appeal.
"Everything you see I owe to spaghetti."
Sophia was known to be candid when it came to discussing the secrets of how she maintained such an envied figure. In her book Women & Beautyby Sophia Loren she explains that she was never one for set exercise regimes, but enjoyed swimming and long walks. She proclaimed that her weight had never really been a problem for her, and any fluctuations always returned to normal. As an Italian, she was a passionate advocate for the beauty of carbs, attributing her womanly figure to pasta. She was a huge lover of the culture of food and even released a cookbook titled Sophia Loren's Book of Recipes and Memories. She essentially followed a Mediterranean diet high in olive oil, seafood and vegetables.
AS AN ITALIAN, SOPHIA WAS A TRUE LOVER OF FOOD CULTURE.